Forgetting Sarah Marshall Giveaway
|
Now's your chance to win the collector's edition release of Forgetting Sarah Marshall. But be sure to follow the rules below. All entries MUST be sent to the following e-mail address: dvdcontests@insidepulse.com.
Be sure to include the phrase "MARS & MILA" in the subject line or your email will not be received.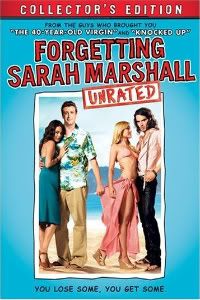 PRIZE:
Forgetting Sarah Marshall Unrated Collector's Edition
Giveaway Rules
In order to qualify for the prize drawing, all you have to do is drop us a quick e-mail. The following rules apply:
1. Your full name and mailing address MUST be included with your entry. (This is necessary to notify the winner, and to arrange shipping of the prizes. Specific mailing address information will be kept confidential.)
2. Only ONE entry per person, per sweepstakes please!
3. The giveaway IS open to both U.S. and Canadian residents.
Entries will be accepted until Noon Central time, on Friday, October 17th, and the winners will be notified later that evening.
All entries MUST be sent to the following e-mail address: dvdcontests@insidepulse.com.
………………………………………………………………………………………………………………………………………………………………………
SYNOPSIS: Struggling musician Peter Bretter (Jason Segel) has spent six years idolizing his girlfriend, television star Sarah Marshall (Kristen Bell). He's the guy left holding her purse in paparazzi photos and accidentally omitted from acceptance award speeches. But when she decides to break up with him, Peter's world falls apart. To clear his head and lift his spirits, he takes an impulsive trip to Hawaii, where he runs into the last thing he expects to see: His ex and her hip new British-rocker boyfriend, Aldous (Russell Brand), staying at his hotel. Even as Peter keeps running into the two people he is trying to avoid, he finds comic relief and support in his new-found hotel buddies, including a growing flirtation with Rachel (Mila Kunis), the beautiful resort staff employee whose laid-back philosophy inspires him to get back on track and rejoin the world. In the process, Peter discovers what makes him feel truly happy…his vampire musical project, a daring albeit unplanned dip in the ocean, and the pleasures of many, many fruity cocktails.
Tags: Forgetting Sarah Marshall, Jason Segel, Kristen Bell, Mila Kunis, Russell Brand