Dreamwave has provided the Nexus with special previews of two of their upcoming releases, the Transformers Poster Book and the second Warlands series
TRANSFORMERS POSTER BOOK
Plaster your walls with the Robots in Disguise! This handy collection of 24 super-cool mini-posters features blown-up TRANSFORMERS covers, splashes, and promotional art by your favorite TF superstars. Pat Lee, Don Figueroa, Guido Guidi, Rob Ruffs, Alex Milne and Joe Ng are all here bringing you their best work from GENERATION ONE, ENERGON, WAR WITHIN, TRANSFORMERS/GI JOE, MICROMASTERS, ROBOTS IN DISGUISE, BEAST WARS and more!
FC 48pp $4.95 Out next week!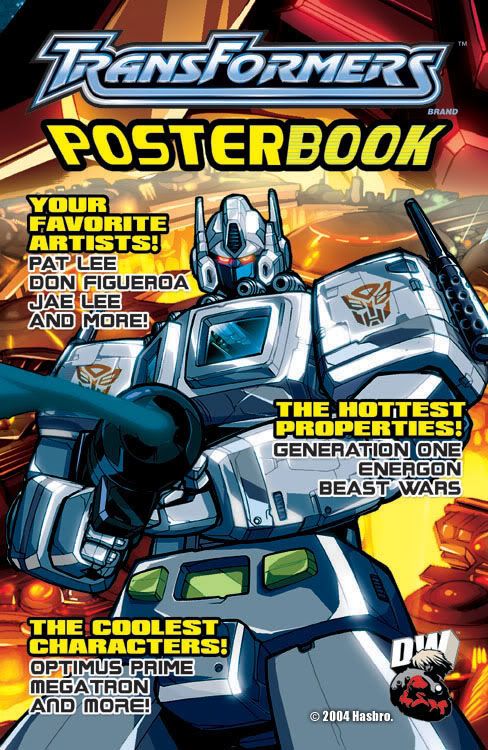 Follow these links for a sneak peek of some of the stunning artwork to be found within"¦
---
DREAMWAVE DECLARES WAR ON DABEL BROTHERS!
Young Publishers Join Forces to Create Newest Warlands Saga
August 11th, 2004 – Dreamwave returns to Warlands with Dabel Brothe's Production leading the charge. Nearly four years after the original Warlands volume, Darklyte, which sold over 75,000 copies to rabid fans all across the world; the newest series is set to debut. Based on this success, Warlands inspired two new properties, Banished Knights and Shidima, which were both met with critical acclaim. These very same fans will get the chance to see the return of Warlands in January of 2005.
Warlands, the series that helped launch Dreamwave Productions, returns stronger than ever with fantasy artists Dabel Brothe's Production taking over the creative aspects of the newest incarnation. Series creator Pat Lee is charting the course, while Ernst Dabel, President of Dabel Brothers Production will be writing the series with Ron Marz (Green Lantern) acting as a story consultant. Lynx Studios' Edu Francisco (Legacy) will handle the pencilling duties with Etienne St-Laurent performing the digital painting.
Dreamwave is extremely excited to bring Warlands back to the fans and working with the Dabel Brothers was a natural choice. "Warlands is something I hold very dear to my heart. It represents Dreamwave's birth and one of our first original properties. Warlands has hundreds of characters and is extremely epic in proportion; it is a large part of who I am today," shares Pat Lee, President of Dreamwave and original creator of Warlands. "DBPro shared many of the same ideas we had for Warlands. Creatively, we're both on the same page and we couldn't hope for a better partner. This story is part of Dreamwave's heritage and we definitely owe it to Warlands to bring it back with the best art team possible."
"I have always loved Warlands, since I first discovered it," stated Ernst Dabel. "When I first approached my brother Les about creating a comic company he wasn't interested. Then he saw and read the first Warlands series and immediately started laying the groundwork for what was to become Dabel Brothe's Production. It would seem we were fated to work on this series and we couldn't be more excited for this great opportunity."
This series will chronicle the dark days preceding the First War of the Races when Lord Malagen turned his hungry gaze to the East. Even though they are already falling prey to Lord Malagen's machinations, The Realms of the East are completely unaware of his ultimate goal, to crush them to his will and feast on them as he did in the west. Expect to see some of the original fan favorite Warlands characters return including Shrogran, Aalok, Vardemis and many more!
The newest chapter in the war begins on August 25th, as several top-tier online comic magazines will each carry exclusive interviews and art; all linked from the Dreamwave and Dabel Brothers websites. After that, fans attending the Toronto Comic Book Expo on August 27-29th, will be able to pick up a con-exclusive Limited 2000 print Edition Warlands Preview Ashcan which will collect original character designs and sketches by the Warlands team.
Warlands will be released on a monthly basis through Dreamwave Productions and will be available for solicitation through Diamond Comic Distributors, Inc. More information about Warlands, Dreamwave Productions and the Limited Edition Warlands Preview Ashcan can be found at DreamwaveProd or DabelBrothers.
So get ready, as Dreamwave and the Dabel Brothers prepare for war!!!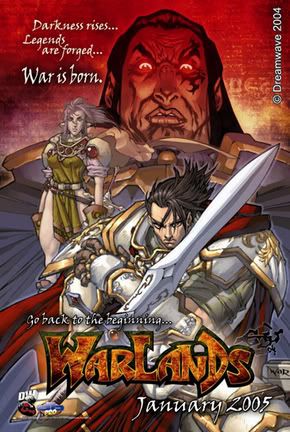 ---