It's time for another Dreamwave update here at the Nexus, and we're just brimming over with goodies this time around. Check out the sneak peek preview for Transformers Energon #27 as Alpha Q makes the devastating attack on the Earth that the Autobots had long feared would happen – just as Optimus Prime has been summoned to Unicron itself! Alex Milne's art sure does look purr-ty.
Also, check out the company's November solicitations, including all the latest issues, trades and pocket books of the Transformers titles, including Pat Lee's new G.I. Joe crossover, Divided Front; the new John Ney Rieber series Killzone; and the quite stunning 20th Anniversary lithograph from Don Figueroa, featuring every Generation One Transformer ever!
Plus – updates on Devil May Cry and Transformers: Micromasters!
---
TRANSFORMERS ENERGON #27
Written by Simon Furman
Art by Alex Milne
IN THE BELLY OF THE BEAST!
Things go from bad to worse to utterly desperate for the AUTOBOTS and humans as ALPHA QUINTESSON unleashes a three-pronged strike: major cities on Earth are targeted by hordes of TERRORCON clones, MIRAGE (formerly TIDAL WAVE) trashes the OMNICONS and… Well, we'll save the final, brutal twist for later. Plus, OPTIMUS PRIME alone… inside the belly of the beast! Think it can't get any worse? Think again!
FC $2.95 32pp Monthly
---
DREAMWAVE SOLICITATIONS – NOVEMBER 2004
KILLZONE #1
Written by John Ney Rieber
Art by Travel Foreman
A galactic peace is shattered when the brutal Helghast mount an overwhelming assault on the colonies of the Interplanetary Strategic Alliance. But on the fallen planet Vecta, four scattered survivors of that shockwave offensive may unite to forge the key to humanity's ultimate survival —
If they can survive their solitary passages through the bloody trenches and burning towers of a world become a killzone.
FC 32pp $2.95 Monthly
Cover 1A –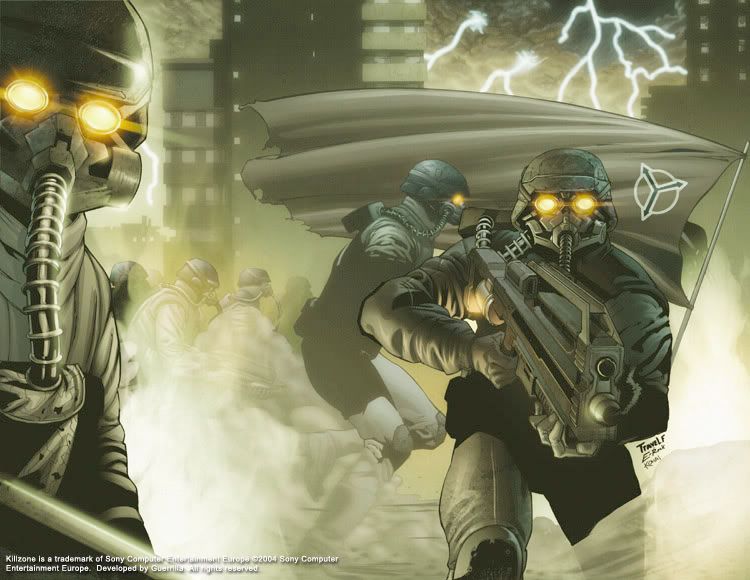 Cover 1B –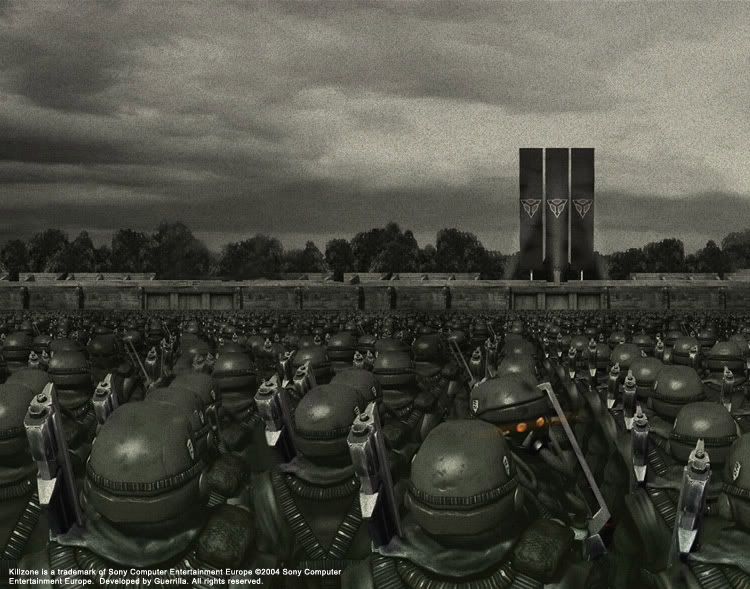 Incentive Cover –
TRANSFORMERS ENERGON #29
Written by Simon Furman
Art by Alex Milne
BACK FOR GOOD! He's back – and this time in three solid dimensions, packing more energon-enhanced might than a whole army of TERRORCON clones. Yes – at last MEGATRON takes centre stage. Freed from within UNICRON, his prison for over ten years, he's back with vengeance in a new body, more powerful and deadly than ever. And SCORPONOK had better watch out! Plus – more on the shocking fate of OPTIMUS PRIME!
FC 32pp $2.95 Monthly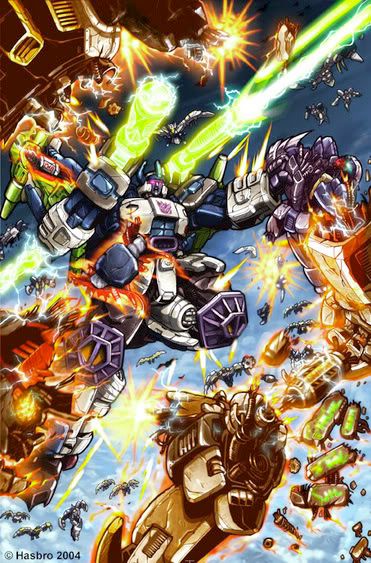 TRANSFORMERS ENERGON # 2 (Pocket Book)
Written by Simon Furman
Art by Alex Milne, Joe Ng and James Raiz
Collecting issues #23-26 of the series that pick up where TRANSFORMERS: ARMADA left off! It's non-stop action and adventure when the TRANSFORMERS wage an all or nothing battle for control of the Earth. This series features the most popular AUTOBOTS and DECEPTICONS in the galaxy including, OPTIMUS PRIME, MEGATRON, and the dreaded UNICRON as well as the debut of the all-new OMNICONS as they struggle to control the ENERGON program. And what is IRONHIDE'S dark secret? Fans of the ENERGON TV show and TRANSFORMERS fans of every generation will want to find out as they brace for "Multiplicity."
FC $10.95 112pp 5″ x 7.25″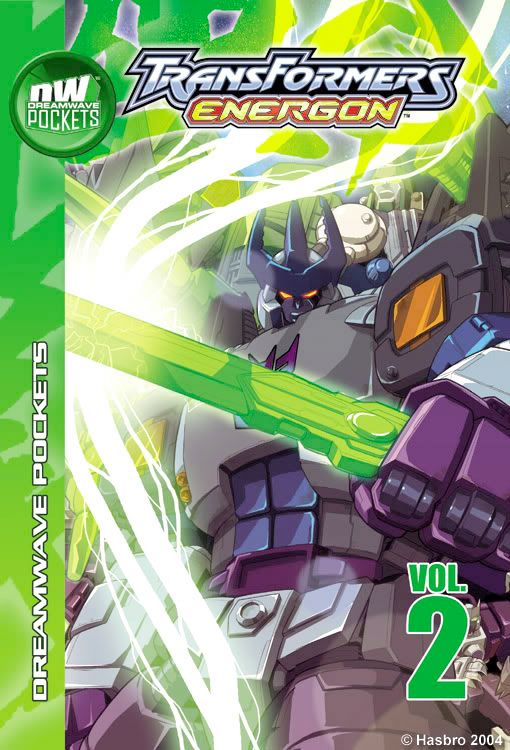 TRANSFORMERS WAR WITHIN Vol. 3: THE AGE OF WRATH #3
Written by Simon Furman
Art by Joe Ng
THE SAME. BUT DIFFERENT! All Clones are the same, right? Wrong. Desperate to uncover the secret of MEGATRON'S boundless army and his newfound power, the remaining rag-tag band of AUTOBOT insurgents attempt to extract and study one Clone Warrior from the dread Aerospace Extermination Squadron. But NIGHTBEAT, GETAWAY, HOSEHEAD, SIREN, JOYRIDE and SLAPDASH may just have bitten off a lot more than they can chew!
FC 32pp $2.95 Monthly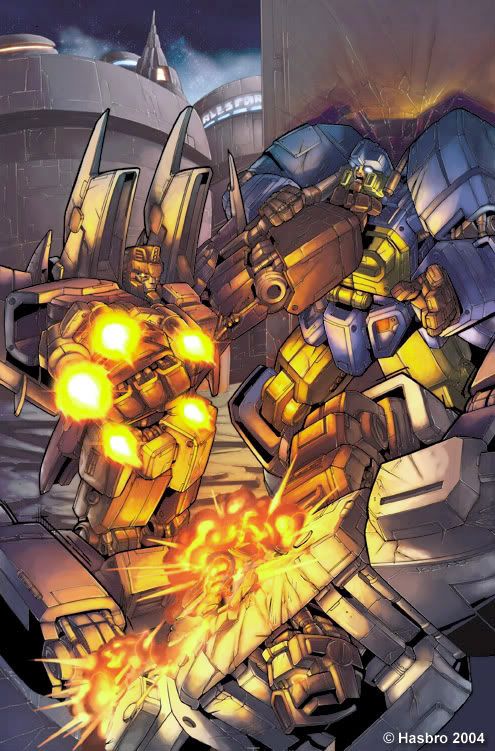 TRANSFORMERS GENERATION ONE #11
Written by James McDonough, Adam Patyk
Art by Don Figueroa
Because YOU demanded it: The return of the DINOBOTS! The hot-tempered cavalier Hot Rod finds himself in over his head when a mysterious group of Transformers-like warriors interferes with a standard transfer mission. What are these mysterious agents truly after, and what hope do Hot Rod and his team have of stopping them? Featuring the return of the fan-favorite Dinobots, the first-ever comic book debut of some of Generation One's most desirable characters, and much, much more!
FC 32pp $2.95 Monthly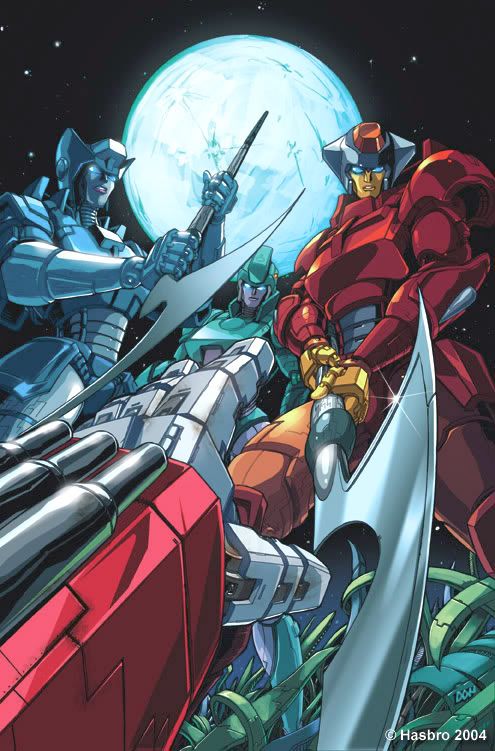 TRANSFORMERS/GI JOE V.1 (Pocket Book)
Written by John Ney Rieber
Art by Jae Lee
Collecting the smash-hit crossover of the two most beloved pop culture icons of the 80's and today! The year is 1939 and a twisted alliance between a hate-crazed dictator and a ruthless general has left Europe in flames, in chains. The worlds only hope against the threatÃ?????Ã????Ã???Ã??Ã?¢??the creation of an elite counter-strike force, code name: G.I. JOE. But are even the JOES tough enough to take down this evil empire when it enlists the aid of a merciless army of alien war machines known as the DECEPTICONS?
Written by acclaimed author John Ney Rieber (Captain America) with stunning artwork by Jae Lee (Inhumans) this landmark series re-imagines the classic characters that defined the concepts of 'hero' and 'villain' for generations with grit, heart, and adrenaline. Also included as a special bonus are never-before-seen characters designs, 'behind the scenes' material, and more!
BW $9.95 160pp 5″ x 7.25″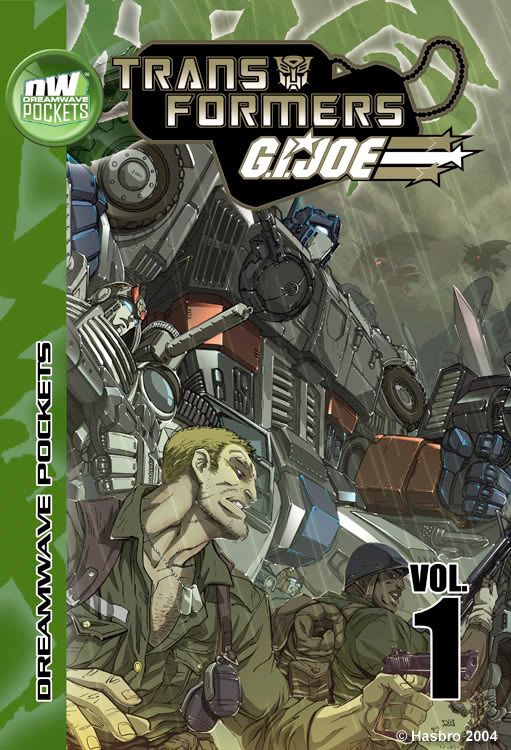 TRANSFORMERS/G.I. JOE: DIVIDED FRONT #2
Written by James McDonough, Adam Patyk
Art by Pat Lee
The secrets of G.I. JOE and COBRA'S past are revealed as the greatest arms race in history intensifies, blazing a path across the world. Desperate for an equalizer, the JOES raid a top-secret COBRA bunker located in the Everglades. But when COBRA'S newly hired DREADNOK biker gang intervenes, will the JOES be too late to gain the advantage and-more importantly-save their Autobot allies?!
FC 32pp $2.95 Monthly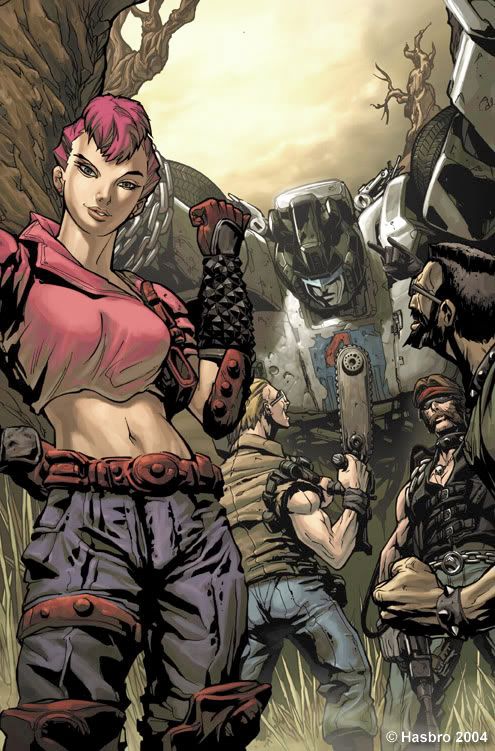 TRANSFORMERS GENERATION ONE: MORE THAN MEETS THE EYE OFFICIAL GUIDEBOOK Vol.2 TPB
Written by James McDonough, Adam Patyk
Art by Various
Collecting issues #5-8 of the sold-out series! The latest volume of the ultimate guide to Dreamwave's exciting new TRANSFORMERS continuity provides plenty of classic TRANSFORMERS favourites, plus profiles of lesser-known stars, making this the complete resource for GENERATION ONE fans!
FC 264pp $24.95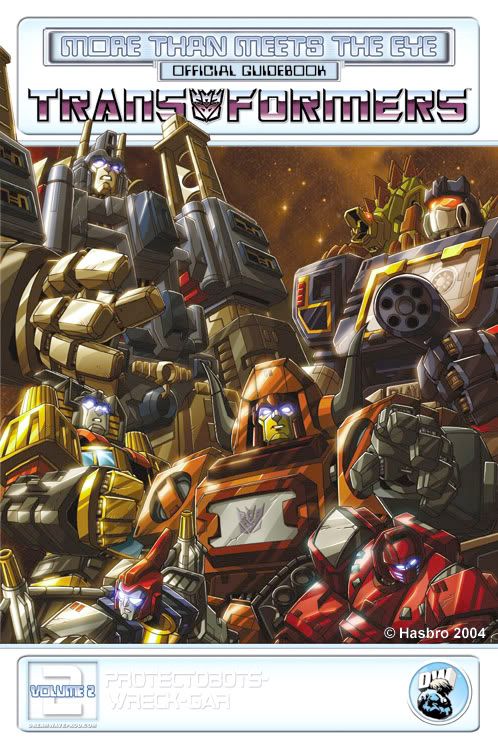 TRANSFORMERS 20th ANNIVERSARY MEGA LITHO
Art by Don Figueroa
Celebrate the TRANSFORMERS' 20th anniversary with the ultimate collectible! Featuring incredible art by TRANSFORMERS master Don Figueroa, this super-sized all-new lithograph features the entire cast of TRANSFORMERS GENERATION ONE. From SIDESWIPE to SUNSTORM, from METROPLEX to the MICROMASTERS; the entire crew is here and ready for another 20 years of adventure!
FC $24.95 24×36″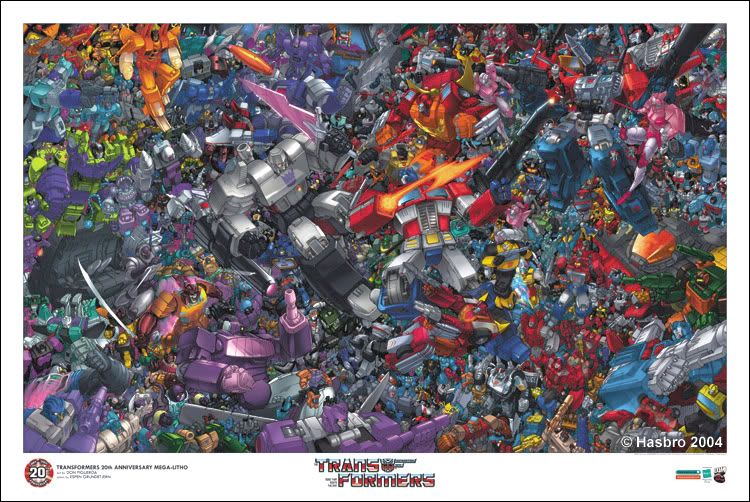 ---
DANTE STRIKES AGAIN!
Dreamwave's Devil May Cry #2 Sells Out!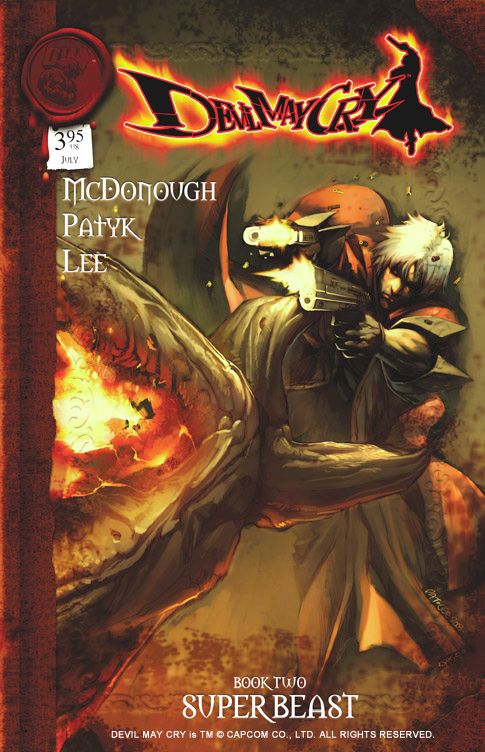 DMC is hotter than Hell!
According to the latest figures from Diamond Comic Distributors, Dreamwave's comic book adaptation of the Capcom fan-favorite video game Devil May Cry has COMPLETELY SOLD OUT!
This is the second book in a four-part miniseries based on the adventures of the wise-cracking half-demon, half-human paranormal investigator Dante. The first issue was also an instant hit, selling out and immediately going to a second printing!
The momentum for DMC has been strong from the get-go, with huge fan support for the dynamic artwork by Dreamwave's president and superstar artist, Pat Lee as well as the writing team of James McDonough and Adam Patyk.
"This is just an awesome development," Lee said. "I think for both me, James and Adam – it's a mix of excitement as well as a tremendous sense of pride, to hear that fans are enjoying DMC as much as we are. What can I say? It's just great news for the title ' especially for a second issue!"
DMC Book Three: Angel With The Scabbed Wings will be out in mid-September 2004. With two sell-outs in a row, be sure to reserve your copy today!
---
MICROMASTERS EQUALS BIG SALES!
The punk rock experiment is a success!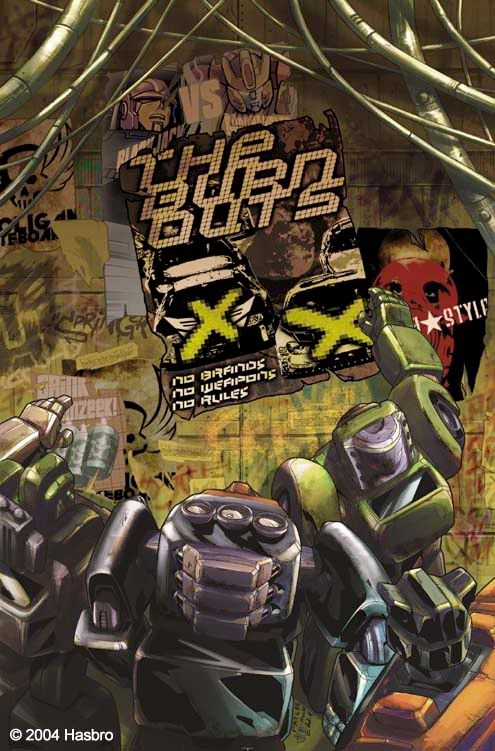 MICROMASTERS, the latest debut in Dreamwave's highly successful TRANSFORMERS line of comics, has proven that being different can still be rewarding in today's comic market.
"We couldn't be happier with the reaction to the first issue," said series writer James McDonough. Happy, yes – but not surprised. "Even though we knew it was risky to apply such a punk sensibility to the Transformers," added series writer Adam Patyk, "we were confident that both hardcore and casual fans would be receptive to the unique approach."
It turns out the risk was worth taking, because comic fans have responded by making MICROMASTERS #1 a Top 50 hit! Despite an error, which was responsible for initially incorrect totals, the current tally has helped make MICROMASTERS #1 Dreamwave's highest-selling book during its release, beating out many established fan-favorite titles from all major publishers.
MICROMASTERS is penciled by Rob Ruffs and written by James McDonough and Adam Patyk, the writing team behind other successes such as Transformers: Generation One, Transformers: More Than Meets The Eye, Devil May Cry, and the highly anticipated upcoming Transformers/G.I. Joe Vol. 2: Divided Front with art by superstar Pat Lee. Set in the past of the top-selling Transformers: Generation One comic universe, MICROMASTERS tells the tale of a young group of unwilling TRANSFORMERS soldiers who are not only battling each other, but also struggling with their reluctance to pledge allegiance to either of the warring AUTOBOT and DECEPTICON factions.
Issue #2 of this four-part mini-series is available in stores now for only $2.95. MICROMASTERS is just part of the many special events Dreamwave has planned for its yearlong celebration of the TRANSFORMERS' 20th Anniversary.
---