Welcome to the 41st installment of Leave Your spandex @t the Door!
And look at that! The LYS@D logo has finally made it onto the main page proper! I'd love to take credit for its sheer coolness, but I think it's mostly due to the pilfered images from the LOVE FIGHTS covers by Andi Watson.
FOND FAREWELLS (or DON'T LET THE DOOR HIT YOU ON THE WAY OUT): This is officially the last LYS@D column overseen by Editor Supreme Ben Morse! I just hope I manage to send it in on time, before he moves house to the great Wizard house. If one person on this site truly deserves this big break, it's our boy, Ben! Ben started this site from literally scrap, put together a ragtag team of mateur reviewers and columnists and managed to strike gold and make 411comics, originally, and the Nexus now into a force to be reckoned! Thanks bud, for being a good friend and for taking a chance on me, 2 years ago when you invited me aboard your ship. Best of luck (and lots of slurpy kisses)!
FUTURE QUAKE, TOO: A month ago, I took a look through the premiere issue of FUTURE QUAKE, the U.K. comics anthology. This week, I have the second issue in front of me, and I'm not afraid to review it!
FUTURE QUAKE #2 features 8 stories, ranging from one-page gags to 5-pagers, created by more or less the same suspects, and twice as entertaining as the first one. Art Wyatt is still the editor and writing the majority of the stories. Going from front to back:
2.1. THE HUNTER
by Art Wyatt and Mike Molcher
A cross-time, intergalactic big game Hunter is searching for the ultimate prey that will provide him with a true challenge; through the ineptitude (for lack of a harsher word) of his servant, he will get more than he bargained for.
The story is built around the `surprise' twist in the end; the story leading up to it feels more like page-filler before the `cool bits' in the last two pages. It's got the makings of a really cool twist indeed if it wasn't practically telegraphed to the reader by an overly obvious foreshadowing attempt.
The art by Mike Molcher (`Extreme' in the first issue) boasts an even cartoonier leaning than previously, with the Hunter and his servant designed as the futuristic toon versions of Don Quixote and Sancho. What I enjoyed most in the art were the wacky weapons designs which would give Rob Liefeld a run for his money in a physics-defying contest, but which were, in contrast to the latter, innovative and amusing. Molcher plays off with the cartooniness of the characters by stretching them through extreme dynamic shots in several of the panels; this approach works in some (the sniper shot on page 4) and fails dramatically in others (the last page triumphant stance).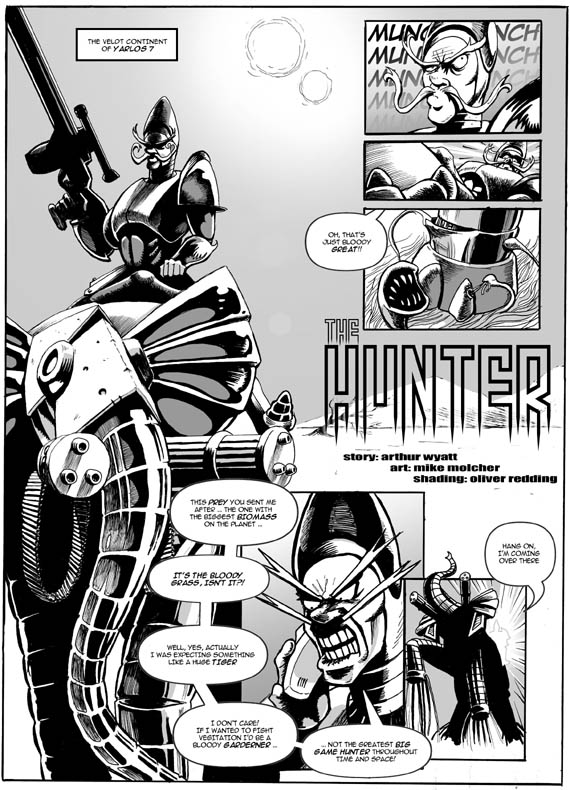 2.2. WINNER STAYS ON
by Daniel Whiston and Ade Bamforth
Be warned: sick amount of poker-speak ensues.
Whiston (FUTURE QUAKE newcomer) and Bamforth present an excellent study on misdirection, playing around with the reade's perception. The story is set during a poker game of particularly high stakes. But the story itself is a poker game, playing against the reader, and it manages to hold its poker face well, till the big reveal when the camera rolls back at the last panel and the hand is revealed.
Adrian Bamforth uses his hidden aces in the art, taking a cue from the script and delivering an intense shadow-dominated setting and making the focus characte's agony tangible on the page. Going through the story a second time, I admired how all the facial expressions could be interpreted in two ways, depending on the reade's preconceptions about what is going on.
2.3. THE DIG
by Gary Wilkinson and Matt Timson.
Matt Timson had impressed me with his work in the first issue, and with this second offering he's managed to completely sweep me off my feet.
Last issue, his approach to "the Ripper" was mostly based on playing with contrasts and shadows to establish form. This time, he takes a 180 degrees turn, providing richly detailed (almost photo-realistic), bringing to mind the likes of Bill Sienkiewicz, Leonardo Manco, and PARADIGM's Jeremy Haun.
Shadows and light are again important tools in his arsenal. During the daytime scenes the sunlight washes over everything, giving the art a unique realistic glint; the shadows in the backgrounds are overwhelmed and defined by the surrounding light, as if they were painting using white paint on a black canvas.
During the night time scenes, he uses the opposite effect; he achieves the feel of pitch black night sky by contrasting it with the blinding solid white of the buildings and the ground.
Unfortunately, as good as the art is, I didn't find any remarkable qualities in the plot itself. A guy working in an archaeological dig finds himself in conflict with his high school bully, but when the bully tries to sabotage the dig, things take a garish turn. A nicely revealed twist near the end isn't followed through to a more rewarding finale.
2.4. DOWN THE TUBES
by Arthur Wyatt and Adrian Bamforth
I figured there's no point discussing it when I can just show this one-pager here, taken off Wyatt's website: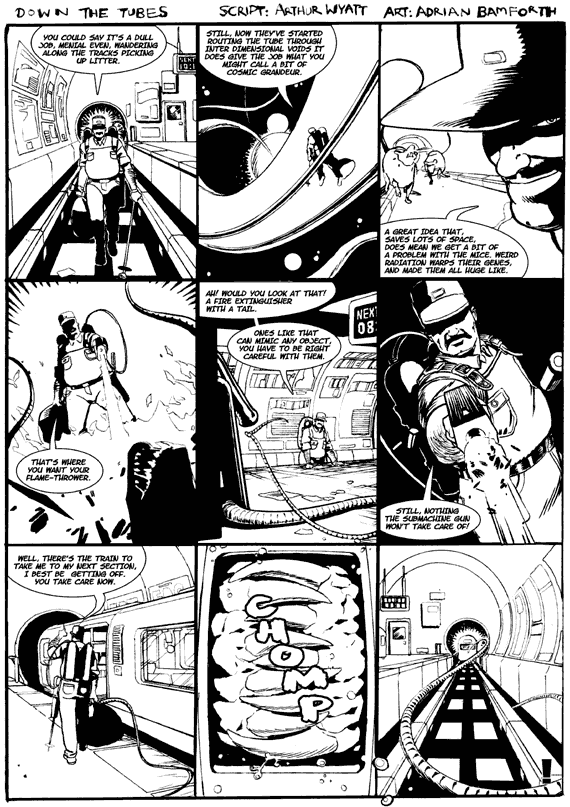 2.5. THE OTHER SIDE
by Art Wyatt and Mike Donaldson
Another 2-pager from the tag-team of last issue's "Hail to the King", taken from Mustard Magazine. There are few mysteries that have achieved such cult status as the infamous chicken and the motives which lead him to cross the road. As the chicken's carcass lies lifeless on the pavement, a detective sets out to solve the mystery by interrogating the chicken's girlfriend, his psychiatrist and his friends.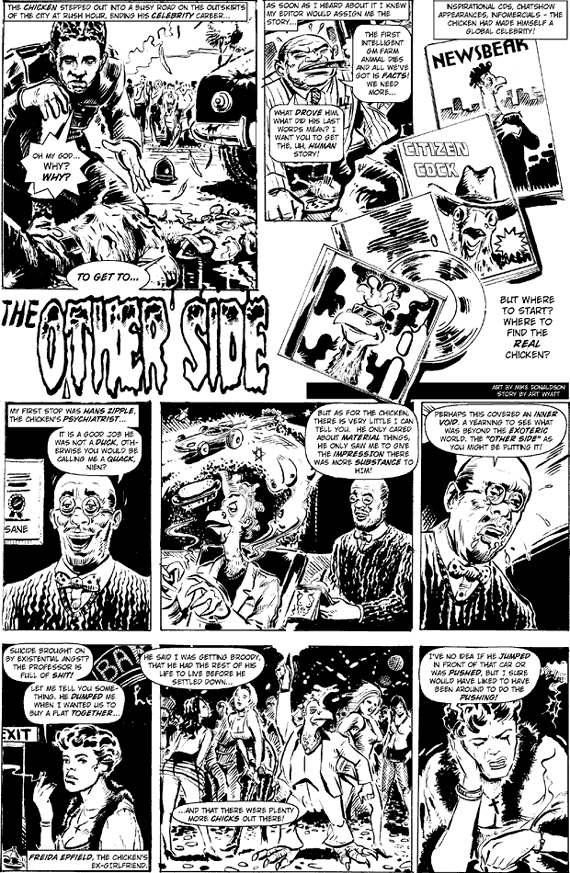 2.6. SPERM COUNT
by Paul Glasswell and Adrian Bamforth
An alien invading force hatches a nefarious scheme: Infiltrate the earth government by taking control of the Queen. And what better way to gain access to the Queen's body than to inject a microscopic sperm-shaped ship inside her royal suitor and then make the jump to her during"¦ -ahem-
The way the plot unfolds is even more asinine, and I enjoyed every side-splitting hilarious page.
DORK STORM PRESS NEWS: DR. BLINK TO MAKE THE JUMP TO COLOR STARTING WITH ISSUE #1! (Press Release)
Madison, WI — Dork Storm Press announced Monday that its latest title, "Dr. Blink, Superhero Shrink" would be published in color beginning with issue #1.
"I'm tremendously excited about this," said series creator John Kovalic. "On the heels of the Issue 0 sampler last summer, orders were strong enough for us to give this a shot. And, frankly, Chris' artwork deserves to be in color."
Colorist Melissa Kaercher will join Kovalic and artist Christopher Jones on the Dr. Blink creative team.
While Kovalic sees the possibility of a slight price increase for issue #2, issue #1 will remain at $2.99, the price it was solicited at. Originally scheduled for October, Issue #1 will ship in December due to the extra time in coloring the book.
Following that, Dr. Blink: Superhero Shrink will be on a bimonthly schedule.
"This is all new for us," said Kovalic. "So I've got my fingers crossed. Reader reaction to issue #0 was tremendous, and Chris, Melissa and I want to do the very best work we can on this."
The first Dr. Blink trade paperback, "Chicken Soup for the Super Soul," collecting issues 0 through 4, is also slated for color in the fall of 2005.
URBZ COMIX
The Sims and spin-offs thereof haven't managed to grab my attention, but some of my friends are literally addicted to them. The latest spin-off, "THE URBZ" has a sweet treat for its fans on the official website: they've called in the cream of the crop of the indy comics world to create a series of weekly comic strips for them. A new strip is available every week, and so far the list of contributing creators includes Peter Bagge, Dave Crosland, Chynna Clugston-Major, Jim Mahfood, James Cochalka, Evan Dorkin, Jay Stephens and more!
You can read all the archived strips on the Urbz home page.
SAVE ALPHA FLIGHT
Rumours around the net indicate ALPHA FLIGHT vol.3 may be hading towards cancellation. I have been rooting for this book from Day 1, because I know Lobdell still has the stones to pull comics magic, if he could just focus again. It had a rocky start, but everything since the end of the first arc has been very exciting; the characters have finally come to their and are interesting to read. I really hope AF manages to pull a SpiderGirl and stay floating!
Do you want to help save ALPHA FLIGHT? Visit this link and see how you can help.
TOP SHELF COMICS ONLINE(Press Release)
Come visit the Top Shelf website to check out the all-new line up of online comics! With this big update we introduce the magical work of Chicago resident Lilli Carrι. Her dreamy comics are truly something to behold, so keep your eye on this exquisitely talented cartoonist.
Also new to the site is the work of Terkel Risbjerg. He may live in France, but his charming wordless strips communicate to speakers of any language. Plus there's more work by Lode Devroe, Rob Goodin, Don King, Josuι Menjivar & Scott Malin, as well as a strip from newcomer Brecht Evens.
ONI PRESS SOLICITATIONS FOR NEW PRODUCTS SHIPPING FEBRUARY 2005
LITTLE STAR #1 (of 6)
by Andi Watson
Simon Adams is certain of what he's not: he's not one of those dead-beat
Dads. He's a thoroughly modern "involved" Dad. Watch him stagger through
the pee, the poo, and the puke in a sleep-deprived haze. No, you're not
alone, this is what it's like for everyone. Bi-monthly.
32 pages, black & white
Contains harsh language and mature situations.
In stores: February 2, 2005
Shipping from Quebecor: January 26, 2005
OIc date: January 5, 2005
$2.99 US, $4.50 Can
LOVE AS A FOREIGN LANGUAGE, VOLUME 2
by J. Torres & Eric Kim
All of a sudden Korea is looking a lot better to Joel. Actually, that's
a lie. Korea is still looking like a rotten, smelly place with weird
people and weirder food. Hannah, the new receptionist at the school Joel
teaches at, on the other hand, is looking mighty fine. But will the girl
of Joel's dreams ever actually make it into his days or did he extend
his stay in Asia for nothing?
72 pages, black & white, digest – 5.5″ x 8″
Contains harsh language and mature situations.
ISBN 1-932664-15-7
In stores: February 16, 2005
Shipping from Webcom: February 7, 2005
OIc date: January 10, 2005
$6.95 US, $9.95 Can
SCOTT PILGRIM, VOL. 2: SCOTT PILGRIM vs. THE WORLD
by Bryan Lee O'Malley
Scott's life has taken a bit of a detour, but he's going to take steps
to get everything back under control. There's Knives Chau, there's
Ramona Flowers, there's his band, there's six or seven evil
ex-boyfriends floating around, and there's a couple little things from
out of Scott's past that might end up seeming a lot more important
really soon. Too much! Can't deal! Must stop typing!
200 pages, black & white, digest
Contains harsh language and mature situations.
ISBN 1-932664-12-2
In stores: February 23, 2005
Shipping from Webcom: February 14, 2005
OIc date: January 17, 2005
$14.95 US, $15.95 Can
QUEEN & COUNTRY: DECLASSIFIED, VOLUME 2 #2
by Greg Ruck & Rick Burchett
The journey into Minder Tom Wallace's past continues! The Hong Kong
handover is about to take place and after midnight the island city will
be under someone else's jurisdiction. Can he complete his mission before
the deadline?
32 pages, black & white
Contains harsh language and mature situations.
In stores: February 23, 2005
Shipping from Quebecor: February 16, 2005
OIc date: January 26, 2005
$2.99 US, $4.50 Can
LOST AT SEA NEW EDITION
by Bryan Lee O'Malley
The critically lauded debut graphic novel from Bryan Lee O'Malley
returns to print with a brand new cover! Raleigh doesn't have a soul. A
cat stole it. Or that's what she'd tell people if she told people
anything. How did such a shy, weird girl end up in a car with three
hooligans on a cross-country trip? The answer isn't important, but maybe
this crazy caravan will show her what is.
200 pages, black & white, digest
Contains harsh language and mature situations.
ISBN 1-932664-16-5
In stores: February 9, 2005
Shipping from Webcom: January 31, 2004
OIc date: January 3, 2005
$14.95 US, $15.95 Can
RELIST:
LOVE AS A FOREIGN LANGUAGE, VOLUME 1
by J. Torres & Eric Kim
SCOTT PILGRIM, VOL. 1: SCOTT PILGRIM'S PRECIOUS LITTLE LIFE
by Bryan Lee O'Malley
THE ADVENTURES OF BARRY WEEN 2.0
by Judd Winick
COURTNEY CRUMRIN & THE COVEN OF MYSTICS
by Ted Naifeh
THE MARQUIS: DANSE MACABRE
by Guy Davis
– – – – – – – – – – – – – – – – – – – – – – – – – – – – – – –
Coming up next week: PREVIEWSCOPE for products shipping February 2005, gues-starring Ben Nagy!
As always, I'm waiting for your comments through email or in the new official LYS@D discussion thread.
Manolis Vamvounis
a.k.a. Doc Dooplove
– – – – – – – – – – – – – – – – – – – – – – – – – – – – – –