Welcome to The Saturday Swindle Sheet. This week's column is brought to you by Hershey's Take 5 bar. It has caramel, peanuts, peanut butter, chocolate, and pretzels. PRETZELS! In a candy bar! Just when you thought you'd seen everything…!
This column is ridiculously late thanks to my Internet provider sucking. I've finally gotten my connection back for the first time in over two days, and all I had to do was repeatedly call Comcast when I had about 50 better things to do this weekend. So, as a result, here's an EXCLUSIVE ultra-condensed Monday edition.
I have settled on Amsterdam for my vacation destination. I will be leaving on February 7th and will be gone for a week. There will be a special guest columnist filling in to provide you with the Swindle quality that you have come to know and love. Stay tuned for details as to who that will be. Also, those of you that have any suggestions as to things that I should check out while in Amsterdam, feel free to e-mail me. Cheers.
DRAMATIS PERSONAE (THE PICTURE MENU EDITION)
Has anyone ever seen the McDonald's picture menu? You know, the one for people who can't read, AND haven't memorized the McDonald's menu (which will stick with us all like multiplication tables from 3rd grade)? I'd like to see it just once, but I'd be afraid of having my food purposely sabotaged as a result of holding up the line just in order to see what a 6-pc Chicken McNuggets looks like.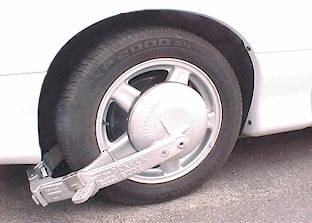 NEWS TO USE
Aaron Carter's Cadillac Escalade burst into flames early Thursday morning, but the 17-year-old pop singer and his passenger were able to escape the vehicle without any injuries. Carter was reportedly driving on a Florida expressway when a mattress fell out of the back of a delivery truck in front of him. Carter drove over the mattress, but it got stuck underneath the vehicle, being pulled along as he drove a short distance. The heat from the SUV's exhaust system ignited the mattress, and as Carter pulled over, he told reporters, he and his passenger smelled smoke. They reportedly got out of the vehicle just in time to see it become engulfed in flames. According to Carter, "Everything happened in such a whirlwind … It was like the mattress flew out of nowhere. You think you're invincible when you're behind the steering wheel of an SUV but you're not. I'm OK but you can imagine I'm still in shock… not from this crash, but because I'm dating that one Hawaiian Tropic model chick, and I am a stroke. I am going to thank God for sparing my life, and then I will f*ck my girlfriend's tits."
This is Aaron Carter's 21-year-old Hawaiian Tropic model girlfriend. That's some bullshit.
Britney Spears appeared at the KIIS radio station in Los Angeles last Thursday, surprising her fans by performing "Mona Lisa," a brand new song, at the studio. She also added that she would be releasing a new album in the summer, despite having stated that she would be settling down with husband Kevin Federline and possibly starting a family. However, according to representatives for Spears record label, there is no new album scheduled for anytime this year. They also revealed to a reporter for The Saturday Swindle Sheet, in an EXCLUSIVE interview, that the person who had shown up at the radio station was actually Courtney Love dressed up like Britney Spears, and she was "really melted."
An Illinois woman has filed a lawsuit against singer James Brown, claiming that he sexually assaulted her in 1988. Jacque Hollander, who was a public relations assistant for the singer at the time of the alleged assault, said in her suit that she had been traveling on a South Carolina expressway with the singer when he started to hit on her. After she made it clear that she was not interested in him, Brown reportedly pulled the van over to the side of the road. He then pointed a shotgun at her and forced her into the back of the van, where she says that she was forced to undress, and then raped and beaten by him. Hollander told reporters that she had tried to file criminal charges against Brown several years ago, but those charges never came to fruition. The woman is now instead seeking compensatory and punitive damages in excess of $100 million, saying that she recently developed Graves' disease as a result of repressing memories of the assault. James Brown's manager told reporters for The Saturday Swindle Sheet, in an EXCLUSIVE interview, "This is just absurd and does not warrant any comment. James Brown has beaten a lot of women. Imagine if every single one of them wanted $100 million. We'd be pretty screwed, huh?"
A new Chingy track recently leaked out into the online community earlier this past week, in which the rapper takes shots at Nelly, who he thinks took a shot at him in his single, "Another One." This rivalry will hopefully be resolved when both rappers are slated to face off in a steel cage, and then out of nowhere the cage will catch fire and get propelled off of the cliff. Also, Lil Jon will be the special guest referee.
Amjed "A.J." Abdallah, owner of Studio 8, where he recorded Eminem's The Slim Shady LP, was shot dead at the studio last weekend. A business associate came across Abdallah's body on Tuesday afternoon. The motive is suspected to be robbery, as many high-priced pieces recording equipment were found to be missing as police searched the building.
Quick Bits
Elvis' 70th birthday would have been on Saturday. A bunch of fans gathered outside of Graceland to do stuff in commemoration.
Usher will be performing a live concert, to be featured on cable network Showtime. One Night, One Star: Usher Live will be broadcast live from San Juan, Puerto Rico, on March 5th.
Hilary Duff and that guy from Good Charlotte might get married this year. I might have Subway for lunch tomorrow.
FROM THE LABELS
ASTRALWERKS NEEDS INTERNS
http://www.astralwerks.com/intern.html
Do you live in or near New York City or LA, have a passion for music, and can get course credit for internships? Astralwerks is looking for you! Click the above link for more info.
iNFLUENCES
Ever wonder what makes me tick? No? Too bad. Here are some of the random songs that came up in the iPod as I wrote this week's column…
Alice in Chains, "Rooster" (Live)
Aesop Rock, "Leave Home"
Breakbeat Era, "Ultra-Obscene"
Souls of Mischief, "'93 Til Infinity"
AC-DC, "Highway to Hell"
Faith Evans, "Love Like This"
The Beta Band, "It's Not Too Beautiful"
Prince, "1999"
Common [Sense], "I Used to Love h.e.r."
Beastie Boys, "Intergalactic"
Live, "Selling the Drama"
OutKast, "B.O.B."
Bad Company, "Feel Like Makin' Love"
Grooverider, "Cybernetic Jazz"
The Cure, "10:15 Saturday Night"
Adam Ant, "Mohair Locker Room Pinup Boys"
Killing Joke, "Pandemonium"
Londonbeat, "I've Been Thinking About You"
Joy Division, "She's Lost Control"
Robin S., "Show Me Love"
The Who, "Won't Get Fooled Again"
THE MOST RIDICULOUS ITEM OF THE WEEK
Just months after being revealed as a fraud on the set of Saturday Night Live, Ashlee Simpson has again been chagrined, this time following her performance during the halftime show at the Orange Bowl in Miami, on Tuesday. Simpson, who performed the song "La La"—and actually sang this time—received a plethora of boos from the crowd after finishing her performance, which more than likely sucked. In more pertinent news, USC kicked the shit out of Oklahoma, with a final score of 55-19.
The Most Ridiculous Items of 2004. Coming soon. I promise.
Enjoy your week. Stay tuned for Gordi Whitelaw on Monday. I'm Jeff Fernandez, and I got 99 problems but a bitch ain't one.
Cheers
-JF2k5!