50 Cent – The Massacre Review
|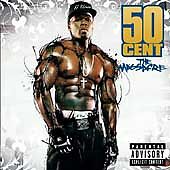 50 Cent is the most inexplicably popular and successful rapper alive today. He displays none of the wit of Eminem. He lacks the charismatically crafted wordplay of Jay-Z. His rhymes rarely make you think, like Nas. And all his venom and vitriol pale in comparison to Pac, on his worst day.
On the heels of an unprecedented underground buzz, 50 released Get Rich or Die Tryin' in the winter of 2003. Behind the two-fisted tunes of Wanksta and In Da Club, 50 rode the wave of a record-breaking first week of sales, moving nearly 900,000 units in his album's first seven days. Admittedly, both cuts were infectiously catchy, if a little light lyrically. Still, 50 had found a financially fortuitous formula for success and, if nothing else, he knows his audience.
Follow-up singles 21 Questions, with Nate Dogg and Magic Stick, with Lil' Kim didn't have to say much of anything for FM and MTV to take notice. 50 had already become the biggest name in the game (for 2003, anyways).
But, the backlash has built up against 50 Cent over the last two years. Many heads weren't happy to see rap return to subject matter like Kevlar and coke. In interviews, he displayed an air of ignorance that was tightly wound with apparent urban achievement, in the form of money, guns and girls. And, when he did rap, it was almost always a paint-by-numbers nonsensical verse or hook that could kill brain cells by themselves.
With that all said, 50 Cent's new album, The Massacre, is sure to debut at #1 on the Billboard charts. Still, is it me, or does there not seem to be a fraction of the anticipation for 50, this time around?
After one complete listen of 50's latest LP, one thing becomes obvious: there isn't one cut that can reach the rarified radio resonance of In Da Club. 50 grossly miscalculated with the release of the first few singles, so far. Disco Inferno fails on every level in an attempt to recapture that Club feel, with its watered-down, cliché-ridden rhymes suggesting the sistas step to the dance floor.
Candy Shop wastes a hot Scott Storch beat, as 50 goes back to the Magic Stick standard (even calling out the phrase on this song) in this insipid ode to his libido. See, his c*ck is like a "lollipop". How bad is it? Um, does anyone remember Warren G's verse on the Joysticc cut from last year's 213 album? That bad.
Now, even though there's not even one surefire single here, 50 sure seems to think there is. And, ironically enough, several times, he follows the "Ja Rule Requirement" of the rapping love ballad in a transparent attempt to reach out to radio. Jaime Foxx shows up on the syrupy Build You Up, which you've heard at least 100 times before and that's before 50 breaks out the obligatory "Whitney and Bobby" reference. The beat is nice, though, as Storch brings some bass with a half-and-half drum clap.
Just a Lil' Bit is borderline hypnotic, again, thanks to Scott Storch's snake charmer sound here, but 50 empty infatuation with the females sounds like an ersatz attempt to be How Do You Want It at half-speed. On the other hand, Baltimore Love Thing works, because 50 abandons the insincere sappiness for a bizarre in-verse mood swing from love to hate and back again.
But, 50's fans don't come for the sex scenes. And there are plenty of guns and drugs to keep the masses mesmerized. There's so much, in fact, that it's almost impossible to distinguish one track from the next over the first half of the album. Eminem produces both In My Hood and I'm Supposed to Die Tonight, but the beats are that same ol' Em sound and the lyrics are typical 50.
Speaking of Eminem, he shares the mic with 50 on Gatman and Robbin'. It's a weird track in that the production (again, by Em) nearly overwhelms the vocals, which is inexcusable for someone who's as a big a fan of his own board work, as Slim Shady is. The rapid-fire flow will have you reaching for the rewind button, but at times, both men are essentially inaudible.
Two final songs of note: the first is Piggy Bank, the heavily hyped diss track aimed at Fat Joe, Jadakiss and Nas, among others. It's actually pretty decent on its own, but the "clickety-clank, clickety-clank" hook completely compromises this cut. And, finally, there's Get In My Car, which is mindlessly fun and proves that 50 still has some mileage and material from his short-lived relationship with Vivica A. Fox.