The Weekly Music Pulse: The Saturday Swindle Sheet #86
|
My deepest apologies for being a no-show last week. As many of you may know, since I've been bitching about it, I have been sick for the past two weeks. Also, as many of you may know, I work a second job as the layout editor for Dispute Resolution Magazine. Well, I got royally f*cked over this past weekend when (a) my waning cold regrouped into a much stronger, much more diabolical flu, and (b) I had to get the edition finalized (with any last-minute changes and art) in a matter of two days. Of course, this is difficult to do when all your body wants to do is sleep, cough, and occasionally puke. I woke up Saturday morning for work with a treacherous mix of nausea and chills, and after leaving early from work, I went home and slept for the remainder of the day. I wasn't quite sure whether or not the chills was an added symptom of the flu or whether it was a result of separation anxiety from me decreasing my dosage of Paxil1. So, as a result of this whole fustercluck, I had to use one of my three allotted sick days for the year. While Widro was cool with it, friends close to Fingers say that sat in the shower and cried for the entire weekend, only coming out on Monday night to eat some Totino's Pizza Rolls and watch Monday Night Raw.
Speaking of which, welcome to The Saturday Swindle Sheet. This week's column is brought to you by Totino's Pizza Rolls, which are awesome to eat with your FINGERS! HA! I slay me!
My friend and I on seasonal depression…
My Friend (10:04:24 PM): this time of the year is really shitty for me
EmergncyAirlines (10:04:36 PM): Winter is usually my bad time
My Friend (10:05:01 PM): well this time of the year meaning from what i was doing 2 years ago
EmergncyAirlines (10:05:05 PM): Spring is the time for SPRING FLINGS LOL OMG GETTING GIDDY BLOOWLWOEOWING MY WAD!!!!!
DRAMATIS PERSONAE (MYSTICAL HAIKU EDITION PT 2)
That_Bootleg_Guy owns
His birthday is coming up
I got this for you
Shawn M. Smith kicks ass
He has the shitty flu too
I am Mexican
Mathan has it all
Yes, Detroit Deli is rough
Hank Williams Jr.
Then there's D'Estroyer
"Nu-Metal" needs some umlauts
It might suck less then
Read Michael Chadwick
Yes, the Grammys suck my nuts
I like KFC
Here is Mike Eagle
P. Diddy is horrible
The ultimate suck
I am not Gloomchen
Phil Collins owned Genesis
I hate the Yankees
Kyle David Paul
Bauhaus will rock Coachella
Roast beef sandwiches
Botter was chagrined
That_Bootleg_Guy gets the praise
Thanks, Nine Inch Nails!
D'Estroyer has THIS
Read this and this and this too
Reviews are awesome!
Rakim should have won
It's an abomination
I blame Bobby Brown
NEWS TO USE
Just a matter of weeks after gouging her own eyeball out, Whitney Houston checked into a New York area drug rehab facility on Wednesday, a year after having been successfully discharged from a similar, undisclosed clinic. The singer reportedly started using drugs again, while at the same time recording a new "comeback" album, with record producer Clive Davis. She has reportedly blamed everything on husband Bobby Brown, although she has no proof to backup that he had anything to do with it. Oddly enough, most people still believe her.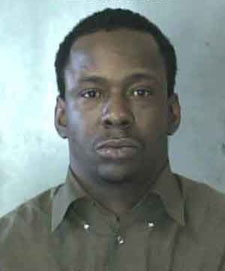 Ever been busted for anything? Next time, try and blame it in Bobby Brown! You might just get away with it!
Beanie Sigel recently sent out a message to his State Property compatriots, saying that they should wait until he gets out of prison to continue with their careers, or, at least, the career of the collective which may or may not actually exist. Sparks was all like "Can't no man put nobody on hold," and the Young Gunz were like, "It wasn't really no State Property," and Peedi Crakk may or may not have said, "Gabba gabba hey." In any event, this adds more tension to the group as they are already in the midst of figuring out whether or not they want to announce allegiance to either Dame Dash or Jay-Z after those two split up as business partners last year. "Regretfully, it looks like you have to choose a side, and that's never the way I wanted it to be," Dash told reporters when asked about the rappers 'taking sides'. "I think that's corny." This may be because Jay-Z appears to be the preference amongst the camp, as both Peedi Crakk and Young Guns came out with statements chastising Dash. "I don't f*ck with Dash at all," Crakk said. "He don't listen. … He's got so much money, he thinks he's the shit. A cloud just hovers over his head so much, it f*cks with his common sense. That's why he's losing. He don't know how to pick music… He's got three, four, five assistants holding his two-way, holding his money, holding his phone; all this super Hollywood shit. Kinda like how I hope to be in two years."
Rod Price, guitarist and founding member of classic rock band Foghat, died on Tuesday at his home in Wilton, New Hampshire, of an apparent head contusion, after falling down a flight of stairs. The incident appears to have been an accident, as foul play has been ruled out. Price, who was 57, was in otherwise good health.
Quick Bits
N.E.R.D. will never record another album again. The order was made by a group of circuit court judges who ruled that the last album was so horrid that N.E.R.D. must immediately cease to exist. Trucker hat wearers and puds everywhere are most certainly devastated.
Jonathan Davis, of Korn, and his wife, porn actress Deven, named their newborn son Pirate. This is not a joke.
Pearl Jam is currently recording a new album, which is scheduled for release sometime later in the year. In a related story, Coca-Cola still manufactures Fresca, but nobody really cares about that anymore, either.
Rahzel, Kid Koala, and Dale Crover of the Melvins have all signed on to take part in Mike Patton's Peeping Tom musical project.
The Backstreet Boys played the first of a line of reunion concerts at New York's Irving Plaza on Tuesday. Unfortunately, no one showed up because all of the group's former fans have grown up, and they were at a local concert hall for a Death Cab For Cutie CD listening party.
FROM THE LABELS
The lovely Aisha Bell from EMI Music Marketing has some concert dates for the upcoming Doves tour…
4/30 Indio, CA (Coachella Valley Music and Arts Festival)
5/01 San Francisco, CA (The Fillmore)
5/03 Seattle, WA (The Showbox)
5/04 Portland, OR (Aladdin Theatre)
5/06 Vancouver, BC (Commodore Ballroom)
5/08 Salt Lake City, UT (Club Sound)
5/09 Boulder, CO (Fox Theatre)
5/11 Kansas City, MO (Madrid Theatre)
5/12 Minneapolis, MN (The Quest)
5/13 Chicago, IL (Vic Theatre)
5/14 Detroit, MI (Majestic Theatre)
5/16 Toronto, ONT (Kool Haus)
5/18 New York, NY (Webster Hall)
5/19 New York, NY (Webster Hall)
5/20 Boston, MA (Avalon)
5/22 Philadelphia, PA (Theatre of the Living Arts)
5/23 Washington, DC (9:30 Club)
All dates will also feature Mercury Rev.
Here's a press release for the upcoming Gorillaz album…
GORILLAZ RETURN WITH DEMON DAYS
Damon Albarn partners with Danger Mouse for sophomore set out May 24
Guests include De La Soul, Ike Turner, Dennis Hopper, MF Doom, Shaun Ryder, and the London Community Gospel Choir
"Every great band is destroyed by their success… Cartoon bands are no exception."
So says Gorillaz guitarist Noodle, who, by the account of bandmates 2D, Murdoc and Russel Hobbs, took the helm for Demon Days, the follow-up to their six-million-worldwide-selling debut, due for U.S. release on May 24. "Noodle wrote most of this album herself," says Russel. "Murdoc may try and take the credit for it, but from the basic sketches to the finished album, this was Noodle's vision."
Co-produced by Gorillaz/Albarn and Grey Album mastermind/WIRED magazine rave award honoree Danger Mouse and recorded at the band's own Kong Studios, Demon Days is a darker and more intense affair than 2001's Gorillaz. Noodle explains: "The soul of the recording can't avoid being a manifestation of the time, climate and location of the place we were in when it was recorded. Consequently the colours are rich, dark and heavy while the rhythms are clean, strategic and relentless. It has a consciousness to it."
"Like someone has taken the first album and coloured it in," adds 2D.
The band is currently shooting a video for first single "Feel Good Inc." which features the song's guests De La Soul performing alongside Gorillaz. A white label 12″ of the track "Dirty Harry" has also been making the rounds, though it is "Feel Good Inc." that will be Demon Days' first official single, as decided by group vote. "Although, as is traditional, every one of my votes counts for double of 2D's," adds Murdoc.
Further information may or may not be provided as/if it becomes available. For the present, visiting Kong Studios at Gorillaz.com may provide clues… or not.
The third Coldplay album, titled X&Y, is scheduled for a June 7th release. Here are some upcoming tour dates…
4/30 Indio, CA (Coachella Valley Music and Arts Festival)
6/15 Hamburg, Germany (Volks Park)
6/17 Koln, Germany (Fuelinger)
6/19 Berlin, Germany (Wuhlheide)
6/22 Dublin, Ireland (Marlay Park)
6/27 London, England (Crystal Palace National Sports Centre)
6/28 London, England (Crystal Palace National Sports Centre)
7/01 Glasgow, Scotland (Bellahouston Park)
7/02 Glasgow, Scotland (Bellahouston Park)
7/04 Bolton, England (Reebok Stadium)
7/05 Bolton, England (Reebok Stadium)
7/07 Arnhem, Netherlands (Gelredome)
7/09 Munich, Germany (Coubertin Platz)
7/10 Vienna, Austria (St. Polten Open Air)
7/11 Verona, Italy (Open Air)
ASTRALWERKS NEEDS INTERNS
http://www.astralwerks.com/intern.html
Do you live in or near New York City or LA, have a passion for music, and can get course credit for internships? Astralwerks is looking for you! Click the above link for more info.
iNFLUENCES
Ever wonder what makes me tick? No? Too bad. Here are some of the random songs that came up on the iPod as I wrote this week's column…
Christian Death, "Panic in Detroit"
Butthole Surfers, "Pepper"
Grover Washington Jr., "Just the Two of Us" [f/Bill Withers]
Blue Six, "Music & Wine" (Th'Attaboy Vocal)
The Brian Setzer Orchestra, "Jump Jive an' Wail"
Gipsy Kings, "Hotel California"
Phil Collins, "In the Air Tonight"
George Michael, "Too Funky"
Pete Yorn, "For Nancy ('Cos It Already Is)"
James, "Laid"
The English Beat, "Save It for Later"
Incubus, "Vitamin"
Sasha, "Xpander"
Queens of the Stone Age, "No One Knows"
J. Geils Band, "Love Stinks"
Laid Back, "White Horse"
Chris Isaak, "Wicked Game"
Dr. Dre, "Still D.R.E." [f/Snoop Dogg]
The (International) Noise Conspiracy, "A Northwest Passage"
Alice in Chains, "Get Born Again"
Roy Ayers, "Running Away"
THE MOST RIDICULOUS ITEM OF THE WEEK
It was a CHINESE FIREDRILL at the American Idol tapings on Tuesday, when several phone numbers used to vote for the contestants where jumbled up, causing some of the 11 singers to get twice as many votes while others got none, even though voters may have intended otherwise. As a result, the producers of show decided to toss all of Tuesday's votes and call for an UNPRECEDENTED repeat broadcast on Wednesday so that viewers could recast their votes. Wednesday's scheduled broadcast was bumped to Thursday, and was replaced by a recap episode to show Tuesday's performance. Depending on whether or not the scheduled episode of The O.C. was to be a rerun or not, we could see a Widro/Daniels feud come out of all of this, which would be INSANE. Who will Fingers side with, and what will become of the site? Stay tuned…
EmergncyAirlines (10:14:57 PM): So American Idol will be broadcast tomorrow in place of The O.C.?? Do I smell a possible Widro/Daniels feud as a result?
PulseMM (10:15:04 PM): no
PulseMM (10:15:07 PM): it's on instead of point pleasant
EmergncyAirlines (10:15:19 PM): Well that's anti-climactic
EmergncyAirlines (10:15:26 PM): I thought we were going to see FIREWORKS
PulseMM (10:15:35 PM): if you want we can lie to them and get them to fight
EmergncyAirlines (10:17:24 PM): SMELL THE RATINGS!!!!
Enjoy your week. Stay tuned for our Monday team (Botter two weeks in row? It could happen…!). I'm Jeff Fernandez; I've seen a million faces, and I've rocked them all.
Cheers
-JF2k5!
1 After tests showed an elevated amount of enzymes in my liver, my gastroenterologist ordered me to stop consuming alcohol, Red Bull, and Paxil for the next 2 weeks to see if it would help the situation. Knowing damn well that I can't function without my boyish charm pills (shout out to Eric S.), I managed to negotiate an every-other-day dosage, which is a lot more difficult than it sounds. As a result, I've been very irritable, edgy, and have been plagued by nervous chills. This sucks…