The Ultimate Fighter 2 Finale Aftermath
|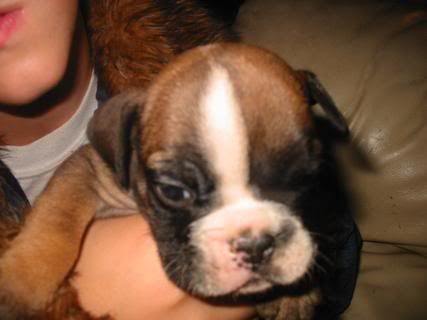 This is my new dog, Don Vito. It would be wise to pay your respects.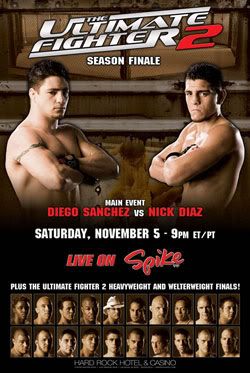 THE ULTIMATE FIGHTER 2 FINALE RESULTS
A lot of people bitched about The Ultimate Fighter 2. They said there wasn't enough drama; not enough to get them emotionally involved with the fighters, like with season one. Personally, I liked the crew from TUF 2. I was literally on the edge of my seat for the finals matches during the finale. Overall it may not have been as great as the TUF 1 finale, but that's a tough act to follow.
Kenny Florian d. Kit Cope at 0:37 in round 2, via rear naked choke
Kit Cope made his UFC debut against TUF 1's Kenny Florian on Saturday night. Cope has an impressive Muay Thai record of 22-1. He's probably, pound for pound, one of the best Muay Thai fighters on the planet. That said, his MMA skills leave a lot to be desired. Kenny "Ken-Flo" Florian actually submitted Cope twice during their fight on Saturday. Cope tapped to an armbar at the end of the first, but was saved by the horn. The damage had been done to Cope's arm, and Ken-Flo made him tap again in the second with a rear naked choke. In an interview on Friday, Kit Cope predicted, "I see an early finish." Do I even need to make a joke here?
Joe Stevenson d. Luke Cummo by unanimous decision
I really like Joe Stevenson. He doesn't take himself too seriously, and he's a phenomenal grappler. I was hoping he wound win, because I think he truly earned it, but part of me really wanted Luke Cummo to win. This was one hell of a fight from start to finish. I honestly don't think Stevenson expected Cummo to counter his submissions so well. Stevenson had a separated clavicle prior to the fight, but kept it quiet. It takes a lot of balls to fight with an injury like that, and to defeat someone with skills like Cummo. Joe Stevenson is your TUF 2 Welterweight winner.
Rashad Evans d. Brad Imes by split decision
Rashad Evans is a very likable guy, and has spent years honing his skills. Brad Imes is extremely charismatic, and while he's only been training in MMA for a little over a year, shows a lot of promise. I was behind Rashad during all of his fights leading up to the finale, but I had to back Imes on this one. I've become a big fan of the man with the second worst nickname in MMA ('Hillbilly Heartthrob' is trumped by Frank 'Twinkle Toes' Trigg). This was another great fight, and I think the decision could have gone either way. Rashad Evans is your TUF 2 Heavyweight winner.
Imes took the loss like a man, and showed a lot of heart and great sportsmanship. Imes sustained a broken nose and a broken hand as a result of the fight, but Imes suffered an ever greater loss just hours later. Brad's mother, Carolyn Imes, passed away suddenly from a heart attack on Sunday, November 6th in Las Vegas. Carolyn, 56, was in attendance to watch her son compete on Saturday night.
Diego Sanchez d. Nick Diaz by unanimous decision
Nick Diaz is an asshole. Diaz talked a lot of shit about his opponent, Diego 'The Satanic Hispanic' Sanchez. He talked shit before the fight, he talked shit in the locker room, he even talked shit in the Octagon. Now I'm not a big fan of Sanchez, but if you're going to talk that much shit about someone, you better guaran-f*cking-tee a victory against them. I was hoping his loss on Saturday would teach Diaz to keep his mouth shut, but now he's claiming that Sanchez was "greased up" for the fight. Whaddadouchebag.
Y'know, I barely remember the actual fight, even though it was just a few days ago. All I can picture is that look on Sanchez's face when he fights. It reminds me of the little kid that plays young Bobby Boucher in the flashback scene in The Waterboy. Diego is an annoying Jesus freak, and half a 'tard, but the dude has skills.
Non-televised undercard:
Keith Jardine d. Kerry Schall at 3:28 of round 2, via TKO (leg kicks)
Melvin Guillard d. Marcus Davis at 2:55 of round 2, via TKO (doctor stoppage/cut)
Josh Burkman d. Sam Morgan at 0:21 of round 1, via KO (slam)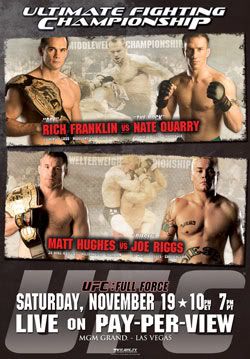 UFC 56: FULL FORCE PREVIEW
UFC 56: Full Force will broadcast live on pay-per-view on Saturday, November 19th at the MGM Grand Garden Arena in Las Vegas.
Confirmed bouts:
Matt Hughes vs. Joe "Diesel" Riggs
TUF 2 coach and Welterweight Champion Matt Hughes takes on Joe Riggs, who is coming off of a UFC 55 win over Chris Lytle. Riggs is replacing an injured Karo Parisyan. I like what I see with Riggs, but I don't think he has what it takes to defeat the Champ.
Rich Franklin vs. Nate "Rock" Quarry
Everyone is asking the question, does Quarry deserve a title shot. Look, I don't know if he's truly earned it, but for my money, this is an awesome match-up. TUF 2 coach and Middleweight Champion Rich Franklin has become one of my favorite fighters over the last six months, and is a ridiculously good striker and submission specialist. I like Nate Quarry a lot, too, and he's shown some serious striking and submission talents as well. This could be the fight of the night, but I wouldn't count on Quarry walking away with the title.
Georges St. Pierre vs. Sean Sherk
I friggin' love Georges St. Pierre. I can barely understand a word the guy says, but he is the nicest guy who will ever kick your ass. St. Pierre is coming off of an impressive victory over Frank Trigg at UFC 54, and is determined to become the next Welterweight Champion. This is Sean Sherk's first fight in UFC since his loss to Matt Hughes at UFC 42. Sherk is a tough son of a bitch, and has been on a two-year winning streak (fighting for various promotions), so look for this to be a fight to remember.
Jeremy Horn vs. Trevor Prangley
Y'know, I thought about naming my new dog after Jeremy Horn, but 'Overrated Douchebag' doesn't exactly roll off the tongue. I don't give a f*ck what Horn says, he's still flustered from his loss to Chuck Liddell at UFC 54. His inflated record of 75-14-5 doesn't buy him tough guy cred anymore. Calling it quits against Liddell to avoid having a KO on his record made him a marked man. South Africa's Trevor Prangley has only had two fights in UFC, but won both. With an overall record of 11-2, and a strong background in submissions and striking, Prangley could stand a chance against a rattled Horn.
Sam Hoger vs. Jeff "The Karate Kid" Newton
You may remember Hoger from TUF 1. I found him extremely annoying, but he has a lot of potential. UFC 56 is Hoger's first time fighting on pay-per-view for UFC. I don't know who Newton is, but I hate him already, just based on his nickname. This will be Newton's debut fight for UFC.
Nick "The Goat" Thompson vs. Keith Wisniewski
Who and Who?! This will be both fighters' UFC debut. Thompson holds a 21-8-1 record, and favors submissions. Wisniewski holds a 21-7-1, and also prefers submissions.
Gabriel Gonzaga vs. Kevin "The Shaman" Jordan
This is Gonzaga's UFC debut. While he only sports a 4-1 record, all four of his wins were by submission. It should be noted that Jordan was choked out by Paul Buentello in his UFC debut at UFC 53.
ULTIMATE FIGHT NIGHT LIVE III
The third installment of Ultimate Fight Night will be on January 16, 2006 at the Hard Rock Hotel & Casino in Las Vegas. The main card will air live on Spike TV at 9:00 pm EST.
Rumored bouts:
Stephan "American Psycho" Bonnar vs. James Irvin
This fight was supposed to take place at Ultimate Fight Night Live II, but Bonnar broke his hand training, and the bout was postponed. I was kind of hoping this would make its way into UFC 56, but as long as I get to see these guys fight on TV, I'm happy.
I don't know who TBA is, but I hope he knocks Leben the f*ck out. Y'know, I was gonna name my new dog after Leben, but…
The official card probably won't be announced until a week before the event, like last time, but I'm interested to see who they'll put Leben up against.
THE ULTIMATE FIGHTER 3
Applications are currently being accepted for The Ultimate Fighter 3 (check out theultimatefighter.tv for more info). TUF 3 is scheduled to begin airing on Spike TV in Spring 2006. I started writing for IP well into TUF 2, so I didn't get to cover it like I wanted to, but I will be doing weekly episode recaps for TUF 3.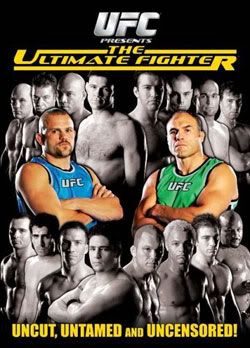 THE ULTIMATE FIGHTER 1 DVD SET
The Ultimate Fighter season one is out now on DVD. It's a 5 disc set, featuring all original 13 episodes. The set includes over 14 hours of footage, including over 3 hours of bonus material like the finale preliminary fights, fighter profiles, and training tips. You can pick it up for about thirty bucks. I'll probably have a review in the near future.
ARE YOU A MEXICAN OR A MEXICAN'T?
Former UFC star Tito Ortiz was recently involved with the TNA wrestling promotion, and goddamn was he useless. On the October 8th edition of TNA "Impact," on Spike TV, Tito displayed mic skills rivaled only by WWF-era Ken Shamrock (that is not a compliment; just for the record). Ortiz was acting as a special guest referee for the main event of TNA's "Bound for Glory" pay-per-view. The match was originally scheduled to feature Jeff Jarrett vs. Kevin Nash. During Tito's awful appearance on "Impact," both Jarrett and Nash came down to the ring. Tito slapped a half-assed rear naked choke on Nash, and gave Jarrett a shove. In a word, it was lame.
Apparently TNA's six-sided ring wasn't big enough to contain the egos of Ortiz, Jarrett, and Nash. Nash was unable to compete, and was replaced by former ECW and WWE 'star' Rhino. Tito's biggest contributions to the match were manhandling female wrestler Gail Kim, and getting the three count as Rhino pinned Jarrett. Chuck Norris had a bigger impact at the 1994 "Survivor Series."
Ortiz will now return to bitching about Matt Hughes and Dana White full time.
ROCK PLUG
Please check out the new album from Fireball Ministry, Their Rock Is Not Our Rock; out now on Liquor and Poker Music. I've been a fan for a long time, and they just keep getting better with each album.
Tags: Mixed Martial Arts