Obviously there are more important things happening in the wrestling world than the usual news and match results nonsense…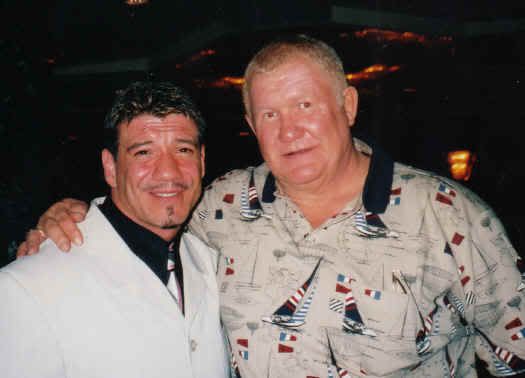 "The man has a shadow to try and fight
He blinks his eyes and faces the light
Sees what's there as it burns so bright
Finds what he is by the dawn of the night
She gives him truth and peace and the way
Yet the sun soon returns to greet the day
And the shadow waits with no need to pray"
The Distractions, Time Returned
I remember writing in a column shortly after WrestleMania XXI about the status of the WWE Championship. I think I said something along the lines of the belt belonging around the waist of a man and not a boy, in other words Eddie Guerrero and not John Cena. This is not the time to debate the merits of Cena's reign, but I'm sure that he and everyone else in the wrestling business would agree that Eddie possessed a strength that could be matched by very few individuals. What made him even more special is that he had the charisma and the passion to turn this strength into an inspiration for others, like one reader who sent me an e-mail after that column about what that throwaway comment had meant to him.
In the interests of anonymity, let's just call this reader Robert. He had never really paid any attention to wrestling until he met up with some of his friends, who were watching Halloween Havoc '97. That was the show that WCW promoted around a Hogan/Piper cage match, dubbed 'Age in the Cage' by most, but came to be remembered for the stunning Eddie/Mysterio mask vs. title match. Had it not been for the grander circumstances surrounding Hart/Austin at WrestleMania XIII then this one would have swept the board for Match of the Year honours. It was certainly enough to get Robert hooked on wrestling. By this point WCW was dominated by the (still vaguely interesting) New World Order and the rise of Goldberg, while the WWF was getting a new attitude thanks to Stone Cold and D-Generation X, not to mention the fall-out from Montreal. Robert, freed from the smark curse, didn't care about any of the backstage politics or changes to the industry. He just watched Nitro to see Eddie and Rey alongside equally talented co-workers like Malenko, Jericho, Kidman and Benoit. When the Radicals turned up on Raw he followed them there but began to drift away from watching wrestling as his own demons began to drag him down. While Eddie's addictions began to unravel his personal and professional life, Robert was suffering from similar effects. His marriage and career were shattered as his mental and physical health began to rot away. It was only after a chance encounter at a sports bar on the 15th February 2004 that things turned around for him. That was of course the date of Eddie's WWE Championship victory. Robert had not been following wrestling for a good long while now and was surprised to see one of his old favourites winning a major title. He went online to see what he had missed and then began learn about Eddie's addictions and his recovery from them. The more he found out about cheating death and stealing life, the more Eddie became an icon for him and the more inspired he became to similarly revitalise his life. Now Robert has been reunited with his estranged wife, has a steady job and has been sober for nearly two years. Nobody will ever know if he could have done this without Eddie's example and it doesn't even matter. The fact is that Eddie's actions inadvertently saved another person's life from ruin – and I am sure that Robert was not the only one.
Five-star matches and picture-perfect frog-splashes are all very well and good, but this sort of thing is the making of a real hero for many people.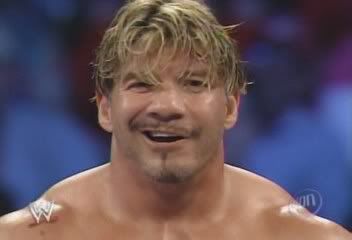 "Chained to all the places
That he never meant to stay
Bound by all the weight
Of all the words he tried to say
As he faced the sun he cast no shadow"
Oasis, Cast No Shadow
So maybe that is the best way to remember Eddie; as a wonderfully entertaining and loving person capable of inspiring the world to be better and the people in it to be happier simply by being himself. Certainly the world is a worse place without him in it. Certainly there are a lot of people deeply upset by his passing; there are countless message boards and forums that can verify that. Maybe we can all still make the world better by applying aspects of Eddie's qualities to ourselves, lighting a little Latino Heat fire inside us all to make us better people. All I know is that the fact such a notion is even theoretically possible is further testament to just what a great man Eddie was.
As a wrestling fan, it was undoubtedly an honour to watch him work. I haven't seen any tapes of Los Gringos Locos yet, or any of his early work in Mexico. The first time I seen him was on a late-night wrestling show on Eurosport while staying at my grandparents' house. They had cable, you see, and back in those days Eurosport had a weekly hour-long highlight show of New Japan matches. That's where I first seen Black Tiger II in action, although obviously back then I had no idea who the man under the mask was. I missed out on his ECW stint when it happened, again due to a lack of coverage here in the UK, but when we finally got our own cable TV and net connection installed I was able to watch Nitro every week. That's when I really got the chance to see Eddie Guerrero in action, to find out about his background, and to see him and his radical contemporaries continually steal the show from the aging WCW headline acts. Even among that batch of supremely gifted individuals it was apparent that Eddie was a truly unique talent. There was no denying it. Even through his clashes with WCW management, the crazy days of the Latino World Order and the car accident his spirit couldn't be suppressed. Then came the Radicals… the low-rider… the way he made people believe that Chyna really was his Mamacita… the Latino Heat… the addiction and the recovery… the championship… and through it all a constant stream of wonderful matches… a true grasp of both wrestling and sports-entertainment. In all honesty the Match of the Year honours for 2005 belong elsewhere, but without a shadow of a doubt the Feud of the Year honour deserves to go to the Eddie/Mysterio storyline. On a character basis it was possibly the best that Eddie had ever been, with some truly chilling and emotional promo work carrying the feud as it became more and more intense. By all accounts he was set to give us some equally memorable performances as the plot involving him and Batista unravelled. Nobody wanted him to go but he did at least go out on top.
I don't know exactly how he died. The most likely cause at the moment is thought to be heart failure. As poetic as it might be to think that Eddie had to go because his heart was too great for this world, I don't care about the how. I'm more concerned about the why.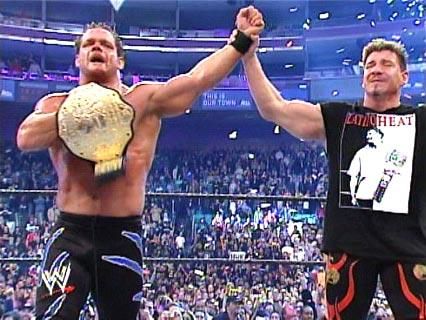 "This life is sweet
For dancing in the street
Who knows who you might meet?
You'll do fine"
R.E.M., Beachball
A few random thoughts to go out on…
I like to think that Eddie tricked God into thinking the Grim Reaper had hit him with a steel chair, thus earning the disqualification victory.
I like to think that when it comes to immortality, we'll do our best to see Latino Heat > Hulkamania.
I like to think that Chavo will be able to posthumously induct Eddie into the Hall of Fame next year.
I like to think that Eddie's daughters will still be able to grow up happy and healthy.
I like to think that nobody else, past, present or future, will be able to look so cool with a mullet.
I like to think that when Vince said the Guerrero family would receive royalties forever, he was being honest.
I like to think that nobody else will have to die before their time.
I like to think that if there is a heaven then Eddie and Owen are working one hell of a program with one another.
I like to think that there's a lowrider hearse for him.
I like to think that there are more Eddie Guerreros in this crazy world.
Normal service hopefully resumes next weekend. This weekend I'll be at the Brighton Comics Expo along with fellow Nexus writers Manolis Vamvounis and Will Cooling. Drop me a line if you're going to be there too.