UFC 56: Full Force Preview
|
This is a rather small column for me, but with The Ultimate Fighter 2 in the can, and UFC 56 still four days away, there isn't a hell of a lot going on right now. I'll have a review/recap of UFC 56 next Monday.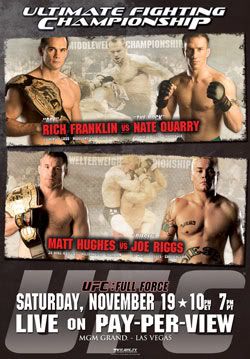 UFC 56: FULL FORCE
I wanted to remind everyone that UFC 56: Full Force is this Saturday, live on pay-per-view. The updated, final card is as follows:
Rich Franklin vs. Nate Quarry
Matt Hughes vs. Joe Riggs
Georges St. Pierre vs. Sean Sherk
Jeremy Horn vs. Trevor Prangley
Sam Hoger vs. Jeff Newton
Nick Thompson vs. Keith Wisniewski
Gabriel Gonzaga vs. Kevin Jordan
Thiago Alves vs. Ansar Chalangov
Check out last week's column for my predictions.
TUF 2 FINALE RATINGS
While the ratings may have dropped gradually over the course of the season, UFC's The Ultimate Fighter 2 finale scored a 2.0 rating, with a 3.7 rating in the 18-34 Male demographic. That's up from 1.9 for last season's closer. This makes the TUF 2 finale the most-viewed live UFC special to date. This is damn good news for TUF 3, and a good bargaining chip to lock in TUF 4 with Spike TV.
TUF 2 LOSERS COME OUT ON TOP
MMAWeekly.com is reporting that both Luke Cummo and Brad Imes have been offered contracts with UFC. I think Cummo is going to bring a lot of exciting to the Welterweight divison. Imes has a ton of potential, but he's going to have to train his ass off, non stop, if he plans on being a serious threat to the Heavyweight division.
HE MAY BE A DICK, BUT HE'S STILL EMPLOYED
Rumors have been circulating that Nick Diaz is on thin ice with UFC after the nonsense surrounding his fight with Diego "Dirty" Sanchez. It has been speculated that he could be on his way out the door once his contract expires. UFC President Dana White calls bullshit.
In a statement to GracieFighter.com, White commented on the situation:
"I don't know where these rumors are coming from, but I can tell you that Nick Diaz is one of the most exciting fighters we have and I couldn't be happier with him. The stuff on the Internet is a bunch of crap and if you don't here it directly from me, it's probably a lie. As a matter of fact I was so impressed with the performance of all of the fighters in the TUF Finale that I will be sending them a bonus check. Diaz's performance and showmanship in and out of the ring is exactly what we like about him and I have never considered firing him from the UFC."
FREAKY OR LAME EXCUSE?
Kit Cope sustained a serious injury in his fight against Kenny Florian.
"A freak injury happened while I was defending the shot against the cage right before Flojo got the takedown. Somehow my clavicle tore apart from my scapula(collar bone tore from my shoulder blade)and at that point I was a one armed fighter. The injury happened before the armbar and I just tapped on J-lo to let off as soon as the horn blew. I tried painfully to use the arm, but obviously to no avail. I am scheduled to have a reconstructive surgery this week."
I love the name-calling. Save that shit for someone you actually beat, stupid. You know, I absolutely believe that Cope sustained a serious injury, but I don't buy the freak accident shit. He looked fine up until the beginning of the second round. Just take your loss like a man, and don't bullshit people with half-assed excuses. Florian deserves at least that much respect, and so do your fans.
TITO, GET ME A TISSUE
UFC Welterweight Champion Matt Hughes was recently a guest on The LAW (Live Audio Wrestling); a show I used to be a regular on many moons (and many hosts) ago. As luck would have it, Matt provided me with a great follow up to last week's rant on Tito Ortiz.
The following was transcribed by Jeff Cain:
LAW: OK. We're talking about personalities. I've got to ask you about one guy who's very much in the public eye, one of the most out there characters the UFC has every had, and that's Tito Ortiz, currently not speaking to the UFC because he and Dana aren't seeing eye to eye. Do you think that's a good thing or a bad thing that Tito is not in the UFC after all the hype he created?
Hughes: Well, Tito didn't create any hype. The UFC created Tito. Tito didn't make the UFC whatsoever. The UFC has not changed one bit from not having Tito in their organization. Basically my response is Tito who? Wondering why you asked that question because I don't think anybody ever worries about Tito anymore. He was a paper champion. He never fought really anybody tough, and when he did he got beat. The UFC made a poster boy. That was Tito, and then Tito thought he was somebody special. And then he got beat, and now he's out. That's the way I look at it.
Could the host have possibly asked a longer f*ckin' winded question? Damn, I miss Tidwell. Anyway, this is exactly why I love Matt Hughes. He kind of reminds me of how my dad was: He'll call you an asshole to your face, but say it in a way that makes you feel good about it. I know people bitch about Matt being a ball-breaker and a prick, but just look at how he worked with Rashad Evans prior to the TUF 2 finale. Hughes is all heart, and accepts nothing but the best from himself, and from the people he works with. Fuck Ortiz.
TitOWN3D
(Thanks to Shelly)
MUTANT MAILBAG
There's nothing I enjoy more than some f*cking know-it-all taking time out of their day to raise my blood pressure. The following is an e-mail I received on the 15th, and my reply.
Rounds, time limits, rules, weight classes were all established prior to Zuffa buying the company in 2001. Don't let their press releases fool you. If you're going to do a "UFC for dummies" column, at least do some research beyond the last 4 years. UFC was established in 1993, and even had rules then (although very limited.) There were rounds put into place as early as UFC 5. Weight classes appeared as soon as they abandoned the tournament format. I suggest you read the books "Brawl" or "No Holds Barred." Both can be purchased through Amazon.com and are good histories of MMA in America.
Zack Nelson
Thanks, but I've been watching since UFC 1. What I did was a condensed history of relevant information. Too much information is often column overkill. The rules and guidelines established by the Zuffa-owned UFC is really all that is important for someone who just started watching within the last year (which is exactly who the column was written for).
REST IN PEACE, EDDIE
I wanted to take a moment to honor Eddie Guerrero. I've been a wrestling fan for well over twenty years, and it always sucks when one of these guys gets cut down in their prime. Eddie Guerrero was a phenomenal athlete, and a very talented and funny man. His work in ECW, along with Dean Malenko and Chris Benoit, stands out among some of my all-time favorite ECW matches. I think Eddie really came into his own in the WWE, and again, along with Benoit, proved that the big guys don't need to hog the spotlight to put asses in the seats.
I thought the Raw tribute last night was very tastefully done, and it showed a lot of heart from all of those guys (and gals) to go out there and work under those circumstances. It showed even more heart to open themselves up emotionally like that on camera.
I never met Eddie, nor was I his biggest fan, but I always enjoyed watching him on television and seeing him live, and it's a goddamn shame that none of us will have that pleasure again. You will be greatly missed, Eddie.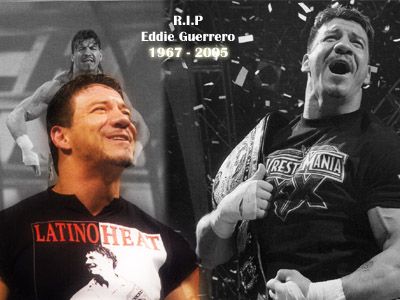 (Thanks again to Shelly)
Viva La Raza.
Tags: Mixed Martial Arts