Willie Nile – Streets of New York Review
|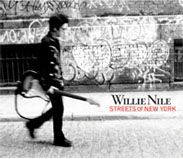 Official Link: http://willienile.com/
The Inside Pulse:
Willie Nile has a gritty Bruce Springsteen type-voice that can pull you off a busy street and into a bar you've never been into before to experience his music. Streets of New York has received critical acclaim from many within the music industry, such as Bono and Lucinda Williams. After listening to it myself, I can understand why.
Positives:
Nile is a sharp storyteller with his music, every story special to him, but remains uniquely shared by anyone who listens. "The Day I Saw Bo Diddley In Washington Square" is something a audience can sing along, get rowdy with and toast a drink to. "Whole World With You" is a incredible oath to love that is passionate, loud and un-apologetic. "Cell Phones Ringing (In The Pockets of the Dead)" was written for the victims of the Madrid train bombing in March 2004, is my favorite of the album, and is much in the same category as Billy Joel's "We Didn't Start The Fire."
Negatives:
Nile delivers a fun and passionate album, symbolic to what New York means to himself and others. However, I would have saved "Lonesome Dark-Eyed Beauty" for the next album because it feels the most different from the entire album as a whole.
Cross-Breed:
Chris Isaak, Bruce Springsteen, and Charles Bukowski poetry
Reasons To buy:
If you want something urban-fueled yet everyday American and soaked in honesty, then this album is for you. The impression left with me after listening to Nile's Streets of New York is that I could have a cup of coffee or a good strong drink with Nile, a in-depth conversation about life, love and traveling, and miss his wisdom the moment my hands touch the door to leave.