Dirty On Purpose – Hallelujah Sirens Review
|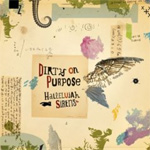 Website: Dirty On Purpose
The Inside Pulse:
Dirty On Purpose's rollicking, spacey noise pop evokes a certain sadness. Trying to put your finger on exactly what type of sadness is difficult, but it recalls the sadness of knowing that summer is coming to a close, that you have to go home after the late night trip to the diner with your friends. This Williamsburg-based quartet sound little like any of their local contemporaries, and instead specialize in Yo La Tengo or Sonic Youth style buzzing rollers ("No Radio" and "Car No Driver") and low-key ruminations ("Lake Effect" and "Always Looking"). With the aid of female Brooklyn-based singer-songwriter Jaymay (who contributed vocals to a few tracks), Dirty On Purpose have crafted an elegant debut.
Positives: "Hallelujah Sirens" is an accomplished album with evocative lyrics and melodies. It is an engaging album with enough variation in tone to make for distinctive songs and melodies. I was also pleasantly surprised that the image on the promo copy sticker (with band members vacuuming and a cartoon bubble reading "This ain't the album art, dudes") was not, in any way, indicative of the album's sound or mood.
Negatives: Dirty On Purpose, while crafting their own sound, still do not break any new ground, and do recall a certain trio from Hoboken.
Cross-breed: Yo La Tengo with less noisy Sonic Youth.
Reason To Buy: Fans of aforementioned bands would most certainly enjoy.