Senators/Sabres Brawl
The Buffalo Sabres beat the Senators 6-5 after a shooutout but the real showdown took place after Chris Neil of the Sens hit Buffalo's Chris Drury from behind. There was no penalty called and the rumble began after the Sabres Adam Mair punched the Sens' Jason Spezza resulting in ALL 10 skaters squaring off and then both goaltenders going at it.
Coincidentally, this isn't the first time that Mair is involved in a full scale hockey brawl. In 2000-2001, while playing for the Kings, Mair jumped off the bench and attacked (surprise, surprise) Chris Neil (shocking) after he had shoved Kings goalie Felix Potvin. The brawl had started before Mair joined in, (Neil had proceeded to smacking Mikko Eloranta around) so as soon as he jumped over the boards, it's an automatic 10 game suspension and a team is not allowed to replace that roster spot. Now the Kings are up 6 on 5 here and Jani Hurme leaves his crease to join the brawl but Potvin cuts him off. Potvin is landing some punches and Hurme can't get his blocker off so he sticks his arm in over to the Sens bench and his teammates start removing the blocker for him.
I forget the final score to THAT game, but Mair was later traded to the Sabres where he's fine tuned his act to starting fights while he's ON the ice.
Trade Deadline
First off, who's left and who wants any of these contracts?! The West is LOADED with top tier teams and any changes to those teams would probably not make much of a difference. Forsberg to the Preds was kind of a spitball move because the Predators are already Cup contenders. Are they SURE winners now? Hell no.
The playoff race in the West is not nearly as tight as it is in the East so they could use some upgrades, especially any team that's not New Jersey or Buffalo. The #4 seed is seperated from the #9 seed by 7 points. The #3 seed could easily be added to that mess but thanks to the screwy NHL playoff seeding format, the Lightning hold onto the 3rd seed no matter what anyone outside of their lame division does.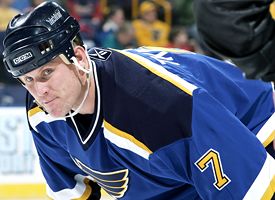 Could Wally be on his way East?
With the deadline only 4 days away, the first Eastern Conference bubble team to make the first move (Sean Avery landing in NYR doesn't count) might jump out to a good head start at moving up in the standings.