Welcome to the Pulse Wrestling Roundtable for WrestleMania 23, featuring all of the following:
DVD Lounge hallmark, CHARLIE MARSH
DVD Lounge kitchenmark NEIL BISMAN
Our look-ahead guy DANNY WALLACE
Official podcast guy KACE EVERS
DVD Lounge shrubbery DANNY COX
History buff MARK ALLEN
Not A True Ending editor WIDRO
ROH crack addict AARON GLAZER
Resident porn star MATTHEW MICHAELS
Resident Smackdowner TROY HEPPLE…
Alternate Reality's own VINNY TRUNCELLITO…
The considerate ANDY WHEELER…
Grumpy man ERIC SZULCZEWSKI
Grumpier man FLEA
Marginally grumpy Q&A guy IAIN BURNSIDE
---
World Heavyweight Title:
Batista vs. The Undertaker
Charlie Marsh: This should be very interesting. Batista's star power is fading, so you'd think they'd take the title off him before too long. On the other hand, breaking Taker's streak would help him immensely to get over. On the other other hand, the streak is too big to blow at this point, and Taker should probably retire with it. So, I guess we'll just have to flip a coin.
Winner – Heads (Undertaker)
Allen Noah: Correct me if I am wrong but this thing has all the makings of an absolute train wreck. Batista seems to look worse and worse by the day and I'm not sure what the Undertaker will be able to get out of him. This match reminds me a lot of Triple H vs. Chris Jericho from Wrestlemania 18 when the life was just sucked out of the building by the time the match came on and everyone just wanted to go home, myself included. Should this thing go on last as is anticipated, it may aid in helping many people get a good nights rest. Considering how much the WWE has soured on Batista and how highly they think of the Undertaker, I can't see any way in which the title does not change hands.
Winner – The Undertaker
Danny Wallace: I'm eagerly awaiting this match, just to see what happens. I think we all know that Vince is leaning 90/10 in Takers favour, but to me there's still a slight chance he will swerve us all and end the streak and put Batista over, and that's what I will be watching for. I couldn't give a damn about work-rate, technical ability or a snowflake rating… I'm looking for a story, psychology and suspense.
Winner – The Undertaker
Kace Evers: The Streak continues. Belt or no belt, the Streak continues.
Winner – The Undertaker
Danny Cox: Batista has gotten rather boring and I would honestly love to see him turn hardcore heel because it made him that much more interesting. Problem is I don't think he can survive as a heel by himself. I don't care really because Taker's streak is not going to end and for years and years after he retires the question will be if someone can ever break it.
Winner and NEW Champ – The Dead Man
Mark Allen: Batista isn't going to be the one to end Undertaker's streak and at this point I don't think anyone should. WrestleMania should end with Undertaker posing with his belt.
Winner – Undertaker
Widro: The original plan seemed to be for Batista to win, but I don't think anyone in their right mind would want him to be the one to break the streak (or remain champion)
Winner – Undertaker
Pulse Glazer: This should be interesting, if not actually good. Both guys can be good when motivated, but Batista is limited since his return from injury and The Undertaker doesn't carry people. Batista would win if he were a decade younger, but since he isn't, we get a new champion.
Winner – The Undertaker
Matthew Michaels: This match should go on last, and should end with the marks marking out (HOLY SHIT UNDERTAKER IS TEH AWESOME!) and the smarts smarting out (FINALLY HE'S WON THE BELT THAT MAY OR MAY NOT INCLUDE THE LINEAGE FROM THE OLD NWA!) as Sara's husband finally takes the belt off of the man who couldn't even keep Rebecca employed through Mania, let alone break the most important streak in wrestling. But of course, it won't go on last, as quick, dirty and fun as this one will be.
Winner – The Undertaker
Troy Hepple: Undertaker wins and, hopefully, Batista turns heel on the next episode of SmackDown or as soon as possible. I used to be so into the idea of this match but the build up has left a lot to be desired. Remember not even six weeks ago how so many people were arguing over whether or not Batista should end Undertaker's winning streak? Or even when people thought Batista could be the next big superstar? If I was to have my way, I'd just throw Ric Flair back in his corner and start from the beginning again.
Winner and New Champion – The Undertaker
Vinny Truncellito: With his current standing in the company, I can't imagine Batista breaking the coveted streak. Even if Undertaker's not in the long term planning, he could pop a cool moment for winning the title here and drop it before SummerSlam without much heartache.
Winner – The Undertaker
Andy Wheeler: Taker's undefeated streak is safe. When it gets broken, it'll be huge. With no faith in Batista, I don't see them snapping the unbeaten record. Plus, this could help turn Batista heel and freshen up the upper card.
Winner: Undertaker
Eric Szulczewski: The DAVE of 2005 would have won this match and broken the streak. Not the DAVE of 2007, who, as has been said at this site many times, barely merits DAVE status anymore. Plus, a UT win is better booking. They can do more with UT holding the title right now, especially with the Brand Extension broken down for PPVs. I actually have a perverse desire to see a UT/Jamalga match for the title.
Winner and New Champion – The Undertaker
FLEA: I love Batista. It's not everyday you get a second chance to relive the Lex Luger story. I sat through the first one and was tickled pink that Batista was more than willing and able to fill the role. The only thing missing is to kill a woman. UT, on the other hand, has redeemed himself quite rightly since the days of riding a chopper that would run out of gas at the wrong moment…having the nerve to trot out his horse-faced skank old lady, a nightmare in any respectable washed – masses slumber…hell, the only thing UT did right in 3 years was make a monkey out of that idiot DDP. These days, the Dead Man is back, totally rules and should get Hogan money for getting what should be a decent match out of a load like Lex Batista. Because UT is a prick, this match will go 18 minutes – which is about 10 minutes longer than needed. But the payoff at the end will be good – hopefully a Tombstone. And the tongue flopping around satanic pin. I love that. REST – IN – PEACE. Batista will be smart to tear a quad and disappear.
WINNER: The Undertaker
Iain Burnside: Time to point out that Taker's streak already includes one DQ victory, so he could easily get another here to avoid breaking it or picking up the title. That would also play into the 'turn Batista DAVE' motif. Have him grab a chair and run around poking people with it, including Taker, the referee, Aretha Franklin, a hot dog, Alan Sugar and perhaps somebody with cancer. And since they want to end it with Cena getting pummelled by Droz (as far as I can tell), then it doesn't really matter if there's a title switch or not. The only thing that matters is preserving the streak – and they shall.
Winner – THAT UNDERTAKER
Lester: they wqere jumping upj and don and thn UNhnderkater kickes him in jthe facesd. THins made DABE angery ans inow hen wanted somr evntbge and he will end the sgtrak at WREsltemania. Winnedrf: UIndeltaker.
---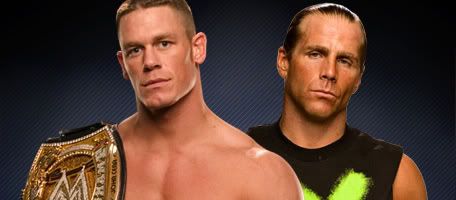 WWE Championship:
John Cena vs. Shawn Michaels
Charlie Marsh: As much as I'd like to see Shawn win, it probably won't happen. He'll put Cena over good though and give him the best mach of his life.
Winner – John Cena
Allen Noah: Many people like the way this feud has been booked but I am not one of them. Neither man has looked the part of favorite or underdog and when you have two faces working together, all bets are off in how the crowd will respond. Chances are the smarky fans at Ford Field will side with Shawn Michaels but will it be enough to give it that added pop that most matches need? Cena has feuded with anyone and everyone on the Raw roster at this point so I really don't see any logic for him to retain the title here. Cena will probably get a rematch at Backlash but after that I am looking forward to a summer of Shawn Michaels and Edge tearing it up.
Winner – Shawn Michaels
Danny Wallace: As much as I'd love to see the World Title around the waist of HBK, I'm going for John Cena, simply because a win over HBK will do more for Cena than a win over Cena would do for HBK. However, if they went with a Kennedy win in the MitB match, HBK would be a great opponent for "The Man with the World's Longest Speech Impediment". This has the potential to be one of the matches of the night, and I whole heartedly agree.
Winner – John Cena
Kace Evers: If Cena wins…they just might riot, Devil's Night style.
Winner – Shawn Michaels
Danny Cox: HBK did the Jesus Kick this past Monday and did the "I look at you kinda-heelish like I did to Hogan" stare which almost definitely puts the nail in his proverbial coffin. Sucks too because I'd love to see the belt taken off Cena, HBK give some great quasi-heel promos, and have the belt returned to a normal non-spinning belt. But Shawn could end up putting angel wings and a big cross on it or something. And I'm sorry but after the blasphemy of Chris Benoit tapping out to Cena, there is nothing I'd like more then Johnny Boy getting his head taken off and losing his belt. But no, we're gonna see the lazy man's DVD and he'll reign again.
Winner and STILL Champ – The Sucky Marine
Mark Allen: Just another routine defense for John Cena. I don't see anyone but Triple H taking the belt off of him in the near future.
Winner – Cena
Widro: HBK has proven he is the legend that can STILL GO and will carry Cena to a ****+ star match. Cena has to win, although I could see HBK winning a rematch.
Winner – Cena
Pulse Glazer: On Kace's podcast I argued that Money in the Bank would be the match of Wrestlemania, but I'm changing my stance here to claim this will be it. Michaels steals almost every Wrestlemania he's prominently featured in and Cena can really step it up when he needs to. This will be great and match of the night, but not match of the weekend. What will be? Check the ROH Roundtable. Cena needs the win; Michaels doesn't.
Winner – Cena
Matthew Michaels: I don't think anyone really thinks HBK will win here; it's more a matter of how good he can make Cena look, and if enough Canadians are in the audience to boo Michaels and cheer the champ. Should be a fun match with a crazy audience split and hopefully Cena continuing to improve and work hard.
Winner – John Cena
Troy Hepple: I can't think of a single reason why Shawn Michaels shouldn't have one more run at the top. John Cena has gone through all the opponents I think could be thrown his way for the title; he's held that title since September and been around the belt since WrestleMania 21. It's been four and a half years since Michaels had his run at the top, and even that was pretty brief. I suppose the best reason why I think Michaels should regain the belt this weekend is… why not? Having said that, I've picked for every title to change hands, and if there's one that has to be retained then it's this one.
Winner and New Champion – Shawn Michaels
Vinny Truncellito: If I understand this correctly, HHH was set to face Cena but was injured, so his DX crony slipped into his slot. Whether or not HHH was going to get his win back from last year is irrelevant. If Cena beat HHH at 'Mania 22, he's not going to lose to HBK this year. Only one world title changes hands tonight.
Winner – John "The Merchandise Marine" Cena
Andy Wheeler: The main event to end all main events or something. Glad to see that when Hunter went down with Quad Tear V. 2.0 that it opened the door for some of the younger guys to step up. Oh yeah, there's a match also!
It's pretty redundant to say that HBK brings it in the main event of Wrestlemania, because for the most part whoever's in the main event of Wrestlemania brings it. You gotta figure that Shawn's motivation here is to show that he can still do it, and you have to believe that there's a friendly rivalry between him and Hunter to see who can carry Cena to the better (read: "acceptable") match. With that said, Cena's title reigns is about as sure as a sure thing can be short of your name being Lashley.
Winner: Cena
Eric Szulczewski: This is something I've said in my columns and with Kace on this week's Podcast: both title matches are "Fuck You, Hogan" matches. Both UT and Michaels can get their fifth titles, matching Hogan. Vince is vindictive as hell in that way. Now that Lashley's taken Cena's place as Vince's Golden Boy, it's safe to remove the title from him, especially under these circumstances. Cena is going to get booed out of the building here, and since this match will probably go on last, they're not going to take any risks. I will put one caveat in here: if this match does not go on last, and Edge wins MITB, we might see a Cena victory with Edge cashing in right away and taking the title from Cena ala NYR 2006.
Winner and New Champion – Shawn Michaels
FLEA: This match will be great – and absolutely horrid all at the same time. How's this for bad luck – Cena, who is the face, will be booed out of the building. Everyone loves HBK. To make this match work, HBK is going to have to bounce off the walls (like a check from Hyatte) and sell, sell sell. The bad part about that? Cena's offense SUCKS. Weak. GIRL! His best bet move is to get beatdown and make a comeback (albeit weak) which ain't going to be easy when the crowd digs him getting his ass kicked. And gets pissed when he makes a comeback. The definition of a trainwreck. Under most circumstances, this setting would be classified as "bowling shoe ugly", but – it's HBK. This is why he's the best. He will give you a show like you won't believe, because he can. I'm such a mark. This match will rule. The only *really* bad thing is, HBK will put himself over at the expense of Cena…but not in a way you will notice for a few months
WINNER: Shawn Michaels
Iain Burnside: I can't think of anything to say about Cena and Michaels. But I can do better than that. I won't be paying much attention to the match, just watching the humourous people in the crowd getting carried away with themselves. Please check out Pillman/Guerrero from Clash 32 to see an exceptional example of this, as the guy in the white shirt directly behind the middle of the ring continually touches his nipples, tries to Hulk Up and embarks on a bout of arm waving that could either be trying to turn himself invisible long before Cena arrived or simply having a spaz-out. Who knows? It's fun. I hope the match involves a chicken but I will be let down once again. Perhaps they could drop chickens from the roof at the end of the match. Like those Japanese fellas with the toilet roll, but FATTER, cos this is AMERICA gawdabnit! U-S-A! U-S-A! JARR-ETT! Wheeee.
Winner – as the fans begin chucking garbage into the ring, JOHN CENA
Lester: Is aw ihim kikc him in the face on the showq ofn the tv but now thyr;e ofing to the big danse and imd not hsure hou is' tog oing eiot win but i like int when cena cna't see you. WInnner Cnea
---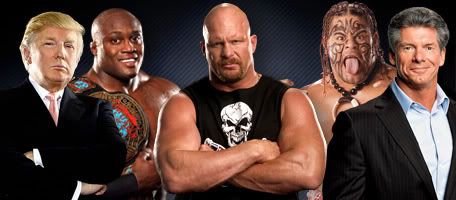 "Battle of the Billionaires" Hair Match – Steve Austin as Referee:
Bobby Lashley (w/ Donald Trump) vs. Umaga (w/ Vince McMahon)
Charlie Marsh: Lashley is Vince's pet project so there's not really any doubt that he'll win.
Winner – Lashley
Allen Noah: Call me crazy but I actually like the way this thing has been booked. Not so much the way Vince McMahon is constantly on my screen but in how strong they have made Umaga and Lashley look. The one mistake they may have made was making it a little too obvious who is coming out on top. As much as McMahon does not like ECW, there is no way he jobs out their champion on PPV unless there is some sort of Dusty-finish and I highly doubt that Donald Trump would agree to have his head shaved. On a side note, how bland is Lashley on the microphone? Yikes.
Winner – Lashley
Danny Wallace: This match could be a catalyst for a solid few years for both Umaga and Bobby Lashley in the WWE. Both guys MAY be implanted in the heads of those who are tuning into WrestleMania to see this match, which in turn may lead to increased exposure to the WWE from gaining new fans, which in turn leads to more money. I, however, am not a part of it, so I wouldn't know. I'm sure in 5/6 years time, if successful, then there will be a guy in my place writing about how the "Battle of the Billionaires" match drew him/her into Wrestling again and lit a fire under the world which led to a new Wrestling boom. It seems we are on the cusp of something…
Winner – Bobby Lashley
Kace Evers: Umaga is mortal enough, thanks to John Cena and Lashley has the Push Of The Ages in progress.
Winner: Bobby Lashley
Danny Cox: Lashley was totally destroyed on RAW and I had decided that if Umaga showed up on ECW to have the favor returned to him, then this may have become a little harder to call. But all Lashley got back was calling Vince a bastard. Oooooo scary! I have no desire to see either man's head shaved cuz I really don't care. But I would give anything to see Austin straight up stun Lashley and Umaga get the duke. Too bad that won't happen and if Austin stuns Lashley, it won't be til after the match anyway.
Winner – Mr. Boring As Hell
Loser Of Hair – Vinnie Mac
Mark Allen: No way Trump is losing his hair, especially at something like this. This is just another part of the plan to get Lashley as over as humanly possible. We'll see some Stunners and McMahon doing his great overreacting when he gets the haircut.
Winner – Lashley
Widro: Foregone conclusion? Apparently you can bet on Umaga and bet $3000 to win $100 (PWTorch) and that's just a free $100 if you have $3000 laying around.
Winner – Lashley
Pulse Glazer: Is there anyone who honestly believes that Trump is getting his head shaved on a wrestling Pay Per View? Lashley, Vince's pet project, will continue his overhyped feud with Vince by beating Umaga. Since that isn't in doubt Does Austin have the best song in WWE history? Take a gander and Vote by sending mail here.
Winner- Lashley
Matthew Michaels: What a waste of two titles… but, then again, this is the match that's gonna make everyone their money, so Eddie & Bobby — here's your HUGE chance to shine. Like Vince's head will shortly thereafter…
Winner – Bobby Lashley/Team Trump
Troy Hepple: A bald Vince McMahon. It's going to be a weird image, isn't it? I never was one for Loser Goes Bald stipulations, or for the real story being between the managers, or Steve Austin, and the cheap shot at Rosie in the Tale of the Tape annoys me every time, but this entire angle has done one thing right – build up Umaga and Bobby Lashley. And putting over two wrestlers which have grown on me (Lashley's improved a hell of a lot, and the Umaga character has survived a lot longer than I thought it would) is something I have no problem with even if it does have to include Donald Trump. Anyways, Lashley wins and McMahon goes bald and gets covered in beer. I wouldn't be too surprised to see them shave Estrada too, actually, just for kicks.
Winner – Bobby Lashley
Vinny Truncellito: At first I couldn't imagine any way Trump would lose anything, especially considering his representative is one of WWE's hot projects. However, Vince must realize that we all know how obvious it will be for Trump to win, so he might want to do something screwy to swerve us, especially considering the date of the show. Still, I'll stick with my gut and predict:
Winner – Bobby Lashley
Andy Wheeler: Several of my friends who are non-watchers of wrestling and thumb their noses at sports entertainment have called me in confusion believing that Trump and Vince are going to have a match at Wrestlemania. I was then embarrassed to explain to them that each guy is being represented by a wrestler, and then had to explain how a bald black guy could also be green and that a wild untamed Samoan was somehow an intellectual commentary on society. I then banged my head slowly against the wall. This was still more entertaining than the Lashley/Umaga match. Again, Bobby's near invulnerable in Vince's eyes and no one in the world thinks that Trump's going to get shaved, so this might be the very definition of moot. And the very definition of a bad match yet still not the worst match on the card.
Winner: Lashley
Eric Szulczewski: Is anyone actually going to pick Jamalga? I'd bet on some hinkiness that allows Vince to keep his hair, but given the mainstream media coverage of this match, I don't think Vince would dare to book it that way. He'll take one for the team.
Winner – Bobby Lashley
FLEA: Umaga is this generation's Kane. He will always be believable at the "close to Main Event level"…and always there if you need a Main Event. Replace Lashley with Monty Brown and you would be onto something. Could you imagine if they would have used "ex-NFL player" in the promotional mix? Of course, they deny "Monty Brown" ever existed, despite the fact that "Monty Brown" is on every paycheck he gets, instead assigning him the moniker "Coq Au Vin", or whatever the f*ck his name is. And refuse to let him talk. Clowns. This match will be laid out in the same manner as a Hogan / Warrior, or any match from Randy Savage since 1986. 100% scripted. Like ballet – just follow the steps. Of course, Good Ol' JR used to scream "this ain't ballet"…but then again, he also used to say "there's someone at home, sitting on their couch, drinking a beer saying "these guys know how to fall". Well, they did. They Learnt. You can thank Tough Enough for that. As far as being bald, they have added enough intrigue to make one think that there is any chance in hell Trump is going cue-ball. No Chance in Hell, just like the song says. What this does is keep Vince on TV for the next 6 months.
WINNER: Lashley / Trump. In a totally worth it memorable WM moment, of course
Iain Burnside: Bobby Cosby doesn't have large, bulging, rippling muscles, he just has kittens shoved underneath his skin. Jubblymaga wants to eat the kittens. He won't get to. Also, the black guy might just be a blackface guy and this should be investigated by the authorities. For the record, I first got a big bald spot when I was 15 and completely fail to appreciate the significance of the stipulation. This is an odd little planet. Also – Billion Dollar Dream. Gotta happen.
Winner – the so-called African-American, BOBBY (n. Brown)
Lester: HTis himatch is stupid buercyse lashlea is bald aleeady so we knowe that he'g going to weien and umangsa is the loser and get a shavwen face i think vince will icheat and dnolad. stone col d is a ref winner blobby
---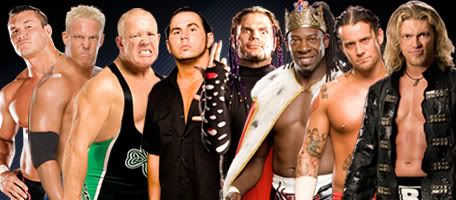 Money in the Bank III:
Edge vs. Randy Orton vs. Jeff Hardy vs. C.M. Punk vs. Matt Hardy vs. Finlay vs. King Booker
Charlie Marsh: Before the SI article, I figured Orton to be a lock to win it, but probably not anymore. Now, I kinda want to say Punk could get it, just to challenge for a different brand's title and get him off of ECW.
Winner – C.M. Punk
Allen Noah: Edge, Orton, Booker and Finlay really have no need to win this match so you figure that right off the bat they are out of consideration. That still leaves half the field but none of the remaining guys are even close to deserving a title shot. I'm not a 13-year old girl so I hate Matt and Jeff Hardy and would possibly turn off the PPV should either of them win. If someone could please explain to me (and Eric S. for that matter) why Mr. Kennedy is over, please do. CM Punk may be over with the fans but is no where close to getting a title shot, let alone being given a title. Having said that, I guess I am going to have to contradict myself and give it to one of the 4 established guys. Let's give it to Edge since the idea of a two time MITB winner sounds intriguing and if nothing else will give him some more material to work with.
Winner – Edge
Danny Wallace: Is this match throwing me or what? I've not a f*cking CLUE who will win this, and I love it for that. Edge and Mr Kennedy seem to be the favourites, with both enjoying a good run in the Main Event a few months ago on their respective brands. Randy Orton won't win it, he's doesn't need to and it's not his time. The same can be said for both King Booker (who's time has seemingly passed) and Finlay (who's time will never come, as sad as it may seem). Neither of the Hardy's will win – Jeff seems happy in the midcard, he shifts merchandise at a steady rate and he gets enough of a pop to not warrant a huge push, so it will be a waste. Matt – Held down it seems, is a "good hand" (meaning he'll get occasional pushes and is seen as a good worker but not Main Event material) and he can't really talk that well. CM Fucking Punk is the 3rd favourite to win, but it won't be his year. That will be next year. His year's full up with New Breed stuff (who might cost him the MitB match, or will try and help him if he turns heel, however there's more material in a feud with the New Breed).
I predict a joint winner, Edge and Mr Kennedy. That way, they could keep the Cena/HBK feud going until Backlash, and have Edge and Mr Kennedy duke it out for the MitB shot in a ladder match.
Winner – Edge and Mr Kennedy (Joint-Winners)
Kace Evers: Edge continues his undefeated streak, though I'll be pulling for Punk to win. If Booker wins, that's fine, too. After all, he should've won the Royal Rumble.
Winner – Edge
Danny Cox: This is by far the hardest one to call. There are your standard bump machines in the Hardyz. Your technical aspect comes in with Finlay and Punk. Punk who also is the up and coming rising star. Edge and Orton have their own heat with each other which I think kind of eliminates them since they are almost destined to feud just hope Orton goes face and not Edge. Meanwhile, the quietest two contenders have been BOOKAH and Mr. Kennedy. Considering BOOKAH is a King and just had the title some months ago, I think this is going to get Mr. Kennedy another title shot. He had a few and DAVE took him out each time. I think this is where Kennedy gets his chance and will eventually take the title. Consider this the match of the night.
Winner – MISSSSTTTAAAAHHH KENNEDY .KENN-E-DY!
Mark Allen: Tough one to call, the three front-runners look to be Edge, Punk and Kennedy. I don't Edge's streak is that sacred that he should have to win MITB again to keep it alive. I think Kennedy could get a lot of mileage out of the Mr. Money in the Bank gimmick.
Winner – Kennedy
Widro: This is the one match on the card I'm not totally sure of where they are going. I think keeping Edge's streak intact would make the most sense, he wins, moves to Smackdown and they build all year to Edge/Taker at mania 24 for streak vs title.
Winner – Edge
Pulse Glazer: I can think of about 5 guys who would better fit this match and gain more from this than Booker and Finlay. With those two out, the undercard gets better and two younger guys can get a rub. Not meant to be, I suppose. Finlay and Booker don't need the win, they're established. MITB is a backdrop for the Orton and Edge feud, but one easy to remove without removing the heat, so they don't need to win. Matt and Jeff are here to take crazy bumps. That leaves Punk and Kennedy. Punk should win, because of his New Breed story, but he's more likely to be lost the match by their interference than to win it. Looks like Kennedy's the man. Poor Eric S.
Winner – Kennedy
Matthew Michaels: I don't think Edge's streak is THAT important here, and it's the perfect match in which to break it, since he can always claim he's "undefeated in one-on-one matches at Mania" or some other heelish justification afterwards. The Hardys won't win it, unless they have some oddly perverse plan to re-inact Jeff vs. Taker at some point this year. (Although Jeff saying in a recent interview that he's been studying Shelton Benjamin tapes from a past MitB and is planning on topping that has me quite intrigued.) I can see Punk winning it and then turning heel and going on to be fed to face Lashley, but eh. Too bad Benoit's not in this one, as I'm still hung up on wanting him to jump to ECW at some point. Finlay's just there to make everyone else look better, so I'll go with Kennedy…
Winner – …Kennedy
Troy Hepple: I was one number off, the entire time I wanted three guys from each brand to make nine guys. Couldn't they just have thrown Johnny Nitro in? Oh well. Should be a really fun match. I think there's three wrestlers who could win; Edge, CM Punk, or Mr. Kennedy. I'd love to see Edge retain the briefcase and keep his WrestleMania undefeated streak, I'd love to see CM Punk get a MASSIVE win on the grandest stage of them all (this could be the match that makes him legit if he wins), and I don't want to see Mr. Kennedy win. Kennedy doesn't need the title shot considering he'll get a few shots anyways (yes, so will Edge, but there's an undefeated streak there). I'm also wondering whether or not the New Breed will be involved. So, out of Edge or CM Punk … umm…
Winner – Edge
Vinny Truncellito: If they stay true to form, then the winner here will be a performer who's been around the upper-midcard but hasn't broken through yet, Edge and RVD both won and both ascended to the top of the card via the MITB. That technically eliminates Edge, Booker T., and Randy Orton, leaving us with both Hardys, CM Punk, Finlay and Kennedy. Of those remaining five, I think the most likely choice at this time is Kennedy. A Finlay run at the title makes little sense, and having him lose the MITB challenge after securing the briefcase hurts the credibility of this new WM standard. CM Punk has the crowd-love, but he's climbing out of the doghouse as we speak, and I think a strong showing from the kid is all we can ask for. The Hardys have had their chances, and for one reason or another, things didn't really work out. Kennedy is a young, up-and-comer in the company, and would make an interesting choice to chase for the gold. He has defeated 6 or 7 former world champions in the past year, too.
Winner – Mr. Kennedy
Andy Wheeler: Damn, I'm excited for this one. Well, pretty excited. Mildly excited. Lord, I hope they don't f*ck this up. We know it won't be Jeff Hardy winning because it's Jeff Hardy. We know Matt Hardy won't win because he's valued even less than Jeff (even though he still somehow gets an inexplicable pop every week). Finlay's great and all, but this is Wrestlemania. Booker doesn't need it. Orton and Edge are going to be busy with each other. We're down to Punk and Kennedy. The casual fans want Punk to win it, the smart fans want Punk to win it, industry insiders want Punk to win it, so clearly it's going to .
Winner – Mr. Kennedy .Kennedy.
Eric Szulczewski: A quick elimination of the people we know aren't going to win, plus the elimination of the most nauseating prospect for winning from my perspective, brings us down to two guys: Edge and Booker. From a booking standpoint, there's a great deal more tension created with an Edge victory. It also keeps his WM streak alive. I said that Edge would get it on Kace's podcast, and I haven't changed my mind. God knows I'd love for Punk to win it, but it's not in the cards. Maybe next year.
Winner – Edge
FLEA: About two weeks ago, I spoke with Eric S about this one. I believe we finally agreed on Kennedy, even after the crippled junkie's blatant pandering in favor of Punk. I humored him, much like he does me when I slur re: the greatness of Austin. ME: "So he smacked a chick around". Eric: CHICKS! As in more than one" ME: "So he likes women that are deaf. He rules. Rock -E too!". He's not buying it – much like me and his fellatio of that chump (where do you think "c" and "m" came from? ChuMp) Punk. He writes my delusional opinions off as drunken ramblings, while I figure his judgment is so clouded when it comes to Punk, that by the time Eric S sees the light, Punk will be drummed out of the business for Impersonating a Wrestler.
WINNER: Kennedy. And if Eric S says "Punk", well, what can I tell you that he ain't
Iain Burnside: Meltzer says Punk and Kennedy have been concocting ways for them both to steal the show, while the Hardys have been trying to come up with innovative spots, so f*ck knows what the hell will happen here. I fully expect Edge to hang back, do sod all except watch Orton do sod all successfully, and maybe pop up at the end to nick the briefcase. Orton at some point has to do an RKO off the top of a ladder… and fail miserably. In fact, let's have him fail with Punk, giving Finlay another excuse to poke the unpokeable parts of Punk and send Hornswaggle backstage to nibble on the few parts of Maria that should not be nibbled on. Meanwhile, the Hardys can embark on an endless spree of jumping, sometimes off of stuff, sometimes not, sometimes onto people, sometimes not. Then, while Jeff goes off to look up 'girth' in the dictionary, Matt can start yodelling "YAW SLIPPED WIT MAH GURLFREN!!!" before losing like a loser. Also, I sincerely hope that Booker does little more than walk around ringside, waving politely to the crowd with a big gurning grin on his face, perhaps having a nice refreshing sip of Earl Grey from a cup and saucer – with pinkie raised, of course. Kennedy is the only one with a sensible chance of getting to the briefcase before Edge, whilst a double-grab by Edge and Orton would be a great way of advancing their feud but who the hell wants to cheer either of those two? I've lost my train of thought in a cup of coffee.
Winner – EDGY. DISTRESSINGLY EDGY.
Lester: I odn't think this wil be ther ogruget mathfch bur maybe I'mn weong abour thatr I don'etr wtrhkn htrat Punk os ready for a big matrch with a ladde but im'night bur weong abour thatoo. I can ser someonr jumpind off a laddwer winner edg;
---
To be continued…