Rasslin Roundtable: WrestleMania 23 – Part 2
|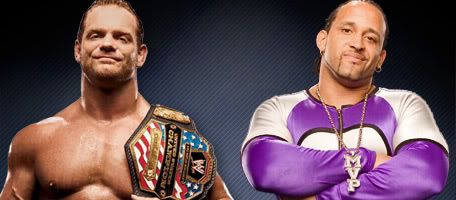 United States Title:
Chris Benoit vs. Montel Vontavious Porter
Charlie Marsh: Well, given Benoit's new found willingness to lose cleanly to talentless hacks I'm a little suspicious, but I hope he has more self-respect than to put the power ranger over.
Winner – Chris Benoit
Allen Noah: Montel Vontavious Porter has a title shot at Wrestelmania? Really?
Winner – Chris Benoit
Danny Wallace: This is getting looked over in favour of other higher profile matches, and I can see why… MVP. The guy has a shit finisher, doesn't draw any heat and has a shit gimmick. End him. Benoit, bless him, is awesome and if pushed right he could have another pop at the Main Event scene. But they've got a US title to put on somebody so I guess Benoit got the "privilege". The US title is beneath Benoit, but I don't want to see it on MVP so I'll go with Benoit for the win.
Winner – Chris Benoit
Kace Evers: Conventional Wisdom says Montel (No Relation To Bette) Porter wins this just to piss us off. But I'll go benefit of the doubt this time.
Winner – Chris Benoit
Danny Cox: For some reason, MVP is really beginning to grow on me. Not so much his ability in the ring, but his character is. I don't know why so don't ask. And it pains me to see Benoit tap out to His Ghettoness and then lose the U.S. Title all in the same week but I think this is where they try to elevate MVP.
Winner and NEW Champ – MVP
Mark Allen: Sadly this is Porter's night. Benoit is just here to put the new guy over before going to RAW to put over Umaga and Khali I'm afraid.
Winner – Porter
Widro: Benoit in a US title match 2 years in a row at Mania? Since he lost last year to JBL, I'll give him the win here but it could go either way.
Winner – Benoit
Pulse Glazer: Benoit can carry MVP here. Benoit could carry me at a Wrestlemania. He needs to win. MVP might be a useful midcarder, but he has no business beating Chris Benoit at Wrestlemania.
Winner – Benoit
Matthew Michaels: Time to do something new with Benoit (see above) and MVP's supposedly improving in the ring every day. Guy's got a great gimmick, so maybe if they put the gold on him, they can somehow write in a costume change…
Winner – Montel Vontavious Porter
Troy Hepple: I'm already bored of this match. But, then again, Chris Benoit's title reign has ended up being pretty boring. And MVP's will be too.
Winner and New United States Champion – Montel Vontavious Porter
Vinny Truncellito: On one hand, a victory over Benoit would MAKE Porter. On the other hand, do they really intend to make this guy at The Crippler's expense? I'll guess this match is on the card to give Wolverine fans the opportunity to watch him devour a contender.
Winner – Chris Benoit
Andy Wheeler: If you read my column, you know my thoughts on Benoit. With that said, the WWE won't follow my logic and move him to RAW sans the title. I can't believe I'd ever type this, but Benoit is going to lose to MVP.
Winner – MVP
Eric Szulczewski: I want a total, complete, utter squash here, just to get the taste of having to see Our Lord and Savior tap out to the World's Shittiest STF on Raw. Besides, Porter's not ready for elevation yet.
Winner – Chris Fuckin' Benoit
FLEA: What would be cool is MVP stealing a victory, in good heel fashion, leaving Benoit free to go to Raw and tear it up with HBK. That's not going to happen – and it looks like that's my fantasy booking of the evening. I'm guessing the match will be good – hang on – who was the last black guy that Benoit was trying to make a star of? His name escapes me at the moment, but I remember he's gone due to being a queer and flaunting it. This program reminds me of that. Not sure why, but it does
Winner: MVP
Iain Burnside: Benoit went from stealing the show to stealing the match to jobbing the same crappy belt two years in a row. Congratulations, you great big sensible person from Atlanta, Canada. Gear up for the next lengthy title reign from a poor wrestler with a high opinion of himself.
Winner – BLACK HONKY
Lester: i like oit when mv p does ther elbowe wirh the balls, benoiut kooks sortas funny butr he'sf quite sgood gwhn he's moitvbated so he coulsd win but hr'; s migh t loose depnding on who vince feels winner mmvp
---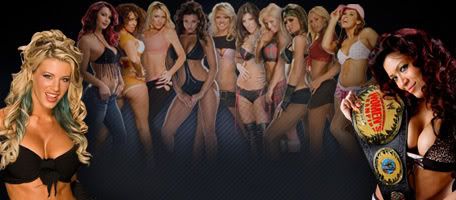 Women's Title Lumberjill Match:
Melina vs. Ashley
Charlie Marsh: Both the talented Diva's and good looking Diva's are on the outside of the ring for this one, so I'm not expecting much.
Winner – Ashley
Allen Noah: Ashley was in Playboy, Melina was not. Glad to see they couldn't find anything for Ric Flair but they found something for Kelly Kelly.
Winner – Ashley
Danny Wallace: Who's the Champ? Oh yeah… Melina. Let's go with her. If done right this match will last 5 minutes max, showcase a little wrestling that was put together before the match, highlight all the hot women the WWE employ and will be slotted nicely on the card so as to allow for piss break / food preparing / drink re-filling time.
I doubt we'll see Trish make an appearance, but it would be a nice "WrestleMania Moment" if she did.
Winner – Melina
Kace Evers: Mickie James and Victoria stereo snap and obliterate everyone in and around the ring, claiming the titles for themselves and hurling the Women's Division into instant chaos…further intensified by the return of Molly Holly who fights 'em both then and there. What can I say, I miss her… Otherwise, it's Trish Stratus Vs Christy Hemme, The Sequel…only this time with the bunny winning.
Winner: Ashley Massaro
Danny Cox: I don't give a flying shit. This should be Mickie (my love) Vs. Victoria. Frickin retarded.
Winner and NEW Champ – Ashley duh
Mark Allen: Don't really care about this match but I'll say Melina wins with some cheating but Ashley gets the moral victory and gets to pose in the end with her music going.
Winner – Melina
Widro: It sucks that one of the eight matches has to be women.
Winner – Melina
Pulse Glazer: Shimmer this isn't.
Winner- Ashley
Matthew Michaels: I don't think they'll confuse people by putting the belt on Ashley and then having to answer the question: "so is the belt on Smackdown now, and if not, what?" (okay, I know, I'm kidding myself). Actually, Ashley's just not that good in the ring yet, and hopefully WWE realizes this and keeps the belt on Melina. Plus, Melina as champion can lead to a better set-up for that rumored Mick Foley feud.
Winner – Melina Perez
Troy Hepple: Anyone else hoping Trish Stratus is a lumberjill here? Melina's a capable wrestler, and I'm certain that Ashley Massaro is on her way to being one, so this match shouldn't be too bad. I do ever so dislike Lumberjack Matches, especially when they call them Lumberjills.
Winner and New Women's Champion – Ashley Massaro
Vinny Truncellito: Whatever.
Winner – Melina
Andy Wheeler: Hooray for boobies. Boo for wrestling.
Will this suck? Yeah.
Do I care? Not really.
Winner: Melina. Why? Hell if I know.
Eric Szulczewski: And Burnside's labeling Kane/Khali as the Piss Break Match? Look, if you're reading this, you have Internet access. The Internet is for Porn. Go whack off to something else. This match is going to be ugly, and it's designed to start feuds inside the women's division, nothing else. Ashley's received her mammoth Playboy push, and there's no need to put the title on her. They have actual women wrestlers for that. Expect a title change on Raw Monday night, though.
Winner – Melina Perez
FLEA: Do you know what the best thing is about the recent steroid / HGH scandal? It may force Vince and Company to shy away from chicks that need "help" to maintain a "perfect body", and hire some girls that are pretty, instead of the beasts on our screen. Name one pretty girl. One that doesn't look like a gorilla, a horse or a man. Or a hag. Much like the Benoit scenario, this change in hiring practice probably won't happen, as the betting line says pretty girls usually wants nothing to do with wrestling. Or, six months in, REALLY want nothing to do with wrestling. That's after having Randy Orton's shit put in their Gucci bag or being dick-whipped by Ric Flair.
WINNER: Melina. Because she is going to work a program with Cactus. Maybe that means she is losing. At any rate, she's going to do something with Cactus. See all the pics with her tattooed in barb wire? Foreshadowing is the sign of quality literature, folks. I'd take my word for that and avoid actually *looking* at the pictures. Especially if you have any faith in God / Creationism.
Iain Burnside: Why would anybody even want to watch softcore lesbian porn alongside 70,000 other people? (Also, Eric, with the length this show will run and my alcohol intake during it, I will damn sure need more than one piss break)
Winner – gorilla trumps fish, good news for MELINA
Lester: wehn ashlery took her boobd outrr on the tv we dint' think rhye wherr greasy btu then hsye did playball and we sdawm them anywhoay sdo melinas wad jealousy becasue she wantrd to sdhow you them first, maybe r ntext year! 9kennedy!Loklll wjnner@ astley
---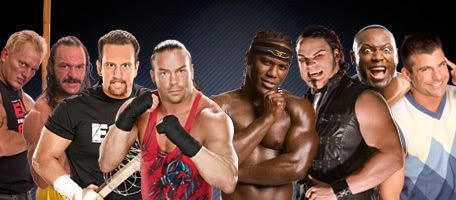 Originals vs. New Breed:
Rob Van Dam, Sabu, Sandman & Tommy Dreamer vs. Elijah Burke, Marcus Corvon, Matt Striker & Kevin Thorn
Charlie Marsh: New Breed wins to put them over, then the Originals will probably slowly be phased out entirely.
Winner – New Breed
Allen Noah: Allow me to get this out of the way real quick and declare that Elijah Burke is on his way to becoming a star. I hope they don't tinker with him and turn him face when he does because he plays his role to perfection. Since Vince McMahon is trying to rid us of all things bingo hall, there is no way the Originals win here.
Winner – New Breed
Danny Wallace: Eeee dear, who'd have thought a year ago or whenever talk of resurrecting ECW came about, that it'd be reduced to this. Nevermind, ECW was shit anyway. Time to let go guys, once and for all, when the New Breed win. It's a shame, but RVD, Sabu and Sandman will all get jobs with TNA and Dreamer will stay with the WWE in the development area, unless he turn's heel and joins the New Breed. That would be good. A corporate, non-drinking, non-smoking Sandman would be interesting too. Ah well. The grass is always greener on the other side.
Winner – The New Breed
Kace Evers: Where's Chris Champion when we need him most? And will the Originals be enlisting the aid of Lasertron?
Winners – The New Breed
Danny Cox: I know the MITB is already on the card, but I wish this was Extreme Rules. None the less, the Originals wave bye-bye here as the New Breed takes it with I think either Burke or Corvon getting the pin. Thing is I really like this angle of Originals Vs. New Breed because not only is it interesting but HOLY HELL there are stables again. I mean if the Originals are gone, why do the New Breed stay together and who do they feud with? Snitsky?
Winners – New Breed
Mark Allen: This is the Originals' swan song. I'm glad all of these guys are on the big card but it's hard to image they got a spot but Flair, Carly, Nitro and Londrick are on the outside looking in. The New Breed takes the match as Sandman, Tommy and Sabu slowly fade back into obscurity.
Winner – New Breed (Burke gets the pinfall)
Widro: It's cool to see these guys on mania.
Winner – New Breed
Pulse Glazer: The result of this leaked out already. Burke and Monty appear to have bright futures and this should be a good brawl.
Winners- New Breed
Matthew Michaels: Eh, I'm gonna enjoy this, and hopefully there's a lot of blood and craziness, but after reading spoilers from Meltz that they're planning on killing off this feud here, I've gotta go with the New Breed, since it makes sense for them to go over in the end, and move on to do, theoretically, bigger and better things. Perhaps Sandman or Sabu can take the pin here, and go on to turn heel and be used to put Lashley over for a few months. Or who knows, maybe everyone will get SNITSKIED! (Or… Punk'd?)
Winners – The New Breed
Troy Hepple: I just hope this is under Extreme Rules. Shouldn't be too bad, right? Right? Anyways. The writing is on the wall for pretty much all of the Originals, so cheerio, enjoy your own little WrestleMania moment Sabu and Sandman.
Winners – New Breed
Vinny Truncellito: The New Breed NEED to win, to establish themselves as the "Alpha Males" of the new ECW.
Winner – New Breed
Andy Wheeler: Yes, there's the rumor that the New Breed will dominate and that this is the death of the Originals, but maybe, just maybe those plucky vets will pull this one out. I think so. Then again, I've been drinking.
Winner: New Breed
Eric Szulczewski: And let the final moment in the spotlight begin for the Originals. Everyone's saying that this match is pre-determined in favor of the New Breed, and from the way it's been booked, it's tough to argue against that. Good, really. Elijah and Monty deserve a push, and they'll get one out of this match. If the win here means an Elijah/Punk feud, who cares who's being disrespected?
Winners – the New Breed
FLEA: Goodbye, Good Luck, So Long, Farewell. Although, RVD is enough of a dick to re-sign and be a highly paid, curtain jerking jobber. They'll make the offer, just to f*ck with TNA, but is he brave enough to go his own way? Sabu and Sandman are history, Tommy Dreamer appears to have some sort of job for life. The New Breed? They would be better of forming some sort of militant Black Power group, adding Lashley and MVP…keeping Striker around as the token white boy and Thorn and that Vampire piece of ass chick of his around for shits and giggles. Oh – and Farrooq as the HNOC. Other than that – and I guess to put the final nail on the coffin of ECW, there is no reason for any of these four to be associated.
WINNER: New Breed
Iain Burnside: Logic dictates that the people who will actually be employed past the summer should go over. Chance maintains that if the teacher or the vampire are pinned it wouldn't make the slightest bit of difference anyway. Reason, however, must adhere to Logic.
Winners – the black guy, the black guy, the teacher and the vampire, a.k.a. NEW BREED
Lester: it hougt that vamspires wcoulsdn't see in the lighgt but trhis one seemws to be able ot jump some, that gteacher sure don'wt look so smart but eliza and car van are black wieners new bred
---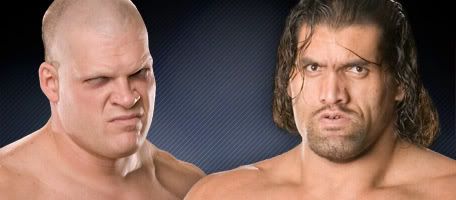 Piss Break Match:
Kane vs. The Great Khali
Charlie Marsh: If it doesn't end with Khali getting gutted with Kane's giant hook, I'll be very sad.
Winner -: Kane
Allen Noah: Call me crazy but this is the match I am looking forward to the most on the card. This has the potential to be one of the worst matches in the history of professional wrestling and that kind of stuff excites me. Hell, I'd scrap Batista/Undertaker just to give these two guys more time.
Winner – Aside from myself, Kane
Danny Wallace: I've not managed to catch the "Hook wielding Kane" knocking about on any WWE TV I've watched (which isn't a lot) but it probably sounds better than it actually is.
Winner – Khali
Kace Evers: It was a graveyard smash, you know…
Winner: The Great Khali
Danny Cox: Please please please please have Kane's hook go straight into the jugular of Khali. PLEASE!
Winner – Kane
Mark Allen: Khali wins this match so they can *entertain* us all with a rematch at Backlash.
Winner – Khali
Widro: Khali was being groomed for Hogan, which never happened, and Kane is the replacement. There is nothing really for Khali to do from here, so I'll pick Kane for kicks.
Winner – Kane
Pulse Glazer: My own, personal Jesus the Great Khali will continue to cripple all comers. Not on purpose, mind you, he's just that clumsy.
Winner- Khali
Matthew Michaels: Here's the match I'm hoping leads to Sniski-ference, actually, but it'll be fun, short, and it doesn't matter at ALL who wins. Kane's rumored to be wanting some time off, so perhaps Khali wins here, and Kane comes back for Summerslam to get his victory back.
Winner – Khali
Troy Hepple: The evil part of me wants to see this match. The good part of me will watch the little prematch montage, the entrances so I get my money worth on this PPV, and then find a distraction. Kane wins and people might accidentally catch the last few moments of the match.
Winner – Kane
Vinny Truncellito: This one depends upon who's sticking around longer. I've heard Kane retirement rumors, so
Winner – Khali
Andy Wheeler: No.
Winner: Anyone who doesn't order this show.
Eric Szulczewski: If you let your kids watch this, you should be arrested for child abuse.
Winner – Kane, because the hook is cool
FLEA: Piss Break Match? You are f*cking nuts. Did you see Flair try to work with the Khali broomstick? He gave up after about 45 seconds. This match will get a sadistic 10 minutes. Or maybe a masochistic 10 minutes, depending on your point of view. The time for a break is the ECW match – watching blown spots is for amateurs. This match will cause JR and King to drop their voices an octave, mumbling every euphemism for "sucks", without breaking kayfabe or a straight face. The no-selling of no-selling may reach a fever pitch and boy howdy I hope they let Khali cut a promo. I like how they waited until AFTER Kane's movie is old news to break out the chain and sickle…because obviously no one was buying he could set shit on fire at random anymore. Signals were crossed and this match will be one for the record books.
WINNER: Hell, a double count out or double DQ would be perfect. "Clean Finish" would make it a mockery.
Iain Burnside: Why do people not want to watch this match? Somebody might die!!!!
Winner – the guy who should be on Smallville as Pete Ross II, KHALI
Lester: giant garey is pretry big, idon't swee how kanse can jump over him sdo itr couls dbe a long nigt wfor the bag machine dto it hink rhe'll finallt be ablwe to jump overe him asn that xshould make evceryone happy winr both of then kand and giant gagray
---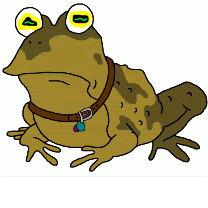 Tag Team Battle Royal (rumoured match):
Could involve any or all of the following…
Shelton Benjamin & Charlie Haas, Lance Cade & Trevor Murdoch, Carlito & Ric Flair, Cryme Tyme, The Highlanders, Deuce & Domino, Funaki & Scotty 2 Hotty, Paul London & Brian Kendrick, William Regal & Dave Taylor, Guido & Vito
Charlie Marsh: There are tag teams in WWE?
Winners – Cryme Tyme
Allen Noah: Good thing the tag titles aren't being defended at Wrestlemania, that would just be stupid. Smart money has to say that no matter what the stipulation, Ric Flair and Carlito are going over here on their way to the tag team titles and then their eventual feud.
Winners – Ric Flair and Carlito
Danny Wallace: If this match goes ahead, then I'll go for Carlito & Ric Flair to win the match, closely followed by London & Kendrick and Benjamin & Haas.
Winner – Carlito & Ric Flair
Kace Evers: Ricky Morton and Robert Gibson return, drink Steve Austin's beer, beat him up for shits, giggles and my personal amusement and claim the WWE Tag Team Championship as theirs now. They then cut a drunken promo on America's Most Wanted…both the former tag team and the TV show just to confuse everyone before swearing vegeance on Jim Cornette, the Midnight Exrpess, the 4 Horsemen and the Russians once more with feeling. Othewise, I'll say Cryme Tyme wins.
Winners: The Rock N' Roll Express *shrug*
Danny Cox: It's really a shame that there are this many tag-teams and neither one of the tag titles are on the line at the big dance. I'd love to see Regal and Taylor Vs. The World' Greatest Tag-Team but dreams don't come true all the time now do they. None the less, I know who I'd like to win and that's the way I'm going.
Winners – TWGTT (Benjamin & Haas)
Mark Allen: If the tag battle royal goes down I'd look for London and Kendrick to win it after Carly turns on Flair during the match.
Winner – London & Kendrick
Pulse Glazer: I really feel bad for London and Kendrick. They deserve a title match and might steal the show with one. I suppose that's why they aren't on the card. I don't like Battle Royals. Shelton and Haas need a push, so let's go with them.
Winners – The World's Greatest Tag Team
Troy Hepple: Is it a tag team battle royal or not? Actually, a better question would be if I should care or not.
Winner – Jimmy Wang Yang
Andy Wheeler: Wait, there's a tag division?
Winner: Barbarian and Haku
Eric Szulczewski: So you want me to predict a match that's still a rumor? How sweet. Is this going to be Texas Tornado, Over-The-Top Elimination, Tag Team Turmoil, or what? The rules determine the winner. I have this feeling that it's going to be a set-up for an interbrand tag title match at Backlash. In that case…
Winners – Haas and Benjamin
FLEA: It's not only NO LONGER RUMORED, but it's not going to be on the PPV! Which will force you to buy the DVD. Which will also include the full Hall of Fame ceremony. A must have for any collection, which proves WWE doesn't have their heads up their ass 100% of the time, but enough to make you wonder what makes the switch flip to idiocy. All in all, this show looks to be one of the top WM's, not only money wise, but in terms of memories. If Sabu was smart, he'd use this opportunity to die on Live television
Iain Burnside: So, there will be some sort of battley royaley thing and Tyson Tomko won't be in it. That is all we can confirm. Might be some tag teams, might be some Eugenes. Might be good, might not. I won't see it, despite spending £15 on the show. Billy and Chuck had gay music. Somebody will win. Let's go for Carlito (and Flair, if it's tag teams).
Winner – lazyboy cool
Lester: oink donly' liokrt yer ifdea iof something thsat isn't wna asctual matchjs but mighrt bwe when 9it gets to Sundays if itndeos jha[pepen thery'l be za lot of people in ther rfing, thyre mighgt nied tto pyut a bigf trable under thre ring tol puick up the levftovers winner I don't know thid one.
---
Staff Predictions:
World Heavyweight Title – UNDERTAKER (16-0)
WWE Championship – JOHN CENA (11-5)
Battle of the Billionaires – BOBBY LASHLEY (16-0)
Money in the Bank – EDGE (7), KENNEDY (7)
United States Title – TIED (8-8)
Women's Title – MELINA (9-7)
ECW Match – NEW BREED (16-0)
Kane/Khali – KHALI (9-7)
Battle Royal – HYPNOTOAD (unanimous)
Tags: WWE