Home Improvement: The Complete Sixth Season – DVD Review
|
Creators:
Carmen Finestra
David McFadzean
Matt Williams
Cast:
Tim Allen ………. Tim Taylor
Patricia Richardson ………. Jill Taylor
Earl Hindman ………. Wilson Wilson Jr.
Taran Noah Smith ………. Mark Taylor
Jonathan Taylor Thomas ………. Randy Taylor
Zachery Ty Bryan ………. Brad Taylor
Richard Karn ………. Al Borland
Debbe Dunning ………. Heidi Keppert
The Show
Home Improvement was at its peak in seasons 3, 4, and 5. It went through 100 episodes and was consistently in the Top 10. Still the show continued for a few more seasons. Usually once you reach the top of the mountain there is no place left to go but down. The real question here is would Home Improvement slide straight down and off the face of the earth or would it slowly roll to a final resting place?
As every show grows older, so does the characters on the show. You notice this more in a "family" show like Home Improvement as the kids get older and you tend to notice that growth more than adults. As a result, this season featured more "mature" stories for the boys. That meant dating girls, of course, and all of the stuff that goes along with that. We also got a deeper look into the marriage between Tim and Jill as they try to keep the love alive.
The writers of Home Improvement decided to not only give us more adult-themed stories than previous years, but also try to be innovative and creative. There are two episodes that stand out as being unique and completely original for the time. One episode, "The Feminine Mistake," was shot completely in 3-D. So get your 3-D glasses for that one. In addition, the Thanksgiving episode this year was one of the weirdest but most unique ones ever. There was a crazy dream sequence in the stop-animation style of Rudolph The Red-Nosed Reindeer. The entire cast of Home Improvement was rendered in wood for this sequence. You have to see it to believe it.
The rest of this season was more of the same, though. There were no new characters introduced, but some old favorites made an occasional appearance during this season. There were plenty of guest stars as well, including: Drew Carey, The Beach Boys, Al Unser Sr. and Jr., Mario and Michael Andretti, and Pamela Anderson.
This may sound like a broken record, but this season still provided many funny moments. Overall, the comedy did drop a compared to the previous three seasons. But it wasn't ready to fall off the face of the earth just yet. It did begin to slide, but at this point it was still one of the funniest family shows on TV and it still holds up well today. There were certainly some unique stuff happening during this season, and there was just enough "drama" to keep things real and keep the show fresh and entertaining even after going through 100+ episodes.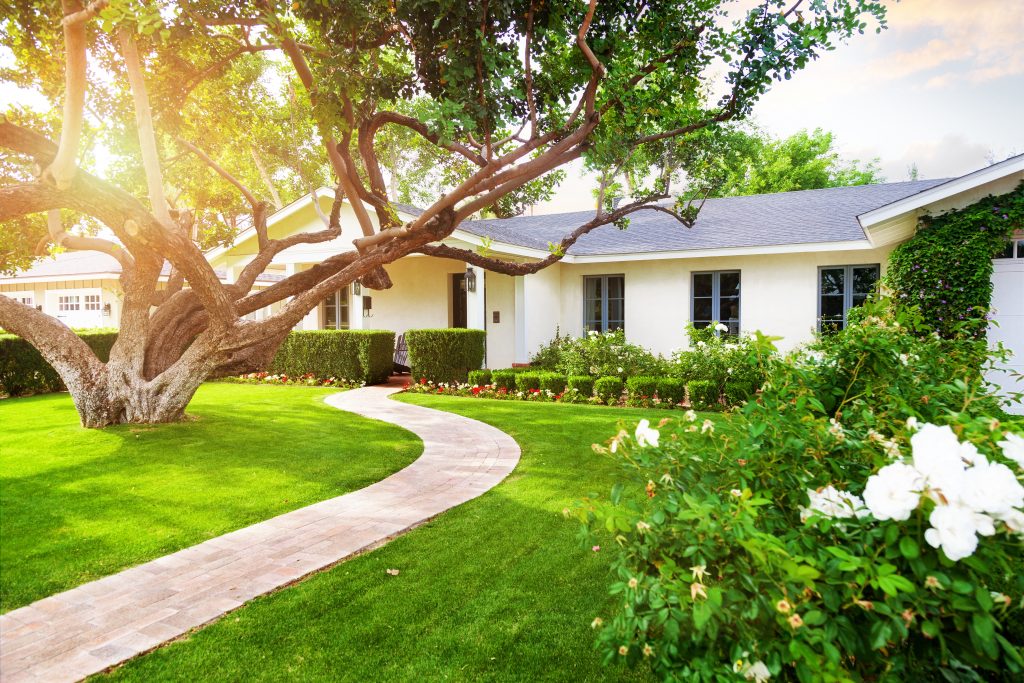 First impressions are everything. People are attracted to pretty homes with healthy trees, manicured lawns, and fresh paint. This is especially true if you are planning to rent or sell your home. In fact, studies suggest that a home with high curb appeal can increase the value of a home by 5-15%.
Ask yourself: How does my home look from the street? Is it inviting to guests or potential buyers?
CURB APPEAL – 
WHY IS IT IMPORTANT?
Improving the curb appeal of your home is one of the easiest and quickest ways to increase your property value. Landscaping is less costly and a much smaller commitment than interior remodeling. Even if you aren't in the market, updating your landscape is an affordable way to add personality to your home.
APPLY THESE 7 PROVEN LANDSCAPE UPDATES TO BOOST YOUR HOME'S CURB APPEAL AND VALUE.
Match Landscape to Your Home's Style
Say you have a ranch-style home, and you install modern-style koi fish ponds—the two don't match. Investing money on extravagant additions to your lawn that don't match your home's architecture could mean a low return on investment. Instead, spend money on additions that compliment your ranch-style home; an oak tree and a porch swing would look much better. Your landscape should align with your home's look and be similar to the neighborhood. A house that 'stands out' too much, is not always desired.
Seasonal Balance
It's important to keep in mind where you live. Do you experience four seasons? If so, vibrant spring flowers are beautiful to look at in the springtime – not so much when the seasons change. Coordinate your landscape with a variety of natural plants, shrubs, and trees. Blooming flowers for spring, annuals for summer, trimmed shrubs for fall, and hardy evergreens for winter. Although flowers might be the most appealing, buyers will keep in mind the variety of plants and trees around your house that keep it looking great all year long.
Fresh Paint
A fresh coat of paint is the quickest and cheapest way to dramatically update the look of your home. Go bold with a color like navy blue and distinguish yourself from other cookie-cutter homes. But, be careful! You don't want to go overboard. If you are unsure about a color, choose a more neutral tone like grey or beige, or maybe just update your current paint color. If you are hesitant to paint the whole home, applying new finishes to wooden trims and painting doors are cheap ways to increase curb appeal.
Keep it Low Maintenance
The popular New-England style grass lawn is a staple for both front and back yards. However, it's costly to maintain. Without constant gardening and a supply of water and nutrients, grass lawns degrade quickly into an unappealing field of weeds and dirt. It's now very popular to have water-smart lawns, especially in dry, western states. Intricate landscape rocks and drought-resistant shrubbery lowers your water bill and reduces maintenance costs. This will also attract eco-conscious buyers, as they want to save money and conserve water.
Focus on Pathways
Your walkway or driveway always lead you home. What does it say to potential buyers when your pathways are cracked or bumpy? It could suggest that the rest of the house might be too. There are plenty of simple, inexpensive methods to create a more welcoming home. For example, create a winding pebble or stone walkway lined with lights and plants. This creates anticipation, exciting guests to see the rest of your home. Or pave over your driveway, it encourages buyers and lets them know you have taken care of your home. Get the best tools and accesories at New England Turf Store.
Plant Trees
Whether you are living in a city or in a more rural area, who doesn't love a nice tree. Beyond looking pretty, they offer several key benefits that are almost guaranteed to increase the value of your home. Trees save you money by providing your home with cool shade, and even fruit! They create social benefits by sucking up carbon dioxide and purifying local air. Trees lead to psychological well-being: they inspire a feeling of longevity, create a more wholesome home, and some studies show that trees can even promote a healthier mind.
Lighting
There's just a final touch to ensure your hard work will be seen: lighting. Your lights should highlight the best features of your updated yard. Purchase solar lights to line walkways or illuminate flowers. Plug in a more powerful light to show off the new paint. Regardless of use, lighting is a cheap and effective way to finish off any landscape update.