Kace's Countdown – 6/21/2007
|
Kace's Countdown – TNA Impact (6/21/2007)
Welcome to the first TNA Impact edition of the Countdown. Now that I've had an opportunity to finally watch the show (late last night after a busy, fun filled Weekend), here are the Top 5 Moments from this most recent Impact, the first to follow up TNA Slammiversary.
But first…
Despite not watching WWE at the moment, thanks to the stupidity that is the McMahon Limo Saga, I still decided to buy a ticket to the Raw TV show that will be in Fayetteville, NC on August 20th. Floor seats, too! The reason is simple…last year, I went to Raw (the night after a Pay Per View) and had fun. Even wound up with a nice image coming out of it…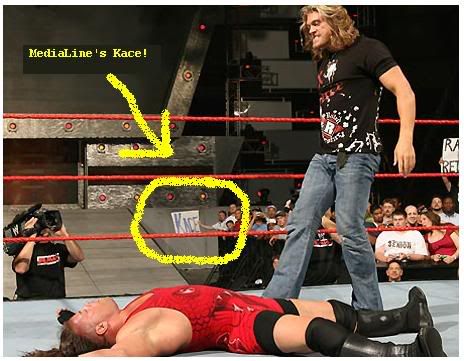 Thanks once again to The Thrill.
Linkage
Mark Allen remembers the Sensational One, herself, Sherri Martel. This does make for a possibly disturbing trend however with two of Randy Savage's former valets/managers now dead. George Bellars and Madusa, beware! I would say the same for Nora Greenwald…but Nora's too good for death. The last time the Reaper tried to get her, she simply redirected the hit to a limo that then exploded. Don't mess with Nora!
Vs. pits Ben Morse against Grut.
Pulse Glazer modestly responds with TNA spoilers.
Top 5 Moments: TNA Impact – 6/21/2007
Also Ran Moments & Thoughts
None, really. I mean the show's still got that breakneck speed about it, which plays well into the whole notion of Short Attention Span Theater.
#5 – Eric Young, "Free At Last"
I don't consider myself to be the most Politically Correct person in the World, but for some reason whenever a wrestling commentator gives some form of the old Martin Luther King Jr. line about someone being, "free at last, free at last," it almost always makes me feel a bit uneasy. Allow me an oddball reference for a moment, but it also provides for a flashback to gone, but not completely forgotten GLOW where David McLane uttered the same line about the Southern Belles whenever they got out of a binding trap during a match against Sara & Mabel. I guess the message here is, if you're a wrestling announcer, don't envoke the image of David McLane. I mean sure, it's not as bad as envoking the image of Randy Rosenbloom (or whatever that goof's name was), but still it's pretty bad.
#4 – James Storm's Guide To Waking Up Rhino
After hitting the Chris Adams Superkick on Rhino for the pinfall victory for the team of James Storm & Robert Roode over Eric Young & Rhino, James decides it's time to ignite a new feud by spitting some beer into the fallen Rhino's face. Rhino, as if charged up by Popeye's spinach rises up and begins to go apeshit. Poor Eric even gets knocked down. Chairs are sent flying and the victorious tag team make a hasty exit. The commentary table is also destroyed as Rhino heads towards the back. Guess he's not much of a beer guy.
#3 – Match Of Champions Announcement
The first moment of your first TV show out of a Pay Per View is usually considered to be important, as it helps write off the previous Pay Per View and helps set the stage for the next. Here, Jim Cornette sets us on our path to Victory Road. X Champion, Jay Lethal, the Tag Team Champions, Team 3D and First Ever TNA World Heavyweight Champion, Kurt Angle all make their way to the ring by Cornette's request. Cornette announces the match, where the TNA Tag Titles will be defended against the World and X Champs who will function as a team. The Tag Champs will also get the opportunity to win either the World or X title in that same match. If the X & World Champ win, the one getting the fall gets to decide his new Championship partner. Nice stipulations there. Kurt Angle feels insulted that this isn't a victory celebration in his honor to which Cornette verbally shuts him down. Kurt makes it clear once and for all that he's the heel now and the fans happily oblige in letting him know that he reminds them of a vaccum.
#2 – Chris Harris Defeats Raven
Arguably one of Chris's biggest victories, as he's able to stave off interference and get the pinfall victory over the former NWA and ECW World Champion. Frankie Kazarian helps play a role as well as he fights off his former Seretonin buddies and lends in some interference of his own. Chris's celebration is short lived as he's interrupted on the Impact Tron by Christian Cage, who lets Chris know that as a result of costing him the TNA World title, he is now marked. This should be a fun lil' feud.
#1 – Samoa Joe Defeats Jay Lethal & Chris Sabin, Wins TNA X Championship
Not only did Joe get the win and the title, but also earned his spot in the Match Of Champions, for the time being as Kurt Angle's partner. A shame for Jay though, 'cause he just won that belt at Slammiversary. The match itself was alright, featuring ROH alumni. For some reason though, it just didn't have that special feeling of someone winning a title. It was treated more as a qualifying match than a title match, which isn't all that fair to the Championship itself. But still, I'll take Joe as X Champion over…wait…
…lemme make sure I'm seeing this right on the website…
…Johnny Nitro as ECW Champ???
AHAHAHAHAHAHAHAHAHAHAHAHHAHAA!!!!
See ya next week.
Tags: TNA