RAW IS ALIVE!

HA.. SEE WHAT I DID THERE?

ANYWAY:

T H E
M O N D A Y
N I G H T
R A B B L E
First off – thank you to Insyder A Faceless Name: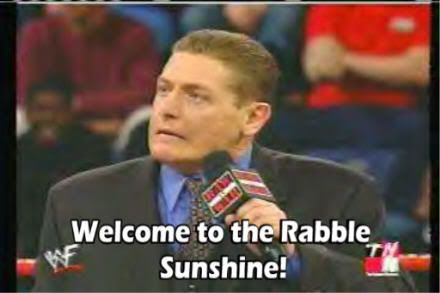 "Is it wrong that I would be thrilled if Raw was just Regal cold cocking every one on the roster?" – Insyder A Faceless Name
That's right, we're here at O'Briens Tavern in Franklin, NJ and we're talking about the wrestling that you watch and laugh at to yourself. This only proves that we have more dedication to our hate than you do!
That's not true, we've been doing this for a few years… so we're just as lame.
The lamers this week:
JEFFREY – Pouring our lame beer.
DANI – My lame girlfriend.
BILL – The lamest of the lame.
HERNANDEZ – Our lame Spanish street cred.
And the lame webcomic creator who will be in Hartford Connecticut this weekend for a convention, Me, James Hatton
Let's not forget the Inside Pulse Forumers – The Inysders!
Let's ALSO not forget that you too can be an Insyder by going to the Rabble thread on the Forums!
Now starting the show.. It's Bobby Lindsay! Last week he speared Cena. At the Great American Bash, he'll be facing him… we won't be watching it.
Now coming out, King Booker!
"Queen Sharmin" – Hernandez
"Don't squeeze her." – Me
"I'm a fan of the pinky." – Dani
KING BOOKAH vs. BOBBY LASHLEY
Black On Black Crime
"It's a Milkdud vs. a King….this sounds like the candybar wars" – Insyder SarcasticWolf
"They should've brought Teddy Long back as a ref for this match…" – Insyder The Titan
"And Slick as Lashley's manager and Jacqueline as Booker's mistress and Coach on commentary…with Ahmed Johnson." – Insyder CaptainSpaulding
"Coach can be timekeeper" – Insyder SarcasticWolf
Match starts and they lock up after a stare off. Booker gets off the first barrage of punches. He tries to toss Bobby to the corner and his reversed and powerslammed into the middle of the ring for one.
Back on their feet, Bobby hits the shoulderchecks and hits the kneeling shoulderblock for two.
Picks up Bookah for a suplex. Back on their feet, Lashley hits a clothesline and ANOTHER pin for two!?
"This isn't a beat the clock match.." – Me
Booker tries to hit his spinning kick, Lashley spins out of it and hits ANOTHER powerslam for two… Vertical suplex and in runs Kennedy!
Kennedy goes to hit Lashley, but he gets hit first and we go to DQ! Kennedy bails and grabs Lashley on the way out.
SUPERKICK FROM BOOKAH!
WINNER via DQ: BOBBY LASHLEY
Now as they continue to beat him down, Coach comes out and discusses how the main event was supposed to be Cena/Lashley vs. Bookah & Kennedy – but since Cena is at Larry King, Lashley can pick a partner of his own choosing.
Back in the ring… Lashley clotheslines Bookah over the top.
"And this is why he doesn't want to be on Raw." – Hernandez
COMMERCIAL ONE – 9:10
"This is going to an awesome Raw tonight." – Hernandez
"Why?" – Me
"No Cena." – Hernandez
In the back, we have William Regal! He meets up with Coach, who thanks him for taking over Raw last week.
He states that his week on the show was being referred to as a 'Breath of fresh air'.. and his main event choice was very effective. Not creative. But effective.
"I like that he's the real voice of Raw." – Me
So tonight, Regal vs. Sandman. Nice.
"Are we leading up to a GM showdown on Raw?" – Bill
"I hope so." – Me
"Power struggle between Regal and Coach? Not very original but very entertaining? Perhaps" – Insyder The Titan
"Its Regal….with TV time… It'll be more entertaining than most anything for we've seen on RAW in recent weeks" – Insyder Jack The Ripper
So last week, Umaga won the IC title, unlike how he won it at Vengence….
Here comes Umaga!
"I predict rematch." – Me
"UMAGA! The Italian injurnator!" – Insyder A Faceless Name
Umaga gets to the stairs..
"EAT EM!" – Hernandez
"I HATE STAIRS!" – Bill
Now it's time for Santino Marella!
"Toldja so.." – Me
UMAGA vs. SANTINO MARELLA
"Everytime I hear his music.. I wanna sing 'CHRISSTIAAN'" – Me
"IIII SSSSUCCCCCCCCCKKKKKKKKKK-A-MIIIIIOOOOOO!!!!!!!!" – Insyder CaptainSpaulding
"This is where the Maria-fied force meets the Immovable Samoan" – Insyder SarcasticWolf
Santino comes in with big punches. Leaps and is caught…
"WHEEEEE"
Almost a blackhole slam. Throws Marella to the corner. Chops and punches.
"JR just explained how Santino is getting respect while he gets beaten down in the corner.. nice." – Me
HERE COMES MARIA!
"Respect has arrived." – Me
Umaga continues to just beat him down. While that goes on, let me explain to you that Maria is wearing a blue shiny tanktop and her hair is flaming red. It's quite lovely.
We could watch her worry about Santino all match, and not the match itself, and I'd be much happier. Santino is being choked out. Maria seems worried… pensive even.
(As a note, our food has arrived so commentary is a touch lax. Go into Google Image Search and type in 'Maria'… stare for five minutes then come back to the show. That will be the equivalent of what we're doing.)
What were the Insyders doing during this:
"I'm sorry. Is there a match going on? I'm too busy being distracted by Maria's shiny blue top." – Insyder SarcasticWolf
Santino gets beaten for awhile, until he hits a ddt out of nowhere. A boot to Umaga. A pin for 1. He charges in again and gets a kick to the face.
"This match has gone on five minutes too long." – Hernandez
Santino gets splayed into the corner. Buttbounced. Maria seems upset. Thumb time. The end via cocky pin.
"Maria heel turn occuring anywhere between 2 minutes from now and by the end of the month. Mmm… evil Maria." – Insyder Paulie
"If Evil Maria would be anything like Evil Trish…then that is just SUPER DUPER HOT!" – Insyder Captain Spaulding
WINNER: UMAGA
As Umaga leaves.. Maria heads on in to cuddle with Santino.
"COBRA CLUTCH! HIT THE COBRA CLUTCH!" – Hernandez
"Looks more like a Tazzmission.." – Me
"Million Dollar Dream?" – Hernandez
We get a flash of Edge talking about Kane to promote GAB.
"Why are you on the other show and I still see your face!" – Hernandez
"Because he's AWESOME!" – Me
COMMERCIAL TWO – 9:24
Last week it was Trips.. this week it's Ray.. he's coming soon.
"Wow the magazine tells us he's Spiderman" – Bill
"That's a lot of airbrushing." – Hernandez
Evil Texan-Time!
"My god! The tag champs are on tv again!" – Insyder Jack The Ripper
"CRYME TIME!" – Hernandez
"Who?" – Me
ROBBY AND RORY! FUCK YES..
"They are going to go down so hard… the only way they could have won was not to play." – Bill
CADE & MURDOCH vs. THE HIGHLANDERS!
Sadly, a squash match
Rory in the ring with Cade. Side headlock from Cade.. throws Rory to the ropes and a shoulderblock drops him. Another side headlock from Cade.
Fireman's carry from Cade and right back to their feet.
They fight to the ropes and Rory gets pushed into the corner. Back elbow to Murdoch before he gets in the ring. A quick takedown from Murdoch into a sitting side headlockl.
Rory hunched in the ring eats a forearm. Snapmare, and a knee into Rory's back now.
Rory fights to his feet, hits a jawbreaker and TAG TO ROBBIE!
Shouldercheck to Robbie. Hammer. Dropkick. He revs up the crowd while Murdoch gets to his feet. FLAPJACK! ONE.. TWO..
Rory comes running in to stop Cade, stopping the count! The ref gets him out while Lance and Murdoch hit their finisher.. the sad and expected end.
WINNER: MURDOCH & CADE
In the back.. Maria strokes Santino's chest. She wants to go out and have a nice time.. Santino doesn't want to go out because everyone will be staring at him.
"THEY'RE ALL GONNA LAUGH AT YOU!" – Me
"Maria: It's not going to be like that Santino, they're all going to be looking at me!" – Insyder The Titan
So instead, he just wants to go back to his hotel room…. and she's going with him.
"Is this building a feud with CM Punk." – Jeffrey
"No, building one a feud with Jamie." – Me
*Dirty confused glare* – Dani
"Sorry Santino, but the Princess doesn't put out for your sorry ass. Can't even beat a giant fire breathing turtle, screw that I am gunna go hook up with a real plumber." – Insyder A Faceless Name
COMMERCIAL THREE – 9:35
In the back. Shelton and Haas discuss how Shelton kisses Booker's hand. Shelty is so sure he wins, if he loses.. he'll kiss Haas' on the mouth.
"Where's Mike when we need him?" – Hernandez
Haas doesn't seem altogether comfortable with that.
"WE GETTIN SOME YAOI!!!" – Dani
"Just say 'no homo'" – Hernandez
We now get a John Cena retrospective… including him taking down Kurt Angle. Him FUing Big Show. Winning against JBL.
"Why do I care about this?" – Dani
"Are they showing us this because he's not on the show tonight?" – Dani
"Yeah.. we NEED our Cena fix." – Me
"I don't." – Hernandez
Hernandez then points out that if Cena holds the belt past September 19th, he has held it longer than Macho Man. Ouch.
COMMERCIAL FOUR – 9:42
Snitskyyyyyy….
"Does he really deserve this video package?" – Me
"Do WE deserve this package?" – Bill
"Yes, we deserve to be punished." – Jeffrey
"Did Nathan Jones deserve a video package?" – Hernandez
Snitsky's here!
"BBBBBACCCCCCCKKKKNNNEEEEEE!" – Insyder CaptainSpaulding
"I still think he looks like the guy from Super Punchout." – Me
He's beating Super Crazy!
"The True #1 Contender! Super Crazy!" – Insyder The Titan
SNITSKY vs. SUPER CRAZY
Poor Super Crazy
"Please let him get a cheap win." – Hernandez
They lock-up… Snitsky throws him in the corner. Back elbow. Throws SC to the corner. He leaps. Caught and slammed back into the corner. Knee driven into his back. Continued shots to SC's back.
"Why does Super Crazy have the Bacardi logo on his chest?" – Dani
"Because he's an alcoholic." – Jeffrey
Pump handle.
Done.
WINNER: SNITSKY
"There goes his push." – Me
"He shouldn't have to lose after last week." – Hernandez
He now picks up Super again. Another pump handle.
"He should call Isaac Yankum for those teeth." – Hernandez
We get a shot of last week, where Orton talked shit to Dusty Rhodes and Cody. Orton slaps Rhodes of course.
"Awww, right in the double chin." – Hernandez
"And the third one is still moving." – Me
COMMERCIAL FIVE – 9:49
Triple H… The King of Kangs.
"Bow down to the political power!" – Hernandez
It's the AMERRRRICAN DREAAAAM!
"More cowbell!" – Me
"This is proof that wrestlers don't need steroids." – Hernandez
SIGN OF THE NIGHT: "B Brian Blair fears the Iron Sheik"
"Everyone.. put in your babelfish." – Me
Dusthty gets in the ring.
"Oh god.. I hate leg lifts…" – Hernandez
"I want to see Dusty's kid take an RKO." – Insyder CaptainSpaulding
"That would probably give him the legendary speech impediment." – Insyder JP
'Ya know… lastht week… i made a statement about that billbuthtah… i want randy aurton to meet me face to face in the ring… randy aurton.. come awn out heaah!' – Dusthty
"HEEEeeeyyyy!" – Dan
"Wouldn't it be great if Cody and Golddust come down and beat him down.." – Jeffrey
"So wait.. all Rhodes.. lead to Randy?" – Me
Dusthty calls Randy a snotty nosed punk.
"He DOES have the face of a snotnosed punk." – Dani
"Wait.. he's a legend in the ring with a legend killer…" – Hernandez
"The call is coming from INSIDE THE RING!" – Me
Randy says he is from a legendary family and people like Dusthty don't deserve respect for living off their legends.
"Isn't that counter-intuitive to his first point?" – Bill
"Randy Orton can't talk like that to that walrus! Someone call greenpeace!" – Insyder Cash Keruoac
Dusthty continues on about how Randy has no respect. He actually pulls a good interview. Randy challenges Dusthty to a match at Great American Bash.
"Another reason to NOT watch the show." – Hernandez
Dusthty actually says he will not do it. Randy says he should do it for his son. Fine fine fine.. Dusthty will do it on his own terms.
"While eating…" – Me
"A PIE (or other food) EATING CONTEST!" – Insyder KerryB
In a Texas Bullrope match.
"How many restholds can Randy fit into a Texas Bullrope match?" – Insyder The Titan
"138." – Insyder JP
"Squared" – Insyder KerryB
"Times by headlock, bracketed, to the power of shit in your bag." – Insyder JP
Here comes Cody to stop the nose to nose between the two.
"Oh, he's cute." – Dani
"Dusthty?" – Hernandez
So now Cody and Orton go nose to nose. Cody slaps the taste of his mouth.
"Am I alone in wanting to see Golddust?" – Jeffrey
"No." – All of us
"Yes." – Dani
Randy circles around the ring and then bails. We cue Dusthty's music.. and Cody's career.
"They do have a resemblence." – Dani
"Well Cody has yellow polkadots tattooed all over his chest." – Me
"Malaria." – Hernandez
COMMERCIAL SIX – 10:07
They're showing Cena on Larry King on the show later.
PAUL LONDON! COOL!
"Who's the genie!" – Dani
"One half the Hooliganz!" – Hernandez
"He has tremendous cosmic power! Teeny lil bottle." – Bill
Now it's time for gym-suit variant Shelton Benjamin.
"Shelton won't be at full-strength, as Cryme Tyme seems to have stolen his Thundercats medallion" – Insyder SarcasticWolf
PAUL LONDON vs. SHELTY
Cool beans!
"Wait Shelton is fighting a white dude? What the hell, this isn't right." – Insyder A Faceless Name
Lock to start. Side headlock from Shelty. He fights out of the collar elbow. Pushes London out. Hammerlock from London. Reversed by Shelty and to the mat they go. Headlock and London throws Shelty to the ropes and he eats a shouldertackle.
Back on their feet. Snapkick from London and a spinning leg. Shelty bails. Back in the ring he pushes Shelty to the corner. Leaps and caught! Kneebreaker. Throws London into the corner shoulder first.
Now Shelty with a tight armbar over London. London fights to his feet. Hits the ropes and a boot to Shelts. Dropkick. Rana on Paul's poor neck!. Inside cradle. Two.
Back on their feet, Shelty throws a HUGE boot that drops London. Shelton slams London. Kicks on the ropes.
He gets back up. Goes for a kick. Caught. Misses the enziguiri! FLIPPING ROLLOVER GETS THE PIN! FUCKING AWESOME ENDING.
WINNER: PAUL LONDON
In the ring Shelty pauses and recognizes that in a minute he's going to have to go and kiss Haas.
"Aww I don't WANNA be gay." – Bill
In the back, Super Crazy is wearing a couple bags of ice and some tape. Kennedy interrupts him and throws him into the dumpster. Then he hunches over him explaining that last week was a lnaguage barrier misunderstanding.
He then curbstomps him! Fuck…
Coming out Candice and Mickie.
"Hey, tits!" – Bill
COMMERCIAL SEVEN – 10:18
In the back. Shelton is upset that he lost. Charlie is watching on with interest.
Charlie explains that kissing on the lips would be weird… he says he can kiss Charlie's hands.
"After YEARS of oppression! SHIT!" – Hernandez
Charlie then hugs him and wishes him a happy birthday. In walks Ron Simmons.. and mid-hug…. DAMN!
The confused look of Ron Simmons is gold.
Now… girls.
"is it time for The Crying Game?" – Insyder Soak1313
"For many reasons." – Insyder KerryB
Shit… Melina has the mic. She is getting her rematch at Great American Bash… and she's not facing them tonight. She apparently has a broken ankle so she is going to introduce Jillian's partner for tonight.
"Umaga in drag?" – Bill
"She has a bum leg??? SHOOT HER…SHOOT HHHEEERRR!" – Insyder CaptainSpaulding
It's time for Beth Phoenix.. NICE!
"THE RETURN OF LOCKJAW!!!" – Insyder ROC
"Okay so who has the bigger dick…melina or beth phoenix?" – Insyder Soak1313
CANDICE & MICKIE vs. BETH PHOENIX & JILLIAN
Eight breasts.
"So this match teaches us that blonds are evil, got it." – Insyder A Faceless Name
Beth's butt says 'Glamazon'.
"Is she from GLOW" – Dani
Mickie starts in the ring with Beth. Mickie gets up for the rana. Beth holds on and Mickie drops behind her. Mickie hits the ropes and gets picked up and dropped.
Tag to Jillian! She charges and Mickie moves out of the way and Jillian eats corner.
Tag to Candice. Russian leg sweep to Jillian for two. Beth and Mickie charge in on each other for a catfight spot. Jillian hits a side slam for two.
Backslide from Candice… and THAT wins!?
Sure. Whatever.
WINNER: CANDICE & MICKIE
As Candice grabs the belt. She's clubbed from behind by Beth. They do a beatdown spot. Mickie saves the day. I repeat. Whatever.
Hey! It's Lashley & Arn Anderson!?!
"DOUBLE A IS TEACHING LASHLEY HOW TO DO A PROPER SPINEBUSTER!" – Insyder CaptainSpaulding
"Arn should be the partner and just give all of those pussies spinebusters. Then he can go drinking and stab some roided up giant with scissors." – Insyder Kromadas
We get a shot of the Khali / Batista set-up…. Dani sighs.
"Why does he have to wear a suit so well!?" – Dani
"See that form. He beats women to get that musculature." – Hernandez
"I hate you all." – Dani
COMMERCIAL EIGHT – 10:30
More returning Triple H footage…
"I don't care." – Dani
"Why.. he never beat a woman.." – Hernandez
In the back, Booker T watching the video.
"Fuck… he's coming back." – Me
"And he took my song." – Hernandez
Kennedy shows up now and explains that they were made to look like fools. Booker stops him. Only Kennedy was made to look like a fool. Tonight, they will be victorious.
Joining in the commentator area is Carlito…
In the ring is Regal..
"We didn't get to see Regal's entrance.. LAME." – Me
Here comes Sandman!
"Is there someone behind him cleaning up the beer?" – Dani
"And to stop the kids from grabbing him." – Hernandez
"And drinking his beer." – Me
"And touching his forehead…" – Bill
"Sandman…loudest pop of the night so far…for some reason I'm not surprised. I f*cking hate my state." – Insyder CaptainSpaulding
SANDMAN vs. WILLIAM REGAL
Reeegal!
Sandman gets in and Regal starts off with big punches! He knees Sandman and continues to punch him down in the corner. Kneelifts now and a stiff forearm.
Two one counts. Back on his knees, Sandman punches him in the guts. Regal drops him and a kneedrop for two.
Back on their feet Sandman gets thrown to the ropes and hits a kneelift of his own and now big closed fists from Sandman when Regal drops and tosses him out.
Sandman grabs his Kendo Stick. Hits Carlito for giggles. Then hits Regal! ELLLLL KABONG!
"Is he going to keep getting DQ'd?" – Bill
"It's the Sandman." – Hernandez
WINNER via DQ: WILLIAM REGAL
COMMERCIAL NINE – 10:40
They show a video on Bobby Lashley. Now Cena via Larry King's interview. We pause the Rabble due to it.
After all that silliness… here comes King Bookah!
COMMERCIAL TEN – 10:50
Now.. it's time for Misterrrr KENNEDY!
He reaches to the heavens and down comes the mic!
"I weigh in tonight at 245 lbs. I hail from Green Bay, Wisconsin. Misssterrr Kennedy!
He gets to the corner and does NOT do it the second time. Heel!!!! EVIL!!!!
Now here comes Bobby Lashley!
"CRISPY!" – Hernandez
"Bobby's tagging with either God or Pikachu" – Insyder The Titan
"Milkdud man is bringing his partner, Junior Mints Man." – Insyder Kromadas
Now though.. his partner…. Jeff Hardy!?? Weird choice.
"Pikachu = Jeff Hardy, of course" – Insyder The Titan
"I would be more inclined to say Psyduck, what with the vacant look and constant 'headaches.'" – Insyder JP
"Does this make Jeff Hardy "Skittles"?" – Insyder SarcasticWolf
KING BOOKAH & KENNEDY vs. BOBBY LASHLEY & JEFF HARDY
No Cena in a Main Event!
Bookah starting with Jeff Hardy. They go face to face and Booker knees him in the face. Fights Jeff to the corner. Tries to throw him counter corner and is reversed. Jeff charges in and eats some corner!
Book goes for the axekick and misses. Trips him down and the double leg drop. Arm wringer now on Bookah. Book reverses it and brings Jeff to the corner again. Knees to his gut. Tag to Kennedy!
Punches to Jeff. Slams Kennedy to the corner turnbuckle. Throws Jeff to the ropes. Reversed. Jeff throws his boot. Caught. Dropkick for two. Double leg dropkick in the corner.
Tag to Lashley and Kennedy bails to the corner…. NOPE! Not enough time and Booker has bailed. Shouldercheck!
They fight in the middle of the ring, and begin to spin each other. Booker's foot is out. Kennedy eats Book's boot!
Tag to Jeff and Bobby goes to all fours. Poetry in motion!
"Lashley sure seemed eager to get on all fours for Jeff." – Insyder A Faceless Name
Jeff now hits the ropes, boot from Booker and clothesline from Kennedy for two.
Tag to Bookah. Picks up Jeff and the back kick for two. Throws Jeff to the corner… leaps up! Spinning heel from the top turnbuckle! Now Book crawls to tag.. he heads to the wrong corner and then finally tags in Kennedy. Hot tag to Bobby.
Bobby charges Kennedy in the corner. Spear! Picks him up. Back body drop. Picks up Kennedy….. Kennedy tries to fight out of it and eats the torture drop! One. Two. Book stops it!
In runs Jeff now and they clothesline each other over the top while Bobby loads up the powerslam. Kennedy gets out of it. Hits the ropes. Spear. The. End.
WINNER: BOBBY LASHLEY & JEFF HARDY
Wow. Solid lil match.
"Why? No John Cena." – Hernandez
"I can't see him." – Bill
What did the Insyders think?
"From a really good RAW to a mediocre RAW. Oh well, can't win (or catch) them all." – KerryB
"What a pissy ending to what was a good RAW." – ROC
"That was a lethargic Raw." – A Faceless Name
"Screw this. I'm going to watch Knocked Up" – JP
"This RAW didn't keep me from changing it over to this years lackluster Home Run Derby a couple times. Time to watch "The Bronx is Burning."" – The Titan
What did we think?
"It was ok." – Dani
"I thought it was a solid show. I did want Golddustht to come out." – Jeffrey
"Kennedy jumped in mid air and got speared!" – Bill
"Beth Phoenix is back. John Cena not in the show. I'm still getting the Bash." – Hernandez
"And I think that sums it. A solid show tonight going into the GAB.. I'll be at CONNECTICON! So go there and see me instead of watching that dumb ppv." – Me
Thanks all.. see ya next week.