Review: American Virgin #18
|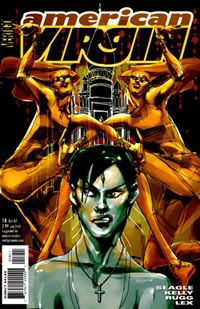 AMERICAN VIRGIN #18
Writer: Steve Seagle
Artist: Ryan Kelly
Vertigo

Around the World: Part 4 of 5: Delhi
The Series: Adam Chamberlain is the 'American Virgin': a 21-year old Born Again Christian preacher who is the poster boy for sexual abstinence until marriage, passing the message through TV appearance and conventions to kids his age that 'abstinence is cool'.
His whole world will be turned on its head when his girlfriend Cassie (whom he regarded as his intended soulmate, after God spoke to him in a dream) is beheaded while in a Peace mission in Africa. This sets of a chain of events that lead Adam on a journey of spiritual, sexual and religious discovery across the world, experiencing different worldviews towards sex and God.
Current story/issue: After last issue, and his sexy new spiritual tattoo, Adam is finally rid of the haunting ghost of his dead girlfriend. Now, accompanied by his new kinda-girlfriend Vanessa, they continue their world tour with their next stop: Delhi, India.
As always, with each new locale comes a whole new set of awkward and new sexual and religious taboos to challenge Adam's convictions. From the ancient Hindu's Worship of sex as a way towards Ascendance, to the modern day conservatism and casual genderist attitude against women. When the couple and their guide stumble upon a Hindu wedding, Adam has his first run-in with Hijra, the third Sex, a very respected and traditional form of transvestism in India.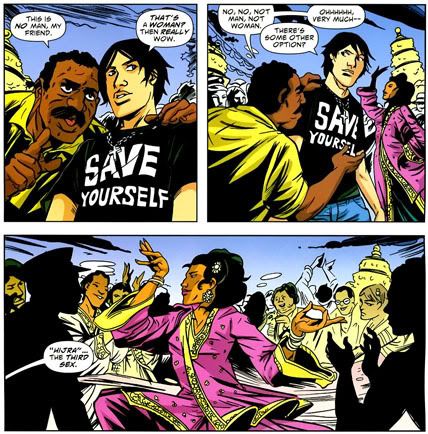 Becky Cloonan is taking a month off from the art duties, and a perfect stand-in is selected in Ryan Kelly, the artist who succeeded Becky as Brian Wood's collaborator in the Demo/Local series. Due to Brian Miller's familiar two-tone palette taking dominance over the linework, I'm not actually sure I would have recognized the change in artists if I hadn't read about it in Ryan's blog. The art style and character designs remain extremely consistent, and editor Casey Seija deserves a nod of approval for managing to keep to a monthly schedule without compromising the quality of the book with inappropriate fill-ins. Still, having seen the uncolored art from both Becky and Ryan, I can't help wishing the art was reproduced straight from the inks for this series, as they are both artists who are used to working in black & white and their linework turns to lose its edge once colour is introduced.
American Virgin is one of the most enjoyable monthly reads from Vertigo. Adam is a very intense and controversial character, and the writer doesn't waste any chances to really push his beliefs and convictions to the breaking limit. This leads to entertaining and revealing stories about the nature of religion and the importance of sex in culture, and acts as a sort of Sex-centered National Geographic, with Adam as our impromptu guide through the different attitudes towards sex around the world.
As good as it, I'd be honestly surprised if it made it past issue 25. It's a convergence of different reasons. Low sales are one, naturally. The premise of the story itself is limiting to the amount of stories you can tell, as the title character keeps evolving and growing, and will inevitably grow out of the title premise. The story since 'Wet' has been speeding towards such a conclusion, with the introduction of Vanessa as the new love interest and Adam's 'intended'. Future solicitations and covers reveal that Adam may not remain an American Virgin for much longer, as well; and once that cherry has popped, the title will have reached its natural conclusion.

Still, I'm not discouraged. This is standard for writer Steve T. Seagle. He offers grand original concepts and creates an engaging cast, but it's always with an eye towards a specific ending, creating a very rich library of finite series, like House of Secrets and the Crusades, two of my all-time favorite Vertigo books.
Grade: 8/10
Tags: Vertigo