Leave Your Spandex At the Door 04.09.07
|
This is Leave Your Spandex @t the Door, packed neatly every week for your enjoyment.
One breath away from the big one double-oh, this is column #99, bringing you:
• Panel of the Week voting
• H-O-T Grade for August #07
• BLACK CANARY: uncensored
• MIGHTY AVENGERS #8 unsolicited ad
• American Virgin #18 review
• True Story Swear To God #8 review
• FANCY some Gay Conan Comics?
For daily updates and even more reviews, videos and commentary, keep checking the LYS@D daily blog. and subscribe to the RSS feed.
This week in comics…
PANEL OF THE WEEK VOTING 03.09.07
Each week I'll be posting the 3-4 most memorable panels from the week and putting them up for a public week-long vote. The winning panels gets posted on the sidebar and earns boasting privileges over lesser panels…
Last week Birds of Prey dominated the poll with a staggering 45%! New Gods + Steel bikini + Pokemon = the Love Equation!
Vote for your favorite this week, as DC dominates the panel wars, with some fun panels taken from some sub-par issues:
Panel A


P-ewww – Teen Titans #50 (Impulse)
Panel B


The Dateless Wonder – Teen Titans #50 (Blue Beetle)
Panel C


Super-hickey – Countdown #35
Panel D


Bizarro Jimmy Olsen Must Live, Him Am Great Photographer – Action Comics #855
H-O-T Grade for August #07
At the close of every month, LYSAD will be putting out the absolute and final word on what was H-O-T in comics.
August 2007 was a very busy month for comics (with 5 weeks of releases) and lots of great choices:
1. THE ORDER #2 (Marvel)
2. ASTONISHING X-MEN #22 (Marvel)
3. WOLVERINE #56 (Marvel)
4. CASANOVA #8 (Image)
5. PROGRAMME #2 (Wildstorm)
6. BLACK SUMMER #2 (Avatar)
7. FAKER #2 (Vertigo)
8. GARTH ENNIS CHRONICLES OF WORMWOOD #6 (Avatar)
9. FRIENDLY NEIGHBOURHOOD SPIDER-MAN #23 (Marvel)
10. BATMAN #667-668 (DC)
BLACK CANARY: uncensored
LYSAD has a major exclusive that we'd like to share with you: the original, uncensored covers to the BLACK CANARY mini-series
Forget these watered-down fakes that got published: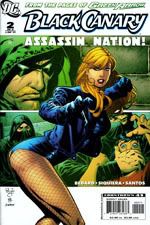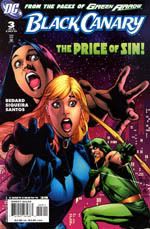 Here, for the first time on the internet, are the original covers, leaked from DC's editorial offices:
MIGHTY AVENGERS #8 UNSOLICITED AD
ADVERTISEMENT
MIGHTY AVENGERS!!
Fan-favourite writer Brian Bendis continues to revolutionalise the Avengers franchise by re-imagining all your favourite classic Marvel Villains, better* bigger** and more menacing*** than ever before!
*= with boobs
**= DD cup size
***= menstruating

(

Bloody Carnage

indeed!)
(Cover source: Newsarama )
TRUE STORY SWEAR TO GOD #8 review
Writer/Artist: Tom Beland
Image Comics
This is one of the books I'm most looking forward to every month. It's like expecting this monthly phone call from a friend you haven't seen in a while (or in this case never), telling you what's been going on with his life, sharing his innermost thoughts and confiding his problems. Tom builds a personal friendship with each of his readers that only strengthens each month, and it's something 'true'ly unique in this genre or any other.
Read the full review here
AMERICAN VIRGIN #18 review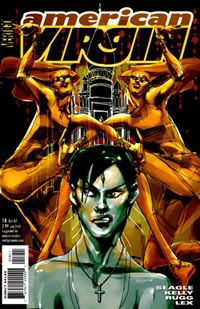 Writer: Steve Seagle
Artist: Ryan Kelly
Vertigo Comics
Adam Chamberlain is the 'American Virgin': a 21-year old Born Again Christian preacher who is the poster boy for sexual abstinence until marriage, passing the message through TV appearance and conventions to kids his age that 'abstinence is cool'.
His whole world will be turned on its head when his girlfriend Cassie (whom he regarded as his intended soulmate, after God spoke to him in a dream) is beheaded while in a Peace mission in Africa. This sets of a chain of events that lead Adam on a journey of spiritual, sexual and religious discovery across the world, experiencing different worldviews towards sex and God.
Read the whole review here
(press release)
FANCY by Dale Lazarov and Delic Van Loond joins AdultWebcomics!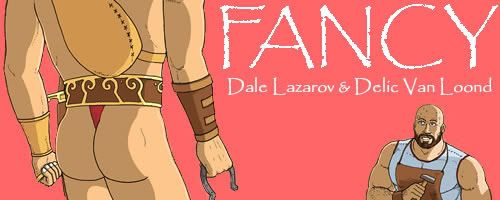 http://www.adultwebcomics.com/comics/fancy.php
FANCY is a series of man-on-man erotic fantasy comics – barbarians, princes, wizards and woodsmen who find love and lust in sensual, enchanted landscapes. The first story currently being serialized from FANCY is "Hospitality", a tale of a wandering barbarian swordsman who finds shelter, comfort, tenderness and hot, hard sex in the arms of a burly village blacksmith.
Dale Lazarov is best known as the writer/editor of STICKY, a collaboration with illustrator Steve MacIsaac that was first published by Eros Comix/Fantagraphics and collected in hardcover by Bruno Gmuender Verlag. Best-selling author Clive Barker described STICKY as "Sexy, stylish, minimalist…an intense mixture of erotic realism and the freedom of comics storytelling makes STICKY a pleasure to have in one hand."
With accomplished European erotic artist Delic Van Loond, Dale now brings STICKY's brand of carnality and sweetness to sexy fantasy characters and settings. "Everyone's invited to read FANCY as hypermasculine heroic adventure fantasy types have long been protagonists in the erotic imagination, not just for gay geeks or female fans of slash and yaoi art. That said, Delic and I go through great pains to make sure the protagonists of these stories relate to each other on a human level in order to enhance the experience of sensuality and romance inherent in hard man-on-man sex. Another inclusive aspect of FANCY is the intentional lack of captions or dialogue; anyone who enjoys erotic illustration can immerse themselves in Delic's clear, compelling, gorgeous erotic comics storytelling and fantasize their own dialogue."
Delic Van Loond adds "It's great to work with Dale on this series; his writing brings a real humanity to the characters despite their fantastical settings. He creates a back-story for each protaganist and it's been a fun challenge to show that to readers in a dialogue-free story. I also think it adds to the sensuality when there's empathy with the characters. Combine this with swords, leather, magic and muscles and you have an olde worlde feast of hotness!"
Lazarov & Van Loond's FANCY updates every Saturday at adultwebcomics.com.
That's a wrap for this week! I'm waiting your comments and feedback through email to Manolis@gmail.com or through the site's comments feature
If you self-publish your own comics or represent an Indy comics company, add me to your press release list, and I will run your news in this space every week.
Manolis Vamvounis
a.k.a. Dr. Dooplove
Tags: Avengers, Small Press, Vertigo