Leave Your Spandex At the Door 15.09.2007
|
This is Leave Your Spandex @t the Door, packed neatly every week for your enjoyment.
Is this measly offering really column #100? My big thing for the great 1-0-0 got delayed by a week, so let's all pretend this is 99.5 or something, and hold our breath for the big candles on the coming Tuesday!
Meanwhile, this week:
• Panel of the Week voting
• POTTER'S FIELD #1 review
• God, will you give me a sign to go on?
• Pig-versary
• Election campaigns made in Greece
For daily updates and even more reviews, videos and commentary, keep checking the LYS@D daily blog. and subscribe to the RSS feed.
This week in comics…
PANEL OF THE WEEK VOTING 10.09.07
Each week I'll be posting the 3-4 most memorable panels from the week and putting them up for a public week-long vote. The winning panels gets posted on the sidebar and earns boasting privileges over lesser panels…
Last week two Teen Titans #50 panels raced to the finish line, with Todd Nauck and Dezago's Impulse panel seizing the win by 4 votes!
This week the Marvel super-heroines take the lead, as Ms Marvel enters the fray with a record–breaking (sic) three panels, accompanied by one more She-Hulk panel. Machine Ma- – Aaron Stack's cameo is doing wonders for the book's readability!


Panel A: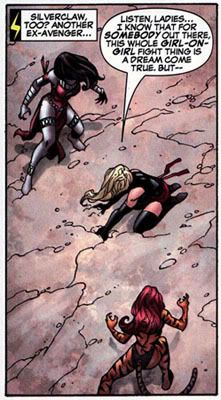 An Avengerette menace-a-trois. And two of them with claws! (Ms MARVEL)
Panel B: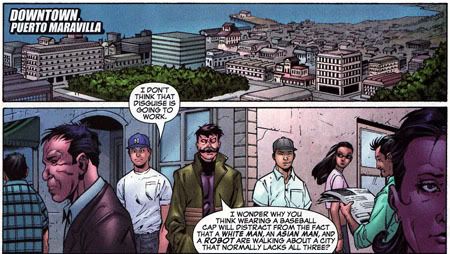 The Three Super-Amigos – A C-list heroes, B-movie, buddy flick (Ms MARVEL)
Panel C: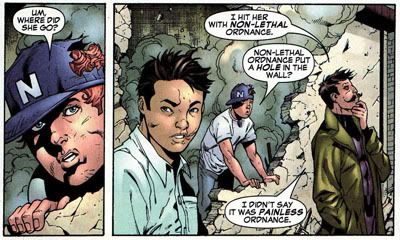 Painful Weapon IV: A C-list heroes, B-movie, buddy flick sequel (Ms MARVEL)
Panel D:
Oh, no… you didn't! (SHE-HULK)

POTTER'S FIELD #1 review
It's official, Mark Waid has gone Boom!
The stories in this book are centered around the Potter's field on Hart Island, New York. The protagonist is 'John Doe', a sunglass-wearing tabula rasa of a hero, carrying a morbid obsession/compulsion to investigate the stories of the other Johns and Janes Doe who are buried in that field, and discover their true names so that he can chisel them on to their numbered grave plates and they can then be properly mourned. Each issue looks to be geared to be the quest to uncover the next number in sequence in the burial ground. J.D.'s 'crew' consists of people in key positions (coroners, prison guards, reporters) who support his cause and owe him a debt of gratitude for helping them out when tragedy had struck close to their own lives. Very GLOBAL FREQUENCY meets CSI. The first case is an unidentified (duh) girl, who jumped off a building terrace, carrying only a walkman (remember those?) containing only Top 20 summer hits from ten years ago. What a way to go!
Read the full review here
"GOD, will you give me a sign to go on?"

A truly innovative and fun way of bringing God closer to people and their everyday lives.
Godmarks is a donations-based organization which puts out messages like this out in cities, on billboards, on post boxes, in the back of buses and in magazines. The messages are fun, smart, and often controversial, meant to ignite debate and trigger people to think about God.
Apart from the above (my favorite), messages include:
"I miss how you used to talk to me when
you were a kid – God"

"Contrary
to popular belief, I don't hate anyone who's gay – Jesus"

"Isn't it weird how most people think I'm white? –
God"
Pig-versary
With all the Spider-Pig craze going around the internet, let's not forget the Alpha Pig of comics: Pig from Pearls Before Swine
Today's strip:
Election campaigns – Made In Greece
This is an actual campaign video for TV for one of the lower upper-tier political parties in Greece (I think 5th in order) LA.O.S.. The video is for new candidate Efi Sarri, one of the trashiest Greek singers.
Allow me to translate, for a full enjoyment of the video:
I thought about it well,
and it won't take any more
again, we have to save our Greece

I thought about it a lot
to get into the Parliament
and everyone together, hand in hand to get on the step

Cross me (give me a cross/vote)
Cross me
On your arms
lift me up

If you want to save yourself
if you want to complain
you vote me
and then you'll see

If you want a voice
that is true
give your cross to LA.O.S.
to Efi Sarri

Cross me (give me a cross/vote)
Cross me
On your arms
lift me up

(x2)

And I will fight
to get the right thing done

I believe in Greece
I believe in the Christ

The young people especially
if they want to be 'in'
they should join me
to turn on the light

Cross me (give me a cross/vote)
Cross me
On your arms
lift me up

Our parliament needs fun
give a cross to Efi
to Efi (x6)
That's a wrap for this week! I'm waiting your comments and feedback through email to Manolis@gmail.com or through the site's comments feature
If you self-publish your own comics or represent an Indy comics company, add me to your press release list, and I will run your news in this space every week.
Manolis Vamvounis
a.k.a. Dr. Dooplove