Leave Your Spandex At the Door 26.09.07
|
This is Leave Your Spandex @t the Door, packed neatly every week for your enjoyment, now officially into the triple digits!
With the magic of missed schedules, this is column #102, bringing you:
• Panel of the Week voting
• Capsule reviews for FALLEN ANGEL, THE PROGRAMME, MADMAN ATOMIC COMICS, FABLES
• CASANOVA #9 review
• X-MEN #203 review
• Big Barda: T & A — but no Face
• Brand New Day soliciation spoilers
• Kevin Smith talks about Gay Bears
• So you think you can dance — in Japan
For daily updates and even more reviews, videos and commentary, keep checking the LYS@D daily blog. and subscribe to the RSS feed.
This week in comics…
PANEL OF THE WEEK VOTING 23.09.07
Each week I'll be posting the 3-4 most memorable panels from the week and putting them up for a public week-long vote. The winning panels gets posted on the sidebar and earns boasting privileges over lesser panels…
Last week was slow voting-wise, with Ms Marvel losing to She-Hulk despite the odds stacked in her favour 3:1
This week's big ringer is the Green Arrow/Black Canary Wedding against stiff competition from the voting's favourite darlings, the Marvel Adventures books! And in a weird twist, all four are male crotch and ass shots with someone pointing towards them! Funky week.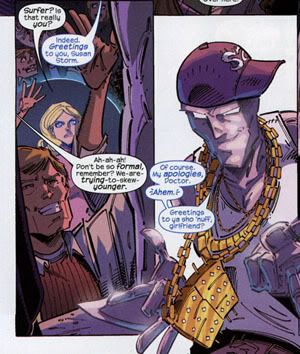 Silva' Surfa' wit' the Pizzower Cossizmic –
Marvel Adventures Fantastic Four #28
Panel B:

Mr. Melty Iron-Pants – Marvel Adventures Avengers #16
Panel C: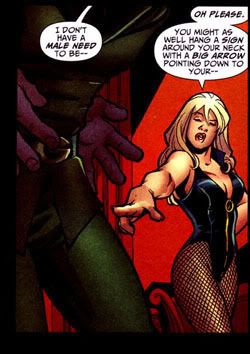 –Big Arrow – Green Arrow/Black Canary Wedding Special
Panel D:


Eht Lluf Ytnom – Green Arrow/Black Canary Wedding Special
Capsule reviews for FALLEN ANGEL, THE PROGRAMME, MADMAN ATOMIC COMICS, FABLES
FALLEN ANGEL #20
Write: Peter David
Artist: Dennis Calero
IDW publishing
The Fallen Angel's son, Jude, stars in this done-in-one exploration of the 5 stages of grief, trying to come to terms with his new role/curse as Bete Noire's magistrate. Bar fights, runaway nuns and seduction of the clergy.
Jude still hasn't grown on me as a character, although this issue is a step in the right direction. Peter David's exploration of the five stages doesn't break from the expected, even falling in the common misconception of what the Bargaining stage really refers to; it's commonly shown as literal bargaining with a third-outside party to alleviate the pain, while in reality it most commonly refers to a person bargaining with themselves: 'if I do this one thing today, it will help ease the pain'. Still better than the sum of FALLEN SON: CAPTAIN AMERICA.
Grade: 6/10
MADMAN ATOMIC COMICS #4
Writer/Artist: Mike Allred
Colorist: Laura Allred
Image Comics
Mike Allred's return to the character who made him famous continues on an odd pace and with a novel spiritualist adventure bent. Madman's done with the soul searching, he's back to reality– but a moment too late! His loved ones have already shot his body into space for burial – packed tight with his robot cloned body, AstroMan, for company -huzzuh! While Astroman races on low fuel to earth for help, Madman has a close encounter of the third type with a space hottie from a planet of multi-colour tuffy and gets tangled up in a vag-mouthed dendromorphic seer.
Does the story make much sense? Not at this point. Since the start of the new volume, with the first recap issue, Allred has been pushing Frank onto a larger path of destiny, trying to fit everything that's come before into a grander scheme (something that doesn't easily suit the character), while at the same time amping the weirdness with each stop of his Odd-yssey. As jarring as the plot is, the art has never looked better. This is the most beautifully drawn and coloured book on the stands, but I do miss the nonsensical adventures just for the sake of fun which littered the original run of the title. Some things are better left simple and fun without an overall purpose and direction.
Grade: 7/10
FABLES #65
Writer: Bill Willingham
Artist: Mark Buckingham
Vertigo
It's been taking more and more of an effort to sit down and crack this book open every month. When did Fables turn into Days of Our Fairy Lives? The current storyline has been dragging on way too long, feeling like an ongoing soap opera. Don't get me wrong, when I do manage to start reading, it's still engrossing and drop dead beautiful (deservedly Eisner-winning), but it doesn't have a central story in each issue to pull the reader in, instead offering the next part of the several ongoing plotlines.
The Frog Prince keeps marching with his army of Dead Fables, finally reaching his deserted Kingdom (Willingham's done wonders turning Ambrose into a true hero and convincing both the other characters and the reader of his valour and right to lead). In Fabletown central, everyone spends their days watching the Prince's exploits (told you it's like daytime soap over here). Frau Totenkinder reveals her true motivations and the nature of the coming conflict. Bigby trains more soldiers. The Snow Queen obsesses over beans. Prince Charming learns a foreign language. Khan schemes. Bluebeard still doesn't have any clothes on (roooowr)
Grade: 7/10
PROGRAMME #3
Writer: Peter Milligan
Artist: C.P. Smith
colorist: Jonny Rench
Wildstorm
Superman Max is still on the run after his awakening. So who you gonna call to stop the big bad Russian super-terror? Well, turns out, neither of the super-people are unique, as neither side of the Cold War stopped at one when producing superman weapons. Now the Spirit of Lenin has already reached his Communist Superwoman: Pravda, while the American agents race to retrieve the secret location of their number two from a retired child-molesting piece of trash.
Milligan is in his best form here, providing a sharp and fast-moving story, with C.P Smith providing adequate (if sometimes confusing) art, but which is raised to drool-worthy heights thanks to Jonny Rench's pallette which simply make the book. Get this guy a raise and an Eisner nomination please.
Grade: 8/10

CASANOVA #9 review
'When is Casanova Quinn?'
That's the question-du-jour, as my favourite spy-adventure returns after a hiatus– but the protagonist gets left behind… somewhen! Big sister Zephyr Quinn takes center-stage, as twin brother Fabio Moon takes over for Gabriel Ba who has moved to the big leagues with Dark Horse's UMBRELLA ACADEMY (review coming soon), and moody midnight beach blue replacing the mouldy green as the monochromatic colouring tone of choice.
Read full review here
X-MEN #203 review
Mike Carey's action blockbuster 'Blinded by the Light' concludes — with a buddy movie action sequence?
The X-Men are reeling from the shock of the combined attack from Exodus' Acolytes, Sinister's Marauders and Mystique's turncoat X-Men.
Now it's up to the two remaining X-Men, Iceman and Cannonball to escape the combined forces of the X-Men's two greatest villains and retrieve the hidden Diaries. Mike Carey loves us.
Read full review here
Big Barda: T & A — but no Face
Al Barrionuevo is the stellar artist behind the gorgeous MARTIAN MANHUNTER mini-series and last week's tolerable DC COUNTDOWN #32. He has a solid tight style, although the collaboration with 'breakdowns artist' Keith Giffen didn't seem to favour him well.
The question I beg to ask after finishing the (surprisingly) amusing #32 has to do with Big Barda's 'cameo appearance'. I've gone ahead and included scans of all of Big Barda's panels in the issue: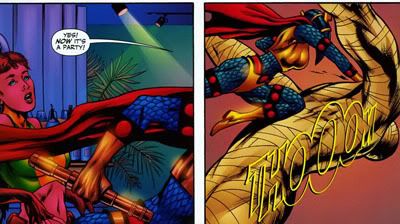 Notice anything funny going on?
Now, is this a case of Keith Giffen having fun with the breakdowns, DC making clandestine plans to change Barda's race or Barrionuevo simply not knowing what Big Barda's face looks like?

Big Barda has often been the subject of overly enthusiastic T&A portrayals, but at least past artists had the decency to also include her face in the panels. 😉
Brand New Day solicitation spoilers
So, how closely have you been looking at the recent Marvel Comics Solicitations, and the Brand New Day covers?
Like, say, the cover to Amazing Spider-Man #546 above.
You know the one. The one where Spider-Man is pulling his MASK down, swinging on rooftops with a CAMERA strapped on his arm, while on the background J. Jonah Jameson is ranting on a billboard about the MASKED MENACE.
And isn't Peter Parker looking all single in those preview pages where he's mending his spider-man costume on his own?
This humble fan's opinion: JMS is ending his run with a huge RESET button, undoing spider-man continuity all the way back to the spider-marriage and beyond. The world forgets who spider-man is, Spider-man forgets who Mary Jane is, Mary Jane forgets who Peter is, but also gets a nifty power set and superhero identity out of the deal (so they can fall in love with each other all over again, not knowing who each other really is! awwwww)
Kevin Smith talks about Gay Bears
Is it really just a gay thing? Isn't Kevin Smith just adorable to the opposite sex? It's really true if he ever entered a gay bear bar he would have a ton of guys drooling after him (yeah, me included)
btw:
cubs: younger bears.
Guys who like bears: chasers.
Twinks? hairless young slim guys, not really into bears.
Kevin should totally remake Cachorro/Bearcub for an American audience
So you think you can dance — in Japan
On a coolness scale 1 to 10, this video goes well into triple digits:
From (what I'm guessing is) a dance contest TV show in Japan, two skirt-clad, ass-hanging-out Japanese men dancing Daft Punk on a red-and-white square tiled floor straight out of a dance console game. But they're good, and the dance routines are frankly inspired, with all the camp and kitschiness you would expect from our muses in the East.
Now I have to start slapping booty and headbutting people on the dance floor!
That's a wrap for this week! I'm waiting your comments and feedback through email to Manolis@gmail.com or through the site's comments feature
If you self-publish your own comics or represent an Indy comics company, add me to your press release list, and I will run your news in this space every week.
Manolis Vamvounis
a.k.a. Dr. Dooplove