Leave Your Spandex @t the Door 03.10.07
|
This is Leave Your Spandex @t the Door, packed neatly every week for your enjoyment, now in the triple digits and loving every minute of it!
This is number 103 and it packs the goods:
• Panel of the Week voting
• H-O-T Grade for September '07
• The blogger's self-portrait
• THE ORDER #3: Zobos on Rodeo Drive
• That Cuddly Thing
• UMBRELLA ACADEMY #1
• Cover Fads The Order #4 vs X-Force #119
• BART SIMPSON'S TREEHOUSE OF HORROR #13
• More Zobos
For daily updates and even more reviews, videos and commentary, keep checking the LYS@D daily blog. and subscribe to the RSS feed.
This week in comics…
PANEL OF THE WEEK VOTING 23.09.07
Each week I'll be posting the 3-4 most memorable panels from the week and putting them up for a public week-long vote. The winning panels gets posted on the sidebar and earns boasting privileges over lesser panels…
Last week the pants-run was a close one, between Zatanna's stripper spell and Iron-Man's melting composure, but the witch got the prize at the end of the day with 38% of the votes!
This week, there hasn't been much of a competition, as BART SIMPSON'S TREEHOUSE OF HORROR #13 is the only book worthy for Panel of the Week. It was quite hard to choose just 3-4 panels of the book, so I had to narrow it down even more to only DARTH HOMER panels from the Ian Boothby/Pia Guerra story in the book, which were definitely the funniest of the lot.
In this story, each character gets trapped in a famous movie after touching a cursed eBuy collectible. Homer ends up in Star Wars Episode III courtesy of Darth Vader's light saber.
For the rest of the scroll down to the review of the issue.
Panel A


Jedi Death Choke
Panel B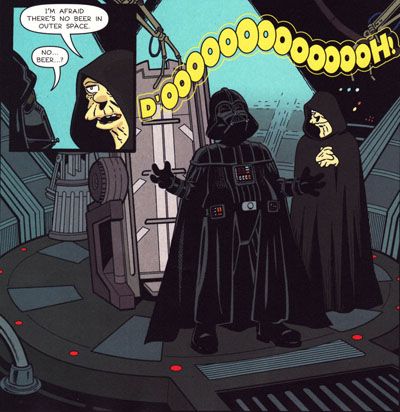 In Outer Space Noone Can Hear You D'OH!
Panel C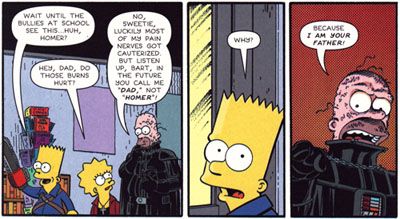 Should Have Seen It Coming
SEPTEMBER 2007 H-O-T GRADE
At the close of every month, LYSAD will be putting out the absolute and final word on what was H-O-T in comics.
September 2007 was an excellent month in comics, with few but amazing suggestions.
1. Y THE LAST MAN #58
(Vertigo)
2. THE ORDER #3 (Marvel)
3. UMBRELLA ACADEMY APOCALYPSE SUITE #1 (Dark Horse)
4. PARADE WITH FIREWORKS #1 (Image)
5. CASANOVA #9 (Image)
6. INFINITY INC #1 (DC)
7. SHE-HULK 2 #21 (Marvel)
8. BART SIMPSONS TREEHOUSE OF HORROR #13 (Bongo)
9. SUPER VILLAIN TEAM UP MODOKS 11 #3 (Marvel)
10. SPIDER-MAN FAIRY TALES #4 (Marvel)
The month was marked by the jaw-dropping 'Y' on the last page of Y THE LAST MAN #58. Matt Fraction continues his monthly presence in the chart with CASANOVA and new darling THE ORDER.
Pete Milligan debuts with INFINITY Inc just as Dan Slott gives us his continuity porn curtain close on SHE-HULK.
Mike Allred almost had two in the list, with MADMAN ATOMICS COMICS #4 barely losing the #10 spot in favour of Allred's other release SPIDER-MAN FAIRYTALES (which won mostly on the basis of Allred drawing Gwen, MJ and Spider-man with a mop).
As for SUPER-VILLAIN TEAM-UP, it took me 3 months to notice it, but it's most likely going to be a permanent fixture in the chart from now on.
SELF-PORTRAIT

Where the borders between freak, geek and art blur to pixelate. A self-portrait.
THE ORDER #3: ZOBOS ON RODEO DRIVE
Zobos.
It's the newest trend!
Forget Ninjas, forget Pirates, forget ZOMBIES (so passe!)
From The Order #3 (Matt Fraction, Barry Kitson, Marvel Comics):


ZOBOS!! And they look like… what?
Find out here
THAT CUDDLY THING
And all the (fan)boys go 'Awww'
(Courtesy of GayGamer)
THE UMBRELLA ACADEMY – APOCALYPSE SUITE #1 review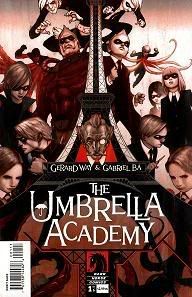 UMBRELLA ACADEMY: APOCALYPSE SUITE #1 (of 6)
Written by Gerard Way
Art by Gabriel Ba
Colors by Dave Stewart
Letters by Blambot's Nate Piekos
Cover by James Jean
Dark Horse Comics
Umbrella Academy is the new crack!
Promoted solely on the fame and crazy of its writer and creator, rockstar Gerard Way, him of the Chemical Romance fame, I expected nothing more than a dose of wacky with a side order of amazing art, courtesy of CASANOVA's Brazilian power-art-house Gabriel Ba (with a funny accent mark on the a I can't replicate right now. Gabriel Ba', Gabriel Ba').
Who knew a rockstar could write our socks off?
The Umbrella Academy is nothing sort of amazing and I'm telling you all about it here
COVER WARS: THE ORDER #4 Vs X-FORCE #119
I went to great detail last month about how Marvel's newest Hollywood super-team THE ORDER reminds me of my old darlings, Pete Milligan's X-FORCE.
Taking a look at next issue's cover (#4, by Barry Kitson), I was struck by deja vu; looking back on google, I found the cover to that X-Force team's 4th issue (#119, since they debuted in #116, art by Mike Allred).
Swipe? (nah)
Homage?
Creative Subconscious Synchronicity?
I love them both regardless 🙂
BART SIMPSON'S TREEHOUSE OF HORROR #13 review
Anthology
Bongo Comics
Halloween.
It's that time of the year again. Kids start preparing their costumes, neighbours stack up on candy, Steve Niles is in a cheery mood and B-horror movies are suddenly cool again (but did they ever really stop?)
It's also time for Bongo Comics' traditional Treehouse of Horror anthology. I approach these books with the thought 'if you're only going to buy one Simpsons comic this year, this is the one you really want'. Because, you know, i do only buy one a year, and this is the one.
Read full review here
GOING (MORE) GA-GA OVER THE ORDER #3
Have I mentioned this book before to you?
Solicitation copy for The Order #3:
THE STORY:
You are a member of the Order. You've been given extraordinary powers and a mandate to save the world. You've got one year. What do you do? "Calamity" James Wa was a baseball player with his whole future bright and perfect in front of him, when a drunk driver took it all away. What does HE do with extraordinary powers and a mandate to save the world? He goes looking for a little payback. Also: They're half zombie! Half hobo! ALL TERROR! The ZOBOS run roughshod on Rodeo Drive! Celebutantes and debutards beware–Botox is like ketchup to these flesh-eating, homeless weirdos, and they find your waxed and tanned skin DELICIOUS! Somebody call THE ORDER!
Seriously, who writes this stuff? Warren Simons, is it you? This is brilliant!
That's a wrap for this week! I'm waiting your comments and feedback through email to Manolis@gmail.com or through the site's comments feature
If you self-publish your own comics or represent an Indy comics company, add me to your press release list, and I will run your news in this space every week.
Manolis Vamvounis
a.k.a. Dr. Dooplove