STOP!
RABBLETIME!
..I got nothin..
T H E
M O N D A Y
N I G H T
R A B B L E
The Heartbreak Kid returns tonight, and the Rabble is in full force. To explain what the Rabble is, we gather in a bar in centeral New Jersey and we talk to the show. The show in turn, sucks, which fuels our fire.
Let's go with the rollcall:
JEFFREY – The Beer Pouring Kid
MIKE – The Deet Flying Kid
DANI – The Jamie Loving Girl
ERIC – The Bacon IceCreaming Kid
BILL – The Not Arting Kid
TOMMY – The Not Arting Kid's Brother
And finally – The Rabble Writing Kid, James Hatton, Me.
Also, the Forum Posting Kids, the Insyders.
Dani looked at the spoilers and has informed us that this show sucks.
Anyway, we see Trips crawling away from his beatdown and at the end of the show… Shawn.
"I still think it's Skinner." – Mike
Superkick. Deet. Done.
Regal! This show is already awesome.
"Finally.. William "Sunshine" Regal has come home." – Insyder Evil Crippled Hand
Anyway… Orton interrupts him and seems upset that he was beaten down by HBK last week. He doesn't want the fans to decide his opponent at Cyber Sunday – he wants Regal to decide.
So, he's dressed to compete.
"Wearing nothing, but underwear." – Me
"Hey, last time I was in England.. I destroyed a hotel." – Mike
So Orton makes a suggestion about tonight's match, but Regal first has an announcement to make.
"That announcement sucks." – Dani
"STOP THAT!" – Me
Cue Regal's music. Regal chant resides throughout the entire auditorium. He then plays the crowd.
"HELLOOOOO BUTTERCUPS!" – Me
He promises a great show this evening.
"He lies!" – Mike
"He does." – Dani
Tonight, Orton will be facing each one of his Cyber Sunday opponents tonight. Hardy, Kennedy, and HBK.
"Wait… what? Two midcarders and Shawn?" – Eric
"Yeah, it's called swaying the vote." – Me
So wait, he faces all three.. why watch the PPV?
Anyway, here comes the Rainbow Warrior!
Hey!
"Hey!" – Eric
"Huh?" – Jeffrey
"What's all this about?" – Bill
"Is Regal going to stand there all night?" – Eric
"He gives instant heat to all…" – Me
"So… are they going to play 'Whose Belt Is Bigger?" – Dani
JEFF HARDY vs. RANDY ORTON
SKITTLES!
"Jeffykins' hair is hardly a rainbow…it looks more like that cup of water you use to clean you brushes with when you're done painting back in elementary school." – Insyder The Titan
So we're at 9:12 and the wrestling has begun. Orton pushes Hardy into a corner. Armdrags all over the place from Jeff and Orton gets up, wrings the arm and pushes Jeff to the corner.
Throws him to the corner, reversed and Hardy clotheslines Jeff over the top. Then the running baseball slide! Suicide dive!
Hey, both men are outside… I bet it's a….
COMMERCIAL ONE – 9:13
(I predict we come back to a headlock.)
Hey we're back… hey!
RANDY ORTON HEADLOCK COUNT: 1
"Headlock count is reaching a record high tonight.." – Me
"I want to see HBK sell a headlock." – Bill
Jeff fights out of it only to eat a powerslam. Garrrrrvin Stomp! Kneedrop from Orton. Right back into a headlock!
RANDY ORTON HEADLOCK COUNT: 2
Fights to the feet. Hardy fights hard. Punches. Two crossbodies and a pin for two. Jeff runs and hits the Whisper for two!
"He never wins off the Whisper.. why bother?" – Me
The doubleleg dropkick in the corner. He climbs up to the top and .. hey.. KENNEDY!!!!!! He pushes Hardy. Rolled off. The end.
"He won through chicanery." – Former Roommate Wildpig Chris.
WINNER: RANDY ORTON!
"HEY!" – Bill
So Lawler is on a computer…
"He's looking at Kat porn." – Me
"Like… the animal.." – Eric
"HEY! He's using a Mac!" – Dani
COMMERCIAL TWO – 9:21
It's SANNNTINNNO TIME!
"This is dumb too…" – Dani
"No… no it's not…" – Me
MARIIIAAAAAAAAAA! It's tigerprint and denim and stockingy and Maria. The end.
"I think I could watch Maria jiggle down that ramp in slow-motion all day." – Insyder Evil Crippled Hand
"Maria in fishnets = me needing a few minutes of alone time" – Insyder Soak1313
"….now just make fun of the condemned…." – Dani
So he then says England is nothing compared to Italy. He then makes fun of Stone Cold. Wait.. WAIT…. HELLLOOOO LADIES!
"Only in Europe." – Mike
"Val should win and take Maria with him." – Dani
SANTINO vs. VAL VENIS
VAL! ..fuck val… MARIA!
Val pushes Santino to the corner. They fight back and forth. Finally Val getting caught in a middle rope tree of woe, kicks him out. Santino then does a legwrap on Val and Val tries to fight into a chinlock, but he's kicked out and put into a single leg crab.
Val is crawling for the ropes.
"This man should be our heavyweight champ." – Mike
He gets the ropes, to his feet, and chops! Santino clips his leg and that's it. Everytime Val gets a move or reversal – Santino reverses it.. finally a sunset flip from VAL! Santino drops… dammit.
WINNER: SANTINO
REAL WINNER: MARIA!
"Val goes back to Heat…again." – Insyder The Titan
Diva shit. Smokebreak.
"I'm so glad that being a Diva means saving people from the ocean.." – Dani
"Except your own career." – Eric
COMMERCIAL THREE – 9:32
Hey… Coachman… talking to Carlito. They bibble on about Hornswaggle – Coach has got a plan for him, but he's got to get him in the right place at the right time.
Swaggle is off course right behind him. Grabs Carlito's apple. Runs.
COMMERCIAL FOUR – 9:35
Look, we come back to Coach running after Hornswaggle all over the back room. Hornswaggle tackles Coach and runs off, undetected.
Thanks Dani.. I was smoking. I felt I missed nothing.
Hey, Umaga killed Trips.
Now, Vince in the back wanting to talk to Regal. He wants to know how old the Queen is really….
"Which one?" – Regal (Gesturing to George Michael & Elton)
Vince wants to know how Triple H is. Regal explains that since YooManga beat him down he gave him the week off. Vince tries to correct him. Umaga. YooManga
"Oprah Uma Uma Oprah." – Me
COMMERCIAL FIVE – 9:43
KKEEEENNNNNEEDDDDYYYYYY!
Microphone Summoning Action!
"Who ya gonna vote for on Cyber Sunday…"
"HBK!" – Bill
"..I voted for Kennedy 5 times already.." – Me
"I know." – Bill
KENNEDY!
HEY!
"hey?" – Bill
MR. KENNEDY vs. RANDY ORTON
Hey….Kennedy!
"This should be good.." – Bill
"No.. it'll be short." – Me
"Yep." – Mike
Lock up to start.. no fingerpoke like I predicted. Side headlock from Kennedy.
"First headlock!" – Mike
"It was Kennedy's though.
Randy reverses it into a side headlock.
RANDY ORTON HEADLOCK COUNT: 3
"IT'S EXCITING!" – Tommy
Kennedy slides behind Randy and a roll-up for two. Kennedy gets another headlock. Randy pushes him to the ropes and a shouldercheck from Kennedy and a pin for two. Right back into a sideheadlock.
"The Kennedy headlock count is rivaling Orton's." – Tommy
"But the Kennedy headlock count is that much better." – Bill
Randy just clubs his way out of it. Slams Ken's head ot the corner. Kennedy fights out, punches back and forth and Orton wins with a slap. Orton goes for a dropkick. Sidestepped and a pin for two.
Now knees from Kennedy! Ken with big hits to his shoulders. Orton fights back with a few hard Euro Uppercuts. Garvin Stomp… Again!
Kennedy drops and tries to trip Randy into the corner and a roll-up for two.
Kennedy picks up Orton and Randy slips out of it for the Orton backbreaker. They both get up and Kennedy hits the Kennedy roll! He stands and hits the ropes – JEFF HARDY!
OVER THE TOP ROPE DROPKICK! SWANTON ON KENNEDY! Orton charges Jeff and Hardy drops the ropes…. Orton goes FLYING!
WINNER: RANDY via DQ…
REAL WINNER: RAINBOWS
COMMERCIAL SIX – 9:53
Our Ten O'Clock Spot! VINCE McMAHON!
He proclaims he's a genius. It's his idea to create Cyber Sunday.
"Shyyyyber…." – Me
"Wasn't that Eric Bischoff's idea?' – Eric
"No, it was Jerichos!" – Me
So who is Trips facing at Shyber Shunday.. Umaga… who is coming down to the ring right now with a jobber!
"Last time he was in Europe and faced a jobber. He lost the title." – Mike
So one of the possibilities is a Street Fight. He's going to demonstrate right now. Vince asks the jobber's name. 'Ryan Simmons' He then asks if Ryan is afraid… yes.
"Of course he's afraid. Those pants weren't red when he bought em." – Insyder Blackheart
Vince then makes funny
UMAGA vs. RYAN SIMMONS
So bell rings. Randy gets squashed in the corner. Thrown outside.
"This guy credited his whole life and career on Chris Benoit" – Mike commenting on his tights & look.
Umaga then chokes him with a cord.
"Seems he's crediting his death to Chris Benoit too." – Me
Back in the ring, Umaga hits the samoan drop on a chair.
WINNER: UMAGA
Vince then stops Ryan and explains one of the other stips for Shyber Shunday is a First Blood Match. So we get a demo of that now too.
UMAGA vs. RYAN SIMMONS
First Blood
Sets up Ryan in the corner. Flying headbutt. Umaga buttbump.
"Ryan Simmons got to wrestle as much as Randy Orton tonight.." – Me
"Minus the headlocks?" – Eric
(Apparently his name is Andy… he's still Ryan…)
Umaga then thumbs him until he bleeds.
"He's gunna poke him til blood shoots out of his forehead." – Bill
WINNER: UMAGA
"Where's the cage?" – Bill
Ok so as the officials are about to take him away. The cage begins to descend….
Poor Ryan.
UMAGA vs. RYAN SIMMONS
Wrestled more than Super Crazy tonight
Umaga gets in the cage… grabs Ryan… Lawndarts RIGHT into the cage.
"I like this kid." – Mike
"Welcome to the WWE kid, nice knowing you. You may have lost 3 times, but you can sure bleed." – Insyder Evil Crippled Hand
COMMERCIAL SEVEN – 10:18
Some more Hornswaggle stuff happened – it ended in Coach stealing Ron Simmons bike. See YTMND for further news.
Jillian Hall is here…. she wants to make fun of Lillian Garcia. So she does.
We see a flash of last week's performance. Nobody cares, still.
Jillian then sings. Nobody cares.
Candice then gets a new video package.
"When did she get that?" – Eric
"When they realized her wrestling sucks.. so she gets a new video package." – Mike
JILLIAN HALL vs. CANDICE MICHELLE
Jillian cheapshots Candice and hairtoss. Candice tosses Jillian to the corner, pulls Jillian down. Candice then hits the Unprettier for the win.
WINNER: CANDICE MICHELLE
THE REAL WINNER: US SINCE IT WAS SHORT
Beth is talking. She's facing Candice at Shyber Shunday.
Also in the back, Hardcore Holly got challenged by Hardcore Holly…
"I was kicking people's ass before you were a thought under your Daddy's polkadots!" – Holly
"Ok, Holly with a funny line!" – Mike
So Cody should bring his A game tonight, because he might not get another shot.
"I'm quittin!" – Bill as Holly
Holly then slaps the hell out of Cody.
"That was a hell of a slap from someone who had a vagina on his back" – Insyder Soak1313
COMMERCIAL EIGHT – 10:23
In the ring – Cade & Murdoch! Oh, they are on commentary.
NOW… THE HOOLIGANZZZZZZ!
"I can't stop runnnninnnnng!" – Tommy
Singles match.
"The Warrior Web.. so potent, they've spawned it into two people." – Bill
Now, it's the HeelLanders time!
BRIAN KENDRICK vs. RORY
Woo!
"Black kilts = evil!" – Insyder AFN of the Dead
Kendrick beats down on Rory. It's stopped with a headbutt and a BIG polish hammer from Rory. Stomps on Kendrick. Pulls him in for the pinfall.
Kneedrops from Rory, doubleaxes. Kendrick tries to get up on the ropes, but Rory kicks him to the outside.
Now Kendrick slowly crawls back in… ever so slowly. He rolls in and eats a pin for two. Rory goes right into the knee driven chinlock.
Kendrick gets up to his feet, gets one shot in and then is dropped down again by Rory. Kendrick FINALLY gets out of it.. dammit, eats a knee. Gets tossed to the corner and as Rory runs in, he eats a big boot.
HUGE kick to Rory, and Robbie tries to climb in and London stops it. Rory now picks up Kendrick slingshot front suplex for the pin – and the win!
WINNER: RORY of the HEELLANDERS
Now the Highlanders head on over to the commentary position to staredown Cade & Murdoch.
More flashbacks to No Mercy…..
COMMERCIAL NINE – 10:36
Todd now gets to talk to Skinner!
"Chuck Norris's chin is just another first." – Mike
He's going to hurt Orton. Surprise!
In the back… Hornswaggle runs into the Diva's Lockerroom. Coach follows. Hornswaggle runs out.
"Next comes Benny Hill…" – Me
NEW JERICHO VIDEO!!!! 'SAVE_US' WOOO!!!!
Hornswaggle runs out. Coach follows out. Horny climbs under the ring and Coach follows suit and comes out with a giant dynamite plunger…
"Where's he shopping?!?!!? Acme!??!" – Me
"Someone, drop a 16 Ton Weight!" – Bill
So he hits the plunger.
"KANE'S PYRO!" – Me
Nothin…. so Coach tries a few times and goes running underneath the ring. Hornswaggle of course runs into the ring and grabs the plunger. El Kaboom.
"Right now Coach is putting on black paint under the ring…. which is funny… because he's black." – Mike
The ring floods with smoke.
"Undertaker's coming out!" – Eric
"This episode of Raw, brought to you by Merry Melodies." – Me
..and now the Insyders Chyme In:
"You know, RAW turned into a Road Runner cartoon so gradually, I didn't even notice." – Outsyder Slash Scareohack
"It's Looney Tunes on RAW" – Insyder Blackheart
"I'm surprised that doesn't say ACME on the side." – Insyder DarkSlimer
"Now Horswaggle just needs to pop out with a sign that says "Aint I a stinker?"" – Insyder AFN of the Dead
"Of course, Hornswoggle realizes this means war." – Insyder DarkSlimer
"Leprecaun season." – Outsyder Slash Scareohack
"Coach season" – Insyder Soak1313
And to end this – AFN did this: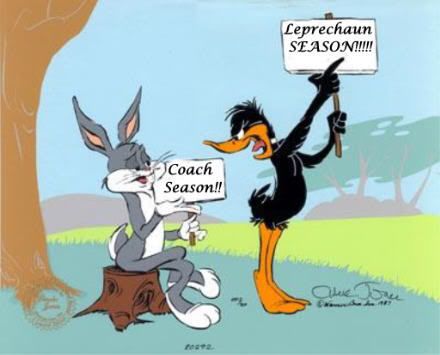 COMMERCIAL TEN – 10:46
Cody Rhodes time!
Now here comes the Holly…
CODY RHODES vs. HARDCORE HOLLY
3rd Times A Charm
Lock up to begin… Holly pushes him to the ropes. Cody hits a shouldercheck and they go back to the ropes. Holly pushes Cody out, Cody skins the cat and gets in to get hit. Then chopped to hell.
"This is gonna hurt kid." – Mike
Cody now reverses it with his own chops. He gets tossed to the ropes, ducks a clothesline and a flying crossbody. He gets up only to get a HUGE clothesline in return.
Holly wraps Cody on the ropes and clubs his chest. Snapmare into a chinlock. Cody fights out of it… punches to Holly's gut, and a big shot to the back of Cody's head drops him.
Holly lays Cody on the top rope and a fieldgoal kick. Picks him up for the alabama slam! Cody slides out of it for the roll-up for two.
Tight inside cradle for two. Crucifix pin! Two! Backslide! Two!
Holly, now pissed goes charges, Cody out of the way, roll up for two. Cody throws Holly to the ropes, reversed and a sweet dropkick from Hardcore. Now Holly on the top . Crossbody into the rollthrough! Two count only. Alabama Slam….. We're done.
"I get no respect…" – Mike
"Holy crap, how many pining combinations does Cody know? If he pulls out a front flipping sunset powerbomb I will mark like a…never mind he lost." – Insyder AFN of the Dead
WINNER: HARDCORE HOLLY
Next…. Randy vs. HBK?? How, we're at 10:56
"2nd Coming, get excited." – Outsyder Slash Scareohack
COMMERCIAL ELEVEN – 10:56
THE COMMERCIAL ALERT FLAG HAS BEEN RAISED
Awww Shawn..
"Here comes Bon Jovi" – Mike
"Bon Jovi to the Gorilla Position." – Me
"Ever notice that whenever Edge used to give Shawn the spear it was right beneath the third rib?" – Me
"The Spear… OF DESTINY!" – Bill
HEY!
RANDY ORTON vs. HBK
Free Time A Baaadyyy
Bell rings. They attaaaaaack!
"We only got 5 minutes! RUN!" – Me
"Keep hitting 'A'" – Jeffrey
"Punch punch punch kick kick kick" – Jeffrey
Shawn throws Randy out. Hits him. Brings him in. Pin for two. Chops Shawn down. Randy throws him to the ropes. Shawn leaps over and a fantastic old roll-up from Shawn.
Two. Randy now beating on Shawn… throws him to the corner. Shawn climbs up and they fight it out at the top. Pushes Randy off. Beautiful elbow from Shawn!
In runs Kennedy!
"Your next world champion!" – Bill
Clusterfuccckkkk! Here comes Jeff!
"RAINBOW WARRIOR!" – Mike
"SKITTLES DESTINY CHAMP!" – Me
Kennedy and Jeff fight to the outside. Randy sets up the RKO! stands up.. PUSHES RANDY OUT! SUPERKICK! DONE!
"Randy sells that so well!" – Me
"Because he gets kicked in the mouth." – Bill
We end with Shawn dropping all over the place.
"Did he just do a reverse Flair bump?" – Me
"That's standing up…" – Bill
That's the end.
Insyder thoughts?
"RAW was okay tonight. Entertaining Coach-Horny bit." – Blackheart
"The show was nothing special. Highlights were Regal playing with the crowd at the begining and the hornswaggle cartoons." – Evil Crippled Hand
"Needed more HBK." – Darkslimer
"After tonight I am almost thinking they may just be best off scraping the wrestling and concentrating on Merry Melodies." – Insyder AFN of the Dead
"Seemed like a long 2 hrs." – Insyder MarkAllen
"Not when the first hour is Heroes. then it goes way too fast." – Insyder Soak1313
Ok – so that's it.. what do we think?
"Stupidly slapstick." – Jeffrey
"It was ok. Too much Randy Orton." – Tommy
"Not enough shitting in a bag." – Bill
"A lot better than what Dani said from the results." – Mike
"Not enough Kennedy." – Eric
"I want the headlock stopwatch clock." – Amy
"..and I say… not enough Ryan Simmons." – Me
The end.