The Best Of Crank Yankers Uncensored – DVD Review
|
Available at Amazon.com
Creators
Adam Carolla, Jimmy Kimmel, & Daniel Kellison
Voice Talents
David Alan Grier
Super Dave Osborne
Dane Cook
Wanda Sykes
Seth MacFarlane
Andy Richter
Gilbert Gottfried
Sarah Silverman
Jimmy Kimmel
Drew Carey
David Cross
Michael Ian Black
DVD Release Date: December 4, 2007
Rating: Not Rated
Running Time: 180 Minutes
The Movie
In case you've never heard of Crank Yankers before, then let me give you the rundown. Adam Carolla, Daniel Kellison, and Jimmy Kimmel simply got a lot of comedians, actors, and actresses to come in and place some prank phone calls. They'll call businesses or residences with some sort of request and simply take it from there. Nothing is scripted except the original reasoning for placing the call and the callers play off of the responses of those they call. Things were taken a step further and these calls were brought to television through the art of puppetry.
You really can't help but laugh at some of these because they are just so off the wall that you're bound to crack up. Comedians such as Dane Cook, Sarah Silverman, and Wanda Sykes just are funnier here then they've ever been before. You're not hearing the same old stand-up routines that appear on late night talk shows or Comic Relief specials. It is fresh material and absolutely hilarious. This collection takes the best phone calls from the series' four years appearing on Comedy Central.
A few of my favorites include Sykes placing a call as Gladys Murphy to a towing company. She had picked up her vehicle from there earlier in the day and happened to find a piece of human fecal matter sitting on her back seat. At first the tow truck guy seemed rather offended but they proceeded to place her on speaker phone and lose it laughing with some of the others in the office. Another is Tracy Morgan as Spoonie Luv (below left) calling a flower shop and reciting a message for the seemingly elderly lady to write on the card. She at first doesn't mind writing about bj's and ho's but gets a little shy when asked to recite it. Literally crying I was.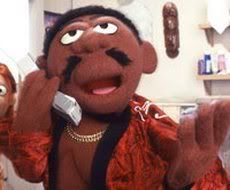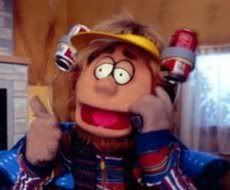 Not all of them are funny mind you and don't even merit a small smile, but that is bound to happen with everything in life. You just can't always find humor in all of the characters but you do have the next one to look forward to. Most people remember the show for the mentally retarded character named Special Ed that placed calls for computer help and to book a trip to Hawaii. Sure he's funny for a few seconds but his shtick gets old really fast. The same can be said for Bobby Fletcher (above right) who is an old guy that just burps into the phone a lot.
The Video
The show is shown in Full Screen format and it's a bunch of puppets in different settings. How much quality do you actually want from something like this? All looks fine for those concerned.
The Audio
The show is heard in Dolby Digital 2.0 Stereo Sound and once again, it's not like we are watching Emmy nominated sound technicians at work here. The dialogue, which is all there really is, can be heard perfectly OK.
Special Features
Trailers – Rick & Steve and Christmastime In South Park
The Inside Pulse
Just a tip here that if you are easily offended by foul language, fecal humor, flatulence, sexual humor, or anything at all really then I recommend you not check out Crank Yankers. For those that take things lightly and just want to be able to laugh at every aspect of life imaginable, then waste a few hours and enjoy the problems of Ken with OCD and the annoyance of talk-show host Sav Macauley. You'll even witness the Wu-Tang Clan try to book a bed & breakfast with their whole crew. No special features hurt the overall score of the DVD, but considering you get fifty-eight full phone calls then there isn't much to complain about. Its mindless fun that doesn't require a lot of though and won't have you frightened when you go to bed. It might even make you want to play around with the next wrong number that rings up your house.
The DVD Lounge's Ratings for The Best Of Crank Yankers Uncensored

CATEGORY

RATING

(OUT OF 10)

THE MOVIE

7

THE VIDEO

7

THE AUDIO

7

THE EXTRAS

0

REPLAY VALUE

6

OVERALL

5

(NOT AN AVERAGE)