The Perfect Holiday – Review
|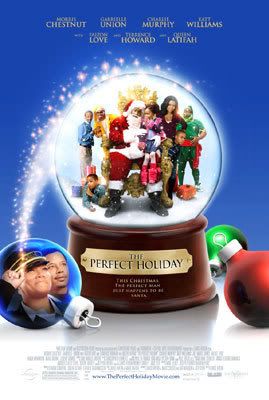 Image courtesy of Yahoo Movies
Director:
Lance Rivera
Cast:
Morris Chestnut……….Benjamin
Gabrielle Union……….Nancy
Faizon Love……….Jamal
Charles Q. Murphy……….J-Jizzy (as Charlie Murphy)
Katt Williams……….Delicious
Jill Marie Jones……….Robin
Rachel True……….Brenda
Malik Hammond……….John-John
Khail Bryant……….Emily
Pedro Kim……….Clerk
If only there were a standard formula for writing a Christmas movie review; a simple algebraic equation in which a critic could just insert Actor A plus plotline B equals sappy outcome C. As it is, movies like The Perfect Holiday make even the best reviewers look lazy and repetitive.
How does one muster the energy to offer a clever spin on a movie that refuses to do the same? While it can be fun to knock the stupidity of trite plots and hollow Christmas cheer, it can only be done so many times before it becomes just as boring to mock these films as it is to watch them. In The Perfect Holiday Nancy (Gabrielle Union) is a single divorced mother of three. Nancy's ex-husband, J-Jizzy (Charlie Murphy), is a huge rap star who doesn't care about anyone but himself. His ill treatment of Nancy and the children chips away at Nancy's confidence so much that she would settle for a mere compliment from someone of the opposite gender.
Daughter Emily (Khail Bryant) hears her mother wishing this while chatting in the line to see Santa at the mall. Being the loving, selfless daughter that she is (obviously picking up none of her father's character traits) Emily requests that Santa bring her mother a man for Christmas. Luckily for Emily, but probably more lucky for the man behind the beard, Ben (Morris Chestnut), Santa is smitten by Nancy at first glance.
He uses his privileged information to woo Nancy at the local dry cleaner. But before anyone accuses Ben of betraying his sacred position as Santa, it should be noted that Ben spends almost the entire movie lamenting over what a deceitful thing he is doing. Of course, his guilt never weighs so heavy for him to feel that telling the truth might be a good thing to do. If Nancy is such an easy catch that she just needs one nice thing said to her, imagine how she might feel if a man spent a whole day planning to bump into her. The fireworks might necessitate The Perfect Holiday's release date to be changed to July 4th.
Instead, the film was released in December, so the audience is stuck with more lies and mechanical Christmas spirit. Aside from Ben's position as Santa, the presence of Christmas is so arbitrary that two characters (angels, muses, who knows?) are added seemingly for the sole purpose of reminding the audience that these kinds of crazy love stories could only happen during the holidays. Queen Latifah plays one, and it is possible that she is actually enjoying herself as she is also the co-producer. The other is Terrance Howard and he gives the impression that he either agreed to his role on as a dare or has been blackmailed into it. His performance is the most refreshing part of the entire movie; it is a delight to see an actor not even bother to hide his contempt for the material.
However, Howard should not hold complete disdain for The Perfect Holiday. There are some worthwhile themes captured in fleeting glimpses. Ben's difficulty to connect with Nancy's eldest son, John-John (Malik Hammond), would have been a much sturdier premise to center the film around. Also, Ben's music career and collaboration with J-Jizzy being played for laughs is distracting when it could have been better used to add intensity to the love-triangle aspect of the proceedings.
But audiences can look for that kind of movie when the snow melts. Right now it is most important that a movie be about and take place during Christmas no matter how superfluous that approach may be. While The Perfect Holiday aspires to be another forgettable holiday film, it misses its opportunity to be a respectable film about love and family.
FINAL RATING (ON A SCALE OF 1-5 BUCKETS):