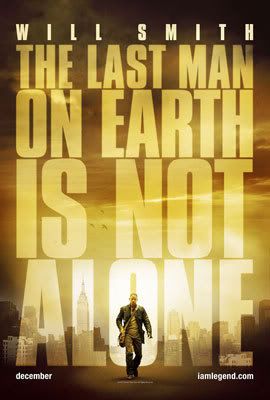 Image courtesy of Yahoo Movies
Director :
Francis Lawrence
Cast :
Will Smith ………. Robert Neville
Alice Braga ………. Anna
Charlie Tahan ………. Ethan
Salli Richardson ………. Zoe
Willow Smith ………. Marley
Right before I am Legend starts there's a brand new trailer for The Dark Knight, to be released May 2008, as well as previews for the upcoming summer's major releases. It's as if every hotly anticipated film, including the Narnia sequel and Iron Man, from the Summer of 2008 was put in front of I am Legend because of its anticipated large opening weekend in order to maximize exposure. While it's impressive to see the films that will be the projected box office winners, having to follow the second trailer for The Dark Knight leaves I am Legend in the same boat that War found itself in following trailers for American Gangster and 3:10 to Yuma: following one of the best trailers of the year with a good, but not great, movie.
It doesn't start out that way, though. The film, remade from the Charlton Heston classic The Omega Man, has an impressive background to it. Robert Neville (Will Smith) is an Army scientist who's apparently the last man on Earth. A virus, mutated from a cure for cancer, has ravaged humanity. 90% died immediately, 1% developed immunity to it, and the other 9% became a hideous combination of vampire and zombie that feasted immediately on the survivors. Finding himself alone with nothing but his dog Sam, Neville spends his days cruising through New York City looking for food and survivors. Trying to find a cure, Neville's existence is punctuated by failure and an undying sense of hope. It's an empty existence, characterized by a love of the movie Shrek and conversations with both Sam and inanimate objects, until a young mother and her son show up. With an action-packed finale, I am Legend starts out with perhaps the best opening hour in film this year and ends on a fairly clichéd ending.
Francis Lawrence seemingly knows exactly where he's going with the film in the first act. Featuring Smith exclusively as he goes through his daily routine, Sam acting in the same manner Wilson did for Tom Hanks in Cast Away as a mute observer whose dialogue is assumed by the protagonist, Lawrence develops the film as a large existential look at the nature of hope. Neville has lost everything he mattered most, as seen in flashbacks, and is now the only person left who can potentially save humanity from itself. While his mind struggles to deal with the sheer inevitability of the situation, continually failing to do what he stayed on the island to do, Lawrence uses the first two acts to develop Neville's struggle for hope. It's what drives him to broadcast on AM radio to anyone out there, to scavenge buildings for supplies and to continue to try to find a cure for the virus.
This is a film about hope in the same way Superman is about hope in a world without a lot of it. It works because Smith gives perhaps his strongest performance to date in a film that usually doesn't have it. Smith is the only actor on screen for most of the film's opening 90 minutes and his performance is nuanced in a way the genre has not seen in some time. He is in the best shape of his career, an absolute physical specimen in the manner he's never been before, but his acting chops weren't left in a weight room. Smith is a marvel to watch and bring an entire new dimension to the film; we care about Neville because of Smith not just because he's Humanity's last hope.
Lawrence's opening hour is note perfect in developing Neville's seemingly hopeless situation. It's when reality has to set in and we have to meet the monsters he seeks to cure that the film loses a bit of its edge. The film's monsters look a bit cheesy and almost laughable on occasion; animated in seemingly the same way that the robots were used in I, Robot in terms of their movement, they look fake as opposed to looking like monsters. Lawrence initially uses shadows and darkness to hide them, and it's a great move as it keeps the atmosphere scary, but when it comes time for Neville to confront them in full view they look like they are CGI. It ruins the suspension of disbelief and the film never really recovers.
I am Legend may not be Will Smith's finest film, nor is it his worse, but it's one of his more interesting ones in some time. While the film's finale has a lot to be desired, Lawrence combines some of the year's best cinematography with a terrific performance worthy of the film's predecesors.
FINAL RATING (ON A SCALE OF 1-5 BUCKETS):