High School Musical 2: Extended Edition – DVD Review
|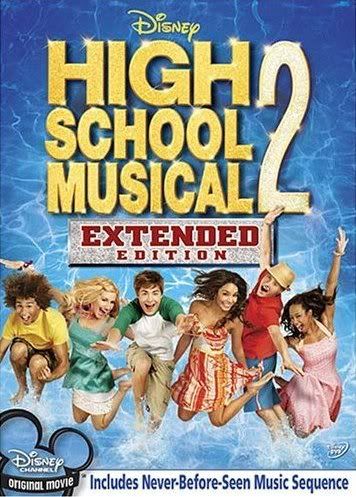 Available at Amazon.com
Director
Kenny Ortega
Cast
Zac Efron………Troy Bolton
Vanessa Hudgens………Gabriella Montez
Ashley Tisdale………Sharpay Evans
Lucas Grabeel………Ryan Evans
Corbin Bleu………Chad Danforth
Monique Coleman………Taylor McKessie
Mark L. Taylor………Mr. Fulton
Bart Johnson………Jack Bolton
Robert Curtis Brown………Vance Evans
Jessica Tuck………Mrs. Evans
DVD Release Date: December 11, 2007
Rating: G
Running Time: 111 Minutes
The Movie
You may have already seen what it was like to watch the gang make it through the school year in High School Musical. Now the gang though is just about ready for summer vacation and couldn't think of a better way to celebrate the end of the school year with a pretty catchy song entitled "What Time Is It?" They soon discuss though that the summertime won't be all fun and games because they need to earn some "bank" in order to help save for college.
Gabriella has already shed some darkness onto Sharpay's summer after informing her that her mom isn't making her move and letting her stay until graduation. Troy also gives Gabriella his "T" necklace which pretty much destroys any plans Sharpay had of hooking up with Troy. Or does it? Sharpay and her brother Ryan are the rich kids so working isn't quite what they have in mind. What Sharpay does have in mind is influencing the local country club owner a little bit and getting him to hire Troy for the summer so he can earn money and they can get a whole lot closer.
Doing whatever she can to get his attention and get him to take the job, the owner gives jobs to the entire gang for the summer meaning a golf course, poolside, and kitchen full of kids from East High School. It seems like the summer is going to be a great time together for them after all, but things do change. As Troy sees more of Sharpay, he starts hanging more with her crowd. Ryan on the other hand seems to slowly start slipping into the spot abandoned by Troy with his group of friends. Only time and the country club's talent show will reveal what group is better put together.
While the first film actually kept my interest more then I ever expected it to, the sequel fell far below any expectations anyone had for it. Don't get me wrong because the first film was highly enjoyable, but I couldn't help comparing it to a light-hearted version of Grease in my head. Let's face it, that's essentially what it was with the singing, dancing, and even a bit of the storyline. So what is the way to truly separate your sequel from the sequel of the film you've always been compared to? Entirely different settings and story right? Nice try.
For those of you who may have never seen the less popular Grease 2 (less popular by society's standards, not my own), one of the big finales take place at the school's, say it with me, talent show. I just don't get it. You have one of the most adorable, lovable, and talented casts ever yet you can't come up with a single original idea on your own? Although the cast themselves may be talented, their characters are getting a bit annoying. Ryan for instance is turning into the gay friend more and more each minute while Taylor seems to just "be there." Let's sit down for a day or two with the screenwriters and maybe throw some creative dust on them or something. It's just rather sad because it was forgivable once, but not the second time around.
Other then the lack of originality, High School Musical 2 simply didn't bring the same warm and high-spirited feelings that the first one did. It just gets dragged down as it feels like the kids are appearing live on stage for an audience more so then in a film with a storyline. The musical numbers too aren't the greatest or toe-tapping either. "What Time Is It?" gets the film started off on the right foot, but then more then half of the rest of the soundtrack totally misses the mark. Younger kids are going to enjoy this one as I'm sure my six year-old nephew will love it as much as he loved the first one. It's quite a shame though that it won't capture parents and an older audience much like the first film did.
The Video
The film is shown in 1.33:1 Full Screen format and looks alright. If you want a film full of brightness and colors sure to blind you, then you've found it. There's a big of blurriness at times in some of the much brighter outside scenes, but overall it does a decent job.
The Audio
The film is heard in Dolby Digital 5.1 Surround Sound and this would be one of the things that they got right here. Even though not all of the songs are right up my alley entertainment wise, they sure sound fantastic.
Special Features
Rehearsal Cam – Director and choreographer Kenny Ortega introduces the cast rehearsals (way too excitedly I must add) for all the dance numbers in the film. There is an option to "bounce" throughout the film. If you select to bounce then you'll go from rehearsal to the finished number and back again. Depending on what order you watch these special features in, you may not want to see all the songs and dances for a fifty millionth time.
Sing Along Feature – Easy enough and pretty self explanatory here; you can sing along with the entire film. You can take it song by song or just play them all. The words appear on the bottom of the screen in bright yellow and are easy to see.
High School Karaoke – This is essentially the same thing as the "sing along feature" except that all the voices have been taken out of the songs. You can sing along with the lyrics at the bottom of the screen or without them if you know them well enough. Let's just say I didn't invite everyone over for a karaoke jam.
Music Videos – "You Are The Music In Me": USA and Mexico; "Gotta Go My Own Way": Canada-French and Canada-English
Bloopers – Clocking in at a little over four minutes is your average blooper reel. The kids really look like they had a good time with a lot of smiling and constant laughing all over the place. I do give them credit because seeing the bloopers makes me realize how hard some of the scenes being choreographed with the music must have been sheer hell to shoot.
"Humuhumunukunukuapua'a" Exclusive Scene – This is a scene included to this "extended edition" that wasn't in it when it originally aired on the Disney Channel. It's a cute and catchy song in what is just a very funny overall scene.
Trailers – 101 Dalmatians: Two-Disc Special Edition, Twitches Too, Underdog, Cinderella II: Dreams Come True, and Phineas And Ferb
The Inside Pulse
If you have children under the age of twelve, then look at my movie score, replay value, and overall score and add four or five to it. For those that enjoyed the first film and were hoping for a second helping of the same excitement, don't bother. It's just not something that is going to continue to hold onto the older audience but will enthrall children with every one they release. The special features are plentiful and add a lot of extra viewing, but again they get old and repetitive quickly. There are three features that are virtually the exact same thing just with slight twists, and even then it's merely watching almost the entire film again. The best this DVD has to offer is the rehearsal cam and the bloopers, but they aren't good enough to merit a purchase. With a rumored High School Musical 3 on the way, let's hope the directors can bring us back to the magic the first film shined through with. And let's hope the cast can keep their pictures in their photo albums. Whoops!
The DVD Lounge's Ratings for High School Musical 2 Extended Edition

CATEGORY

RATING

(OUT OF 10)

THE MOVIE

4

THE VIDEO

7.5

THE AUDIO

10

THE EXTRAS

5

REPLAY VALUE

2

OVERALL

4.5

(NOT AN AVERAGE)