Dirt: The Complete First Season – DVD Review
|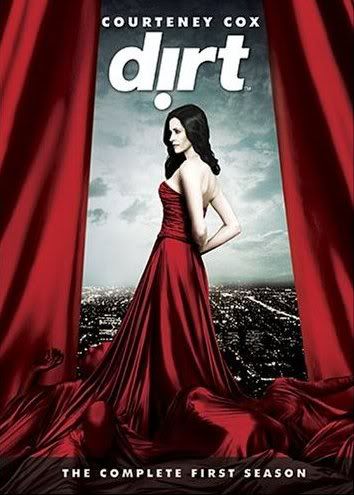 Available at Amazon.com
Creator
Matthew Carnahan
Cast
Courtney Cox Arquette………Lucy Spiller
Ian Hart………Don Konkey
Josh Stewart………Holt McLaren
Laura Allen………Julia Mallory
Alexandra Breckenridge………Willa McPherson
Johnny Drocco………Paparazzi
DVD Release Date: December 11, 2007
Rating: Unrated
Running Time: 607 Minutes on 4 discs
The Show
In today's society, people just can't seem to be involved enough in their own lives to seem fulfilled. Sure there are feature films, television shows, and game shows that can take them away for hours at a time and let them escape the stress and hell that daily living brings. But even that isn't enough for them. Those people strive for more and want to know what is going on in the lives of the people that entertain them on television. Who is dating who? Are they going to have a baby? Is she cheating on him? Why did he get arrested? Those are just a few of the questions people want to know about their favorite stars and there is always somebody willing to bring the answers to them.
Lucy Spiller is one of those people. She is the editor-in-chief of "DirtNow!" magazine which is the successful merger of two publications. She uses every resource imaginable including paparazzi, reporters, bloggers, gossip columns, celebrity websites, hidden cameras, blackmail, seduction, and anything else that will get her the top story. Her top photographer is Don Konkey who always seems to be right on top of things as they happen and gets the best shots money can buy. The problem that no-one really knows about is that he is always struggling with himself and his schizophrenia. Together though, they are a part of one of the world's most successful and dirtiest celebrity reports.
Dirt is easy to describe as you have just read, but there is so much more to it. It's one of those series that has constant storylines but always runs a new story in each episode. In some weird ways you could kind of relate it to the crime dramas and consider it the Law & Order of gossip shows. Lucy is constantly dealing with her magazine and always making sure that she gets the top stories and juiciest dirt (pardon the pun) on the highest celebrities, and that she gets it first. You'll notice that blackmail and sex are not off of the list of things she'd do to get information. But more then likely there are a lot of reporters, editors, and photographers like that out there. Still, it's interesting to see that she isn't only trying to get the stories but wade her way through publicists throwing stories at her. Celebrities are constantly trying to get their names in print and their publicists know that tabloids are the best way to do it. Big change from what you usually hear on the news today isn't it?
That is what leads the way to the different storylines for each show such as a celebrity judge on a singing competition show having an affair, a murdered rap star, and a basketball pro that just can't seem to stay faithful. These plotlines pave the way for each episode but it's the continuing stories of Lucy, Don, and other recurring stars Holt McLaren, Julia Mallory, and Willa McPherson that bring about the bulk of the entertainment value in Dirt. Holt and Julia have the tumultuous relationship that hangs on their fading careers and Julia's drug addiction. Yet Holt and Lucy eventually look ready for a tumble in the sheets. Willa is hoping to get the next hot story and really make a name for herself, but a relationship with co-worker Brent proves troublesome. Throw on top of that Don, the most entertaining one of them all, and his mental problems and you've really got a mess on your hands. A gossip publication run by people that need to be gossiped about all on their own.
I am someone who cares less about what celebrities do in their lives then anything else in creation. Seeing new films and enjoying some television shows are the extent of my interaction with them. Of course there are those celebrities whose work I enjoy more then others on screen and whose athleticism is more admirable on the field or on the court. But when it comes to their personal lives and what they do when they're not taking over my set, I don't care. Fulfilling my life with what goes on in the lives of others I'll never even meet doesn't say much about how I view my own existence. If that's what you enjoy, then more power to you. Let's just say that it's not my cup of tea.
The thing that makes Dirt so enjoyable, though, is that even though it's a series devoted to the gossip columnists and what the paparazzi is willing to go through to get a revealing picture; that's not the main topic. The gossip stories actually seem to take a backseat or possibly even reside in the trunk when compared to what the bulk of the show is about. What you are going to see is the lives of those people that do this for a living. Learning what they go through to get the story yet could really care less about it. It's funny but it seems as if I would be a perfect fit to run a celebrity tabloid. My product would entertain millions but I could care less about those reported about.
Dirt does a fantastic job of being misleading in what the series is centered on without ever really saying it. It's an excellent look into the darker side of celebrities and what they do when the big cameras aren't rolling but the 35mm ones are clicking. As if we didn't already know that though from all we can gather online and at newsstands. But then it takes it a step further and shows the seductive, dark, conniving lengths that a celebrity reporter is willing to go to in order to do their job. Sex, drugs, homosexuality, deceit, love, dinner, money, and all the ways in which a sin can be labeled will be used to simply put a story to print. It may not be pretty, but it certainly does sell.
Episodes
Disc One:
Pilot: An introduction to Lucy Spiller, the ruthless editor of "DirtNow!" magazine that is willing to do whatever it takes to get the stories she wants for her celebrity tabloid. With the help of well-known celeb photographer Don Konkey, she centers in on Holt McLaren who needs publicity to help his fading career. Good thing his girlfriend is easily connected to some drug dealers. This is a great way to start out this series. Besides just going right into the show; it gives a nice small history on Spiller.
Blogan: Don is all over the place as he's sent by Lucy to first take pictures of Kira Klay's corpse, but he isn't too sure all is as it seems. Don continues dealing with the dead as basketball star Prince Tyreese fills him on the location of the body of a dead rap star. Lucy's new intern Willa McPherson is gung-ho about tracking down information on the new baby the strange Hollywood couple known as Blogan (Blair and Logan).
Ovophagy: Holt is on the road back to stardom as a major producer wants to meet with him, but helping his girlfriend Julia deal with her drug addiction is overtaking his life. Don is still seeing Kira everywhere he goes, but needs to keep doing his job somehow. Lucy sends Don to find out the secret behind a sick Christian pop star that may be on drugs. Lucy's gay brother Leo starts seeing a well-known actor that is frightened what may happen if his secret gets out.
Disc Two:
What to Expect When You're Expecting: Leo and Lucy's mother is looking to remarry on the anniversary of their father's suicide. Meanwhile Leo is hoping to keep his relationship with actor Jack Dawson a secret from his sister so she doesn't expose him. But that may not be a problem as Lucy is currently on the trail of a possibly murdered rap star and doing all she can to get information from Prince Tyreese.
You Don't Know Jack: Brent Barrow is under fire as some tough guys show up to try and "convince" him to spill his guts on how Lucy found out about the murdered rapper Aundre G. Jack Dawson's secret was safe until Leo found out he was cheating on him leading to pictures being published of Jack in the arms of his gay partner.
The Secret Lives of Altar Girls: Julia continues to slip further into the fifth circle of hell as drugs are taking over every aspect of her life. At the same time, Holt and Lucy are getting eyes for one another. Willa is sent off with Chuck Lafoon to a small California town to uncover the mystery behind a teenage girl's death.
Come Together: Willa's story is going to be a hit and she is ecstatic about it, but soon has the rug pulled out from under her. Jack Dawson is causing problems for the Spiller siblings as he files a lawsuit against Lucy and her company for revealing his secret lifestyle. He also is angry at Leo for thinking their relationship was nothing more then a scam. Things aren't any easier for Holt and Julia as their relationship continues to spiral out of control thanks to drugs and worms.
Disc Three:
The Thing Under the Bed: Julia and Holt take a break from one another as she goes to rehab and he goes back to acting. Lucy has problems of her own as she starts to uncover secrets about her mother that may have something to do with her father's suicide. Lucy also finds out that the tide has turned as someone is stalking her, taking pictures, and leaving them as clues for her to find. This is a really great episode in the first season as it shows how Lucy would react to getting a dose of her own medicine.
This is Not Your Father's Hostage Situation: It is a lockdown at the "DirtNow!" building as a former child actor arrives and awkwardly takes everyone hostage. He makes strange demands and doesn't seem to know what he is doing, so Lucy begins to wonder if this is for real or simply a cry for attention.
The Sexxx Issue: After the hype of the hostage situation has everyone at the office in a tizzy, Lucy proposes doing a strictly sex issue of "DirtNow!" to get everyone to calm down and relax. Holt is continuing an ever-going battle in his mind and heart as Julia's drug addiction continues but so does his affection for Lucy. Lucy on the other hand is getting more nervous as her stalker turns up the heat. Brent and Willa are coerced into a very strange situation with a father and his daughter.
Pap Smeared: Don has a shadow in the form of Marqui Jackson, a somewhat shy and not so bright paparazzi. As soon as they're on the tail of a Hollywood starlet, a street gang makes them rethink where they're working. Willa and Brent's office romance has come to a stopping point, at least for Willa but Brent isn't ready to give up yet. Julia is being extremely picky about what choices she makes to star in after coming out of rehab. Lucy's stalker continues to torment her; this time unleashing images of her online.
Disc Four:
Caught on Tape: Lucy sends Willa out to figure out a strange happening going on with Julia. A sex tape involving her and Johnny Gage gets leaked out which puts the bad publicity on him while Julia is made to look like an innocent victim here. Lucy knows Holt destroyed the only copy of that tape and wants to find out how it resurfaced. Don continues to struggle with his own mind.
Ita Missa Est: The season finale blows everything you've seen so far out of the water as Don is having to come to grips with his feuding mind. He ends up in the desert battling haunting images of Holt, Marquis, Kira, and even thoughts of killing Lucy. Lucy meanwhile is worried she's going to lose her job when a big shot (and familiar face) shows up and applies for her position. Holt moves out of Julia's house thus ending their tumultuous relationship, but not before Julia finds out his feelings for Lucy. And as if she didn't already have enough to deal with, Lucy finally learns who her stalker is. The first season of Dirt surely went out with a bang.
The Video
The episodes are shown in 1.78:1 Anamorphic Widescreen format and they look absolutely perfect. FX has had a real way of producing top quality looking shows such as The Shield, and Dirt is no different. Colors are bright and sharp, shadows are never overwhelming, and any grainy or blurry effects are simply there intentionally for effect. These episodes are stunning to say the least.
The Audio
The episodes are heard in Dolby Digital 5.1 Surround Sound and also gives you the feel of watching a full length feature film. At times some of the sound effects and music can be a bit overbearing, but not for very long. Dialogue can be heard clearly while everything comes out very crisp.
Special Features
Celebrity Couple Gets Dirty – This feature clocks in at just over five minutes and besides clips from the series, it involves the FX Network president, the Arquettes, producers, and others talking about how Dirt came into existence.
Through A Lens, Darkly – Anything and everything you could ever want to know about Don Konkey is discussed here in this six and a half minute segment. Everyone seems to love the selection of Ian Hart as Konkey including Courtney Cox who knew that he was right for the part as soon as he came through the door. A lot of time is spent talking about Konkey's schizophrenia and how that makes Konkey the character he truly becomes.
Tabloid Wars: Totally True Stories From The Celebrity Trenches – Another six and a half minute feature discusses the true world of the paparazzi and the gossip papers today. Many from the show and others from real tabloids talk about how it is in real life and the ways it molded the show. It's not a bad feature and would have been better had it gone on longer and also not included Perez Hilton.
Deleted Scenes – Creator Matthew Carnahan introduces each of nineteen deleted scenes for the first season. I really wish they had put each scene with the episode it belongs with because it's so hard to try and decipher where they should go. Nothing really exciting happens in them though so it doesn't seem as if much was left out.
Outtakes – Here is your common outtakes big with flubbed lines, laughter, and just all around silliness. Quite a shame that it lasts only ninety seconds.
Season Two Preview – This is nothing more then Carnahan talking about the upcoming season two.
Trailers – Becoming Jane, Golden Door, and Eagle Vs. Shark
The Inside Pulse
Dirt is one of those shows that is really on the fence for me. On one hand you have my utter contempt for the world of the paparazzi and anything having to deal with the personal lives of celebrities. On the other hand you have a series that seems to really be put together well with a very good cast that showcases a dark side to everything. I like that and think that my hatred toward gossip seems to have me enjoying the series a lot less then I should be. Still if the second season continues in this same frame of work and doesn't alter much then it is quite possible it can drive me to be a big fan. Right now I'm incredibly interested to see where they go with Lucy's stalker and how far they are really willing to take Konkey's schizo side. I'd also like to kill Julia with my own two hands, but that's a different story. So they've hooked me in with the episodes and that's good because the special features didn't do anything for me. Barely an hour of extra stuff and they just didn't give much more then a few inside tidbits here and there. Quite disappointing. I would recommend picking up this set though or putting a weekend aside to rent it and watch all the episodes before season two begins. It's quite the intriguing little show from one of the few Friends' stars that actually seems to be doing something since the end of the hit show's tenth season.
The DVD Lounge's Ratings for
Dirt: The Complete First Season

CATEGORY

RATING

(OUT OF 10)

THE SHOW

7.5

THE VIDEO

10

THE AUDIO

9

THE EXTRAS

4

REPLAY VALUE

6

OVERALL

6

(NOT AN AVERAGE)