The Best Of The Colbert Report – DVD Review
|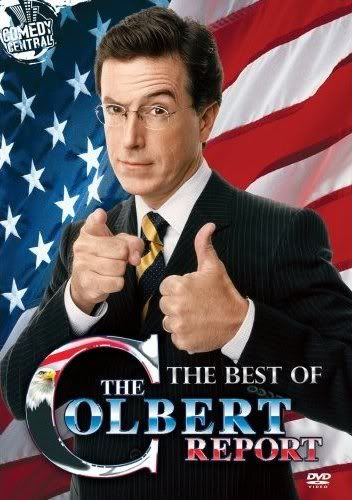 Available at Amazon.com
Creators
Stephen Colbert, Jon Stewart, & Ben Karlin
Host
Stephen Colbert
DVD Release Date: November 6, 2007
Rating: Not Rated
Running Time: 175 Minutes
The Show
Stephen Colbert started out as a "political analyst" on The Daily Show with Jon Stewart and proved so popular that he got his own series. It couldn't have happened to a better or funnier man. Colbert's show presents current topics and events going on around the world and adds a comedic twist to them. The thing is that his thirty-minute "news" show is actually seen as having more validity then most other networks that devote every waking hour to the news. Someone say Fox News? OK, maybe I'm just hearing things.
Colbert has shown time and time again that the actual news networks are doing nothing more then simply showing what happens everyday and leaving it at that. They don't have the types of anchors that are able to intelligently dissect what they see, but merely let you know what you're looking at. Take the analysts and experts on those networks and things go even further down the toilet. Instead of trying to have a calm discussion, they insist on cutting off their guests mid-sentence and yelling at them about how the viewers' views are wrong and their views are right. I'll go ahead and say it, Nancy Grace. Hag.
It might be looked at as a shame that a comedian with a plethora of political/current events knowledge is the person that most people will turn to for their news, but where else is there. Not only that, Stephen Colbert has been known to not only have a very valid opinion about most things, but he's also very respected and admired. Throw on top of that the fact that he's hilarious and you've got yourself a half-hour show that barely begins to wet your whistle and it's over. But that's the idea. Have viewers pining for more and willing to tune in the next night and even for reruns of past news that happened last month.
The Best Of The Colbert Report (pronounced re-por) doesn't really have any bad or boring segments. "The Word," "Better Know A District," and "Meta-Free-Phor-All" are just a few that will have your sides splitting. This DVD brings about the best of those segments and so much more into one complete set. Boy, did they ever pick some of the best at that. In "The Word," Colbert selects a word and describes its usefulness in today's society. As he intelligently and quite laughably goes on, a split screen provides quick little anecdotes bringing the humor to a brand new level. The two picked for this set were some of the best as he explains how "truthiness" and "wikiality" are more relevant then almost any words found in an encyclopedia aka fat-ass dictionary.
Other segments such as the "Green Screen Challenge" show the more comedic side of the show as Colbert imitated a popular web-video of a young boy dancing around with a Star Wars light saber. He then held a contest where entrants could take his video and make one of their own. It really brought about the creativeness and nerdom that encompasses this country. Topping off some episodes were great interviews in the "Eagle's Nest" with fantastic names such as Barry Manilow, Jane Fonda, Stone Phillips, and Sean Penn. Back and forth banter with Colbert is like talking to yourself, but in a much funnier way.
Colbert's stardom has shot off into the stratosphere and will continue to do so for a long time to come. He has ice cream named after him from Ben & Jerry's; "Stephen Colbert's AmeriCone Dream." He has received the key to the city of Columbia, South Carolina. In Oshawa, Canada, the twentieth of March is considered to be "Stephen Colbert Day." And if that wasn't enough, junior ice hockey team the Saginaw Spirit from Michigan named their mascot after him, Steagle Colbeagle the Eagle. He may be all over the place, but Stephen Colbert is always behind his big C-shaped desk providing some of the best and funniest news views around. Catch up on it all with this DVD and then watch every night. Trust me, you won't regret it.
The Video
The show is presented in 1.33:1 Full Screen format and looks as well as it did when the full episodes first appeared on Comedy Central. Considering we're only watching a man sitting at a desk for ninety percent of the time, then I think we have all the quality we need.
The Audio
The show is heard in Dolby Digital 2.0 and considering you're only listening to dialogue with the occasional music from the show's theme song; it gets the job done. There isn't much needed here as with the video so it's more then adequate.
Special Features
Trailers – Christmastime In South Park, The Sarah Silverman Program: Season One, and Demetri Martin. Person.
The Inside Pulse
It's quite a disappointment to not see a single special feature included here except for a few Comedy Central previews. Yeah yeah, there may be over two hours of great footage from the series and you could consider that a special feature in itself, but that's not good enough. That's the point of having a DVD released so that you can get more then the things you can catch in reruns from time to time. Nonetheless, the main feature is excellent and downright hilarious. When they say "best of," they really mean it. These are some classic moments from The Colbert Report, and I'm willing to bet that there is going to be plenty more where this came from. Eventually we may see much larger collection of clips on future DVDs, but for the time being these do quite nicely. If you've never seen the show before, then consider this a great introduction. For fans of the show, you're going to love this one and want to watch it over and over again. And that's the word.
The DVD Lounge's Ratings for The Best Of The Colbert Report

CATEGORY

RATING

(OUT OF 10)

THE MOVIE

8

THE VIDEO

7

THE AUDIO

7

THE EXTRAS

0.5

REPLAY VALUE

8

OVERALL

5.5

(NOT AN AVERAGE)