Paper Tiger – Book Review
|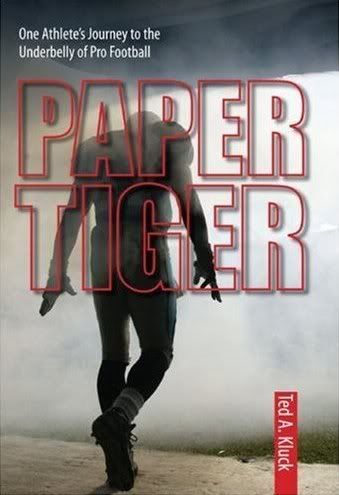 Available at Amazon.com
Author
Ted A. Kluck
Book Release Date: September 1, 2007
Publisher: The Lyons Press
Pages: 248
Football is a sport that can usually be seen on television every single day of every single year. From August through the beginning of February you can catch a live NFL or NCAA game. After that you're in line to watch some AFL through July. In the meantime you can always catch older games on ESPN Classic and watch the draft in April. I'm twenty-eight years old and have been a football viewer since I was four. But it's only been about ten years since football became my meals, my air, my soul…my blood. It is the reason my gray hair started coming in at the ripe age of twenty-two. It is the reason I've had numerous bouts with chest pains or migraines. For a whole week, I get pumped up for the games and then once they start, can't wait for them to be over because the stress is sometimes too much.
Regret is not something that has a place in my life. But the one regret I do have is something that isn't even my fault and couldn't be helped. I regret that my size, stature, and talents were never enough to play organized football.
Ted Kluck is a writer who has had his work in "ESPN The Magazine" and on ESPN's website on their aptly named "Page 2." He has played football on his high school team, college, and a couple semipro teams before but never at the professional ranks. He finally got the chance with the Battle Creek Crunch of the Great Lakes Indoor Football League (GLIFL). The team was in its first year in the league under owner/founder Mike Powell and little did they know it would also be their last. Kluck got the opportunity to play on the team and document his experience in his columns and in this book. Let me tell you that I've never once stepped foot on a football field as a player in any capacity, but I've never missed it more.
Paper Tiger goes through the entire experience that Kluck endured while being a member of the Crunch. And when I say "endured," I truly mean that. He had to experience first hand what the turnover was like on a professional team and how it was to see players come and go and come and go and back again. It seems as if it was even worse considering how little money the Crunch had as a franchise. Let's just say that Mike Powell wasn't the best at what he was supposed to do. Kluck even had to put up with not dressing a few games. It wasn't because he knew he wasn't going to play, but it's that he couldn't dress. Some of the other guys needed his helmet or shoulderpads.
I know that the NFL is totally different from the GLIFL, but it is truly amazing to read first hand just how different the two entities truly are. The long bus rides, trading helmet decals to active players, and watching as your game check bounced is not something that the New Orleans Saints or Kansas City Chiefs have to put up with I'm sure. The Astroturf being rock solid simply because there is nothing but maybe less then an inch of fake grass between the players and the solid concrete below. Let's see Chad Johnson agree to run on that.
Another thing that caught my attention is when Kluck speaks of his family (his wife and young son). At games you'll always see the section of "player's wives" that usually sit together in the luxury boxes and are dolled up beyond belief. The kids will be running around playing or may not even be there for that particular game. Kluck's wife understood everything he wanted to do here for his book and his passion, but still stayed concerned for her loved one. Just as he stayed concerned for them. Gazing up to the eighteenth row hoping to get sight of them as he pulled his helmet down and ran onto the field for one play. Wanting them to be proud of him just as he was proud of himself.
It really is an amazing story that Kluck takes you through as he delivers the accounts of everything he goes through with these guys. The physical and mental anguish week to week. Driving a long way to practice and being one of only eight players to show up. Not getting paid. Losing week after week. Sometimes not even getting to play for two solid weeks even though the coach insists that you need to "be ready next week." How can a person possibly endure these types of things yet still to continue to get ready for them every single day? Some of you may answer with a resounding "well, he's writing a book so it makes sense." No, that isn't the reason Ted Kluck continued throughout his harrowing journey with the Crunch. He did it for the love of the game.
The book is rather short and reads very well. There is no part of it that drags or ever makes you really wish to put it down. My complaints about it are small, but I'm willing to bet that's due to my OCD. There are a handful of typos which aren't necessarily Kluck's fault at all. At one point he refers to a film as The Hostel when it is simply entitled Hostel. Like I said, my OCD kicked into high gear and those things bugged me, but they are still just minor complaints and observations.
Never in my life have I wished to be a part of a football team so badly then while reading Paper Tiger. Sure I don't know what it is like to put on the helmet, the pads, and stretch during warm-ups, but that doesn't mean I can't miss it. When you love something, you form a special bond with it even if you are never even close enough to touch it. I'm not talking about the love you have for your wife, children, or family. This is about an obsession. An obsession to be a part of every single aspect of something that you just can't be without. That is how obsession with football has been for many years now and will be for a long time to come. Kluck simply got to take my obsession one step further and I will forever be envious of that.
The Inside Pulse
Paper Tiger is one of those books that isn't very long and is really easy to read. That should encourage those who aren't fond of reading usually but enjoy and love the sport of football. Seriously, if you've ever held a football in your hands and got a smile on your face as you aired it out to a friend or simply lobbed it to yourself, then this is a book you need to check out. Kluck captures the spirit of a sport that is going to be around for centuries to come and never needs to change. The only thing that may need a little tweaking is the actual people involved in it. It is exciting, depressing, heart-warming, funny, and touching all at the same time. I sincerely urge you to pick up a copy of your own because if you love football as much as I do, then you'll quickly find yourself a fan of the Battle Creek Crunch.
Rating: 9
Tags: Other Sports