Another short week this week, but we do get the return of a MTV POWERHOUSE show. That's right the newest edition of the Real World/Road Rules Challenge is here. This time it's "The Gauntlet 3" and this looks to be the most dramatic challenge ever. See what I have to say about the new challenge and, of course, this week's episodes of Life of Ryan and Rob & Big. We're about to make a new mix, so hang on tight and enjoy the ride…
SHOW REVIEWS
TUESDAY
Life of Ryan
Ryan gets mad at his mom. He says she doesn't know how to switch off from being "his mom" and "his manager". She yells at him about one thing, but then switches to being someone else. Ryan says he is just skateboarder and can't switch off from that.
Later, Ryan goes on a double date with Kayla and Taylor and Casey. But he has to leave her for awhile. He is going on a trip for "Plan-B", which is a charity organization or something. Ryan skates in public places and gets kicked out of those places as well. Tony calls him and tells him that Kayla went to a concert with her "ex-boyfriend". Ryan was afraid of that.
Back to the Ryan's point with his mom. When he tries to talk to her about the Kayla thing, she just wants to talk business and completely blows off the personal stuff. Later, Ryan makes a wish come true for a girl with cancer through "Make-A-Wish". In the end, Ryan talks things out with his mom and all seems well again. As for Kayla, we will have to wait until next week to find out what happens there.
Rob & Big
Rob & Big are riding around in the Escalade with the mini-horse trailer hooked on to the back. They do donuts in a parking lot and we come to find out that Drama is in the back of it. The trailer actually gets up into the air!
We learn that Rob sent Mini Horse to "training school" for a month. It didn't work. The first thing he does is try to kick Rob and Meaty. Rob decides to take the whole family on a road trip to enter Mini Horse in a competition. This is too hilarious for words. Just the expressions on Meaty and Mini Horse's faces are worth the price of admission.
Along the way, Rob does some skating. Rob & Big then go ride around in some dune buggies in the sand. Rob pays some lady $100 to watch Mini and Meaty while they do that. They end up riding around for hours, but the lady is still waiting on them. Next on the schedule is a mud bath for Rob & Big. Big can't actually sink all the way into the mud without overflowing the tub.
Mini Horse does his best in the competition, and he actually finishes in 8th place! Rob & Big are happy they got a ribbon for that. Rob & Big definitely had the best costumes, though.
WEDNESDAY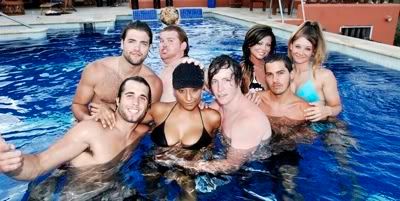 Real World/Road Rules Challenge: The Gauntlet III
Welcome to Puerto Vallarta, Mexico! Been there myself actually! It's time for another challenge! Get ready for perhaps the wildest and dramatic challenge EVER?! That is if you believe the hype from MTV. Only time will tell, but lets get down to business.
Beth hates everyone. Coral wants money. Evelyn and Brooke are holding hands?! Tori is rookie to the challenges and she likes all the boys. Brad is newly single and wants to mingle! (Yes, I just said that.) TJ Lavin is your host once again. There's our friend Johanna, who has moved in with Wes. Diem and CT are still a couple as well.
Here are your teams. It is the The Rookies vs. The Veterans!! The Rookies are those who have done only 1 challenge or none and the veterans are those that have done at least two challenges. You would think that there would be more veterans than rookies if that is the case, but apparently not. Here is the list:
The Rookies
Melinda (Real World: Austin)
Janelle (Real World: Key West)
Tyrie (Real World: Denver)
Angel (Road Rules: Viewers' Revenge)
Alex (Real World: Denver)
Tori (Road Rules: Viewers' Revenge)
Frank (Real World: Las Vegas)
Nehemiah (Real World: Austin)
Zach (Real World: Key West)
Brooke (Real World: Denver)
Johanna (Real World: Austin)
Ryan (RW/RR Challenge: Fresh Meat)
Rachel (Real World: Austin)
Tyler (Real World: Key West)
Derek (Road Rules: Viewers' Revenge)
Jillian (Road Rules: Extreme)
The Veterans
Beth(Real World: Los Angeles)
Coral (Real World: New York)
CT (Real World: Paris)
Evan (RW/RR Challenge: Fresh Meat)
Evelyn (RW/RR Challenge: Fresh Meat)
Casey (RW/RR Challenge: Fresh Meat)
Katie (Road Rules: The Quest)
Robin (Real World: San Diego)
Adam (Real World: Paris)
Kenny (RW/RR Challenge: Fresh Meat)
Eric (RW/RR Challenge: Fresh Meat)
Brad (Real World: San Diego)
Diem (RW/RR Challenge: Fresh Meat)
Paula (Real World: Key West)
John (Real World: Key West)
Danny (Real World: Austin)
Apparently this time around, the winning team gets to pick who to send into the gauntlet and who they will keep out as well. They won't be giving out money for each challenge. They will save it until the end. $300,000 goes to the remaining winning team members. So it's all or nothing.
The first "challenge" is a tug-o-war to see which teams gets to pick their beds first. It does look like a mismatch on paper. The veterans are stacked! And they end up winning! Kenny says his bed is free to any "rookie chick". The rookies end up having to sleep in bunk beds with bugs on them. They are outside and it's basically like a summer camp or more like a prison-type setting.
Yay! Lets all get drunk and dive into the pool! Alex says some of these people are just as nuts in real life. Brooke is now a lesbian. She can't stand to sleep with guys anymore apparently. Tyler's comments are priceless. "She dated a gay guy on her season and then woke up as a lesbian!" Evelyn is a lesbian as well so that works.
Now get out your scorecards as this gets a little messy. Ryan and Tyler make out in the pool. Paula makes out with Derek and then jumps in bed with Adam. Tori and Brad roll around together. Casey and John do the same. Frank and Jillian pair off. Evan and Kenny are wondering what's up with them? Why can't they get any lovin'? Coral can't wait for the breakups.
Time for the first "official" challenge! It's a male elimination day! They get dirty, of course. There is a pinata pit. Colored balls get released into a mud pit. The guys collect their colored balls and the girls have their own colored balls. There are not enough balls for everyone so it's like musical chairs in the mud with balls replacing the chairs. The men and women compete separately, though. Both the men and women from one team have to win for that team to win. If one team's male members win and the other team's female members win, it's a tie and then two males from opposite teams will face off to see who wins. The winning team picks one person from the losing team to go in the gauntlet. But it also gets to "protect" one of its own team members from being sent in by the opposite team. Winning females win a Zume MP3 player. Confusing, I know, but it's more simpler in execution than it sounds.
Anything goes here. After the first round, Angel, Frank, Brooke, and Tyler are eliminated from The Rookies. Kenny and Casey are gone from The Veterans. Zach, Johanna, and Jillian from The Rookies get eliminated in the second round. The same for Coral and Danny from The Veterans. Coral and Evelyn argue. Alex, Derek, Tyrie, and Rachel all get eliminated from The Rookies in the third round. Only Paula is gone from The Veterans. The fourth round evens up things almost. Janelle and Ryan get eliminated from The Rookies, but Evelyn, John, Kate, and Adam are all gone from The Veterans. Nehemiah is the last rookie male left, though. He is out manned as the veteran men take Nehemiah's ball from him to win. But Tori can tie things up if she can get a ball and win it for the rookie females. She goes up against Robin. Winner takes all so to speak. Tori breaks free and wins it for the rookie girls.
The tiebreaker is CT vs. Derek. Now this is really winner takes all. CT wins in the end. The Veterans win the first challenge! Time for the veterans to pick who goes into the gauntlet and who gets protected. The veterans "protect" Ryan and throw Nehemiah into the gauntlet! Okay, so now apparently the rookies must pick someone from their own team to go against Nehemiah. So now the rules make a little more sense. The Rookies pick Alex.
The first Gauntlet will be called "Forcefield"! Alex vs. Nehemiah. It's basically a reverse tug-o-war. They have to crawl towards each other in attempt to pull the other backwards. This looks impossible unless someone gives up and Alex does just that. Alex is gone! Another Real World: Austin member goes home first!
Robin worries that the men are going to throw missions to send all of the girls on their team home since there is no money involved in individual challenges. Someone is already paranoid. So they decide to do the same thing. Katie says "this challenge is a mindf**k!" So the veterans already look to be imploding before we even start.
CT stirs up trouble as expected. He drinks, argues with Coral, etc. Coral yells back and that's that. CT confirms that girls are a weak link to them. Now Diem tries to calm CT down, but he is not listening. Diem blames it on him being drunk and yeah, nothing you haven't heard before. Tick, tick, tick….
THURSDAY
Run's House
No Run's House this week, because apparently last week was the season finale with the new baby coming home. That makes sense as things come full circle. But you can almost guarantee that another season of this show will be coming later this year, because we have to find out how Run, and the rest of the family, does with the new baby! Until then, look for another new show to take this time slot in the weeks to come…
And that ends the 66th volume of the "MTV Mix"! If you have any questions, comments, suggestions, or feedback of any kind..send them my way!!
I'll see you next time when we mix things up a bit!
Sir Linksalot: Reality Television
Tags: Life of Ryan, Real World/Road Rules Challenge, Rob & Big