Review: Astonishing X-Men #24
|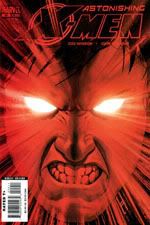 REVIEW: ASTONISHING X-MEN #24
WRITER: JOSS WHEDON
ART: JOHN CASSADY
COLOUR: LAURA MARTIN
PUBLISHER: MARVEL COMICS
I am going to try very hard throughout this review not to say how absolutely awesome Joss and John's work on Astonishing is. But it will be hard. And now I don't really know what else to write about.
We are now on the penultimate issue of this stellar run (which will end sometime in 2008 with Giant Size Astonishing X-Men #1, which already seems to have been pushed back twice). Broken up into four albeit interconnected arcs, the series has not been without a couple of mishaps and mis-hits – the Danger arc had some wonderful moments but didn't quite hit all the right notes, while the Hellfire Club story was perhaps a little too decompressed. And now the X-Men are off-world, fighting to save the Earth from destruction from a giant missile pointed towards it from the alien Breakworld.

Following on from the genius revelations of Cyclops' plan to infiltrate the enemy stronghold in #23 (definitely one of my favourite X-Men issues across the line in recent times), the X-Men make their move to disable the missile – from the rather complicated scenario of the previous issue, this story really is pretty much that simple. Instead of delicate and clever plot twists, we get action and snappy banter. But this creative team can do both equally well. Even the cliffhanger is fairly straight-forward, though it will certainly call for some rather interesting and not immediately obvious solutions. Oh, and we also get a fairly predictable death.

The one issue still not fully resolved is the role of Colossus in the 'prophecy' of the destruction of the Breakworld, though the conspiracy grows even deeper in these pages. In essence, this story is really about the internal politics of this new world, with the X-Men thrown in at the deep end. Whedon has been pretty clever about dealing with this so far, though there will be plenty to cover in the next issue – it is no surprise that we will need a giant-sized issue to bring this all to a head.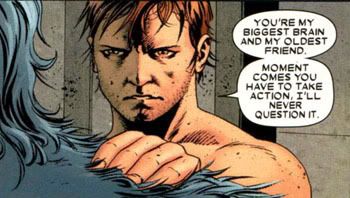 Ok, I can't go any further without saying it – Whedon and Cassaday just produce the most wonderful X-Men comics, as long as you are ok ducking and diving around the continuity every now and again. Usually this would bother me like hell, but as long as a decent attempt is made to address these issues somewhere down the line, I am really enjoying this whole adventure to worry about it just yet.

While this story has been (and still is) a little on the slow side, Whedon's strength has always been in the journey, rather than big plot reveal; though I still have no clue how Whedon and Cassaday are going to bring this all to a head, even in a giant issue, and I certainly have no idea how they are going to try and shoe-horn this into current X-Men events, this is still a thoroughly engaging story, with the X-Men portrayed (both character-wise and visually) at their very best. As talented as Ellis and Bianchi are, they are going to have quite an act to follow.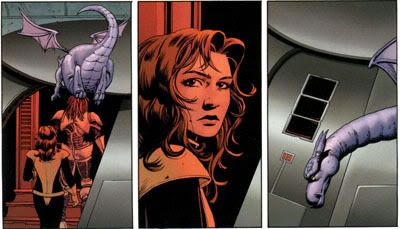 Tags: X-Men