The Comics Nexus Awards 2007 – Day 4: Best Title
|
DAY 4 – TITLE
Welcome back to the Comics Nexus Awards 2007!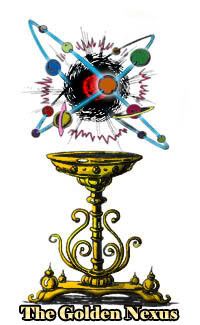 If you're arriving late to the party, get the lowdown on the new format with our Day 0 introduction and check back to our previous days for the full list of winners:
Day 1: Characters
Best Male Lead: Blue Beetle
Best Female Lead: She-Hulk
Best Supporting Character: Agent 355
Best Villain: Red Skull
Best Team
Day 2: Creators
Best Writer: Ed Brubaker
Best Artist: J.H. Williams III
Best Editor: Nate Cosby & Mark Paniccia
Best Breakout Talent: Christos N. Gage
Best Company: Marvel Comics
Day 3: Story
Best Collection: Daredevil Omnibus
Best Crossover: Sinestro Corps War
Best Single Issue: Scott Pilgrim Gets It Together
Best Webcomic: Girls With Slingshots
Best Storyline: Death of a Dream
Four days later and still (relatively) on-time, your Nexus Awards hosts:
Manolis Vamvounis (editor, graphics, words) and Iain Burnside (words)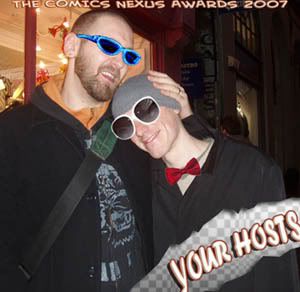 Limited Series
I like the idea of a character called Limited Serious popping up in a Will Ferrell movie. He could be played by Ben Stiller and say and do amusing things with inappropriate timing. People would laugh and I'd sigh and change the channel to watch the radio instead. Hey, it can be done. Modern technology knows no limits or use. Some damn fine comic book stories knew their limits this year though – in issue number, that is. Special mention must go to SPIDER-MAN/FANTASTIC FOUR: SILVER RAGE, which didn't make it onto the shortlist but warrants attention from everyone who is not dead. And even then, they might be reached by nefarious means, so have a bash. What did make it was certainly worth a peek too, of course, and here they are…
Runners-Up:
Bronze Nexus — Super-Villain Team-Up: M.O.D.O.K.'s 11
Silver Nexus – Wisdom
Winner – Golden Nexus:
NEW AVENGERS: ILLUMINATI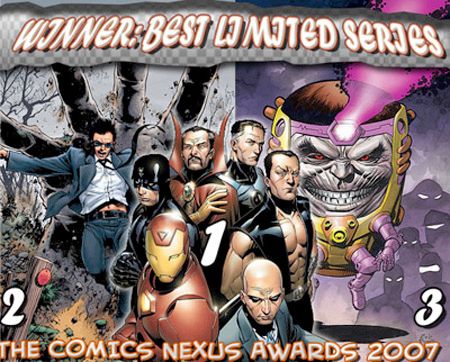 And here to accept the award is the writer of WISDOM, Paul Cornell, and the star of the series, Pete Wisdom: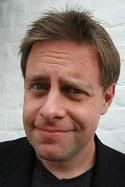 Paul: Thank you, everyone. I'm surprised and honoured to get this award. I'm very pleased that Wisdom is now starting to gain some critical recognition, for which I can only thank the tremendous artists on the title, Trev Hairsine and Manuel Garcia. And, of course, my editor, Naughty Nick Lowe. You know, when I started to write for Marvel –
Pete: Thank you, that's going in the smallest room, with Doug Ramsey's ashes. Now, you'll have to excuse me, I'm a little decompressed tonight –
Paul: Peter, did you leave the fourth wall in the condition you found it?

Pete: (I don't think that's real silver.) I'd like to thank my Dad, my sister, there she is in the audience, sitting next to Bova the evolved cow, as if they just happened to meet in the car park. Doesn't surprise anyone, love. Is there an X-Men table out there?
Paul: I should think, they'll have won something.
Pete: An Astonishing X-Men table –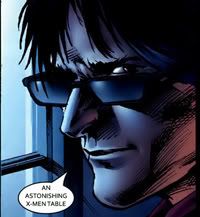 Paul: It's like having a ventriloquist's dummy. An evil dummy. You promised –
Pete: I just want to say hello, that's all. You know, how was it in space, so the other Peter's some sort of cosmic villain, who'd have thought it, and, hello, alive! You'd have thought I'd have got a call about that. Saying things have got just a teeny bit more complex now. You know, I really shouldn't have said 'teeny bit'. Goes to all the wrong places. Like I did. Back in the day. Hoi, do you reckon she only goes with blokes called Peter? It'll be Spider –Man next. Oh bloody hell, yeah, in the Ultimate universe! There is a pattern! You better watch your arse, Peter David. Take my word for it, she is not gentle.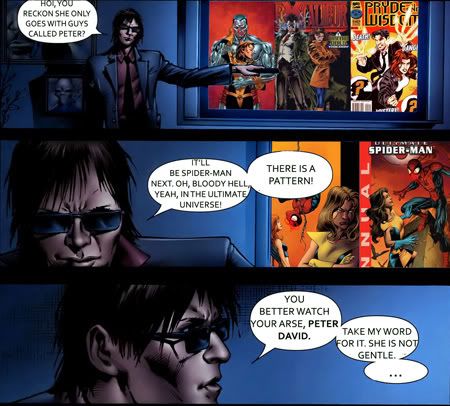 Paul: I'm going to take him home. Excuse us. Thanks again.
Pete: But I'm not all silver, am I? You don't have to get a can of Mr. Sheen out every time you want to polish my –
And at that point, they got out of microphone range.
But now we shall never know what might be wanting to be getting Polish! Hmm… instead I'm typing like the Indian geezer from Short Circuit and Short Circuit 2. I'd like to be a pepper too. And I'm rhyming! Oh, orange. Oh, no!! M.O.D.O.K.!!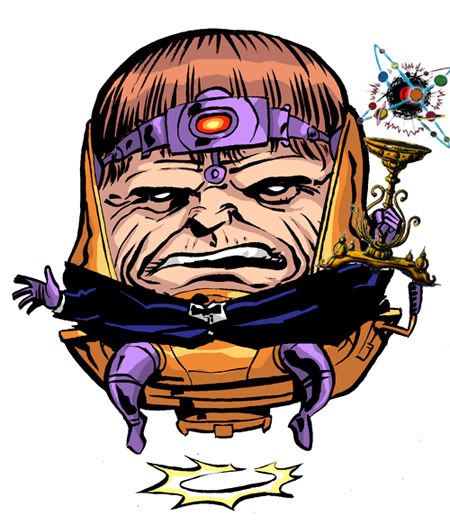 Dear Puny Two-Lobed (finger quotes) "Nexus Awards" voters,
I THANK YOU FOR NOTHING!!!
How dare you vote the incontrovertible genius of SUPER-VILLAIN TEAM-UP: MODOK'S 11, the first (finger quotes) "comic book" to headline the 144-lobed brain of I — MODOK! — a paltry third!!! Do not bother attempting to flee — that sound you hear is this auditorium being surrounded by the glorious scientist/stormtroopers of Advanced Idea Mechanics, who will swoop in and slaughter you en mass on my signal!
Three…
Two…
One!
HAH! MADE YOU LOOK!
But seriously, folks, I'd love to thank Craig, my agent. Craig, ever since you convinced me to do that ad for MODOCKERS, my career has really been on an upswing, thank you.
And I'd like to thank my scriptwriter, Fred Van Lente, I'm just a vessel for his beautiful words, and my whole art team… penciller Francis Portela, inker Terry Pallot and the whole coloring gang down at GuruFX– You guys made sure my butt didn't look big, which is all I asked. Of course, ranting never looked so good, thanks to the lettering of Blambot's Nate Piekos.
The editing team of Mark Paniccia and Nate Cosby — what can I say? Even when I argued with them and sat in my trailer for eight hours holding my breath, they never lost their sense of humor.
Well, that's it. I'm hosting an after party down the street at Batroc's Bistro!
ALL THE HEAD CHEESE YOU CAN EAT!!
PEACE OUT!
–The Big M.
The Big M also enjoys kittens, yelling at kittens, stomping on kittens, and disposing of the corpses of kittens.
Thanks to Ilias Kyriazis for the MODOK artwork! Check out his work, you'll be hearing his name a lot in the future!
Moving to our Big Winner for 2007, co-writer Brian Reed is here to accept the award for New Avengers: Illuminati:
'Thanks for word that Illuminati won best mini-series. It was a wonderful project to work on, and a really special time in my career. For the record, I wrote all the parts you and your readers loved, while everything you hated can be placed firmly at the feet of my co-scribe, Brian Bendis.'
---
Marvel title
Marvel has had a memorable year, to say the very least. There was a civil war that ended in rather innocuous fashion. Then they had a world war, although really it was just one angry bloke in New York. The more astonishing members of the X-Men buggered off into space in 2006 and still haven't returned, yet they and the rest of them still found time to get all up in arms and pissy about some baby or such. I really hope it's just Deadpool in a nappy, looking for some breast-feedin' feastin'. The Fantastic Four split up (again) but then didn't (again). Spider-Man ran to stand still. Zombies remained essential. The Ultimate Universe began to seem as relevant as the Ultimate Warrior. And then out came the Chuds… I mean, Skrulls. Still, forget all that, because there were also these:
Runners-Up:
Bronze Nexus — Immortal Iron Fist
Silver Nexus — X-Factor
Winner – Golden Nexus: CAPTAIN AMERICA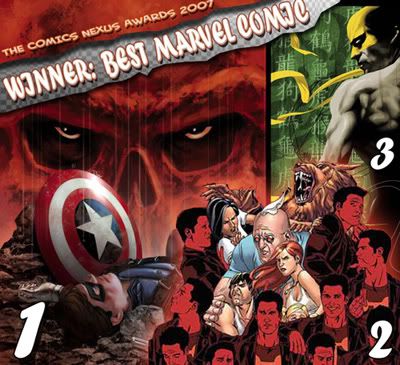 Death = ratings. Beasley = write-up…
Some stories need no fanfare in order to spark interest in the hearts and minds of the comic-buying public. Some stories just come out of the blue and hit you in the face like a crack-addict kangaroo boxer wielding a baseball bat. And often these stories; the ones that have not been hyped, over-hyped and hyped again; are the ones that really matter and the ones with the best execution. For all the big crossover events there have been over the last couple of years, one story that Marvel published in 2007 had a bigger impact than any other. It was probably the boldest move since their Distinguished Competition sent Big Blue into the big blue yonder. Marvel Comics killed Steve Rogers. They did. They actually killed Captain America.
As soon Captain America #25 hit the comic stands, the headlines hit the newsstands. The mainstream press picked up on the story and it was discussed on television news programmes and in national and international newspapers. This was by far the biggest story in the comics industry for years, at least as far as the non-comic-buying public was concerned. And that was just as it should be. When you do something this big, you really need to get it right – because if you don't, you will not be forgiven by the fans. Ever. In this the quality of the work was more than equal to the boldness of the content.
Writer Ed Brubaker and artist Steve Epting had created a masterpiece, out of what was one of the most intricate and convoluted back-stories ever. The Red Skull was now merged with a Russian villain called Lukin. Lukin was the man who had brainwashed Cap's original partner, Bucky Barnes, who Cap had always believed had died in WWII, into becoming a clinical assassin for hire called The Winter Soldier. Under Lukin's brainwashing, Bucky had even assassinated another of Steve Rogers' partners – Jack Monroe a.k.a. Nomad. At the same time, Cap had transformed from the symbol of America into a renegade, on the run from the Government's forces. He had gone underground, fighting against the forced registration of super-humans, in the Civil War crossover event. When he finally handed himself into the authorities, Red Skull / Lukin saw his/their chance (you see how confusing this could get?) and implemented a plot to assassinate him. He was shot by The Red Skull's lackey, Crossbones on his way in to stand trial. Of course Crossbones wasn't shooting at Rogers. He aimed at someone else, knowing Captain America would put himself at risk to save the other person. And then, while Cap was lying prone, mortally wounded and defenceless, the final coup de grace was added to the plot. Cap's long-time partner and on/off love interest, Sharon Carter, rushed over to his side…… and finished the job. She had also been brainwashed, by Dr Faustus, into acting as an unwilling killer, and shortly afterwards into remembering what she had done.
It was bold, it was brave, and it was brilliant. Brubaker's writing and Epting's art were as always exceptional. This story set the benchmark for the year's comic storytelling, and continues to do so. With Carter, Barnes and The Falcon (another of Cap's partners) out for vengeance against those that perpetrated the crime, the tale is not yet complete. But whether "Dead means Dead" in the long-term or not, this storyline will be remembered for as long as Captain America is remembered. It is quite simply one of the most important yet at the same time understated stories in Marvel history.
OMG SPECULATION.
---
DC title
DC had a memorable year in 2007 as well, although I'm sure we can all join in hope that it proves to be a forgettable one instead. 52, unmoved by a world war with one angry widower, splurged over the finish line with a giant worm puking up universes or whatever the hell that was. Then came a countdown to another crisis – and by god there was certainly room for Jimmy Olsen. Elsewhere, Donna Troy stood around wondering why Donna Troy was standing around wondering why Donna Troy was standing around wondering why Donna Troy was wondering why Donna Troy was standing around and MONITORS and LATE BOOKS and FILL-IN ISSUES and KILL OFF A FLASH and other such niceties. Oh, yeah, then there was another war but in space and between two colours. Then it ended and there were more colours. Meanwhile, Batman is a father.
Runners-Up:
Bronze Nexus — JSA
Silver Nexus — All-Star Superman
Winner – Golden Nexus:
BLUE BEETLE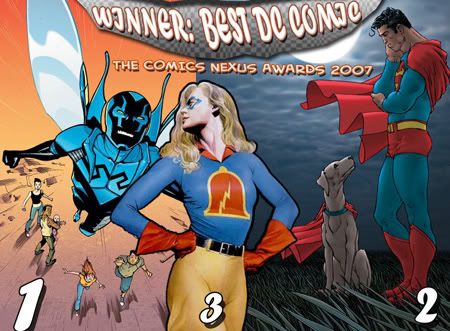 Well, it's certainly the year of the Beetles comeback! But first, let's welcome back our prodigal son, Will Cooling, who has prepared an All-Star introduction into the world of All-Star Superman:
What can you say about perfection?
I have no words to describe the sheer idiotic joy I get from reading a comic that simply sets out to thrill me instead of hitting me over the head with issues, or try to depress me with a grim pastiche of real life or seek to prove that the writer has a bigger dick than me.
This is Superman! Not the tired, old, befuddled comics character…but the Icon that has dominated the public imagination for over seventy years. There's no attempt to depower him to create artificial peril; Morrison is a good enough writer to play with all the toys in the tool box and come up with something magical. Every issue is a gem of a story that manages to marry silver age charm, with modern sophistication.
And yes for the art…well jeeze louis, what can you say? This is awe-inspiring stuff, with Quitely proving himself the best modern Superman artist. No one can capture the effortless and good natured majesty of Supes like Quitely can, and nobody can portray his bizarre and brash world with the vivid colours and bold lines of his artwork.
This is perfection, there's nothing more to say than that.
Hey, did I ever tell you about the time Paul Sebert told you all about how great Blue Beetle was? No? Well, hey, here you go:
DC comics has had something for just about everyone in 2007. Want a zombie-free horror comic? Try the Exterminators. Looking for discussions of faith and sexuality? Read American Virgin. How about Westerns? There's Jonah Hex and Loveless.
But for actual Superhero comics well… it's been sort of a rough year for comic fans as too often the superhero books that are the bread and butter of DC's output have been marred by clunky gimmicks and "event" storylines. Still the "Distinguished Competition" managed to put out some enjoyable superhero titles including Birds of Prey and The All New Atom, along with the Johnny DC titles like The Batman Strikes and Teen Titans Go!
But the book that shined brightest in the DC Universe may have been one of the least hyped. Under the writing of John Rogers, in 2007 Blue Beetle has blossomed into an excellent pure superhero title and perhaps the best teen superhero title since 2003 gave us the one-two punch of Runaways and Sentinel. Jaime Reyes has developed into one of the most likeable, funny and human superheroes since well… his predecessor Ted Kord. Accompanied by a supporting cast which includes Tracie 13 and a updated version of Charlton Comic's Peacemaker, our reluctant hero's battled superhero foes of all shapes and sizes. Whether it's battling a baby sacrificing Jean Loring, meeting Superman for the first time, or dealing with the true origins of his alien scarab Reyes has managed to rise to all challenges.
If never read Blue Beetle, or dropped the title early in it's run give it a shot. For 2007 it's been a consistently entertaining and unpredictable ride. And that's why it's DC's best book for 2007.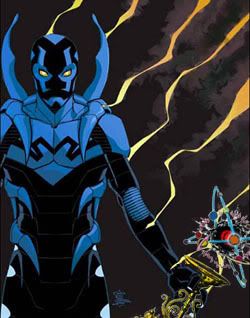 Furthermore, here's BB's amazing artist Rafael Albuquerque to confuse me with the spelling of his name and accept his award!
"It's a great honor to be working in this title and it's very good to know that the fans are enjoying. Thank you very much. All the best."
Wait… are beetles blue? I never thought to check. Respect their privacy.
---
Indy Title
There's something rather peculiar about the notion of 'indy' comics being something altogether different from 'small press' comics, since the latter are surely the independent ones and the former are still very much corporate but with less media obligations than Marvel or DC. Sometimes they don't even have that going for them, as with the various franchises being published in comic book format (Transformers, Star Wars, etc.). It's like when people talk about 'indy' music even though it's being released by some subsidiary of the same corporations that own it all and can be counted on one hand. All of which is a valid little rant but has not reflection on the quality of the comics at hand…
[editor's note: and before people start bashing us, let's clarify that we're coining the term 'indy' in these awards to include anything not published by the Big Two]
Runners-Up:
Bronze Nexus — Walking Dead (Image Comics)
Silver Nexus — Buffy the Vampire Slayer (Dark Horse Comics)
Winner – Golden Nexus:
FELL (Image Comics)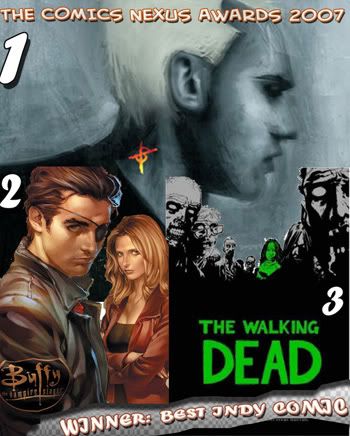 Remember when Will Cooling did a write-up? Now Will Fell again!
A bizarre little comic this; one designed to show the possibilities of the serial form when slimmed down to a short-sharp burst of a comic that sells for a couple of bucks. And yet, it never comes out on schedule, having taken a massive break between issue 8 and issue 9 (so big I almost completely lost track of it).
Aside from the schedule, it's a mighty fine comic it is. Richard Fell's patrolling of his seedy and complex beat provides some graphic and thought-provoking cases that show just how much story you can pack into a mere handful of pages. Templesmith's artwork is lurid, gothic and totally unique…some of his panels really are completely off-the-wall bonkers and really help the reader get under the skin of the characters and the scene. Simply visceral stuff!
And of course there's Mr. Ellis…in many ways you could argue that this is him going over old ground (yet again) with yet more weird gothic goings on as confronted by an individualistic, hard-talking loner with a heart of gold. However, that would be to miss the point. Ellis' independent work is that of an auteur, he's find his niche and now he's busy pushing its boundaries with every work. This stretches his ability to fit a coherent and engaging story into such a small comic and removes the crutch of many of the tics he had developed. It also lacks much of the superhero exuberance of some of his other works and so comes across as more low-key and more human. It's an interesting and dynamic book…let's just hope we get more of them this year.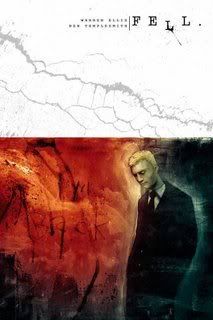 We were fortunate enough to persuade Warren Ellis to let Ben Templesmith out of his cage for the day. After a trip to an ice cream truck, here's what he had to say about this prestigious honour of no equal:
"Sorry, I've had a few drinks but don't worry, that fat guy in the front will block the vomit from getting on anyone else if I let loose…
Anyways, what was I here for? Shit…I lost my…no, that's right, I didn't write a speech because I never win awards. I only ever get nominated. So something is clearly wrong here. You know who I am right? You know the book I did? It was with that Warren Ellis guy. Is he here tonight? Didn't see him at the bar yet, but the night is yet young.
So this is for Fell right? Well, I have to say, a huge thanks to everyone who's bought the book. It's super nice when a gutsy concept has some success, and now this award too. Cheers. I can honestly say doing this book has been some of the most fun I've ever had with my pants on. And maybes even some with them off. No no…those rumours are not true…wait,, was I speaking out loud then?
Alrighty…thanks guys, seriously. Especially for the free drinks! "
Wait… who the hell got him a drink?? I'm parched, you bastards!! ****ing Manolis…
Hey—is that it? Didn't we have a Best Title Award to give out?
[EDITOR: We did, but it ended in a three-way tie between the finalists from their respective categories:
CAPTAIN AMERICA
BLUE BEETLE
FELL
So let's just say they're all winners this year!]
I love it when you talk bold like that!
Thanks everyone for joining us this year, and special thanks to the creators for dropping by, and participating with scripts and art in our ceremony!
Tags: Image