I give you SUPERPRO!
Yeah, every blogger worth his salt (or not) is probably giving you a Superpro image today. But are they giving you every cover plus commentary? To quote Bob, "I doubt it!"
And now, without further adieu, I give you the man of the hour!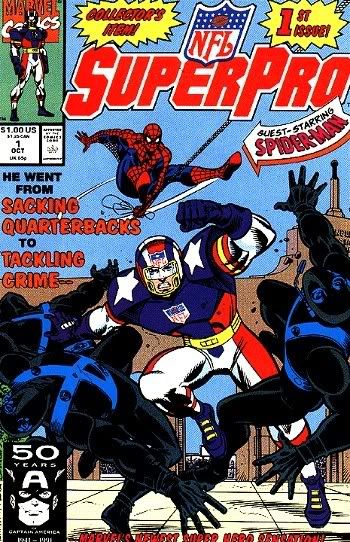 Superpro gets things rolling nicely right off the bat (ugh, sorry about the pun from the wrong sport) with a great slogan "He went from sacking to quarterbacks to tackling crime" which you just can't beat and the promise that this is, in fact, a collector's item. Well if Marvel's marketing department says so…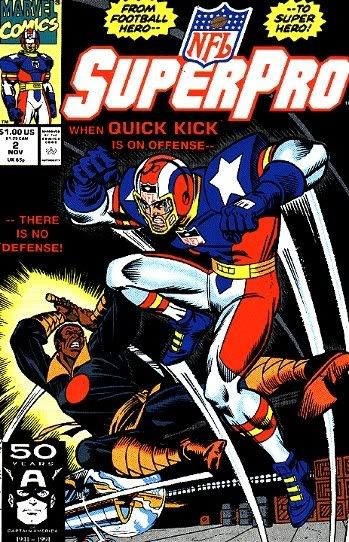 No one ever talks about the boundaries that Superpro broke down, but here he is, featuring a black ninja long before anyone was truly aware of Wesley Snipes abilities. Superpro=trailblazer.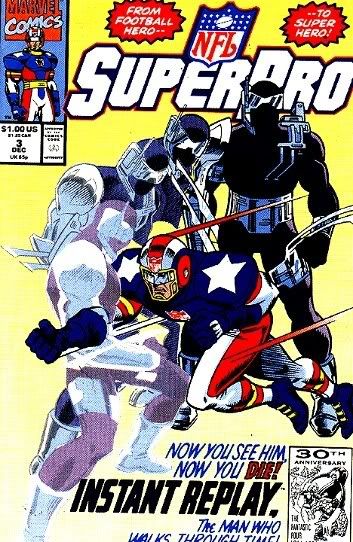 The man who walks through time? Great slogan. Instant Replay? Not so great a name.
Also, that blade thingy on his wrist: impractical or impossible?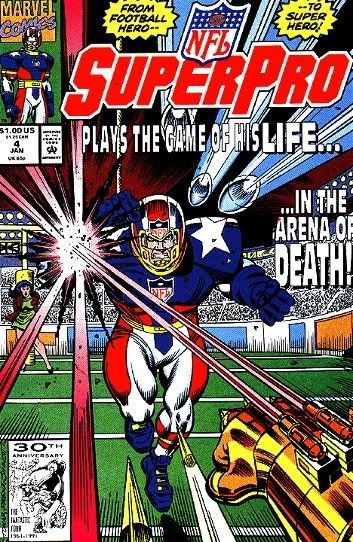 While I admire the book's spirit, putting your character in the "game of his life" while he is in the "arena of death" is just raising the bar too high too quickly. No wonder the book only lasted issues. If Superpro was doing this at #4, what else did he have to prove?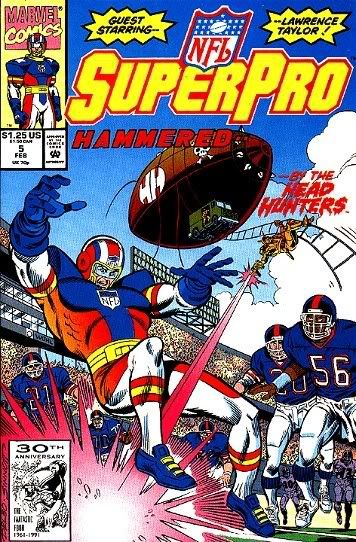 Sweet! LT (the original)! Great choice!
I'm a Giants fan so I am legally bound to love Lawrence Taylor, but even I question this. A coke addicted (as he was at the time) rage machine as guest starring hero? What is this, a MAX title?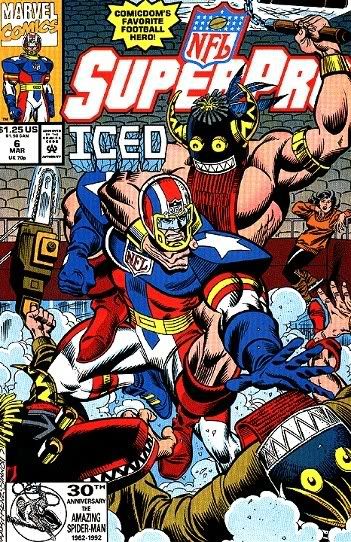 Superpro, blazing trials once more. You didn't no Native Americans all wore tribal masks and wielded chainsaws, did you? Thank goodness Superpro was able to take you inside this sacred custom in this very special installment of NFL Superpro.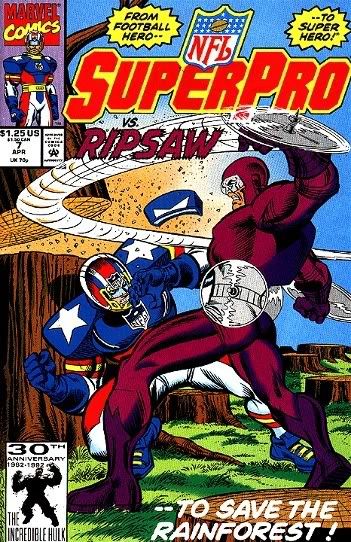 And again! Superpro=environmentalist, too, evidently. You might question why comicdom's favorite football hero would care about the rainforests, but that just shows how little you understand Superpro. He's not just comicdom's favorite football hero, he is also comicdom's most liberal football hero.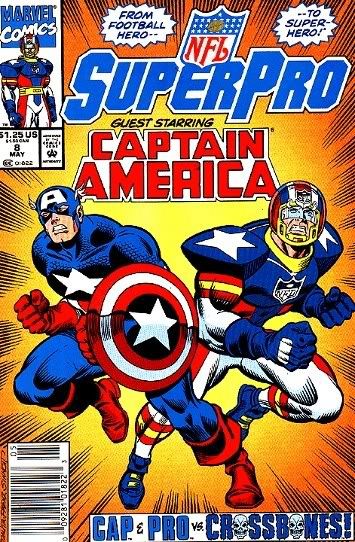 Take a moment to ask yourself who means more to America. I think the answer might surprise you.
(Hint: the answer is Superpro).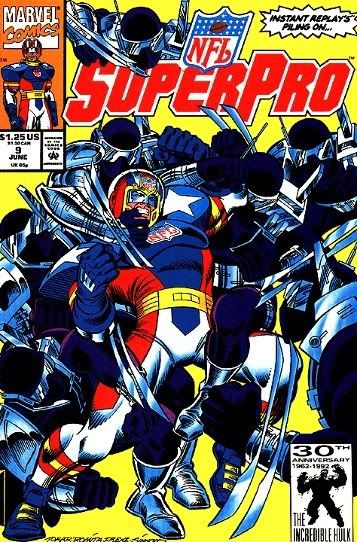 Instant Replay's back! His wristlets? Still make no sense.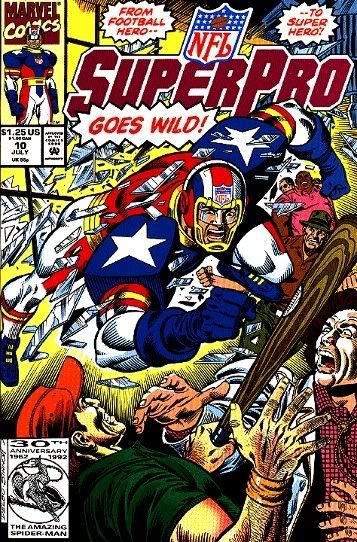 If this issue doesn't contain at least one panel with Superpro pulling his shirt over his head shouting, "Take a look at these! They're jiggling for you!" I will be forced to proclaim this cover false advertisement.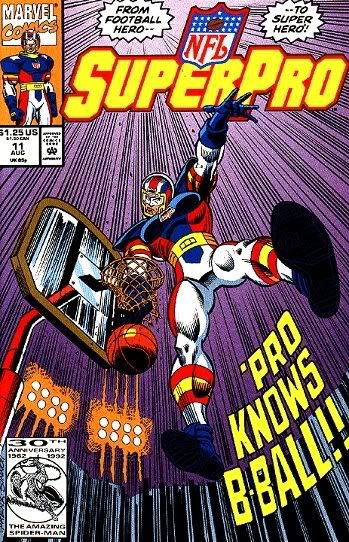 Not happy with being comicdom's favorite football hero, Superpro also seeks the title of comicdom's favorite basketball hero, and is not afraid to steal Michael Jordan's signature tongue move to do it.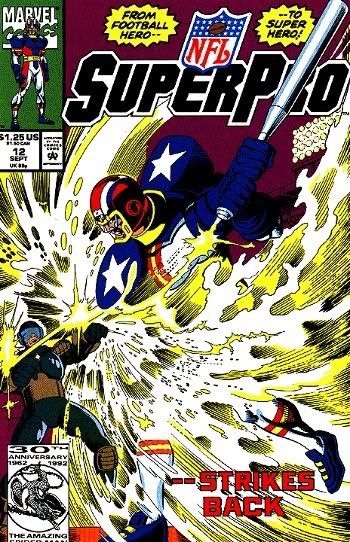 And now its baseball! The man will dominate all sports. Maybe that's why they cancelled the series here. The other sports unions must have been in an uproar.
Well, I hope you enjoyed this trip down memory lane. Now grab yourself a beer, or twelve, (and, as always, drink responsibly), and a metric ton of chicken wings and settle in for the Super Bowl…err… the Big Game! And remember, if you have a soul, cheer for the Giants.