Hitting Shelves This Week…
|
February 5, 2008
Marion and Jack are trying to rekindle their relationship by taking a trip to Paris . They think it will be good to get away together and also visit Marion's parents who live there. The only problem is that a lot of her ex-boyfriends also live there.
DVD Features: Alternate/extended scenes, interviews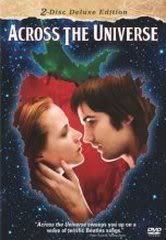 Across the Universe (Two-Disc Special Edition)
A romantic musical told mainly through numerous Beatles songs performed by the characters. A young man from Liverpool comes to America during the Vietnam War to find his father. He winds up in Greenwich Village, where he falls in love with an American girl who has grown up sheltered in the suburbs. Together they experience the sweeping changes of America in the late 60's.
DVD Features: Audio commentary, "Two Live Performances of "Being For The Benefit Of Mr. Kite" featurette
The Apartment (Collector's Edition)
Sometimes things just never work out quite like people expect them to and if it isn't totally ethical, then it usually comes around to bite them in the…a-hem, backside. When a man allows executives to use his apartments for trysts in order to get a rise in his company; romance and other things get in the way.
DVD Features: Two audio commentaries
The Aristocats (Special Edition)
When the gorgeous feline Duchess and her three kittens inherit a fortune, they are soon kidnapped by the evil servant and taken far away from their lavish home life. They need to be rescued and it is up to a group of animal friends led by a stray alley cat to help them.
DVD Features: Deleted scene, interactive features, "The Sherman Brothers: The Aristocats Of Disney Songs" featurette, Walt Disney hosted excerpt, photo galleries, scrapbook, virtual kitten
The Assassination of Jesse James by the Coward Robert Ford
Sit back and enjoy this Old West tale of betrayal. Robert Ford has joined up with Jesse James' gang of outlaws. But Ford soon becomes resentful of James and hatches a plan to kill the legendary outlaw and become top dog.
DVD Features: Making of
A young man wishes to get into the dating game and has a little problem dealing with finding the right woman because he is blind. He soon falls for a beautiful Indian woman and wants things to work even though he can't quite see all their cultural differences.
DVD Features: Alternate/deleted scenes, trailers, behind the scenes
Dee and Dawn are just as beautiful as any other two blondes, although they may just be hotter then any two others you've ever seen. Things take a hilarious turn for these two beauties when they are mistaken as international mob killers.
DVD Features: Making of, trailers, bloopers
Erica Bain is a New York radio host that has everything going for her. But one night she and her fiancé are attacked while taking a walk leaving her badly injured and him dead. Not wanting much else in life; she sets out at night to hunt down those responsible.
DVD Features: "Walk The City" featurette, additional scenes
Comic Relief the Latest… and the Greatest
Go through the best moments in the twenty years of Comic Relief with some of the greatest performances from Lewis Black, Drew Carey, Jon Lovitz, David Cross, Sarah Silverman, Jon Stewart, George Carlin, and many more.
DVD Features: None
Mike Rowe is back and doing all those occupations that are slimy, greasy, grimy, filthy, and just downright dirty so some of you don't have to. He makes his way around the country joining the hardworking men and women that do the jobs many wouldn't even think about doing, but he shows that someone has to.
DVD Features: Twelve episodes from the series
Venture back in time and deep into the life of Elizabeth the first as her country is being attacked from all sides and her relationship with Sir Walter Raleigh becomes even more involved.
DVD Features: Audio commentary, deleted scenes, "The Golden Age" featurette, "Inside Elizabeth's World" featurette, and more
If you've ever been in love or simply wondered what it would be like, then this is a story for you. Jump into the middle of a group of friends in Oregon as they experience the happiness, joy, pain, and sorrow that goes along with that thing called love.
DVD Features: Audio commentaries, music videos, "The Players" featurette, "What Fools These Mortals Be" featurette, "The Feast" featurette
Earl Finn is set to spend the summer in South Africa with the father he's never met, but before he can go, he gets busted buying drugs for his massage therapist mother. So instead he's spending time with one of his mother's wealthy clients and things get a little carried away.
DVD Features: Audio commentary, deleted scenes, "Breaking Down The Tribe" featurette
Experience the trauma and drama of this five-part miniseries about the mysterious disappearance of a mother in a British suburb and the unfortunate circumstances that leave her two children abandoned and far from home.
DVD Features: None
During the months of April to December in 1915, one of the fiercest battles of World War I took place; it was the Battle of Gallipoli. Actors Sam Neill and Jeremy Irons have come together to narrate this feature and recreate all that happened.
DVD Features: None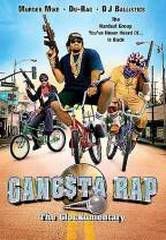 Gangsta Rap: The Glockumentary
Damon "Coke" Daniels takes center stage and stars in this documentary all about the rap world. After a long time out of the spotlight, a fictional rap group called Gangsta Rap try to make it big again and you can pimp ride along for all the fun exploits and adventure.
DVD Features: Audio commentary, deleted scenes, music video, trailer, "An Update" featurette
Go Diego Go! – Diego's Magical Missions
Dora the Explorer has shown little girls everywhere that they can go on big adventures, but now Diego has stepped up to show that little boys can do the same. Join him on his magical adventures that are sure to entertain and educate.
DVD Features: None
When a man answers an ad to become a record producer, he thinks his new job is going to be fantastic and a great opportunity. After it starts though, he starts to realize that it's not all it is cracked up to be.
DVD Features: Alternate/deleted scenes, featurettes
Six people in California start a book club to discuss Jane Austen's novels. Through their discussions, they realize their lives and relationships mirror those from the author's books.
DVD Features: Audio commentary, deleted scenes, behind the scenes, "The Life Of Jane Austen" featurette, "The Book Club: Deconstructed" featurette, "Walking The Red Carpet: Los Angeles Premiere" featurette
One of the most well known French directors of all time, Jean-Luc Godard is idolized here with three of his best films: Passion, First Name: Carmen, The Detective and Oh Woe Is Me.
DVD Features: "Jean-Luc Godard: A Whisper Riddled In An Enigma" documentary
Jerry Springer: Undressed, Unleashed and Uncensored
Volume 1
Volume 2
Volume 3
Jerry Springer made his living as being the king of shock television and it is proven here in these three volumes of some of the greatest moments from his show. The wildest, raunchiest, sexiest, and zaniest times are all here for everyone to enjoy. And if you feel it's too much, just stick around for Jerry's final thoughts.
DVD Features: None
The Legend of Butch and Sundance
Two of the most well known outlaws in the history of the Old West are Butch Cassidy and the Sundance Kid. Follow along with their exploits as they hop on horseback and ride down the dusty trails.
DVD Features: None
Legion of Super Heroes Volume 2
A young team of superheroes from the thirty-first century need help and they know of only one person that can do it, Superman. But they've got to go back in time and do a lot of convincing to get Clark Kent to come back to the future and help them defeat evil.
DVD Features: Another set of episodes from the series, featurettes
Taken from the inspiring and moving story based on true events; witness the tale of a man that is caught smuggling drugs out of Turkey, thrown into prison, and does whatever he can to survive.
DVD Features: Audio commentary, photo galleries, "The Producers" featurette, "The Production" featurette, "The Finished Film" featurette
Perfect Strangers – The Complete First and Second Seasons
Larry Appleton is a cynical man that lives his life by his rules and never wants to have a lot of excitement or cause any trouble. Well, his life is completely turned upside-down when his cousin Balki comes to America to live with him.
DVD Features: All 6 episodes from the first season and all 22 episodes from the second season, "Dance Of Joy" featurette, "Throughout The Show's First Two Seasons" featurette
Slings & Arrows: The Complete Collection
Dark comedy is an acquired taste and one that is put to the full test with Slings & Arrows. Watch a rather eclectic Canadian theatre group get together and go through every single aspect of production on three Shakespearian plays.
DVD Features: All 18 episodes from the entire series
A young boy's wish is to simply have a dog sled team of his own out in the wild snowy wilderness, and when his dream finally comes true, he gets a lot more then he bargained for when his dogs not only can mush but also talk.
DVD Features: Behind the scenes, bloopers, making of, music video
A vicious storm forces a vacationing couple to seek shelter in an isolated swamp cabin, but when the owners come home, the young couple find themselves at the mercy of a family of deranged and sadistic rednecks. In order to survive, they must do things they never imagined possible.
DVD Features: None
Third Watch – The Complete First Season
The 55th Precinct of New York City may not be real, but to the men and women serving as police officers, paramedics, and fire men; the 3PM to 11PM shift may be one of the busiest and most dangerous of all.
DVD Features: All 22 episodes from the first season
Tootsie – 25th Anniversary Edition
Even after twenty-five years, Dustin Hoffman in drag just doesn't get old. But here he is still starring as a struggling actor that goes to new lows in order to get a female lead part in a soap opera.; actually becoming a female.
DVD Features: Behind the scenes, deleted scenes, screen tests
A couple slackers find themselves in way over their heads after they attempt to dump the body of a dead girl into a drive-in basement, but it is actually the location of rituals performed by a Satanic cult.
DVD Features: None
You've Got Mail (Deluxe Edition)
Everyone is looking for that certain someone and as the advances in technology grow by the day, then meeting someone in a bar, club, or even at the supermarket is quickly becoming obsolete. But for those that have the knowledge, the world wide web is full of all the wrong ones and hopefully that single right one.
DVD Features: Audio commentary, HBO first look, "Delivering You've Got Mail" featurette, "You've Got Chemistry" featurette, music only audio track, and much more
.

Tags: Hitting the Streets