The Aristocats: Special Edition – DVD Review
|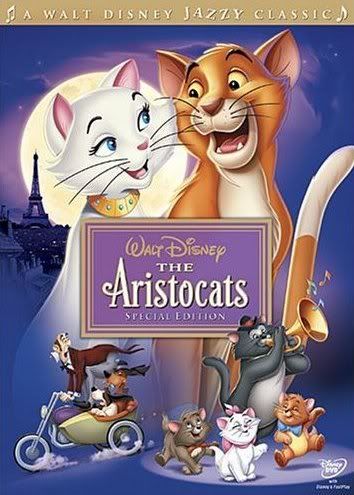 Available at Amazon.com
Director
Wolfgang Reitherman
Cast
Phil Harris………Thomas O'Malley (voice)
Eva Gabor………Duchess (voice)
Liz English………Marie (voice)
Gary Dubin………Toulouse (voice)
Dean Clark………Berlioz (voice)
Roddy Maude-Roxby………Edgar (voice)
DVD Release Date: February 5, 2008
Rating: G
Running Time: 79 Minutes
List Price: $19.99
The Movie
Madame Adelaide Bonfamille is one of the richest people in all of France. She is an aging opera singer that has a vast fortune and must leave it to someone when she finally passes on, and who better then her much spoiled cat Duchess. Well, it does seem rather crazy to leave an entire fortune to just one cat, so that's not exactly true. Madame is actually going to leave everything to Duchess and her three kittens Marie, Berlioz, and Toulouse. Madame's butler Edgar will receive the fortune after the kittens expire if he stays around to take care of them. Needless to say, Edgar isn't willing to wait that long.
Hoping to get everything immediately, Edgar drugs Duchess and her kittens and drives them out to the countryside so he can drown them and be rid of the group once and for all. Fate doesn't seem to be on Edgar's side though as he is ambushed by two French dogs and after all is said and done, he merely leaves the cats stranded far away from home. Hoping they can never find their way home, it will have to do. Duchess and her kittens though are not content with just hanging outside when all they are used to is the most lavish of accommodations.
In steps in Mr. Thomas O'Malley, an alley cat. He lives life as free as a bird and lives by no-one's rules but his own. He is carefree and likes to live a life that Duchess has never experienced. O'Malley introduces Duchess to the world of jazz music and the sights of Paris that she has totally missed by sitting high atop in penthouses. He is determined to help her and her kittens make their way back to their home so Madame can rest easy and so that Edgar doesn't get what isn't justifiably his.
The Aristocats is one of my favorite Disney films of all time and for a reason that wouldn't seem normal for me either. I'm someone that loves the Disney villains such as Cruella, Maleficent, Jafar, Chernabog, Ursula, and all the other baddies that make evil what it is supposed to be. This film does something completely different in showing a villain (Edgar) that is the cause of all the disturbance, but isn't in the big picture. It is true that when it comes down to it, Edgar is the bad guy and the good guys (Duchess, O'Malley, and the kittens) are determined to thwart his horrible deeds. But the true moral of the story here is that everyone needs to open their eyes to what is around them so that they don't miss some of the best things in life.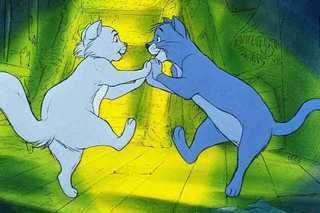 People don't seem to understand all the different aspects of life that pass them by keeping their eyes and minds closed to anything out of their circles. An example here is having Duchess and the kittens get introduced to jazz and realizing their love for all types of music. Disney has always had the habit of making their films include some type of lesson like "never giving up" or "love is the greatest emotion of all," but the lessons taught in The Aristocats have to be my favorites by far. What's even better is that this film was released in 1970 and teaches lessons that could be extremely beneficial in today's society close to forty years later.
There is nothing here that can't be enjoyed by some member of the family somehow. The kids will love it because it is Disney and simply another cartoon for them to watch. Parents and adults of all ages will love it for the life lessons, the story itself, and the great music that will keep you singing for days. People don't realize it because they are too busy watching Finding Nemo or Toy Story, and don't misunderstand me because I love those films. But go back when life was simpler and animation was more refined. Enjoy things in a less complex light and partake in what life is truly all about. Walt Disney passed away before he actually got to see this film complete, but I know that if he were still alive today, The Aristocats would be one of his most favorite films ever.
The Video
The film is shown in 1.75:1 Anamorphic Widescreen format making for a beautiful transfer compared to the 2000 release of The Aristocats which I also own. The colors are absolutely gorgeous and the remastered look is flawless.
The Audio
The film is heard in Dolby Digital 5.1 Surround Sound and is great for a film such as this one with all the musical tracks included. Everything can be heard fantastically and the music heard from all around you just makes for a great mood when watching.
Special Features
Deleted Song: "She Never Felt Alone" – Richard Sherman introduces the song telling a little bit about it and then plays the song through twice for when Duchess and Madame were to sing it. It is played through with storyboard drawings and other pictures. This feature lasts just under eight minutes.
Music & More – Check out all of the songs one at a time or listen to them all in a row. There is also an option to play the film with the lyrics onscreen so you can sing along.
Disney Virtual Kitten – Basically what you do here is pick one of four kittens, follow the instructions on screen, and play with it. It is cute, but gets old really fast.
The Aristocats Fun With Language Game – This is a musical trivia game where you have to match instrument sounds to their names and such.
The Sherman Brothers: The Aristocats Of Disney Songs – The duo sit down for four and a half minutes to discuss how they came about creating the songs for the film and show how they were finalized into the film.
The Aristocats Scrapbook – This is an extensive collection of still frames from the film, deleted scenes, promotional items, theme park characters, and much more.
The Great Cat Family(Excerpt) – Here is a short from the old Wonderful World Of Disney show that used to air many decades ago and was hosted by the man himself, Walt Disney. It doesn't necessarily have anything to do with the film, but it has Walt doing a story on the lives of all types of cats.
Bonus Short: Bath Day – One of the old school Disney cartoons showcasing Figaro the cat (from Pinocchio) getting a bath from his owner, Minnie Mouse. It is cute and really took me back in time because I remember watching the Disney Channel for hours and hours when these types of cartoons are mostly all they played.
Trailers – 101 Dalmatians: Special Edition, Wall*E, Sleeping Beauty, Snow Buddies, and
The Inside Pulse
As for being one of the most well known, but least watched, Disney films ever; it's due time that The Aristocats get their justified viewings from animation fans young and old. It is a great film that can be watched over and over again without getting old simply die to the replayability that all Disney films have. The advantage here is that the music is just so damn catchy that it will have you tapping your feet and swaying your head as the jazz sounds fill your living room. The special features included add a lot more to the experience and really make this re-release well worth the purchase price even if you own an older version of the film. Disney is simply doing what every other DVD producer does and creates new versions, but the thing is that the value is always there with Disney. You're not just purchasing new cover art and a remastered film, but one that got a boatload of new extras thrown on top of it. Add this to your collection and enjoy your day humming along and believing that "everybody wants to be a cat."
The DVD Lounge's Ratings for The Aristocats: Special Edition

CATEGORY

RATING

(OUT OF 10)

THE MOVIE

8.5

THE VIDEO

9

THE AUDIO

9

THE EXTRAS

7

REPLAY VALUE

8

OVERALL

8

(NOT AN AVERAGE)