Transformers Review: Micron Booster 4
|
Fembots & Autobots, Femcons & Decepticons, leeeeeeeeeeeeeet's geeet reeeeeeeaaady to revieeeeeeeeeeeeeeew!
Transformers Micron Booster review: Micron Booster 4
Size: Minicon
MSRP: 50$ for a sealed box, 30$ for each chase figure
OUT NOW
A TF review written exclusively for Inside Pulse by Rikkomba
Yeah, I know, I don't believe it myself. Another TF review on Insidepulse. Amazing, ain't it? Kaye is married man, Charles a not so married man… and who's still around to hold the TF flag on IP? Your faithful Rikkomba, of course. Dudes, come on, I could have used some email like "Dear Rikkomba, please write another email very soon, my life sucks without your wonderful reviews". I mean, if you ever thought of something like that you should really get shot. Immediately. By a rabid mutant hamster. Yep.
Collecting Minicon exclusives is like having orgies, you never know what's next but you know your ass will pay the consequences.
Yeah, because even Italian collectors have a heart too. And a wallet, though for some people I know the latter is the same as the former. Strong Euro? Weak American dollar? Don't worry, international sellers paid me a courtesy and raised the prices accordingly. Bah. Amazing, I am reviewing an item that I bought in August 2007… why the delay? Well, basically… ehr… you know… Hillary, Obama, lots of problems here and there, the international contingencies… Yeah.
Micron Booster 4 is actually the fifth. The first one was called Micron Booster v0. That's premeditation!
At the end of last summer, to add some meat to the Japanese Movie toy line menu, several Classic Minicons got repainted and sold as store exclusives. I already reviewed most of those microns, so give a look if you want. Among the remaining microns are those included in Micron Booster v4.
Thanks to Tformers.com I was able to get a list of names for these little robots. Because they are repaints of very simple TFs I won't focus too much on the engineering, we already know that Classic minicons experimented a lot in the way of new transformation schemes and odd proportion, yet delivering some coolness here and there… SOME coolness, however.
RADROGE
Radroge (Roadrage? Whatever)is a straight repaint of Classic Strongarm (Night Rescue Team, wave 1). As you can see from the pictures, only some details vere changed from the US release of this mold, nothing major.
(CLEAR) RADROGE – chase figure
This clear version of Radroge is one of the 2 chase figures of this set and the most common one. You should find at least a clear Radroge in every sealed Micron Booster 4 box, while to get the other chase figure your chances drop to 1 figure every 2 boxes. They are not so expensive or rare, anyway, I wouldn't pay more than 30$ for each of them.
I really dig this version of Radroge, I think the time has come to get a Micron Booster 5 with only clear microns inside. I mean, Cybertron Shadow Recond Team showed us the path to Coolness, HasTak should just follow it!
REFUSER
Refuser is a green repaint of an already green minicon, Classic Wideload (Demolition Team, wave 1). Its face is still unpainted, while some purple detail has been lost. Oh, my.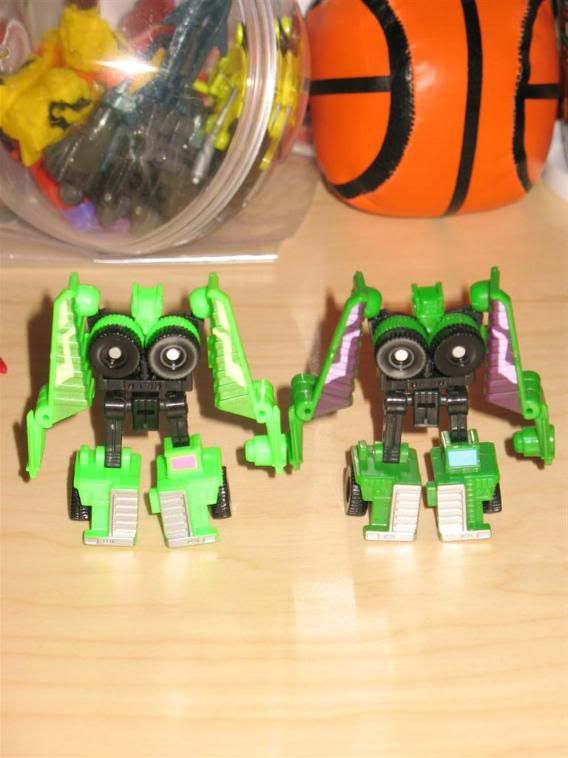 ROCKBLADE
Rockblade is an evil repaint of an already evil minicon, Classic Sledge(Demolition Team, wave 1). Interestingly enough, The latter could really pass as an Autobot, because of the opposite choices for colors. Quite appropriated for a 'Con, I'd say, it would be nice to get someday a larger Decepticon toy with a similar color scheme.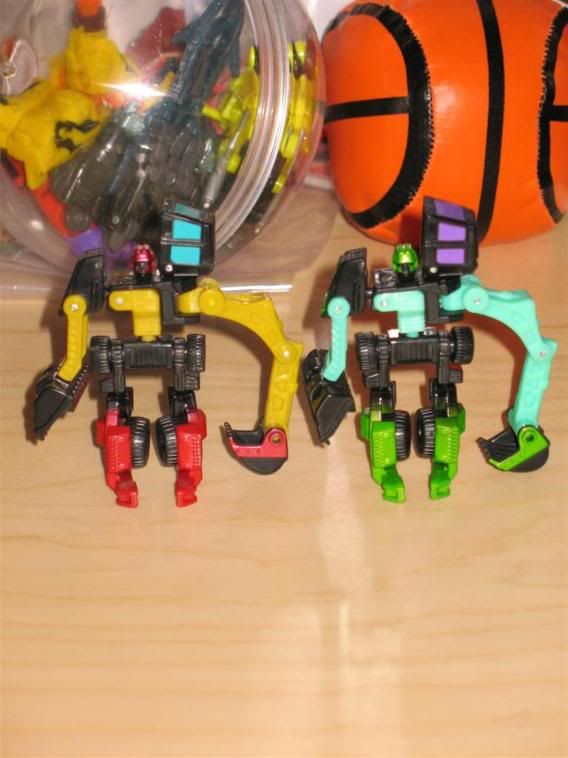 GREDATOR
APEXIS
Gredator and Apexis, as repaints of Classic Overbite and Snarl (Classic Predator Team, wave 2, respectively, have already been covered in Wedgeshape's review, check it out if you want to know more about these two.
WINDLASER
Windlaser is a straight and, let me say it, poor repaint of Classic Dirt Rocket (Dirt Digger Team, wave 2). The American release was yellow and black, while Windlaser is mostly pink and black. It seems a shade or pink having lots of orange in it, or whatever, as you may have guessed having read some of my past reviews. By the way, it still sucks, even by minicon standards.
REPTICS
Reptics is a repaint of Classic Swoop (Dinobot Team, wave 1). According to TFCC profiles, this TF should be no less than G1 Swoop in a new body! Instead of red and gray we get two different shades of red for this tiny legendary dinobot. No big deal.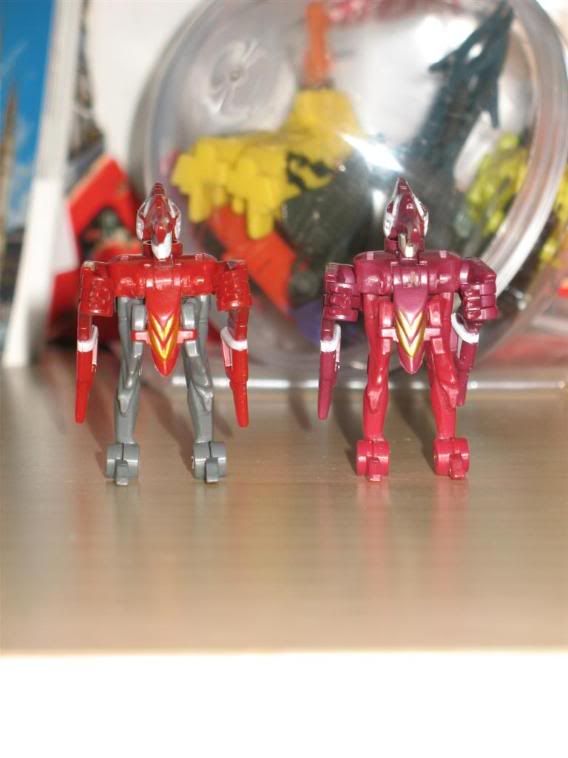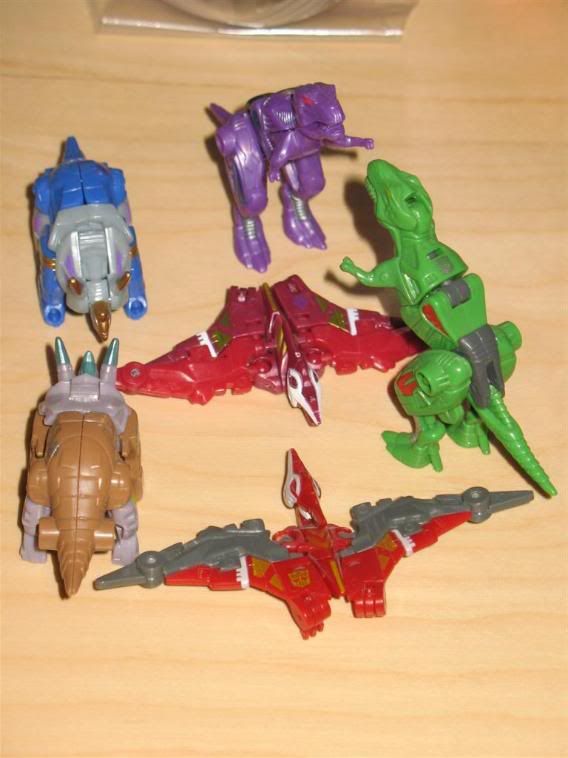 NASHTOOTH
Nashtooth is a purple BW Megatron-like repaint of Classic Terrorsaur (Dinobot Team, wave 1). Those red eyes really show the evilness inside this mold, and the metallic blue details help a lot. Definitely the best repaint of the bunch.
(Chromed)NASHTOOTH
This purple chromed version of Nashtooth is the other chase figure of the set, supposed to be limited to 1 every 2 boxes or 24 microns. These colors seem to homage Transmetal Megatron, which is always a good thing. Spectacular micron if you ask me, but I still like its regular version more.
Collecting Minicon exclusives is like having a wife, you never know how much it can hurt your wallet until it's too late.
Well, considering the overall laziness in repainting these Classic minicon molds, I guess we should think of this Micron Booster as a first, regular Japanese release, instead of seeing it as the usual dozen of expensive minicon repaints. The presence of 9 regular figures and 2 chase figures, instead of 11 figures and a single chase as in Micron Booster 1, 2 and 3 bothers me, anyway. I like both chases, but I really don't understand why the number was dropped to 11. That sucks.
And if you noticed I deliberately ignored the repaint of the Classic Triceratops dinobot, because it sucks SO badly in both its original brown and repainted blue forms. I don't even want to remember that I own one. OMG, mercy!
Overall, I give to Micron Booster 7 out 10 Energon cubes. Without the 2 chase figures, it could have been a 5 out of 10 cubes, anyway.

I'll soon review something nice and sweet. Yeah. Meanwhile, when you have some time to spare drop by to leave a comment in my new blog, http://transformersarmada.blogspot.com; that's mostly used for pictures, I'll keep reviewing TFs here, so don't worry.
Until next time, take care, my fellow TFans.
Rikkomba
Tags: IDW, Transformers