We have a full roster once again! Monday-Thursday is back to having MTV goodness. We're singing, dancing, breaking world records, winning money, stirring up drama, and making out with random people this week. But what else is new. It's an all new mix, so enjoy it…
SHOW REVIEWS
MONDAY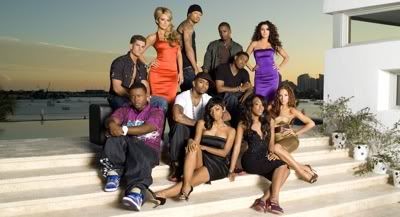 Making of the Band 4
It's time for them to get to singin'! All three bands and/or artists work on their next songs for their respective albums. The guys sing a song called "I Just Had To Talk To Her". Danity Kane sings a song called "Poetry". Donnie still works on "I Don't Care".
Robert gets mad that his part of the songs aren't made for his voice. He thinks they fit Willie's voice better. Willie is just along for the ride and is just happy to be in the band. The guys and girls get swarmed by various fans on the streets.
Love connection time. Qwanell and Robert ask out Dawn and D. Woods. The girls then "google" the boys to find out dirt on them. Apparently Robert already has a woman. That leads to D and Robert yelling at each other and that allows Qwanell and Dawn to go out together by themselves. Finally the yelling stops with no real resolution.
Robert gets more frustrated. He gets picked last to sing. Willie thinks they should talk to him about this. But that talk doesn't come just yet. The girls think that the guys don't have an identity yet. Diddy is the judge and jury, though, as he listens to the songs they have been working on.
Eventually the talk comes with Diddy. Brian says that Robert was walking around acting like the leader of the group. Robert says that is not true and Diddy confirms that. He thinks Robert has some "bitch-assness" in him. Yep, that's a word. That won't be tolerated at Bad Boy Records. If he can't work with the group, that hurts the whole record. Robert feels betrayed that they called him out in front of Diddy.
Only one thing can help them now. They all go to church to get "refreshed". The dancing and singing erupts and everyone "feels" it. After church, the pastor and choir director want Robert to come up and sing some gospel music. Robert has faith in the group now and is ready to make music with the rest of the guys.
TUESDAY
Life of Ryan
Only one real main topic to discuss this week. Ryan is busy with all his skateboarding stuff. He does photo shoots and competitions in the Bahamas. Must suck for him. But what really hurts him is being away from Kayla.
Ryan has to miss her birthday, but he promises to make it up to him. He takes Kayla out when he gets home. Ryan finally asks Kayla if they are "together" and she says "yes". So mystery solved and that's all you really need to know from this episode so lets move on…
Rob & Big
Rob gets a copy of the 2008 Guinness Book of World Records. He finds all the skateboarding stuff and thinks he can break all of those records. Big sees all the food records and thinks he can break all of those. So they both attempt to do just that. Stuart Claxton is here, of course, to make the records official.
Big attempts the record of "eating more than two bananas in one minute". That is peeled and eaten. Big easily beats that and he sets a new record of "Most Bananas Eaten in One Minute". Next is the powdered donuts. He has to eat more than four in under three minutes. He can't lick his lips and these are jumbo size donuts. That means his mouth will be extremely dry throughout. But Big gets another record in "Most Powdered Donuts Eaten in Three Minutes".
Rob's turn now. The most important skating record for Rob is the "longest board slide", which is 21 feet. But he goes for the ollies record first. Rob is the new record holder of "Most Consecutive Ollies on a Halfpipe" with 46. Next, he gets the world record of "Most Ollie Big Spins" with 12. Then, he gets "Most Consecutive Nollie Kick Flips" with 73. Next, is "Most 30 Kickflips in One Minute" with 12. That is followed by "Most Nollie Kickflips in One Munute" with 22. Down goes the "Most Heel Flips in One Minute" with 15. Say goodbye to the "Longest Stationary Manual" record with 49 seconds. Next, is "Most Switch Frontside Kickflips in One Minute" with 9. Getting knocked out next is "Most Consecutive Ollies" with 215. That is not all of them, though, as Rob has broken 19 world records.
But Rob wants 20. So here comes the big one. Rob says if he doesn't make this record, the the whole day is for nothing. Rob finds a long stretch of rail in a park and attempts the record. And he has done it! Rob is the new record holder of "Longest 50-50 Rail Grind" with 100 feet and 5.75 inches. But just to add a cherry to everything, Rob sets another record. This one is "Longest Board Slide", which is again 100 feet and 5.75 inches.
A week later Rob & Big get their framed plaques with all the records they broke. Not the funniest episode ever, but there was lots of skateboarding in it so there you go. Still a solid third season so far…
WEDNESDAY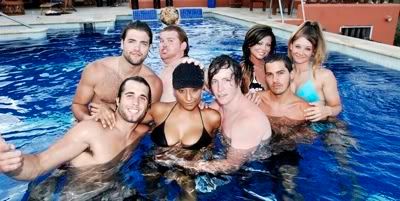 Real World/Road Rules Challenge: The Gauntlet III
Pay close attention to the opening of this episode. You will see it come back again in the end. Brooke and Ev are already fighting. Just like a regular couple. Ev thinks Brooke was just looking for publicity when she made out with her.
Time for the next challenge! It's a female elimination day! This challenge is called "Wring Out"! You have to run out to the ocean and soak your clothes with water, and then your teammates will pull the clothes across a line to a bigger bucket where the water will be wrung into a big bucket that has to be filled before there is a winner declared. The rookies are motivated to win this, since they have lost the first 3. The veterans seem overconfident here, which probably means they lose. Brooke calls Johanna a bitch. And I was wrong! The foreshadowing with Brooke took over more than the later foreshadowing. In the end, The Veterans win this one more time!
Time for the veterans to pick who goes into the gauntlet and who gets protected. The Veterans "protect" Tori and throw Jillian into the gauntlet!The Veterans think that Brooke can beat Jillian. So it's a no-brainer that the Rookies pick Brooke for the gauntlet.
The next Gauntlet will be called "Ball Brawl"! Jillian vs. Brooke. One love interest will be going home again. Odds are that Brooke will be going home, unless they want to swerve us and drag out the drama more. In this gauntlet, they have to run and grab the same five balls and score the most points. Anything goes in this. Brooke is slow, so it's pretty obvious here. Jillian easily gets the first and second balls, but Brooke gets the third ball. All part of her strategy, though. The fourth ball is all here and Jillian wins! Brooke is gone as predicted! Thanks MTV!
Goodbye kisses for Ev from Brooke. Good lord! Evan says that Evelyn is pissed that Brooke is gone and that can only be good for the veterans. Time to party some more. Oh, it' Katie's birthday party. We finally find out why Zach's head is shaved. They tied him down and shaved his head! Awesome! John and Casey run around naked in the closet and make out! Nice! Kenny is pissed that he missed that. Now Tyrie finds out that his girlfriend is having heart problems and may need surgery. His girlfriend wants him to stay in Mexico, though, so he does that for now. Could be a big blow to the rookies and probably is another foreshadowing moment you should pay close attention too.
Time for the next challenge! It's a male elimination day! This challenge is called "Blind Man's Maze"! One person on the team is the "eyes of the team". They will guide their team to the center of this maze, while they are blindfolded. First team to get all members across the finish line wins. Luckily for the rookies they have a BIG advantage going into this challenge. They have four less team members to get across the finish line so they should win here. And they do! In the end, The Rookies finally win one!! 4-1 now!
Time for the rookies to pick who goes into the gauntlet and who gets protected. Most of the rookies want CT. Tyrie wants Brad, which pisses off Tori! The Rookies eventually "protects" Adam and throws Evan into the gauntlet! The Veterans eventually pick John thanks to some manipulation from Eric, CT, and Brad. They said Evan "called out" John, which John swears is a lie. But John it is. Foreshadowing alert!
The next Gauntlet will be called "Sliders"! Evan vs. John. They have to slide pieces of a puzzle together to make everything fit. Simple enough and eventually Evan wins. John's yelling didn't help him here. John is gone! Another tearful goodbye to another love interest as Casey says goodbye to Johnny. Casey believes that she will see John when they both get home, though. Tyrie is still thinking about his girlfriend and we get ANOTHER elimination! Tyrie volunteers to leave the show to be with his girlfriend!
THURSDAY
Randy Jackson Presents: America's Best Dance Crew
This show is similar to Celebrity Rap Superstar in terms of how I will recap this show. Meaning not much recap needed, since you really have to see this show to enjoy it. Here is the premise of the show, though. Nine dance crews have won the right to compete against each other for $100,000 and the title of "America's Best Dance Crew". Randy "Dawg" Jackson, is the executive producer and Mario Lopez is the host. The three judges are Shane Sparks (acclaimed hip-hop dance choreographer), JC Chasez (N' Sync member), and Lil Mama (hip-hop superstar).
This week each group will perform their own dance routine to a remix of their favorite song. Here is how it went down:
– Live In Color danced to a Sean Paul song.
– JabbaWockeeZ danced to an "Apologize" remix from One Republic.
– Fysh N Chicks danced to a "Wind Up" remix.
– Live in Color get saved by the judges in the first round. They will be moving on to next week for sure.
– Status Quo danced to "Thriller" by Michael Jackson among other odd songs.
– Femme 5 danced to "Do It Well" by J-Lo.
– Enigma Dance Kru danced to "I'm So Hood".
– Status Quo get saved by the judges in the second round. They are on to next week.
– Iconic danced to "Cyclone" by Baby Bash.
– BreakSk8 danced to "Get It Shawty" by Lloyd.
– Kaba Modern danced to some song I don't know and can't spell.
– Kaba Modern are the final team to automatically advance to next week thanks to the judges.
– Now the judges pick the bottom two dance crews from the remaining 6. They pick Iconic and Engima Dance Kru to be in the bottom two. They dance battle to a live performance of "Low" by Flo-Rider.
– In the end, Iconic wins the battle and that means Enigma Dance Kru is the first crew eliminated!!
And that ends the 68th volume of the "MTV Mix"! If you have any questions, comments, suggestions, or feedback of any kind..send them my way!!
I'll see you next time when we mix things up a bit!
Sir Linksalot: Reality Television
Tags: Life of Ryan, Making the Band, MTV, Real World/Road Rules Challenge, Rob & Big