ER: The Complete Eighth Season – DVD Review
|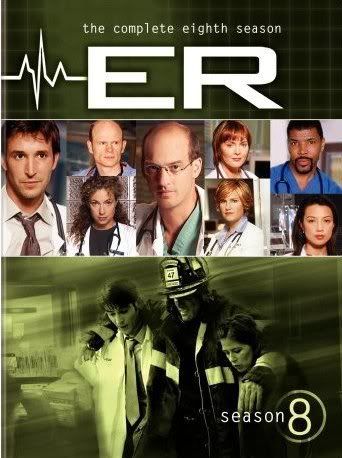 Available at Amazon.com
Creator
Michael Crichton
Cast
Noah Wyle………Dr. John Carter
Laura Innes………Dr. Kerry Weaver
Laura Céron………Nurse Chuny Marquez
Anthony Edwards………Dr. Mark Greene
Eriq La Salle………Dr. Peter Benton
Goran Visnjic………Dr. Luka Kovac
Maura Tierney………Nurse Abby Lockhart
Sherry Stringfield………Dr. Susan Lewis
DVD Release Date: January 22, 2008
Rating: Not Rated
Running Time: 981 Minutes on 6 discs
List Price: $49.98
The Show
Warning: There are spoilers in this review for those who have never seen this season or any past it!
The entire crew of the most famous emergency room in all of TV history continued to grow as a really big dysfunctional family into season seven, even though some knew their time was coming to an end. A lot of the actors saw their personas progress while others watched as they shot off into entirely different directions. And with a cast of close to twenty main characters, ER continued showcase each one with their own plot line and enough time to make them work.


I wrote that for my review of ER: The Complete Seventh Season and oddly enough, it stands true for the eighth season as well. A lot of the characters, and there are plenty of them, are involved in all of their own lives and the show makes it a point to check each one of them out individually. It's strange to say, but the only time you ever see most of them interact with one another is when they are in the emergency room hence the appropriate title for the series. Yet there is one big difference this time around and that is season eight has one of the most heart wrenching episodes in the history of television.
Dr. Mark Greene has been a part of the Chicago-based emergency room staff since day one, and we have followed his life and career season by season. We've seen his humorous side, his serious side, his loving side, and so much more. His relationship with Dr. Elizabeth Corday has blossomed to huge heights and watched as the newlyweds welcomed their first child into the world. The complications with his brain tumor have gone away and his health has returned, but now new troubles have come about. His teenage daughter from his first marriage has a falling out with her mother and she moves in with him and Liz. Her simply being a normal teenager is causing a strain in the couple's relationship and making problems in their household. If matters weren't already bad enough, Mark's tumor has returned and now there is nothing that can be done.
Mark realizes his time is extremely limited and the moment when one of ER's favorite characters will leave forever is drawing near. He knows that things must be set right in his life with Elizabeth, his children, and all those he has ever known. ER's eighth season gives a lot of drama and plenty of storylines to focus on, but this is the one that will capture everyone's heart. Dr. Mark Greene has been a staple on ER since its inception and to know he will no longer be in control of the emergency room is a hard concept to grasp. The episode entitled "On The Beach" is even harder to stomach as his last moments are seen and we all say goodbye to a friend.
Control of the ER has been handed over to Dr. John Carter who already has plenty on his plate to begin with. His love for Nurse Abby Lockhart is growing stronger now since they have ended up together once her relationship with Dr. Luka Kovac is over with. Carter is still stressed out by how close they are, but he causes troubles of his own when the ER sees Dr. Susan Lewis return after time away and things get hot between them. Carter is now in the lead on ER and it is truly evident. Dr. Greene's imminent death pushed Carter to the forefront as the audience had to get ready for a complete change in management, and the transition in the season finale went much smoother this way.
Susan's return, Dr. Greene's death, and the constant love drama are just a few of the things you'll see in the eighth season. One of the most noticeable faces Dr. Peter Benton decides to leave the ER for good, and thus turns Carter's life upside-down yet again. One of his friends and virtually the person who took Carter under his wing, Benton must do what is right for his family and needs to no longer be away from them for five to six days a week. Some new faces make their way into the hospital while familiar characters depart (both by death and pink slips). It is a topsy-turvy season that doesn't let up for a minute, yet shows respect when it is due.
ER continues to truly travel down the pathways of being able to tell multiple storylines all at one time without ever neglecting any of them. A hospital emergency room is full of drama, diseases, sorrow, happiness, drugs, grief, chaos, and every other possible thing in between. A television series could be created about only what happens there and go on for thirty years or even longer without possibly cracking the surface of new episodes needing to be made. ER takes all of that and also brings in the personal lives of close to twenty main characters yet still knows how to give them all the attention they deserve. This is the big reason why it is currently in its fourteenth season and shows no signs of slowing down.
Episodes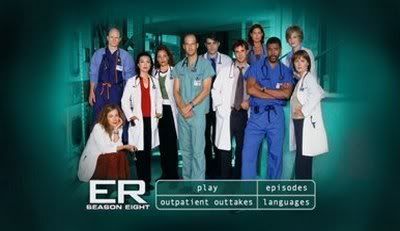 Disc One:
Four Corners
The Longer You Stay
Blood, Sugar, Sex, Magic
Never Say Never
Disc Two:
Start All Over Again
Supplies And Demands
If I Should Fall From Grace
Partly Cloudy, Chance Of Rain
Disc Three:
Quo Vadis?
I'll Be Home For Christmas
Beyond Repair
Disc Four:
A River In Egypt
Damage Is Done
A Simple Twist Of Fate
It's All In Your Head
Disc Five:
Secrets And Lies
Bygones
Orion In The Sky
Brothers And Sister
Disc Six:
The Letter
On The Beach
Lockdown
The Video
The episodes are seen in an Anamorphic Widescreen format just as they were when they first aired and all looks great. The colors are bright where they need to be and the shadows cast great darkness for the more gloomy situations.
The Audio
The episodes are heard in Dolby Digital 2.0 Surround Sound and sound fantastic. The use of the surround sound is excellent as every single beep of a machine or gasp for air can be heard from all sides as you watch the action on screen and pay attention to the main conversation. Never too loud and not too soft, everything comes through perfectly.
Special Features
Outpatient Outtakes – These are the deleted scenes and thankfully this set puts the scenes directly with the episodes they belong to. I don't know how many television DVD sets have deleted scenes all together in the special features section, but then you have no clue to which episode they're from. Fourteen episodes have these scenes and a few could have been left in to give even more background information on some characters while a few were just random little scenes with no real relevance.
Cutups – Thirteen minutes of your busted scenes, constant laughing, and flubbed lines. These are rather amusing and will have you cracking up a lot of the time. One thing I noticed though is that you shouldn't spend a time searching for this gag reel on disc two as the packaging advises. The feature is located on disc three.
The Inside Pulse
If you like ER and have been watching it for a long time, then you are going to want to pick this up now. For those who have never watched the show before, your first and only option is to go pick up the first seven seasons and watch them quickly so you can get to this one ASAP. I was never a fan of the show before first reviewing season six some time ago. It turned me into an instant fan and catching up on all that I had missed was a must. Season seven was a definite for me to review and now season eight is the best yet. It just keeps getting better and better and eventually I'll be caught up to watch the show each week when a new episode comes on. The special features aren't much even though the gag reel was extremely funny, but it's not like you need a lot of extra stuff considering how much you get through an entire season. ER is the premiere medical drama on TV yesterday and today. I know many say Grey's Anatomy is, and it deserves credit because it is an excellent show. But ER? There's no better way to get closer then to slice open your stomach and end up on the operating table personally.
The DVD Lounge's Ratings for
ER: The Complete Eighth Season

CATEGORY
RATING(OUT OF 10)
THE SHOW
10
THE VIDEO
7.5
THE AUDIO
7
THE EXTRAS
4
REPLAY VALUE
9
OVERALL
9(NOT AN AVERAGE)
Tags: E.R.