More of the same this week, and that's not necessarily a bad thing. You know the drill. You want your MTV and you want it now! You've come to the right place. Enjoy another FRESH mix…

SHOW REVIEWS
MONDAY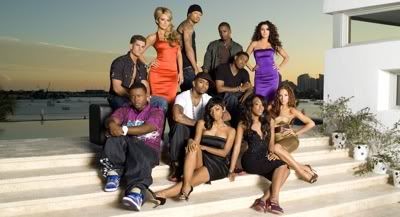 Making of the Band 4
More singing and more even more critiques from Diddy. He thinks Da Band and Donny need a lot of improving with their songs. He likes Danity Kane's song, though. Diddy then tells them that all three groups will have same track/beat that they have to write a song to. It's competition!
Everyone thinks their song is the best. Aubrey's smug attitude is not that cute anymore. "We're Danity Kane!" Attempted spying occurs, but nothing too serious. Later, Qwanell and Robert can't sleep so they put stuff all over the rest of the guys. Mike retaliates and Donny is just trying to figure out what happened. Oh, it looks like Donny is not in this "track battle" competition.
In the end, Diddy like either track. He thought they were both just average and not "hit records". They are shocked. Conrad, the A & R rep, then tells all the guys that they have to stop recording and undergo extensive vocal training. Diddy feels like the guys are not ready to record an album as a group right now.
The guys sing with their vocal coach, Ankh Ra, for about 12 hours. It's grueling. Meanwhile, the girls eat cake and celebrate their success. Later, the the boys prepare for their first performance together as a group. It's for the Philadelphia Boys & Girls Club. They feel unprepared, because they didn't get a full sound check. But Danity Kane goes first to lead the way for them. In the end, everyone did a decent job in their performances.
TUESDAY
Life of Ryan
Ryan fights with his dad, then makes up with him. He really just wants to have a happy family again. He's bummed that his parents are divorced. Kayla's parents are still together. Nothing spells fun and father/son time like shooting guns at a range.
Meanwhile, Tony is getting jealous. He is starting to feel like a 5th wheel with Ryan starting to spend more time with Kayla and Casey and Taylor being together. Tony responds by making jokes at Ryan's expense and Ryan doesn't like it.
Ryan and Tony eventually chat about their issues. They both agreed that they had a lot of fun when they were both single. Ryan says that won't change now that he has a girlfriend. Ryan reminds Tony that he was once a 5th wheel at one time when Tony had a girlfriend and he didn't. All is good there and Ryan and his brothers have dinner at their dad's house with Christi, Ryan's dad's girlfriend. All good there as well.
Rob & Big
Big Black eats this ginormous donut to start us off. That leads to a "serious" discussion of Big telling Rob that he doesn't know what it's like to be a man of his size. Big can't even get off the couch without some trouble.
Rob & Big decide that Rob should undergo some Hollywood makeup and wear a "fat suit" for a day to see what it's like to be as big as Big. Say hello to "Big Bob". Rob is not only fat, but he is like 8 foot tall! Rob can't believe how many people are staring and laughing at him as a "big guy".
Now for the biggest challenge yet. Big wants "Big Bob" to ride a skateboard. Drop into a vert ramp to be exact. Big tried to do it and he busted his ass, so lets see what the professional can do. "Big Bob" takes a nasty spill and falls on his head. Rob says he will never ask Big to ride a skateboard again.
Much respect and love from Rob to Big for what he has to go through on a daily basis. On a special gift to Big after opening Rob's eyes, Rob gets Big a recliner chair with a toilet inside of it. So basically it's a bigger toilet for Big to sit on. Too funny.
WEDNESDAY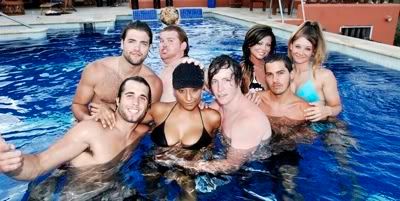 Real World/Road Rules Challenge: The Gauntlet III
Johanna, Janelle, and Tori chat about who could be going into the gauntlet next. Frank and Adam do the same. Frank believes that The Real World: Austin have a strong alliance in this game so he thinks Jillian is a target once again. Diem and Ev say that losing a female on their team wouldn't be that bad of a thing. Tyrie had to leave for family issues, so the rookies get a replacement. It's MJ from The Real World: Philadelphia. It's tall and athletic. The veterans looked pissed!
Time for the next challenge! It's a female elimination day! This challenge is called "Push It"! They push a jeep on some wooden planks across the sand. Both team seem to have the same strategy: "push it until you can't push it anymore, and then cheat!" MJ is basically pushing the car himself. That baffles Casey. The veterans are losing until they bend the rules and just push their jeep across the sand! The Veterans win again.
Afterwards, though, Melinda is hurt. She got whacked in the head by a board and has to go to the hospital. Danny and Melinda hang out there. But back at the beach, it's still time for the veterans to pick who goes into the gauntlet and who gets protected. The Veterans "protect" Johanna and throw Janelle into the gauntlet! They do this because they think Janelle will pick Jillian and one of those J's will be going home! Frank argues for Jillian, but it didn't work. Three times in a row for her!
The next Gauntlet will be called "Ball Brawl"! Jillian vs. Janelle. Jillian did this exact gauntlet last time and I'm leaning towards Jillian winning this again, but it's 50/50 on the foreshadowing angle. In this gauntlet, they have to run and grab the same five balls and score the most points. Anything goes in this. Janelle is bigger, though, and she gets the first ball. Jillian ties things up next. MJ doesn't like Frank's loud cheerleading. Jillian is up 2-1. That is it! Jillian wins and my predicting continues to be flawless! Janelle is gone!
Melinda is back and she had a concussion and dehydration. Frank is just pissed at the entire city of Austin, TX! CT inform MJ that they are going to start getting rid of their girls to "trim their fat". The rookies feel like they have a strong team now with "zero fat". Frank and Jillian make out in some closet where the veteran guys can see them.
Time for the next challenge! It's a male elimination day! This challenge is called "Man Overboard"! Basically, they have to get all of their team members across this ledge and pulley system one-by-one. Casey hates heights, but this is not THAT high. Melinda decides she can't do this challenge with a concussion, which only hurts her team. This is a fun challenge. Vicious falls into the water, rope burns, people peeing on their selves, and did I mention ugly falls into the water! Evan and Kenny liked dumping their "dead weight" off of this platform thing. In the end, the veterans pull it out once agin! The Veterans lead 6-1 now!
Time for the veterans to pick who goes into the gauntlet and who gets protected. MJ and Nehemiah are discussed. Frank as well. The Rookies "protect" Ryan and throw Frank into the gauntlet! Frank wants to face Zach, so that's that.
The next Gauntlet will be called "Sliders"! Frank vs. Zach. They have to slide pieces of a puzzle together to make everything fit. We saw this last week as well. Frank SHOULD be going home here based on foreshadowing. This is all mental, which Frank doesn't like. In the end, Frank wins and Zach is gone! Dang it! The veteran guys continue to chat about getting rid of their girls. They want to get rid of Beth, Robin, and Katie first. They are going to throw the next mission. At least Kenny and Evan say they will.
THURSDAY
Randy Jackson Presents: America's Best Dance Crew
This week each group performed their own music video to a popular song:
– Kaba Modern was one of the "top four" last week and they danced to Chris Brown's "Wall to Wall".
– Live In Color was the second team to be in the "top four" and advance on. They danced to "Hey Mama" by The Black Eyed Peas.
– JabbaWockeeZ was the third team to make the "top four" and they danced to "Ice Box" by Omarion.
– BreakSk8 made rounded out the "top four" and they danced to "Get Up" by Ciara.
– Now we go to the "bottom four", but only two crews will be in the "bottom two" to face elimination. Those crews will be Fysh N Chicks and Femme 5.
– Iconic is safe for another week, but they still get to dance to "Kiss Kiss" by Chris Brown w/ T-Pain.
– Ditto for Status Quo, but they still go to dance to "You Can't Touch This" by MC Hammer. Old-school baby!
– Fysh N Chicks are the first to make their case to the judges for them to advance on for another week. They danced to "Freekum Dance" by Beyonce.
– Femme 5 are the last team to dance and they danced to "Hollaback Girl" by Gwen Stefani.
– In the end, the judges decide to save Fysh N Chicks and that means Femme 5 is the second crew to be eliminated!! I agree with that decision for the most part.
And that ends the 69th volume of the "MTV Mix"! If you have any questions, comments, suggestions, or feedback of any kind..send them my way!!
I'll see you next time when we mix things up a bit!
Sir Linksalot: Reality Television
Tags: Life of Ryan, Making the Band, MTV, Real World/Road Rules Challenge, Rob & Big