Ring Of Honor DVD Review: Caged Rage 08/24/07
|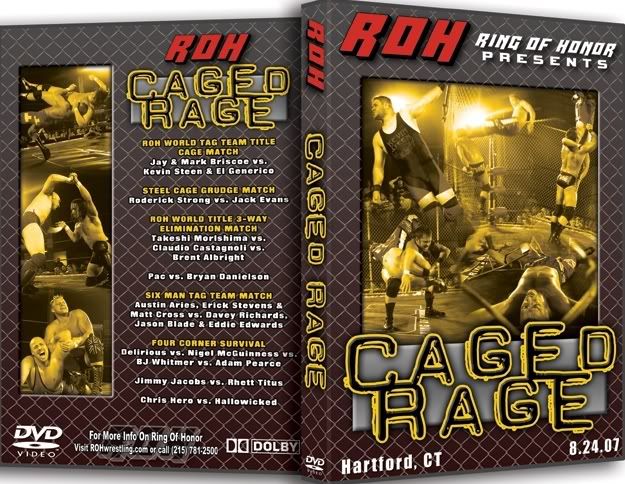 Available at ROHWrestling.com
Featuring:
Jack Evans
Roderick Strong
Pac
Bryan Danielson
The Brisco Bros.
Jimmy Jacons
BJ Whitmer
Adam Pearce
Matt Cross
Davey Richards
…and many more
Rating: Not Rated
Running Time: 180 Minutes
List Price: $20.00
The Event
Hartford, Connecticut saw the sheer talent of all those in Ring Of Honor invade the squared circle on August 24, 2007. The steel cage would be the centerpiece at this event for the two main events featuring a grudge match between Jack Evans and Roderick Strong while the second pitted the brutal Briscoe Brother against El Generico and Kevin Steen. Cage matches are really horrific to watch these days as they are incredibly bloody and some of the roughest matches that someone can participate in, but they just don't quite give me the same "big match" feeling they used to. Perhaps I'm old school, but I miss the days of being able to win a cage match strictly by escape. Allowing pins and submissions kind of just makes them into regular matches that end up with a lot of brutality. None the less, this night in ROH delivered what they promised and that's a helluva lot of rage.


~ Chris Hero vs. Hallowicked – From what I've learned, this match was taped for ROHvideos.com and without commentary so this wasn't going to be much and it wasn't. Hero was impressive and did some nice moves and such, but Hallowicked just kind of took it with the occasional comeback here and again. Not much, but it was just the opener.
~ Jimmy Jacobs Vs. Rhett Titus – Jimmy Jacobs is making his return here after a lengthy absence due to injury and Titus is confusing me as to the odd spasms he keeps doing. Jacobs starts out looking like he could simply destroy Titus and I wish he would have thanks to Titus' dumb gimmick, whatever it may be. There is offense from both participants, but it just isn't very believable ever that Titus could get the wind whether Jacobs had a bum knee or not.
~ Four Corners Survival: Delirious Vs. Nigel McGuinness Vs. BJ Whitmer Vs. Adam Pearce – Here is a match that only has two men in the ring at a time and all the participants can tag in anyone at any time. This match is surprisingly short, but you won't have a second to rest as the action is constantly moving. McGuinness has some of the best clotheslines (lariats) I've ever seen in wrestling period. The ending is just insane and you'll find it hard to keep up with everything going on, but you certainly won't be disappointed.
~ Six Man Tag Team Match: Austin Aries, Erick Stevens, & Matt Cross Vs. Davey Richards, Jason Blade, & Eddie Edwards – Ok, bear with me ROH fans because I don't know everything about the promotion yet. There are some stipulations here and they are: If Matt Cross or Erick Stevens are pinned, then they will be replaced in The Resilience by whoever pins them. If Austin Aries is pinned, then The Resilience will break up altogether. Alrighty then, moving on.
This is another match that is all over the place, but I loved it. The Resilience is fighting to stay together while the other team wants them to disband at all costs. Matt Cross I think impressed me most here because the guy has no concern for his body's own well-being. It is a well-paced match with a lot of strategy and an ending maneuver that is just cool as hell. It looks like some kind of triple team variation of a double stomp and a TKO (my favorite finisher ever).
~ Pac Vs. Bryan Danielson – So far in my life, this is the fourth Bryan Danielson match I've seen and he is just a beast in every one of them. Not a bad match, but rather one-sided and lasted way too long for such a lopsided contest.
~ ROH World Title 3-Way Elimination Match: Takeshi Morishima (c) Vs. Claudio Castagnoli Vs. Brent Albright – Elimination stipulations in triple threat or four-way dances is the best way to go in my opinion. It allows for some fun brawling to start and then when decision time comes, only two remain. Morishima is amazing in my eyes and Albright continues to impress me since his days in WWE as Gunner Scott. I think this match could have gone even better with about five more minutes, but it still was fantastic and needs to be seen by all. Thumbs way up here.
~ Steel Cage Grudge Match: Roderick Strong Vs. Jack Evans – Wow, just wow. Strong and Evans used every inch of that cage in order to inflict pain on each other. There were even more moves introduced to me in this match and I really don't see how they can be pulled off by any human being alive. There is one move pulled off by Evans that I don't know the exact name of, but he jumps off the top of the cage and delivers double knees into the face of Strong who is caught in the tree of woe. My Good Lord! This was a really fun match and it comes as no surprise to me that both men needed help getting out of the ring.
~ ROH World Tag Team Title Cage Match: Jay & Mark Briscoe (c) Vs. Kevin Steen & El Generico – The crowd starts up Generico's "Ole, Ole, Ole, Ole" chant long before the music even starts. Love that. It was a fitting ending to a great night that included some really awesome matches, but this was by far the most brutal and that isn't really surprising considering the Briscoes were involved. Their tag work together is just beautiful at times even though it comes with so much violence. A lot of cage work here as well including a backwards flying leap from Steen off the cage and into the crowd.
Special Features
Video Wire – Basically a twelve minute long shill for ROH and all their DVDs and online videos. A few clips and bits of matches are shown as well.
Bonus Match: Mitch Franklin Vs. Pelle Primeau – The "Top Of The Class Trophy" representing the top graduate from the ROH wrestling school is on the line here. Primeau walks in with the trophy to an audience of maybe sixty people. Decent little match between these two that goes about six minutes and shows some good chemistry.
The Inside Pulse
My introduction to ROH was Motor City Madness 2007 and this event impressed me so much more. There were at least five matches that are four stars or higher while the card just simply gets better as it goes along. Nigel McGuinness has really become one of my favorites so far although Morishima, Danielson, and Strong are right up there with him in my opinion. A lot of brutality bringing the old days of ECW into the picture along with some awesome technical wrestling and innovative maneuvers. I'd highly recommend checking this DVD out even though the special features are rather lacking once again. But how often do you usually get good extras on a wrestling DVD unless it is some kind of documentary or something? Still worth checking out and Caged Rage has made me want a lot more of ROH and soon.
The DVD Lounge's Ratings for Ring Of Honor: Caged Rage 08/24/07

CATEGORY
RATING(OUT OF 10)
THE EVENT
8
THE VIDEO
7
THE AUDIO
7
THE EXTRAS
3
REPLAY VALUE
6
OVERALL
6.5(NOT AN AVERAGE)
Ring Of Honor DVD Review: Caged Rage 08/24/07
|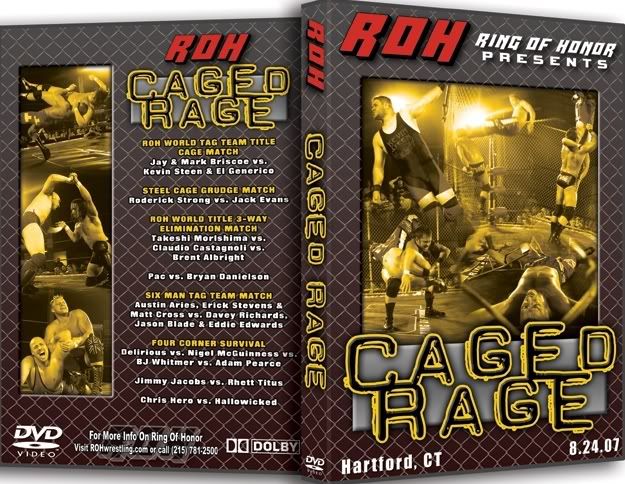 Available at ROHWrestling.com
Tags: ROH