Nightmare Detective – DVD Review
|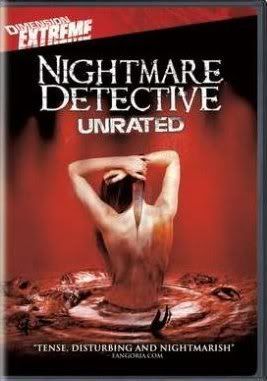 Available at Amazon.com
Director
Shinya Tsukamoto
Cast
Ryuhei Matsuda………Nightmare Detective
Hitomi………Keiko Kirishima
Masanobu Ando………Wakamiya
Ren Osugi
Yoshio Harda
Shinya Tsukamoto………'O'
DVD Release Date: February 19, 2008
Rating: Unrated
Running Time: 106 Minutes
List Price: $19.95
The Movie
Keiko Kirishima is the newest detective on the police force after actually taking a step down from her former position. She was involved in training sessions, sting operations, and putting together seminars and other such things. She was lacking the hands-on and crime scene experience that she believes all good officers need. Keiko's unusual transition from one position to another didn't come without scrutiny or problems, but she was certainly up to the challenge.
She certainly needed to be as her first crime scene experience came about in the form of a very bloody suicide. A young woman had sliced herself open all over her body and lay there with her eyes open and dead long before her time should had come. One of the more veteran detectives believes it is a simple open and close suicide case and they should move on, but Keiko thinks differently. The victim's cell phone shows one last call placed before her predicted time of death to someone referred to as "O."
Keiko's second crime scene isn't much of a change and actually is a bit worse. A middle-aged man has slashed himself to death resulting in what looks to be another suicide. The man's wife says he just began slashing himself with an exacto-knife while they were sleeping and she could do nothing to help him even though he called out for it. Keiko learns that the man had also placed a call to the mysterious "O" before his death. Things just didn't seem right and clues were starting to point them in a different direction. Recordings of their last phone calls to "O" overheard them calling out for help, but still perishing at their own hands.
Elsewhere, a young man has a skill that he would rather not be gifted with. He is a psychic of sorts that has the ability to go into people's dreams and help them understand why things are the way they are in the world that only appears when they are at rest. He is known as the Nightmare Detective and has helped people get rid of their horrible nightmares by going into them and analyzing what they mean and why. Unfortunately each time he has done so; traumatic results have come about. Keiko though feels his talent could help them with the case so she seeks out his assistance. The police have a plan to call "O" and then go to sleep so they can figure out who he is and how he is involved in the victims' deaths. The Nightmare Detective is reluctant to help, but soon comes to the realization that he may be the only one who can solve this case.
Wow is all I need to say here because I was pleasantly surprised at this film. Here I was expecting to see the generic Japanese horror release that included a ghostly girl in white with long black hair and tormenting people everywhere they went. Some hero or something would then delve into the past and figure out what plagued the tormented spirit. Nothing like that here folks as Nightmare Detective gives you an original storyline with some fantastic acting. You just can't go wrong here as the film delivers in mystery, anticipation, and a promising plot that will have you guessing the whole time.
Ryuhei Matsuda's performance as the Nightmare Detective is absolutely masterful. His inner battle with himself the gift/curse he has to see into people's dreams leaves him torn and totally fed up with life. His mumbling to himself about constantly "hating it" and always wanting to end his own existence is so incredibly believable that I felt sorry for him a lot. At first his talent seemed so incredibly cool and a step up from having just psychic powers, but after a while I just couldn't help feeling sympathy for him and all the agony he went through.
Nightmare Detective delivers and does it extraordinarily well. Stepping out of the stereotypical J-horror genre and into that of a mystery/horror film, it lives up to the challenge of being different. You are going to care for the characters and hate to see some of their gruesome deaths as they happen. Even those that you know are going to die; well, you just can't help feeling bad for them when their time is up even though they were looking to end it by suicide anyway. The shock and surprise at how good this film is can't be discussed enough, and I hope you take the time to check it out for yourself.
The Video
The film is shown in Anamorphic Widescreen format and looks like most Japanese horror films do. Everything can be seen clearly, but there is a bit of a hue or tint over the entire thing, but nothing that alters it in any fashion.
The Audio
The film is heard in Dolby Digital 5.1 Surround Sound and comes through pretty good for the most part. A lot of the dialogue is hard to hear and at times it doesn't even look as if they are speaking when the English subtitles roll up on the screen, but it's not like I need to hear them to see what they are saying. The music is absolutely awesome in this film and comes through in fine form.
Special Features
The Making Of Nightmare Detective – This "making" featurette is considered to be a documentary by director Shinya Tsukamoto, or so the DVD says. It is incredibly long clocking in at fifty five minutes and it is one of the best "making of's" I've ever seen. Tsukamoto sits down for a few minutes and first discusses how he came up with some ideas for a film, saying it originally happened years ago after creating The Iron Man. He put it on hold for a while and then decided to add some things and make his ideas into Nightmare Detective.
Tsukamoto then takes the main characters and talks about them one by one and how important they are to the story. He discusses the actors playing them and the pleasure he had working with them. Then he goes into different scenes, more of the plot, and just about everything. Some backstage shots are shown with filming and the crew making this a one hundred percent complete featurette that is simply perfect.
Theatrical Trailer
Trailers – Rogue, The Mist, Storm Warning, and Halloween
The Inside Pulse
For the first time in a long time, a Japanese horror film really entertained me. Maybe because it wasn't so much a horror film, but fell in the genre of mystery/horror. The storyline is imaginative and played out well by all those involved. The conflicts of not only who the murderer was but also the nightmare detective not wanting to do what he had the powers to do made for two solid storylines which blended into one perfectly. I really wish there had been more special features including a commentary track or something because it would have truly made this DVD something special. That "making of" featurette surprised me on how in depth it ended up being and the length it lasted. Never did I expect an hour long segment just dissecting the entire film with lots of background information on all that went on with the creation of Nightmare Detective. My overall DVD score may not be the highest, but it receives my highest recommendation for a purchase or at least a rental. Fans of the mystery and horror genres need to check this flick out.
The DVD Lounge's Ratings for Nightmare Detective

CATEGORY
RATING(OUT OF 10)
THE MOVIE
8.5
THE VIDEO
7
THE AUDIO
7
THE EXTRAS
5
REPLAY VALUE
6
OVERALL
7(NOT AN AVERAGE)