ADVANCE REVIEW: Immortal Iron Fist: Orson Randall and the Green Mist of Death
|
WRITER: MATT FRACTION
ART: MIKE AND LAURA ALLRED, NICK DRAGOTTA, RUSS HEATH, LEWIS LaROSA, STEFANO GAUDIANO, MATT HOLLINGSWORTH AND MITCH BREITWEISER
PUBLISHER: MARVEL COMICS
Ed Brubaker and Matt Fraction's Iron Fist has been one of the surprise comic-book wonders of the last couple of years, re-invigorating the 70s martial-arts action superhero to a similar extent achieved by Brian Michael Bendis with Danny Rand's long-time Heroes for Hire partner, Luke Cage. This is a fantastic segment of the Marvel Universe that these two are creating; Iron Fist is one of my favourite titles every month. Brubaker and Fraction have succeeded where many others have failed, re-vamping a character that appears to have a strong fan base, but one who has historically failed to sell well on a consistent basis.
The creators have bucked this trend by sticking firmly to Iron Fist's roots, expanding the mythology of the Iron Fist line, while firmly positioning Daniel Rand in the contemporary Marvel world. In essence, this book is equal parts 70s kung-fu and contemporary corporate noir spy thriller. It shouldn't really work – but it does. It really does. (And it doesn't hurt that David Aja is one of the most stylish artists around, capturing the elements of both of these genres perfectly.)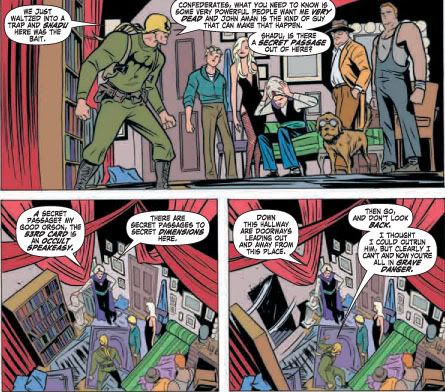 In spending a great deal of time and effort delving into the history of the Iron Fist line, the creative team have established the potential for a number of interesting one-shots or specials, of which 'Orson Randall and the Green Mist of Death' is one. Now, I'm not usually too sure about these one-shots or Annuals; sometimes these can come across as just ways to make extra money, and often the original creative teams aren't even involved. However, in this instance, the history is so rich, and the writing is so strong (Fraction here takes on the solo scripting chores for this issue), you are almost guaranteed an enjoyable adventure. The story doesn't tie too heavily into current events, meaning that you don't need to read this to enjoy the on-going story. It does, however, promise to provide an explanation for the cliff-hanger of # 12, in which the Prince of Orphans, fighting against K'un Lun and the Iron Fist in a tournament of the Heavenly Cities, announces his allegiance to the revolution being engineered by Lei Kung the Thunderer.
This extra-sized issue is actually split into four interlocking parts, re-counting the events that led a previous Iron Fist, Orson Randall, into association with the Prince (aka. John Aman). Each section is illustrated by different art teams, although there are two really distinct styles at work here, visually breaking this storyline into two Acts, with each reflecting one of the two elements that make the current Iron Fist book such a delight – one pulpy action-adventure, the other gritty noir/ horror.
The first sees Randall and his fittingly over-the-top-named gang of adventurers, the Confederates of the Curious, fight to escape destruction at the hands of Aman, who has been sent to wipe out the Iron Fist. The two stories incorporated here really are homage to comic books of a bygone era – complete with magicians, cowboys, jailbreaks, and Indiana-Jones-style daring escapes. Both stories do this successfully, without feeling like they are fully entrenched in the past, and all the artists involved contribute to giving these tales exactly the right feel.
The tone changes completely in Act 2, as Randall tries to save the life of a wounded Orson, and then, as Aman re-surfaces again, finally poses his would-be assailant with some difficult questions which lead to the Prince's deal with Lei Kung. Here, Fraction and his team of artists deliver a truly wonderful take on some dark horror clichés; it really shows that Fraction enjoys writing this type of stuff. The artwork is really striking, with a nice use of dark colour and shadow, which perfectly fits the tone of these story parts, reminding me of a cross between the work of Steve Epting and regular Iron-Fist penciller, Aja.
Plot-wise, this is by no means a complicated story, with only one real twist in the tale – and even that didn't come as too much of a surprise. And if I was to be really picky, Aman's motivations and his struggle with the powers of the Seven Heavenly Cities are not revealed in enough depth to make a thoroughly convincing case for his switching sides. I get the feeling that this is a story for another day. As such, the book doesn't really break any new territory.
This may not be a 'must-read' – by the very nature of its pulp adventure roots, this is more of a contained action-packed adventure, albeit with enough of a tie to current continuity to make it relevant to fans of the ongoing Iron Fist book. With so many disparate artists involved, this could have been a bit of a shambles. However, the quality of this book shines through from the first page to the last, and each art team captures the essence of their particular story with skill and vitality. For those of you with $3.99 burning a whole in your pocket waiting to appreciate some superb creative talents at the top of their game and clearly enjoying themselves, on a story that cleverly incorporates some of the best elements of comics from the 50s to the 70s to the present, then I can't think of a much better place to start.
RATING: 8/10
Check out a 6-page preview of the issue here 
Tags: Avengers, iron fist, Marvel, matt fraction, mike allred