We are one month away from the return of MTV's most popular show today. Yes, The Hills returns for the second half of their third season and we will finally get to see what happened in Paris and beyond. But until then, we still have PLENTY to keep you entertained. It's Monday night singing, Tuesday night comedy and family drama, Wednesday night Gauntleting, and Thursday night dancing. Only on MTV and only right here in the Mix…
SHOW REVIEWS
MONDAY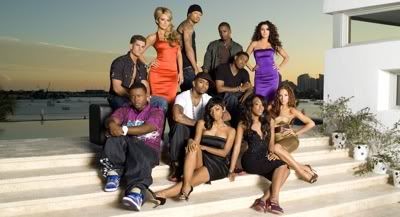 Making of the Band 4
The guys are still stuck in singing practice, while the girls continue to make their next album. The two groups do have time to come together. At least, a member of each group come together. Donny asks Aubrey out on a date in a naturally awkward way.
Time for the Donny and Aubrey to go on their date. Just your typical date conversation and a kiss at the end. Donny then makes the fatal mistake of actually going on another date that same night with the rest of the guys. They met these girls earlier and promised that would hang out with them, so that's what they are doing.
Except Qwanell has to stir up trouble by calling Dawn and telling her to come down to eat with them. By the way, Dawn brings Aubrey along with her. Qwanell swears this was supposed to be a joke but neither Aubrey nor Donny take it like that. Donny doesn't think he has done anything wrong. Neither does Mike. Aubrey acts all "Princess Bitchy" and says that Donny is "getting no more of her attention"! Donny blames Qwanell. Qwanell tries to explain himself, but then he drags other people into it and Brian is offended. He says it was all Qwanell and Brian takes it way too far. He has a temper problem.
Diddy moves everyone down to Miami where the guys and girls have to live in the same house to finish out their albums. Donny attempts to apologize to Aubrey, but they just keep bumping heads. They are not even friends right now. Diddy comes back in to gauge where everyone is at now. The girls get up there and sing solo with great emotion. The guys envy that.
Diddy talks with the guys alone once again. He tells them time is running out and they need to step things up. The guys try to impress Diddy enough to let them go back in the studio and complete their album. Diddy says they are all conscious of their body movements and facial expressions. They are not getting "lost" in the true emotions of each song. Diddy wants some real "soul music"! They finally get it right and get "naked". Diddy allows them to get back in the studio, but they could be out at any moment.
TUESDAY
Life of Ryan
Ryan teaches his youngest brother, Kane, about the joy of buying expensive and diamond-encrusted jewelry. You have to start them young. But what Ryan really wants is a dog. His mom worries about the responsibility of owning a dog, though.
Oh good lord, Kane has a Blackberry. Ryan says that Kane has better clothes than he does. He's way out of control for a 8-year-old. Ryan's grandfather has a dog, but good lord his grandpa looks about 50! Ryan goes to the pet shop and almost buys a dog. Tony and Casey tell him not to, and after a long lecture on the phone from his mom, Ryan decides not to. He's bummed out.
Ryan decides to bring Tony's dog to his house for a few days. He thinks he can prove to his mom that he can have a dog. But Ryan doesn't want to clean up after Tony's dog. He also wants to go skateboarding and leave the dog behind all the time.
Ryan realizes that he is a role model to Kane and his dad worries about Ryan being a negative influence on Kane. Kane sees Ryan with all this money and wants to buy all of these expensive things as well. Ryan also says that Kane acts older than he is.
Ryan vows to keep an eye on Kane more and make sure he acts more like a kid. Kane thinks he needs new clothes whenever the clothes he has gets dirty or wet. Ryan tries to explain to Kane the value of money. In addition, Ryan finally decides that having a dog is too much work. He is going to wait to get one.
Rob & Big
Rob & Big run into a guy on the street who is giving out ice cream from a van. He's not selling it, he's just giving it away for free. Rob & Big see that giving can be fun.
So they gather up their clothes and go to distribute it to the homeless. It's a feeding frenzy with all of the homeless running to the back of the Escalade as Big is handing out bags of clothes. Madness!
Meanwhile, Rob & Big's friend, Big Zeus, comes to visit. He is a member of Big's "Chunky Boys" rap group. Big Zeus is 6'9″. He thinks he can ride a BMX bike down this ramp. Rob makes him prove it and he eventually does.
Rob & Big next go visit a senior citizen's home. Crazy old ladies are fun! Rob is getting too excited over a fake horse race using colored dice and a real horse race announcer. Rob's horse wins and he gets $5. Rob wants one of these tracks for his house now.
In the end, Rob gets Big and the rest of the "Chunky Boys" some big bikes for those big guys. Rob and Big Zeus race on their bikes and Rob easily defeats the big man.
WEDNESDAY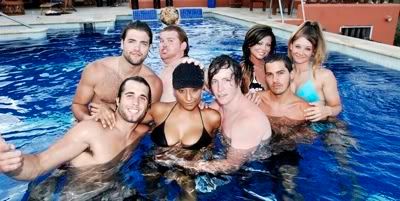 Real World/Road Rules Challenge: The Gauntlet III
So the Veteran guys are going to throw challenges to get rid of some of their girls or as CT says "trim the fat"! You know that soundbite with Katie yelling about someone being a liar. Well that was directed at CT and really it felt out of place. There was no big screaming match between her and him. CT was just laid back all smug, and Katie yells that he is liar. She's right, though. Well they had to create something interesting, since the Vets have been winning all the challenges.
Time for the next challenge! It's a female elimination day! This challenge is called "Assembly Required"! They have to build a replica of an ancient pyramid. The rookies have five less people, so they are at a disadvantage. The veteran guys pretend to be working hard, but they really throw the challenge. The rookie girls are not fooled, though. The Rookies win thanks to the veteran guys.
Now it's still time for the rookies to pick who goes into the gauntlet and who gets protected. The rookies "protect" Casey and throw Coral into the gauntlet! Coral is not happy and she is even more pissed when the veterans vote for Beth to go against her. She didn't want to face Beth. Coral thinks they risk her going home. Beth could beat her. Enter foreshadowing here.
The next Gauntlet will be called "Ball Brawl"! Coral vs. Beth. You know the rules in this gauntlet, they have to run and grab the same five balls and score the most points. Anything goes as always. In the end, foreshadowing doesn't win this round. Coral wins 3-1! Beth is gone!
Coral realizes that she is on her own. The veterans don't want her to last until the end. Meanwhile, Paula and Derek make out! Love connection! Wait, could it be foreshadowing? Derek going home later? CT doesn't care if the girls know they are going to throw challenges or not. It's still going to happen.
Time for the next challenge! It's a male elimination day! This challenge is called "Walk the Plank"! Team members will walk this plank over some water and the other team will try to knock them off by swinging medicine balls. In the end, the veterans gets back on the same page and dominate this challenge. The Veterans win again and that makes it 7-2 for them!
Time for the veterans to pick who goes into the gauntlet and who gets protected. The veterans "protect" MJ and throw Derek into the gauntlet as foreshadowing predicted! It comes down to Frank and Ryan. Ryan has an alliance with the Real World: Austin girls. Frank thinks Ryan should go to the gauntlet because he is small. Derek doesn't want to face Ryan, though, because they are close and all. In the end, it's Ryan. So this one can go either way with foreshadowing.
The next Gauntlet will be called "Sliders"! Ryan vs. Derek. They have to slide pieces of a puzzle together to make everything fit. We saw this last week as well. Even the gauntlets are getting predictable. In the end, Ryan wins and Derek is gone! The love connection foreshadowing angle wins out again! Tears and kisses for Paula! Derek still digs crazy Paula, though.
THURSDAY
Randy Jackson Presents: America's Best Dance Crew
This week each group had to perform their dance routine with a surprise physical challenge thrown in that they have to complete.
– Live In Color was the first team to be in the "top four" this week and advance on. They danced to "2 Step" by DJ Unk, and they had to change clothes with each other while dancing. They did it near flawlessly.
– JabbaWockeeZ was the second team to make the "top four" this week and they danced to "Lean Wit It, Rock Wit It" by Dem Franchize Boyz. They also have to create the allusion that they defy gravity. The way they did that was pretty clever.
– BreakSk8 was the third team in the "top four" this week and they danced to "Cupid Shuffle" by Cupid. They have to find a way to be physically connected during their dance. Their "worm" was decent enough for some guys on skates.
– Kaba Modern was the last team in the "top four". They danced to "G-Slide" by Lil Mama, and they had to incorporate some lifts into their routine. Not as good as the previous crews.
– Now we go to the "bottom three", which is the same as last week. Fysh N Chicks are actually the first team save this week, though. They danced to "It's Goin' Down" by Yung Joc, and had to also perform some of the steps in reverse. It was okay.
– Status Quo were the first team to dance for the judges in hopes that they get saved by them. They danced to "Crank Dat" by Soulja Boy, and had to perform the moves upside down at some point. They set the bar high for Iconic.
– Iconic was the last crew to dance for the judges. They danced to "Chicken Noodle Soup" by Webstar. This is the dumbest song lyrically EVER! But Iconic had to do the steps while being on their back for part of the time.
– In the end, the judges decide to save Status Quo and that means Iconic is the third crew to be eliminated!! I agree with that decision between the final two crews.
And that ends the 70th volume of the "MTV Mix"! If you have any questions, comments, suggestions, or feedback of any kind..send them my way!!
I'll see you next time when we mix things up a bit!
Sir Linksalot: Reality Television
Tags: Life of Ryan, Making the Band, MTV, Real World/Road Rules Challenge, Rob & Big