Random Reality: Interview with Survivor: Micronesia's Yau-Man Chan
|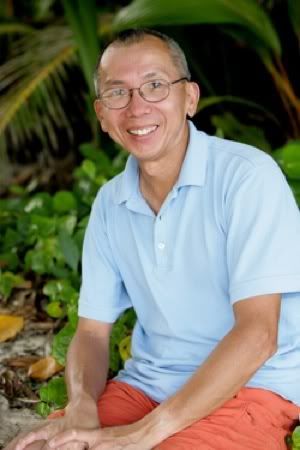 The third person to get eliminated from Survivor: Micronesia was Yau-Man Chan. Yau-Man might have been the most popular "favorite" to return this season. Despite being 55 years old, he lasted a long time in his previous season, Survivor: Fiji. That made him a huge target this time around on Survivor: Micronesia.
In a conference call with members of the media, Yau-Man discussed that along with many other thigns. He even answered a BIG question about Johnny Fairplay that everyone wanted to know in a slight spoiler. Here are the highlights of what Yau-Man Chan said in this conference call for Survivor: Micronesia…
---
How did your Micronesia experience compare with your Fiji experience?
Yau-Man Chan: Well mentally I was a lot more prepared for it, because I had gone through the experience before. But physically, it was a lot tougher because the challenges were a lot more physical than the ones we had in Fiji. Also, the weather was horrible. We had rain pouring down on us two or three times a day.

Do you think the favorites went into this with an advantage or too much confidence?
YMC: I think they went in with too much confidence. During the challenges, I don't think we spent enough time strategizing and thinking through the challenges. Most of the challenges were repeats of seasons before and we were like "we know what we are doing", but then still go and lose them. So I think that was not good.
Have you learned anything about yourself from your Survivor experiences?
YMC: Yes, I've learned that I'm not a people person. I don't read people very well. Like Cirie I should have gotten to know her better and faster. But I didn't realize what a strong personality she had, because she went from being in a defensive position into an offensive position in getting everyone to go along with voting me out.
But you did so well in Fiji?
YMC: Well in Fiji I was able to play the "under the radar", weak old man type of game until the merge. But here I was a big target coming into the season because I did so well in Fiji. I had a target on my back right away, so I was unable to form alliances with certain people to keep myself in the game.
Why do you think Cirie flipped so easily from the alliance?
YMC: I don't know. I'm trying to figure out myself. One of the reasons, though, was she thought my alliance with Jonathan was too strong. For some reason she got into a big fight with Jonathan and they were recounting all the evil deeds each other did in their seasons. My disadvantage, of course, was when they were airing Survivor: Cook Islands I was in filming the Fiji season so I didn't know a lot of the things that Jonathan did. So when he wanted to be in an alliance with me, I was happy to do so because he was an older guy and had a family and we had a lot in common. We were hoping to bring Cirie into our alliance, because I thought it was obvious she would do much better with us than with the other two very-tight couples. But for some reason, not only did she not want to align with us because of Jonathan, but also the fact that she was afraid that if I got the immunity idol I might go all the way or something like that. But I did not see that she such a strong personality.
How much did age play a part in your Survivor experiences?
YMC: In the previous seasons, the older guys usually got voted out early. So in Fiji I was very conscious of that and I tried to integrate with the younger people and not say things like "back in my day…" or things like that. But it's very difficult because most of the time we are sitting around idle talking mostly about pop culture stuff, which I know nothing about. So we don't have much in common when they are all talking about moving to Los Angeles, and what do I know about that? So I ended up gravitating towards some of the older people like Jonathan. I also had a good friendship with Ami. She turned out to be a very different person that she seemed on Survivor: Vanuatu.
Who should people watch out for from your old tribe?
YMC: Well I think Jonathan is an all-around good player. He can talk strategy, he's physically very strong, and he's a very smart guy as well. I will be cheering him on. The other guy is certainly Ozzy. That guy is so athletic and does so well in all kinds of challenges. He can run as fast on water as he can on land. He's like a fish. He's amazing.
Cirie's reason for wanting you out seemed to be that the longer you were in the game, the more dangerous would would become. Do you agree?
YMC: Yes, I agree. But I was surprised she thought that so early in the game, because we were not even close to a merger. I didn't think I would be a threat to her so early in the game, so that's what I think was my mistake. I thought I should have been able to convince her that because I play the game so well she would be better off aligning with me in my alliance.
In tribal council we didn't really see you say anything, but we know things get edited down. Did you argue your own case in tribal council?
YMC: I did most of my arguing one-to-one before we went to tribal council. I spent a lot of time one-to-one trying to convince her that she had a better chance going with me than the other guys. I even promised her that if I made it to Exile Island that I would share the immunity idol with her. I went as far as letting her know there was a hidden alliance with Earl and I on Fiji, that nobody else knew about at the time, and we could play it that way. I did everything I thought I could to try to convince her the way we were going to vote. We were going to vote for Parvati, because we wanted to split up the couples. It's not a good thing to have couples, James and Parvati and Ozzy and Amanda, in your own tribe. So we thought it would be an easy thing to convince somebody to split up the couples. So I spent a lot of one-on-one with her before we went to tribal council.
What was the initial reaction you received from your tribe?
YMC:None of them were surprised to see me back as a Favorite. In a way it wasn't fair because everyone expected me back but I had no idea who would be back. I was renting past seasons when I found out I'd go back. I did some guesses and the only ones I guessed right were Ami and Ozzy. I though Yul would be back and Michelle from my season. But they didn't show up, so the others were a total surprise.
What was the deal with Eliza's vote for you and Ami's vote for Cirie?
YMC: I was surprised with Eliza's vote. I thought we'd decided to vote Parvati off because she was so tight with James. We knew we lost Cirie's vote. I thought at least I still would have Eliza's vote. I was very surprised. Ami actually came to me before Tribal Council and said basically, we don't have enough votes for me to stay on, so I have to show I'm not against them so I have a chance to stay on. She wasn't voting for Parvati or for me either. But the Eliza vote for me was a total surprise.
Did you ever talk about turning on Cirie and voting her out?
YMC: We sort of mentioned it but never pursued it. Looking back, we should have. I guess if we had talked to them, we could have said, "Vote for the person who is flip-flopping and stirring up trouble." But we never pursued that.
That reward challenge looked brutal. James was running over people, Jonathan head butted someone and I think Eric flipped Amanda onto her head.
YMC: That was one of the most brutal challenges ever. Here is what happened. The rules were originally set up for a best two out of three rounds but round one took 450 minutes so the producers stepped in and told us we would do one round not the best of 3. What you didn't see was how much it rained on us and under the water was broken corral. Many people who didn't wear shoes cut up their feet and when we were laying down on the bags standing on our knees our knees got cut up. At one point someone even tried to drown me.
Do you know of any Survivor "favorites" that were contacted to be on the show, but declined?
YMC: I'm not sure if that happened but I do know there were several of us contacted and instructed to be ready to leave but not everyone was called back. I really thought I would see someone from my season and no one else from Survivor: Fiji was there, I was hoping to at least see Michelle.
Do you ever see Jeff Probst without a necklace on?
YMC: Yes, I have. The thing about Jeff is that when he is not playing his role as the host and calling out the challenges, he's actually a very nice guy. I was surprised. He's very personable, which I was surprised about being that he is a big star and all.
Jonny Fairplay claimed that you rammed his head into the canoe during the first episode. What's your take on that?
YMC: Yes, that's his story, but we were both diving and he dove too hard and hit his head. I don't think I pushed him. If I did, it was accidental. But if it wakes him up, it's a good thing.
How is your relationship now with Jonny?
YMC: We spent a lot of time together at the loser's lodge, and he turned out to be a pretty nice guy.
Would you do Survivor again if you got the chance to?
YMC: I don't know if I would, I guess I would need to know who else would be going. I would have to make sure that I had some friends on the show with me next time.



---
–
Survivor: Micronesia
airs on
CBS
in the U.S. on Thursday nights at 8 p.m. ET/PT.
–
Survivor: Micronesia
airs on the
GLOBAL
network in Canada on Thursday nights at 8 p.m. ET/PT.
Sir Linksalot: Survivor: Micronesia
Tags: Celebrities, Survivor