Beware the Future's Awesome Might: Marvel in May
|
Annex and I both say that Marvel looks a bit bland in May, but you don't have to take our word for it. Check out the solicits yourself at CBR and then come back here so I can break it all day for you.
.

BEWARE THE FUTURE'S AWESOME MIGHT
THE DARK TOWER: THE LONG ROAD HOME #3–
"With Roland's consciousness trapped within Maerlyn's Grapefruit" may be, to be perfectly frank, the finest opening phrase of any solicitation ever. Not knowing what the hell it means does no diminish it in the least. Just try to picture it and I guarantee your heart will grow three sizes.
SKY DOLL #1– Boy…
….that's creepy.
ULTIMATE FANTASTIC FOUR #25 I'm 99% sure that I still won't be buying this book, but it is great to see Mike Perkins getting work, especially something sort of high profile.
That is, even though the credits before the solicitation don't mention him.
Great cover. Very visually arresting.
AMAZING SPIDER-MAN #559-560 MARCOS MARTIN ALERT!
Check out this excellent cover, too.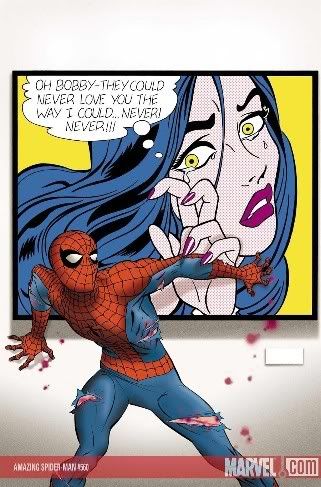 It is an interesting coincidence that this cover would first be released during ISB's Bring it On Week. Chris Sims must be proud.
AVENGERS INITIATIVE #17 Taskmaster!
Annex!
GENIUS!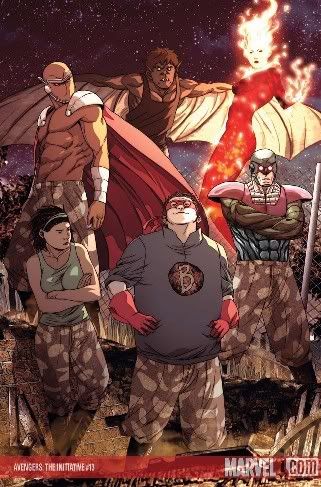 PHOTOGENIC!
Man, oh man, do I hate the way Luke Cage looks on this cover. And for some reason, my eye is invariably drawn to him. ARRGH!
DAREDEVIL #107 Make way, people, The Rucka is here! Sure, it is for a story that sounds vaguely like Batman: Devil's Advocate meets Karl Kesel's first arc on Daredevil (the one where he defended Mr. Hyde), but I liked both of those and I like these writers so I'm not worried. The Rucka and Brubaker are so going to bring it.
(Is "bring it" still cool to say?)
IMMORTAL IRON FIST #15 Ooooo! Love these Iron Fist interludes!
INVINCIBLE IRON MAN #1 From what I hear, I've been led to believe that the main Iron Man title is quite good these days, but I can't motivate myself enough to add it to my already oversized pull list.
The pedigree on this title though (Fraction writing!) and the solicit text, might be enough to make me check out this new one. Even if Iron Man hasn't been right about anything since Civil War.
Seriously, the go is so wrong at this point that if called me and told me that my favorite baseball team was the Mets and I thought the peanut butter and chocolate flavor combo was God's most glorious gift to humankind, I'd have to burn all Mets gear and start cheering for the Red Sox and never touch a peanut butter cup again. Because if Iron Man says it, these days, you know it is not true.
IRON MAN: VIVA LAS VEGAS #1 From the writer of Swingers and Made…
Also,
How many times has this pastiche been done by this point?
Really not feeling the cover, but I definitely get a fun vibe from this. Like a Flight of the Navigator (in terms of feeling, not in terms of plot).
That's right, Flight of the Navigator meets the Marvel U. From the brain behind Kick Ass!, Wanted, and The Unfunnies.
MOON KNIGHT #18 Yay for Suydam!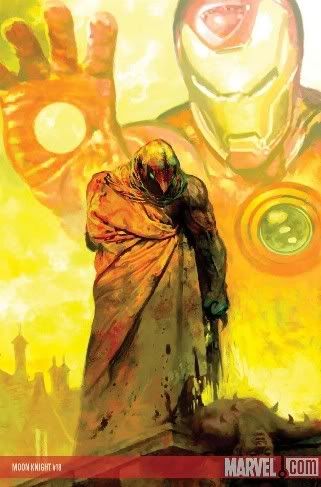 A great looking cover!
Finally.
MIGHTY AVENGERS #13-14 See?
I told you Skrulls were the new Zombies.
God…sometimes being right just isn't that rewarding.
OMEGA THE UNKNOWN #8 I know I've used this gag before, but…
All the words are English. I know and understand them individually. Together, however…not a clue.
THUNDERBOLTS: REASON IN MADNESS I think I'm the only classic Thunderbolts fan who really likes this new direction. Well, perhaps not the only, but certainly one of the few.
In any case, these one-shots, which are really just fill-ins by a different name, have done a nice job of providing duo spotlights while maintaining the tone of the parent book. And with Gage writing, you know it'll be quality.
THE LAST DEFENDERS #3 YES! Paladin, baby! Come to remind you have severely lacking the awesome has been from your life.
YOUNG X-MEN #2 Is anyone else having a little bit of a hard time with a book that reminds us, with its very title, that the participants are young students and then gives us a cover…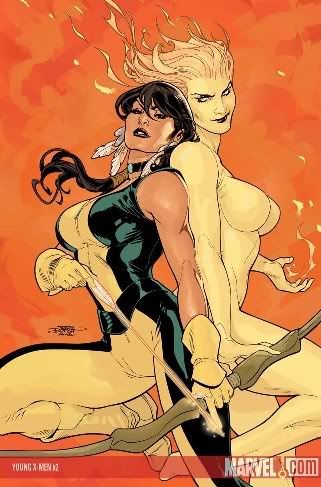 …this cheesecake-tastic? No? It's just me then?
WOLVERINE: THE AMAZING IMMORTAL MAN AND OTHER BLOODY TALES
LOGAN #3
WOLVERINE #65
WOLVERINE: ORIGINS #25
WOLVERINE: FIRST CLASS #3 That's right people! Five, (count 'em, five) Wolverine titles this month! Five! Not counting appearances in X-Men, X-Force, etc or collections. FIVE! The gods are truly smiling upon us on this day.
X-MEN: KITTY PRIDE & WOLVERINE Isn't widely accepted that this book is…well…bad?
It's like we was dancing…
What is going on with this cover? Who are these people? Why is Jenna Jameson wearing a spray-on Punisher costume? I must have answers!
IRON MAN: WAR MACHINE TPB Twice as good as you remember it!
Which is to say, still not all that good.
Tags: Avengers, Captain America, Iron Man, Marvel Teens, Spider-Man, Ultimate Universe, X-Men