It's "Thriller" week on MTV, sort of. At least to close out this mix it was. But before all of that dancing, we have singing, skating, "best of" moments craziness, and drama, of course. What else you would expect on MTV. Lets get to mixing…









MONDAY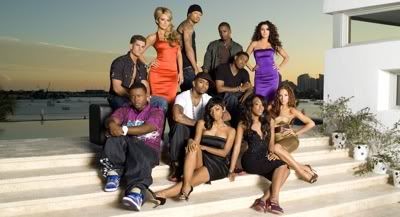 Making of the Band 4

Day 26 and Danity Kane are well on their way to finishing their albums. They even have singles out now. But Donny is nowhere near done. He fights for studio time. He finally gets in the studio to work on a song with Jim Beanz called "Beautiful Escape". That gets put on hold, though, when Jim gets pulled away to go work on a song for the girls.
Dawn is from New Orleans. She misses her hometown and says she can't go back because no one lives there anymore. The girls tell us that Dawn likes to be alone for whatever reason. Aundrea and Shannon informs Dawn that she and Qwanell look each other like they are in love.
More breaking news from Diddy: Diddy is retiring from this show to become a movie star. So this will be the final season of Making the Band for awhile. Donnie still feels left out, but all he does is what is asked of him. So he practices and wonders why he isn't making as much music as the two groups. Meanwhile, Qwanell and Dawn roll around together.
Diddy throws Seven, another great music producer, Donny's way. Seven is here to cultivate Donny as an artist. Diddy informs us that Seven is "crazy in a good way"! This should be fun. Donny walks into the studio and there is a lot of smoke in there. He is a little scared. Seven is like Prince. Donny likes all this weirdness, though, and it works for him.
Dawn "breaks up" with Qwanell, because she doesn't want to hurt him. Don't think it worked, though. Some more announcements from Diddy. MTV gave him more money so there WILL be another season of Making the Band. Danity Kane's album drops on March 18 and Day 26's album drops on March 25 as well. Diddy then informs Donnie that he is experimenting with different sounds to see which one works right for him and his album. Donnie is frustrated.
Ankh Ra, the vocal coach for the guys, works with Danity Kane for the firs time. They sing individually for him. Just like any predictable MTV show this segment of the show is to make Dawn open to everyone and not be so closed off. It's harder than it sounds. Qwanell ease drops on this and likes Dawn even more.
Michael Bivins comes in to let the boys hear their music. Donnie is there as well and that makes Donnie more sad. Donnie and Biv chat. Biv tells Donnie that Diddy is hard to please, but he just wants the best out of Donnie. Donnie feels a little better after this talk. Meanwhile, Qwanell tries to get Dawn to open up. He tells her about his dad dying when he was 4, and that leads to them talking about Katrina and all of that. She finally does let it out somewhat and realizes that she is okay after all she has been through.
Donnie continues to work with Seven after he feels another "vibe". It works for Donnie and he has a "hit song". Donny is excited. Seven is excited. Slam is excited. The guys like it so much that they hate Donnie now. What about Diddy, though? We'll find out later as we have to more important matters like Qwanell and Dawn playing putt-putt golf and talking about missing holes and kissing, etc. They finally kiss for Aundrea.




TUESDAY



Life of Ryan
Ryan has a problem. Kayla is moving a little faster than he is. Ryan is not putting in the same amount of effort into their relationship than he is. Basically, Ryan is stressed out enough with girlfriend issues but Kayla is the girl that he has been looking for. Ryan is so confused.
But he has some time for some fun, though. His family and friends throw him a surprise 18th birthday party with Lil Jon as the DJ! Three Six Mafia even show up to perform at his party as well. Awesome! But the Kayla thing is bubbling up on the surface. He didn't spend nearly enough time with Kayla at his party, but there was like one million people there so what can you do.
Ryan talks to Angelique, his mom's assistant around the house, about Kayla. Ryan didn't realize that how much of a commitment having a girlfriend would be. Angelique just tells him to be sincere and tell her the truth. His mom makes Ryan feel even worse when she tells him that Kayla played a big part in planning his birthday party.
Ryan tells his friend, Mitch, that he needs to focus on his skateboarding first and that probably means no girlfriend. Now it's time for the inevitable talk between Ryan and Kayla. Ryan basically breaks up with her. They both seem to agree that maybe they jumped into things too fast and it would be best if they just went back to being "just friends". Tear.




Rob & Big
It's time for the "Best of Season Three" episode a.k.a. "Clip Show". You've seen all of this before, if you have been paying attention to this show and there is really NO reason to not pay attention to this show. This is probably the funniest MTV show EVER! Here are the highlights (and lowlights) so far:
– Rob's net gun obsession
– "Good Friends" cereal box cover
– Breaking world records in eating and skating
– Ice cream giveaway
– Unused Footage Fun: Street dancing
– Car wash karaoke (My personal favorite moment so far this season! HA!)
– Unused Footage Fun: Deep breathing with a weird guy
– Unused Footage Fun: Riding around on "blacked out" scooters
– Poop in the pool
– Unused Footage Fun: Mini Horse training
– Meaty being a better pet than Mini Horse
– Rob as "Big Bob"
– Unused Footage Fun: Big Bob beating up Drama
And now to some sneak peeks into what will happen during the rest of season three of Rob & Big. Here is some of what is to come:
– Rob & Big have a rat problem and Drama has no clue (Funniest thing I've seen so far!)
– Mexican fiesta
– Girl pillow fight
– Rob with a sledgehammer
– Big Black wrestling
– Rob getting arrested?!?!?!
Stay tuned for all of that and more right here!




WEDNESDAY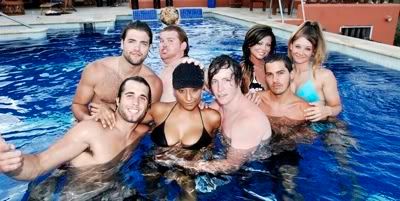 Real World/Road Rules Challenge: The Gauntlet III
Ev says that veterans need to lose at least Coral and Katie from their girl team. Coral and Katie find out this and blame Evan for whatever reason. Why is he the scapegoat? Remember that Evan made his MTV debut during the first Fresh Meat with Coral as his teammate. Coral is hurt that people want her gone and are talking about her behind her back.
Time for the next challenge! It's a female elimination day! This challenge is called "Over the Edge"! Team with the fastest time wins. They are on a building that is over 300 feet tall. Basically they have to climb down this rope ladder off of a plank extending 10 feet out from the edge of the building. They have to grab a flag at the bottom of the ladder and climb back up. WOW! That's a scary sight! Coral and Katie are at the center of drama during this challenge, of course. Katie basically decides not to do this mission, so that lets The Rookies win another one!
Now it's time for the rookies to pick who goes into the gauntlet and who gets protected. They decide to "protect" Katie and throw Ev into the gauntlet! That means Coral should be facing off against Ev since Katie is safe and they pretty much said that would happen last week. Evan said that Coral is mad that a "new generation" of MTVers has emerged and "she is not in the loop." But Coral decides to change plans and say "F*** You" to the veterans. She quits, but the gauntlet is still happening. The veterans have a hard time picking another girl to face Ev. Just pick a name out of a hat then! Casey basically volunteers herself after some tears and what not!
The next Gauntlet will be called "Ball Brawl"! Ev vs. Casey. TJ, the wheel is already rigged for this every week. You didn't need to say "I hope it doesn't land on Ball Brawl" Ev should win this easily, but you never know. Ev gets the first one and second one. Third ball goes to Casey after Ev basically gives it to her. Ev gets the final ball and that's that! Casey is gone! Really that could have gone either way with foreshadowing. Tears and goodbye hugs for Melinda from Danny. Ev says Coral's legacy is going to be a "quitter". Casey tells Coral to get a "real job after 18 years!" I'm sure Casey won't be on another challenge, right? HA!
Ryan is worried about going into the gauntlet. So that should put him right there then. Nehemiah has faith in the team. Props to Frank for saying that this team is terrible. Good rant there, Frank. Wait a second, Paula mentioned something about the vets continuing to win, so could it be a swerve and they actually lose?! We'll get to that in a minute, but we have to go to drunk wrestling between Frank and Kenny first! Frank put Kenny in this wicked ankle lock and Kenny's ankle is now hurt! That's why you don't drink kids.
Time for the next challenge! It's a male elimination day! This challenge is called "Mexican Blanket"! Team members get rolled up in a blanket and they have to roll themselves across the sand. It's a race you see. Kenny is competing, but his ankle is still tender. The rookies have less team members so they should win this but less members hasn't helped them yet. This is a funny looking challenge. This is like some weird war games or something. Each team is trying to block the other team from rolling across. It's a race to the finish line and in the end The Veterans win again and that makes it 10-3 for them!
Time for the veterans to just pick one guy to get "protected". The other two guys will automatically go into the gauntlet. Ryan can't be saved, though, since he was saved last time. They think Frank is the strongest, so they "protect" him. That means Nehemiah is going up against Ryan. Hmmm, I would have NEVER guessed that. **Enter sarcasm here**
The next Gauntlet will be called "Ram It Home"! Nehemiah vs. Ryan. Nehemiah should win this, but that probably means he won't. They basically just have to push the other people up against a wall to win. Ryan is actually winning, but Nehemiah hopes he can hold him off and win the endurance battle. It works as Nehemiah wins and Ryan is gone!
Kenny calls the rookies a "sad group" and says that there is "no way they will beat the veterans". Oh lord, hope that foreshadowing doesn't come true. Ryan even mentions the rookies being "underdogs", which doesn't look good for the vets! Katie informs us that she will throw the guy's challenge if the guys plan on throwing the girls challenge. Katie thinks the guys want her gone and it's true. Robin believes in the good in everyone, but then again she thinks that may be good for their team. Next week, look for Katie to be gone and look for CT to get kicked off the show AGAIN! Awesome!




THURSDAY



Randy Jackson Presents: America's Best Dance Crew
This week each group had to perform their dance routine to a classic Michael Jackson song from the album that made him famous, "Thriller". It's the 25th anniversary, so it's time to sell some more CDs. They have to mix in Michael's dance moves with their own.
– JabbaWockeeZ was the first team to make the "top three" again this week and they danced to "P.Y.T. (Pretty Young Thing)". Side note: the lyrics to this song are weird when you look back on things.
– Status Quo was the second team in the "top three" to continue their comeback. They danced to "Wanna Be Startin' Something". They did lots of flips.
– Kaba Modern was the third team in the "top three" once again. They danced to "Thriller". Big shoes to fill, but they did a respectful job with the dance.
– Now we go to the "bottom two". The first team to dance for the judges was Fysh N Chicks. They danced to "Billy Jean". Their moonwalk was the greatest, but whose can do it like MJ?
– BreakSk8 was the last team to dance for the judges in hopes of lasting another week. They danced to "Beat It", of course. They really should be sticking around longer.
– In the end, the judges decide to save BreakSk8 and that means Fysh N Chicks is the fifth crew to be eliminated!! The final four is set.







And that ends the 72nd volume of the "MTV Mix"! If you have any questions, comments, suggestions, or feedback of any kind..send them my way!!


I'll see you next time when we mix things up a bit!


Sir Linksalot: Reality Television
Tags: Life of Ryan, Making the Band, MTV, Real World/Road Rules Challenge, Rob & Big