You know what time it is. Get on your dancing shoes and tip, tap, your way to your television set. Get ready for another week of MTV action featuring all your favorite celebreality friends, and even some enemies…









MONDAY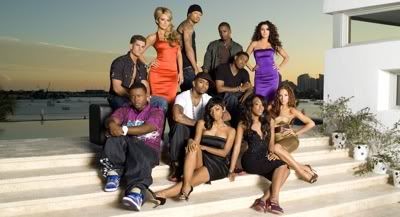 Making of the Band 4

The boys and girls have to get in a boat to get on a bigger yacht to go on a fun ride with Diddy. Most of the boys can't swim, though, so they are mad about that at first. They get over it once they are actually on the yacht. Diddy gets personal with them and they get personal with him. Talk of the "showmances" between Aubrey and Donnie and Qwanell and Dawn, and who Diddy really loves in his life (the mother of his children).
But it's time to make some more music. Diddy had the "Vote or Die" slogan four years ago, well no he has the "No Bitch Ass Ness" slogan. Basically, he tells the kids to go vote! Danity Kane has a song called "Sucka For Love". Donnie has a song called "Spank Me". Day 26 has a song called "What It Feels Like", but Robert's vocals aren't just right. None of the vocals, except for Qwanell and Willie, are right according to Diddy. Diddy thinks Willie is starting to become the leader of the group. Diddy, Robert, and Mike have all gained weight. He calls Brian the "weakest link" of the group and tells him he needs to work on his singing more.
Tensions are high as Robert and Brian fight over stupid stuff like who gets to take a shower first. The "den mother" Michael tries to settle things between Robert and Brian by talking to both of them. Meanwhile, Donnie sings "Favorite Girl". Donnie likes being a solo artist. Danity Kane sings their first single called "Damaged".
Aubrey and Donnie hold each other next to the ocean before DK sings "Lights Out". They invite everyone into the studio to check out the song for themselves. Day 26 sings "In My Bed". That leads to more fighting in the van between Brian and Robert over nothing! The rest of the group tells Robert to just ignore Brian. "Bitch Ass Ness" is said a few times for good measure. Willie is worried about the group breaking up before their first album. Of course, we know their album is coming out in a week so they had to have worked out their differences.
Ankh Ra is not only a vocal coach, but he is also "Dr. Phil". He tells everyone to get in a circle and tell each other what they should keep doing and what they should stop doing to become a better group. Day 26 finish off by singing their first single called "Got Me Going". It's very upbeat and Willie says he "feels the love again". But that is up for Diddy to ultimately decide. Diddy says that song was beautiful and all is good. Finally, more hard selling for their albums ends this episode!




TUESDAY



Life of Ryan
Here is some news for you. Not only is Ryan now single after breaking up with Kayla, but his dad is now single as well. He broke up with his girlfriend, Christie. It's rough, but that's life. Sometimes being just friends is better.
Later, Ryan finally gets his new home. He has a panoramic view of the Pacific Ocean and everything a young man would want in a house. Ryan starts to think that Christie was good for his dad. He was not alone after the divorce with her, but now he is all alone. Ryan doesn't want that, so he takes him on a trip.
Ryan takes his dad to Las Vegas, where all singles guys go on vacation! They do lots of things including flying around and Ryan's dad getting a tattoo. They talk about relationships and stuff and things seem to be good between them.
Ryan tells his mom and friends about the trip. He says he learned more about his dad. He says that his dad is coping with the breakup with Christie. He is happiest when he and Ryan are hanging out. Ryan does get some bad news. The house he wanted got taken off the market, so no go for that house. Ryan will keep looking, though.




Rob & Big
Meaty is like a little child. Meaty ignores Rob when he wants to. But on to more important matters. Rob has a problem with "dirty girls". He finds see-through hooker gloves in his room. Yes, that IS the next level of "dirty girls". Big search for a "good girl" for Rob on MySpace, but only find "dirty girls" at first.
Meanwhile, Rob buys a $200 remote-controlled helicopter. Too bad he sucks at flying them. He breaks almost every one he buys. By the end of the episode, though, he gets the hang of it somewhat. Until he flies one into the yard of one of his neighbors!
The "good girl" contest ends up being rigged. Big and Drama make the girls do lots of competitions including a pillow fight. He's supposed to be a blind contest, but we find out that Rob told Drama to put #3 on the hottest girl left. Rob picks #3 and that's that. But she turns out to be a lying "dirty girl" herself as she blogs about her date with Rob but denies it when Ron confronts her about it. For the record, #3 was NOT the hottest. She was a close second, but I would have gone with the blonde.




WEDNESDAY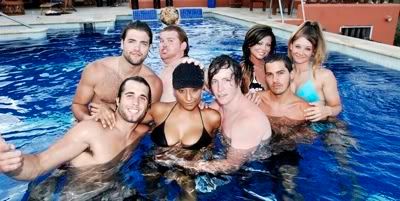 Real World/Road Rules Challenge: The Gauntlet III
Evan and Kenny say that Katie is dead weight and is going into the gauntlet this week after they throw the next challenge. Frank agrees, which is why he wants Katie to stay. Rachel feels like she will be in the gauntlet if the rookies lose the next challenge. The veterans guys all get weird "fohawks".
Time for the next challenge! It's a female elimination day! It's also the FINAL gauntlet day for the girls?! Huh? Already?! This challenge is called "Chill OUt"! Team members have to jump into a big pit of freezing ice water. Each round team members have to stay in the ice longer and longer. The veterans drop out quickly as expected, but they really can't "throw" this mission. Danny is somewhat smart by sticking it out until the end in hopes of setting up a side deal for himself. It doesn't work as Danny has to quit since he was outnumbered 5-1. The Rookies win another one! Yay! But the veterans are not happy with Danny. They don't trust him anymore. Frank tells the veterans what Danny was trying to do in there. Jillian, Tori, Rachel, and Johanna have made it to the end for the rookie girls.
Now it's time for the rookies to pick who goes into the gauntlet and who gets protected. They decide to "protect" Diem and throw Paula into the gauntlet! They think Katie can beat Paula. No need to deliberate for the veterans. The vets know who they want and Katie knows as well. So she "volunteers" to go into the gauntlet.
The next Gauntlet will be called "Sliders"! Katie vs. Paula.
It's all about the puzzle here. We learn that Frank will be helping Katie learn how to do this game, so that she can stay. It turns into Frank vs. Adam as Frank tells Katie what to do and Adam tells Paula what to do. In the end, Paula wins. Katie is gone!
Frank and the veterans confront Danny on what he said in the previous challenge. Danny denies he was making any deals with the rookies, but no one believes him. So look for Danny to go into the gauntlet. Possibly the veteran males throw this mission as well? But CT has to mouth off first. Frank tries to provoke CT into hitting him. Adam steps in to try and protect his team and not see CT go home. CT then snaps on Adam and pours a beer on his head. Adam looks to be ready to take CT down, but Eric steps in and stops that. Lots of yelling, but no punching. Frank then tells Adam that if the veteran guys throw this challenge, they will put CT in the gauntlet.
Time for the next challenge! It's a male elimination day! It's the last male elimination day. After this the finals will be set. This challenge is called "Well Balanced"! Teams have to balance their each other on this platform. Just a big mess here with lots of yelling and such. Danny knows that the veterans don't care, since most of them know they are safe. In the end, The Rookies win again and that makes it 10-5 to finish things out! But more importantly, it means Frank and Nehemiah make it to the finals as well.
Time for the rookies to pick one guy to get "protected" and one guy to throw into the gauntlet. That will have to wait until next week, though, as we need some more drama other than the final challenge. Frank argues with the rest of the team about who to throw into the gauntlet. Danny, Adam, and CT all come up so there you go. See who (Veterans!) wins it all next week…




THURSDAY



Randy Jackson Presents: America's Best Dance Crew
We are down to the final four. This week each group had to perform their own dance routine taken from a classic Broadway show.
– Status Quo was the first team to make the "top top" this week. They danced to "Who Can't Stop the Beat" from the musical, Hairspray. Looks pretty lame honestly. But this is the comeback crew so I have faith.
– JabbaWockeeZ was the second team in the "top top", which is not that surprising since they have never been in the "bottom half" of the competition so far. They danced to "All That Jazz" from the musical, Chicago.
– Now we go to the "bottom two". The first team to dance for the judges was Kaba Modern. They danced to "You're the One That I Want" from the musical, Grease. A little too easy, but I guess they all have been really.
– BreakSk8 was the last team to dance for the judges in hopes of lasting another week. They danced to "One Night Only" from the musical, Dreamgirls. So basically these are all musicals that have also been turned into a movie.
– In the end, the judges decide to save Kaba Modern and that means BreakSk8 is the sixth crew to be eliminated!! A unique crew, but not enough to win this thing.







And that ends the 73rd volume of the "MTV Mix"! If you have any questions, comments, suggestions, or feedback of any kind..send them my way!!


I'll see you next time when we mix things up a bit!


Sir Linksalot: Reality Television
Tags: Life of Ryan, Making the Band, MTV, Real World/Road Rules Challenge, Rob & Big