Riddle me this, how did Mathan and Tim first begin their love of comics? Well wonder no more, ladies and gentlemen, because Who's Who has the answer. REJOICE!
They also try to find their least favorite DC character, imagine a Legion movie, and rank a who's who (see what we did there) of the most recognizable to the general public DC characters.
So check it out. How else will you reward your curiousity?
Before we start we'd like to send out thoughts/wishes/prayers to Cliff Chiang and his family. On his site announced he was taking leave of GA/BC. Chiang is a favorite here at the Nexus, so we're all hoping for the best.
I echo those sentiments. He knows we love 'im here and we can't wait for his return. That said, he should take as long as he needs and we'll wait. Hope things will get easier for him and the rest of his family in the days to come.
Tim, I just spend the last few hours watching the glory that is Andy Barker P.I. on Hulu. Now that I've discovered that site, will I ever accomplish anything ever again?
Probably not. But that's okay. Because Hulu will be there for you when you lose your job, your friends, your self worth, etc. Hulu loves you no matter what. And that's beautiful.
Links
Our DC Boards has thoughts on James Robinson's Justice League, Manhunter actually returning and a change in comic pricing?
Tim are you linking anything this week?
I'm tempted to link Barack Obama's speech from earlier this week because, I think, regardless of what side of the aisle you fall on or what horse you are backing on that particular aisle, it is an excellent speech. But if you haven't sought it out and read it yet, well, you probably won't.So, instead, I'll link to this because this is what the world should really be worrying about.
What I Read Last Week
X-Factor #29 – Peter David, welcome back! I actually enjoyed this issue. And I'm oddly excited about Arcade.
Wonder Woman #18 – Gail, way to reintroduce Khunds and make me want to read Invasion! again. I liked the parallels between the warrior cultures and I'm pumped about the next issue.
Gotham Underground #7 – I really liked this issue. I liked seeing what happened to Great White Shark. I loved the scenes with Penguin and the various factions of new rogues. But considering what happened with the last former Robin she dealt with, doesn't Leslie's appearance seem kind of creepy?
Perhaps. Or perhaps it is just the first step in proving my theory that either Leslie has been changed back to not being a murderous sociopath by the events of Infinite Crisis or she was always just only pretending to be a murderous sociopath to teach Bruce a lesson. I'm fine with either, really.
Booster Gold #7 – I'm glad to see our new terrible trio and the threat of the Black Beetle fulfilled. It's also great see Rip Hunter blocking like a lineman. But who'd have thought that Ted being alive would be more depressing than his death?
I'm excited for the Time Stealers team. They are such a gloriously random ensemble of villains, how can you not be thrilled to see them. Also, if it finally explains why the heck they showed up in JLA, that's gravy.
Batman Confidential #14 – I'm so pumped with this issue. I really hope that this new Wrath sticks around. He's so great. I liked the rift between Jim and Bats. I loved hints about the new Wrath. And I loved that I kinda called it on our very own forums.
I've been enjoying this way more than I ever thought I would. I'm going to go out on a limb here and declare it the first Batman Confidential story worth reading.
Green Arrow & Black Canary #6 – It was nice to see Dinah reign Ollie in. I'm glad that Mia's part of the book. And I really can't wait to see how that cliffhanger is resolved.
Aliens?! Really? As pointed out by another blogger, this is the point in the story where Winick can't figure out how to bring things to a climax and throws in an alien or supernatural being of some kind.That said, a good issue up until that point.
Green Lantern Corps #22 – Man, what a stinker. I don't really dig clichés and that ending reeks of them. What was the point of this story? I'm so irked that I missed out on Tomasi/Gleason goodness for this. But I suppose it could have been worse.
What a waste of time and money. I wish they just went on hiatus for two months instead.
Countdown #7 – Man, at least this book is almost over.
Salvation Run #5 – I totally loved how Selina sold J'onn out. And I kind of like how Bats sold J'onn out "J'onn I've got a mission that only you can do…" And I liked Bennett's art. But I'm not digging Apokoliptian interlopers.
Simon Dark #6 – Interesting flashback. But what's up with the creepy soap?
That would be the best two line solicit ever. "What's up with the creepy soap? What out in the next issue of Simon Dark!"
Suicide Squad #7 – Just when Windfall got interesting, she gets killed off. I get that because of the nature of the title someone's going to die, but she just got my attention. Same with Cliff. But the blind Deadshot is intriguing.
Is this a great book, or what? Loved Faraday smacking the Wall around and her response to the fate of Cliff.
Lord Havok & the Extremists #5 – This mini would have been so much better if we didn't already know how things played out for the squad.
The Vinyl Underground #3 & #4 – Way good issues. I love the local color shown in this title. I really like Gane's art and how Spencer is fleshing out back-story. I've really go to promote this book to "week of" reading status.
Neil wants the secret files of our lives
Mathan, I think there is one origin story that you've not told…your own. So, what's your story? What drew you to comics? Why do you still collect? Having a secret origin of Tim also would be cool, one for Ben also, if possible.
Well I guess that after being together for five years I guess I can open up a little about my past.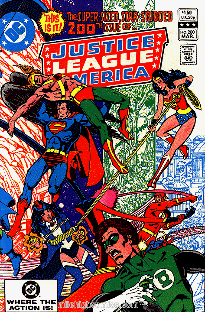 When I was a kid after school, I'd go to my babysitter's house. I don't really remember too much about her house, it seemed so far from school, but was actually only like a block away. But I do remember that it was the place that first discovered comic books.
And that first comic book was Justice League of America #200. That issue is quite possibly the best issue by which to get introduced to the DCU. It's got tons of heroes and they're fighting each other!
Superman vs Hawkman! Green Lantern vs the Atom! The Flash vs Elongated Man! Batman vs Green Arrow & Black Canary! Wonder Woman vs Zatanna! Martian Manhunter vs Firestorm! Aquaman vs Red Tornado! Plus the art was handled by a who's who of DC greats; Kane, Aparo, Kubert, Infantino, Bolland, Giordano, Perez and Broderick.
Oh and it was 72 pages long with nary an ad to be found. Doesn't that just sound like an awesome issue?
Now I don't know who left that comic there for me to find, but their loss was certainly my gain. I wasn't old enough quite understand every word, but I got the gist of it. And I still pretty much remember how every battle plays out (except for the Wondy/Zee battle, because girls were rather yucky at the time.)
I remember Hawkman breaking his weapon on Superman's chest. I also remember how Hawkman took a shortcut when getting from A to B. I remember how cool Bolland's Batman and Green Arrow looked. I remember marveling at The Flash and Green Lantern. I remember how Infantino's Elongated Man looked so betrayed.
I poured over that comic. That issue that I read no longer exists, because it crumbled long ago. It had so much wear and tear on it and I was a kid, so it never really had a chance. But it was that issue that opened me up to comic books.
Would I still be so interested in comics if I'd first been exposed to another issue? We'll never know obviously. But Justice League of America #200 was an issue that was packed with goodness yet provided me with all of the info I needed to enjoy it. I didn't have to read the previous issue, nor did I need to read the next one. It was self contained and overflowing with notions and ideas that filled my head with wonderment and sparked my curiosity.
I'd seen the Superman flicks, but that comic book was the first time I can remember being in awe of costumed heroes. I don't remember when I discovered that issue. But it came out in 1982, so it was at some point after.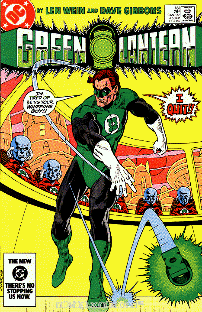 From there the next issue I remember getting was Green Lantern #181, which I've written about before. It was the one with Hal throwing his ring to the ground and telling the Guardians "I quit." Such a great cover! I remember seeing it at the Circle K by where my mother worked. I'm pretty sure that I pleaded with her to buy me that issue, because 75 cents was an astronomical amount for me.
After that I managed to get the occasional issue of Green Lantern, I think that the next one I got was #184. I wasn't reading regularly, but I was doing my best.
However when I saw the amazingly cool cover for Crisis on Infinite Earths #5, I knew I had to have it. All of those headshots represented characters? And what was up with those headshots down the middle that were split? What did that represent? I had to find out.
And while some may have picked up that issue of a mini near its halfway point, featuring a cast of thousands (most of whom I'd never heard of and was completely unfamiliar with) would have been daunting. But to me I was hooked. I had to find out what was going on. And that was when the hobby began for me. For the most part I managed to pick up the remainder of the series as it was released.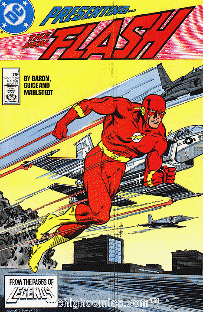 And when it was over I dove headfirst into Green Lantern with #200 and followed though when it became Green Lantern Corps. And when The Flash #1 came out, I grabbed it up and never looked back.
I've had a few hiatuses. When I lived in Iowa for a spell things were rocky, but on trips back to Tucson I caught up on what I missed. When I went school in Baltimore I'd subscribed to comics so when I'd go home for summer or Christmas break I'd go home to Tucson and catch up on months of comics.
I keep reading for a few reasons. Firstly, characters that I've literally grown up with are still around. There's also the fact that as I grow my tastes change so over the years I've tried different things. I can remember not feeling sophisticated enough for Baxter or New Format comics. I remember when Vertigo (or more accurately Pre-Vertigo) books were daunting. But as I grew so did the medium.
And finally I'm a bit of an obsessive collector. It's not limited just comics; just as I've got long boxes in the double digits, I've also got thousands of CDs, in alphabetical order, separated by genre.
So, that's it, that's my story. Tim, what's yours?
I like that you divided it by genre. My CDs are alphabetical and then chronological within band. My books are alphabetical (by author) and divided by size, genre, and chronologically. My DVDs are simply alphabetical and divided between feature films and TV on DVD. It brings me all a weird sort of joy.But that's not specifically what you're asking about so let me get to that.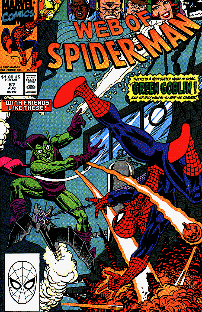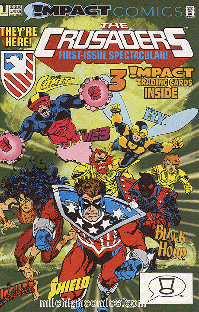 My origin starts with a trip to Florida in 1991. My dad and stepmom picked me up two comics to escort me on my journey: Web of Spider-Man #67 and The Crusaders (from Impact!) #1. I, of course, knew Spider-Man but had no idea who the Crusaders were and these were literally the first comics I'd ever read. And I read them about 30 times a piece in that one week trip. And that was with Disney competing for their attention!
So, obviously, I dug them.
What really hooked me though was a TV movie I saw while I was in Florida. It was called the Trial of the Incredible Hulk and featured a character named Matt Murdock who was a blind lawyer and the hero Daredevil. In retrospect, it was a pretty weak affair and the guy didn't wear anything even resembling DD's costume (although Frank Miller would later use the look for the Man Without Fear mini, which I still think is neat), but from the moment he said the line, "Your knife is noisy," he became my favorite comic book character.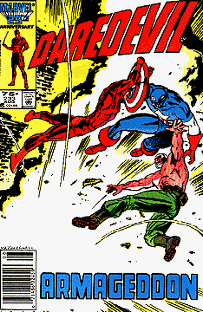 This was later sealed when, while over a friend's house, I read Daredevil #233. It was the last part of Born Again, I had no idea what the heck was going on, but I loved everything about it. The art, the dialogue, the narration…it all just worked for me.
But it was tough, as a kid, for me to keep collecting. Every now and again, especially when we went to the Cape, I'd get a couple of books at the Mayflower, but by in large I lived a comic free life. There was the occasional trade (Knightfall, AssassiNation Plot, Return of Superman), but that was it.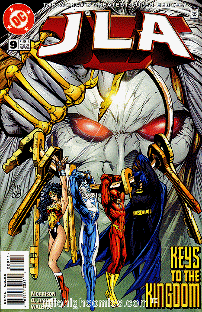 And then came 1996 and the twin punches of Kingdom Come and JLA. For the first time I had disposable income (a paper route) and a means of getting myself to the comic store (I'd just walk there after school). And those two comics made it worth my trip.
From then, I've pretty continuously collected. My pull list has grown and shrunk depending on budget or quality, but there hasn't been more than two weeks that have gone by since that I didn't buy at least one comic.
As for Ben, I think his origin will have to wait. I understand he's working on it and he'll have it to us soon, but the man is busy and we all respect that round these parts.
Dhaise doesn't want us to play favorites, he wants us to play "unfavorites"
Mathan, who is your least favorite DC character?
I don't know if I really have a "least favorite" character. There are characters that I usually can't stand, but suddenly they appear in an issue I'm reading and I end up liking them. Oh wait, I just found a character that I really don't like. But I'll draw it out for the suspense factor.
Ahh, Mathan, always the tease.
Supergirl – As a general rule, I don't dig Supergirl. But when Peter David was writing the title starring Linda Danvers, I fell in love with the character. And then she was retconned out so that Kara Zor-El could be reintroduced. I hated Kara for that. Yet I picked up her monthly title because I wanted a resolution to her story. When Joe Kelly started writing the title, I ended up actually liking Kara Zor-El. Then Kelly left and I dropped the book.
Supergirl would probably make my list because I'm just opposed to the whole idea of multiple Kryptonians running around. I don't hate her like other people do, with all their "Paris Hilton" this and "eating disorder" that nonsense.
Lobo – I really liked him in L.E.G.I.O.N. and I picked up his first mini. Then he became overexposed and I hated him. But when he showed up in 52 I didn't hate him.
I tolerated him in 52, but otherwise, Lobo would make my list.
Adam Strange – I never got the allure of the character. Maybe because I didn't dig the pulp/sci-fi mash up feel of his adventures. Yet I really enjoyed his Pre-Infinite Crisis mini and seeing him get punked by the incredibly cool Champ Hazard in Countdown to Adventure was the highlight of that book.
Blue Devil – I so never got the allure of the character. He just always seemed so corny to me. But I liked him in Underworld Unleashed, which featured such a great moment and actually made me care about the guy. But then he linked up with those losers Justice League Europe The Shadowpact and I began hating him again.
Anyone Associated with the Fourth World – Maybe I got into comics too late to really appreciated Kirby's influence, but I don't dig the New Gods. I don't like when they show up in books I'm reading. I don't like when they anchor big events. I don't even like when they get their own titles. And I really don't like when creators mess up and have character traveling to Apokolips through means other than Boom Tubes, yet the New Gods aren't dwarfing the aliens. But "New Gods" aren't a singular character.
This is another one I'd second. Except in Seven Soldiers: Mister Miracle, I find them pretty unpalatable.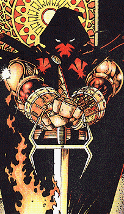 Thus I present to you the character that I like the least in the DCU: Azrael.
Azrael represents nothing good. He represents the worst of the 90's characterization; a visually violent character who was only created to disrupt the status quo. And that his solo title ran for 100 issues, while not hubristic, certainly taints the legacy of Denny O'Neil. What's worse is that a version of the character is due to make an appearance in Gotham Undergound any day now. Ugh.
Boo! Disagree! Azrael forever!That said, his title was often lousy.
Tim, who's your least fave?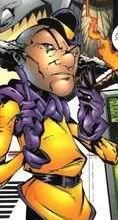 This one's a bit tough for me because I think there are several characters that I "don't get" and thus don't like, but don't necessarily think it would be fair to stick them with "least favorite". Power Girl, for one, just does not interest me in the least and I've tried to understand her appeal. But she does have appeal, just not to me. On the execution side of things is Bizarro. Love the idea of him, almost always find myself cringing whenever he shows up because he rarely delivers on that promise.
Okay, I'm just stalling now, so here's the goods. My least favorite character of the DCU is… Mr. Mxyzptlk. I don't hate any big sweeping reasons…I just hate the guy. Like…a lot. Lousy, lousy, lousy.
Scott Keith is ambitious
They're doing a Justice League movie (apparently with the Gyllenhaals playing the Wonder Twins, inspired casting if there ever was any) and a Teen Titans movie has been rumored for a while, but what about a Legion of Super-Heroes movie? The great thing is that there's so many versions that it's nearly impossible to screw up continuity and offend the fanboys because it's all set in the future, but having said that what version of the team do you go with, who do you include in the movie as your main players, and who should play them? I mean, the Big Three are obvious choices, but do we need the multiple Superboy clones like Ultra Boy and Mon-El (or whatever name he has in current continuity — I haven't been keeping up since the Zero Hour reboot)? Do you throw a Wildfire in there for the Wolverine cool factor and play it super-serious ala Keith Giffen when he could draw or put the guys like Polar Boy and Bouncing Boy in there for comedic effect and play it like Keith Giffen once he turned into self-parody?
Honestly, I wouldn't even dream of tackling a Legion movie. It's way too complex. And the Legion is one of the more obscure franchises, considering it's been around for 50 years.
Part of that obscurity is because for the last 23 years the Legion and the present day DCU haven't interacted all that much, thanks to the Crisis. As a result the Legion's been a hard sell for new fans (hence all the reboots, which tend to turn off long time fans.)
Because the Legion is segregated in the future, for the most part it has to be self-sufficient. It can't really take part in company wide crossovers. It doesn't get to benefit from guest stars from Gotham. It's very much a book that has to stand on its own merits.
It's not an attractive franchise for Hollywood in that regard. Plus when you factor in all of the set designs for creating the 31st Century and all of the special effects for powers the movie becomes less cost effective by the second. The Legion just isn't a viable property for Hollywood.
But this is a column where reality rarely seeps in, so why should it now?
My favorite version of the team appeared after the Five Year Gap. It was the first book that I read that wasn't about costumes, but rather about characters. But that version wouldn't work on the big screen, no matter how much we're avoiding reality.
I guess you could kind of use various aspects of the Legion. I mean, I think you'd have to spend the first, maybe 15 minutes with the origin of the Legion. You have Saturn Girl, Lightning Lad and Cosmic Boy saving R.J. Brande. It's a simple origin and it showcases their powers.
But then you have R.J. as a sort of 20th Century fetishist mixed with music manager impresario. He funds the Legion, but sets them up as a sort of retro group, complete with corny names. They're kind of like a boy band, with power and Brande is like Lou Pearlman only less pervy.
From there you have some lighthearted moments featuring Legion tryouts and them setting up shop. You have them attending Brande mandated appearances and being less than happy about it. They're a novelty act for the most part. But they keep growing as a team. And it's documented by the press of the 31st Century.
But then Sun Eater hits and they've got to stop it. It's the first time they've got to be actual heroes. And they've got to team up with the Fatal Five to do it. Ferro Lad saves the day and loses his life. The Fatal Five escape and the Legion has to track them down, while mourning their fallen teammate. They do and the Legion is a novelty no more. Long Live the Legion!
(I was actually going to have a convoluted story about the Legion stumbling upon a plot by the Time Trapper to kill Superman in the past and thwart it, but its way too heady for a first flick and would make a better sequel.)
Snap! I've got to cast this thing too? I can't do that right now. I'm going to have to follow up on this one next week. I'm so not well versed enough in "young Hollywood" to give a good enough answer.
Tim, I know a Legion movie would be a dream come true for you. Care to give us your thoughts and maybe share what direction you'd take it?
Picture this: the film opens on a vast wondrous future. We have a crane shot, flying overhead and then ducking into a shining building. Inside stands several brightly costumed youth. My eyelids grow heavy. I feel warm and comfortable. Two hours later, I wake up to a triumphant strain of music as credits roll.What an excellent nap.
According to That Bootleg Guy, everyone must be ranked. EVERYONE!
If Batman, Wonder Woman and Superman are the three most recognizable, iconic characters in the DCU, who would be rounding out the top 5? The top 10? In numeric order, please.
Ooh! I love these questions. Now for the sake of fairness, I'm not counting redundant characters like Supergirl and Batgirl.

At number four, it's close but I think you've got to go with The Joker. Everyone knows him.

Rounding out the top five is Robin. The short pants, the elf shoes. The guy's got a look that's instantly recognizable.
Number six is The Flash. He's got one of the best costumes around and everyone seems to know him and like him.


For the seventh, I think I'm going to have say Aquaman. I'm going with Orin because, while he's the butt of many jokes, most people are going to look at him and know who he is.
Catwoman would be at number eight for me, just because I think that some people would look at Cheetah and assume she's "Catwoman" which kind of detracts from "most recognizable."


Um, Penguin is ninth? I think. I think he's got a high enough profile from the cartoons, tv show and movie that he's probably pretty recognizable.
Last up guess I'll say Green Lantern. He's been in the cartoons and he's a pretty high profile character. He's also kind of unique (in terms of ability) so that might make him stick out more. Though I still think that people will have trouble remembering the "Lantern" part.
I was going to go with Two-Face as my #10, but then I realized that he wasn't in the Batman show in the 60's, which would have limited his exposure for a could of generations who watched that show.

Tim, how do you rank the rest of the Top Ten?
I actually don't find much fault with your list. I'd probably put Green Lantern a bit higher and substitute in Riddler for Penguin (between Gorshin and Carrey's oversized performances, he's just got flashier representatives than Penguin). Otherwise though, I have a tough time quibbling with your list.
This Soak1313 is bananas. B-A-N-A-N-A-S!
So coming from the newest article about James Robinson's new Justice League roster….who/what in the hell is Congorilla?
How do you not know about Congo Bill? I mean he's no Scoop Scanlon, but c'mon the guy's a big enough name that everyone should be familiar with him.
Congo Bill was your typical jungle adventurer. He was like Indiana Jones, only with a more exotic locale and a first name. The guy made his debut in More Fun Comics #56. And clearly with a character like Congo Bill, the title of that book lived up to its name.
Then Congo Bill jumped over to Action Comics where he began a tenure that ran from Action Comics #37 to Action Comics #248. Once again, Bill made the comic worthy of its title.
Y'see in Action Comics #248 the adventures changed from "Congo Bill" to "Congorilla." Back in Action Comics #228 Congo Bill encountered an oddly intelligent golden gorilla. And it was the combination of those two character that created Congorilla.
How? It's the same story you've heard a million times before. Congo befriends a witch doctor who claims that he can control the gorilla with a special ring that does the whole mind switcheroo thing. Then the witch doctor dies and Bill gets the ring, but doesn't use it until he gets stuck in a cave. At that point Bill does the mind swap deal and frees himself using the gorilla's body.
Naturally Bill decides to use his new gorilla puppet to fight crime, jungle crime. And he did just that on the pages of Action Comics and later Adventure Comics.
Congorilla even got the Vertigo makeover treatment at the end of the last millennium.
And that's basically all you need to know about Congo Bill.
Tim, you excited about James Robinson on Justice League?
Sort of. The concept of a "proactive" superteam is to yawn by now. At best, we end up with Johns' Avengers run in which they said they were proactive but never were. At worst, we end up with Force Works (I'd say JLElite, but Elite's art was way better) and no one wants that.On the other hand, it is James Robinson. He is using Congorilla. And Blue Starman. So, I'll give him a role of the dice.
And thus ends our 5th Anniversary column. Have some cake, but clean up after yourself.
Next week I'll have some casting decisions and we'll probably discuss sidekicks and probably some more Legion tidbits.
Feel free to email me your questions (mathan@insidepulse.com) or post them on our thread
Before I go here's my question to you Who do you think the next major character to die in the DCU will be?
"We're going to turn it on, we're going to bring you the power."
Tags: Batman, DCU, Flash (Barry Allen), Green Lantern (Hal Jordan), JLA, Superman (Clark Kent), Teen Titans, Who's Who in the DCU, Wonder Woman